News
Away Canceled by Netflix, No Season 2 for the Hilary Swank Series
Netflix has quickly canceled Away, the astronaut drama series starring two-time Oscar winner Hilary Swank.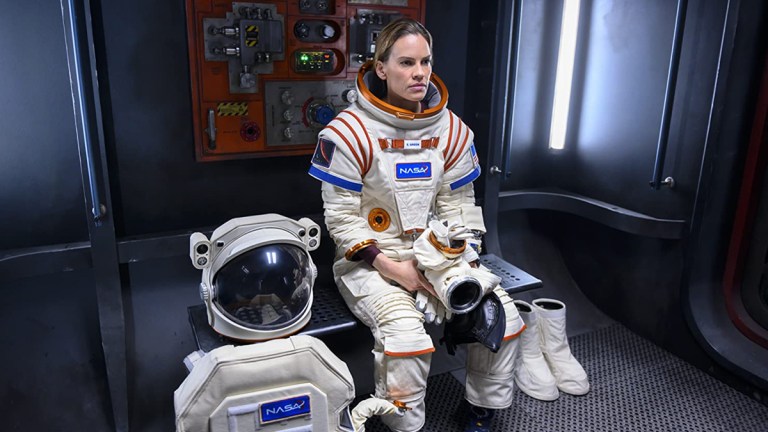 Away has been promptly grounded by Netflix after just one season, coldly cutting short Hilary Swank's onscreen mission to Mars.
Netflix's cancelation of Away, confirmed by the major trades, arrives less than two months after the 10-episode season hit the platform back on September 4. While the series was purportedly generating high viewership, and spent several weeks on Nielsen's recently introduced streaming top 10 ranking (on which it peaked at #2), the reason for the cancelation—and its abruptness—has been attributed to being on the wrong side of cost vs. audience analyses.
Nevertheless, Away has become the latest high-profile casualty of ongoing cost-cutting measures implemented by Netflix. While said measures may have commenced before the pandemic in the face of an evolving bottom line, they have certainly increased with efficiency due to the resulting production obstacles. Indeed, the series now joins a list of recent cancelations such as celebrated historically-based women's wrestling dramedy GLOW, buzz-heavy Teenage Bounty Hunters, lavish sci-fi series Altered Carbon and critical favorite Chilling Adventures of Sabrina, along with prestige dramas such as The Society and I Am Not OK With This.
Hilary Swank headlined Away as Emma Green, an American astronaut who's been tasked with leading an international crew for the first manned mission to Mars. However, besides the obvious post-atmospheric obstacles, the series also focuses on the family left behind in her husband (Josh Charles) and teen daughter (Talitha Bateman). Thus, the series presents a contrasting examination of the heights that humanity aims to achieve with the necessary sacrifices they entail. The main cast of the series also consisted of Vivian Wu, Ato Essandoh, Ray Panthaki and Mark Ivanir.
Away was created by Andrew Hinderaker (Penny Dreadful, Pure Genius), and had Jessica Goldberg (The Path) as showrunner, writer and executive producer, with Hinderaker also serving in the latter capacity. Goldberg came into the series after the 2016-2018 run of Aaron Paul-headlined Hulu drama series The Path, for which she was the credited creator. She also wrote the screenplay to Cherry, the upcoming next directorial effort from Marvel movie maestros Joe and Anthony Russo, which even has the current Spider-Man, Tom Holland, as its star. The series also had on tap veteran film and TV director/producer Ed Zwick as executive producer and director for the first episode. Names such as David Boyd, Charlotte Brändström, Bronwen Hughes and Jet Wilkinson also directed.
The cancelation of Away leaves the backlog of two-time Best Lead Actress Oscar winner Hilary Swank with only one item in 2021-aimed movie thriller Fatale, in which she co-stars with Michael Ealy and Mike Colter. However, Swank's now-freed schedule might just fuel rumors that she could eventually show up on a recent topper of the aforementioned Nielsen streaming top 10, Cobra Kai, to reprise one of her earliest roles, that of the late Mr. Miyagi's other karate student, Julie Pierce, from 1994's The Next Karate Kid. Such a move—which I will remind you is just rumor and speculation—would actually see Swank back on Netflix, which recently acquired that series from YouTube Premium, resulting in tremendous success and even an early Season 4 renewal.
However, the fate of Away is more than likely sealed with its Netflix cancelation, left as a recent exorbitant relic of a much different modus operandi for the company.