News
Away Trailer Sends Hilary Swank to Space for Netflix Drama
Oscar winner Hilary Swank leads a mission to Mars in the first trailer for Netflix drama Away.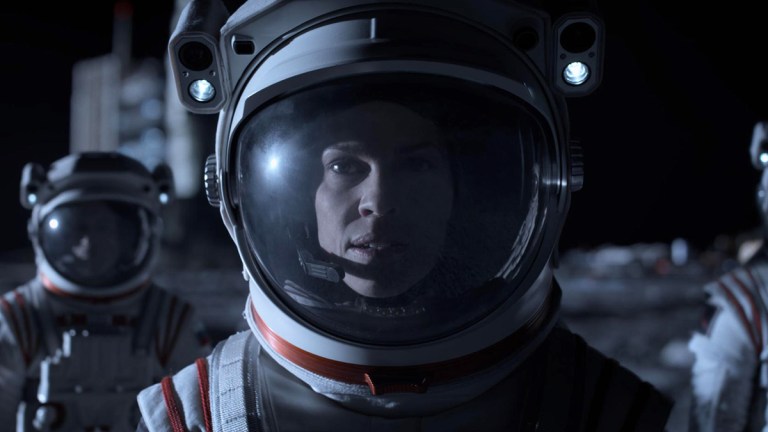 Hilary Swank is headed to Mars—by way of Netflix in the upcoming television series, Away.
The two-time Best Lead Actress Oscar winner—Boys Don't Cry in 2000 and Million Dollar Baby in 2005—is headlining a space series from the streaming giant that's more grounded (no pun intended,) than its other such offerings like, for example, Lost in Space or Another Life. Indeed, Swank stars in this 10-episode drama series as an American astronaut who reluctantly leaves her family behind for the perilous task of leading NASA's first manned mission to Mars.
Interestingly enough, the series is loosely inspired by real-life events, based on an article published in Esquire about a mission of astronaut Scott Kelly.
With that said, check out the first trailer for Netflix's Away just below.
As the official logline for Away further explains of the plot:
"Away is a thrilling, emotional drama on an epic scale that celebrates the incredible advancements humans can achieve and the personal sacrifices they must make along the way.  As American astronaut Emma Green (Hilary Swank) prepares to lead an international crew on the first mission to Mars, she must reconcile her decision to leave behind her husband (Josh Charles) and teenage daughter (Talitha Bateman) when they need her the most. As the crew's journey into space intensifies, their personal dynamics and the effects of being away from their loved ones back on Earth become increasingly complex. Away shows that sometimes to reach for the stars, we must leave home behind."
Veteran television actor Josh Charles (The Good Wife, Unbreakable Kimmy Schmidt) co-stars as Matt, the left-home NASA engineer husband of Swank's space-sent Emma. The full series cast (as revealed last year,) also consist of Talitha Bateman (Hart of Dixie), Ato Essandoh (Chicago Med), Mark Ivanir (Homeland), Ray Panthaki (EastEnders), Vivian Wu (The Best Partner) and Monique Curnen (Power).
Jessica Goldberg assumes the controls in the proverbial cockpit of Away, serving as showrunner, writer and executive producer, having co-created the series with Andrew Hinderaker (Penny Dreadful, Pure Genius). Goldberg is best known as the creator of Hulu's 2016-2019 cult-centric drama, The Path, and scripted the developing Tom Holland-headlined, Russo Brothers-directed drama film, Cherry. She is joined by veteran film and television director/producer Ed Zwick, who serves as an executive producer and directed the first episode, which was written by co-creator Hindraker. The director lineup for the season also includes David Boyd, Charlotte Brändström, Bronwen Hughes and Jet Wilkinson. Joining Goldberg and Hindraker on the writing side are Jason Katims and Aditi Brennan Kapil. Lastly, the show's gaggle of executive producers also includes star Hilary Swank, along with Adam Kassan and Jeni Mulein.
Away Netflix Release Date
Away is scheduled for liftoff on Netflix on September 4.