Features
Always Sunny to Talking Sopranos: The Best TV Rewatch Podcasts Hosted By Cast & Creators
Revisiting Star Trek Voyager, Battlestar Galactica, The Sopranos, Always Sunny and more? Do it in the company of the people who made the shows.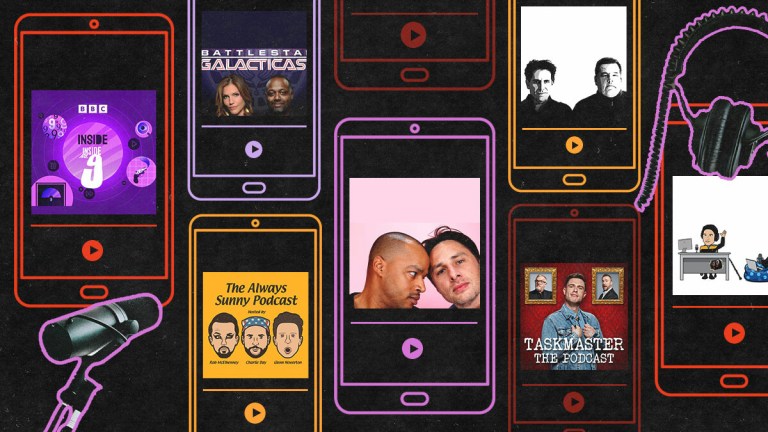 There are casual TV fans – the kind of people who are occasionally reminded of an old favorite show and fondly think 'I used to love that' but then get back on with wood-staining the garden fence, filling in their tax return or whatever demands adult life is currently making of them – and then there are the TV fans who don't need reminding of their old favorite shows because they're currently midway through their fifth Battlestar Galactica go-around (this time focusing on the Gaius Baltar arc, in preparation for James Callis' panel appearance at the next Florida Supercon) while moderating several BSG r/television subreddits and crocheting a replica Saul Tigh eye patch.
The TV rewatch podcast is here for both types of listener – they're a fun whoosh of nostalgia for the first, and the chance to finally get behind-the-scenes answers to burning questions for the second. Most of all, they're a good time in the company of pals and a great excuse to revisit an old favorite. We've picked a few of our best listens below. Add your own recommendations below.
The Delta Flyers (Star Trek: Voyager)
Hosted by: Garrett Wang and Robert Duncan McNeill, who play Tom Parris and Harry Kim
If you've ever seen Garret Wang at a convention, you'll know that he is a delightful host,
bursting with enthusiasm and with a knack for interviewing his fellow Star Trek alumni in a
way that is both friendly and entertaining. He and Robert Duncan McNeill are the perfect
hosts for a Voyager podcast. Their characters' history as best friends makes this a natural
pairing and both are willing to share fond but also frank memories of their time on the show.
Wang's knowledge of science fiction (and better memory of the show!) is balanced out by
McNeill's expertise as a director with decades of experience working in science fiction,
whose directing career started on Voyager.
There are no adverts on this one; it is supported through Patreon. Subscriptions range from
£3 to £140.50 a month. The £3 a month is well worth it – in addition to the basic episode
summary and thoughts on it from Wang and McNeill that you get for free (listen here), for £3 a month you get occasional interviews with other cast and crew, answers to fan questions, and a minute or two of Wang and McNeill doing improv as their characters. And you can learn Klingon,
too. Juliette Harrisson
Talking Sopranos
Hosted by: Michael Imperioli and Steve Schirripa, who play Christopher Moltisanti and Bobby Baccalieri
Few television shows are as revered and celebrated as The Sopranos and who better to get the behind the scenes gossip from than Christopher Moltisanti (Michael Imperioli) and Bobby Baccalieri (Steve Schirripa).
Talking Sopranos is a hybrid podcast – each episode is half interview with Sopranos cast, crew or superfans and half rewatch of the show's six seasons with just Imperioli and Schirripa. The interviews are fantastic as you get a real insight into The Sopranos from a wide spectrum of people including showrunner David Chase (fascinating!), actors (Aida Tortorro/Janice Soprano; everything you hope she'd be) across to writers (an incredibly insightful Terence Winter) casting directors and superfans like Ricky Gervais. There is a great camaraderie with the interviewees and hosts in all the episodes and it's lovely to hear the affection and respect that is expressed for the late James Gandolfini (Tony Soprano).
Over the course of the episodes you feel like you really get to know Imperioli and Schirripa; their chalk and cheese friendship is entertaining and hilarious. Michael Imperioli has worked with/knows everyone in the industry (there could be a very lethal drinking game where you drink every time he name-drops) and former Las Vegas entertainment director Schirripa is a world class grudge holder who (in the politest way) does not give a f*ck (in one of the early episodes before her 2020 scandal, he calls out Ellen Degeneres for being rude to him before he was famous). Just get ready for them to repeat a lot of stories that they've forgotten they've already said – you're going to hear Schirripa's Scientology story A LOT. Elizabeth Donoghue
Inside… Inside No. 9
Hosted by: Reece Shearsmith and Steve Pemberton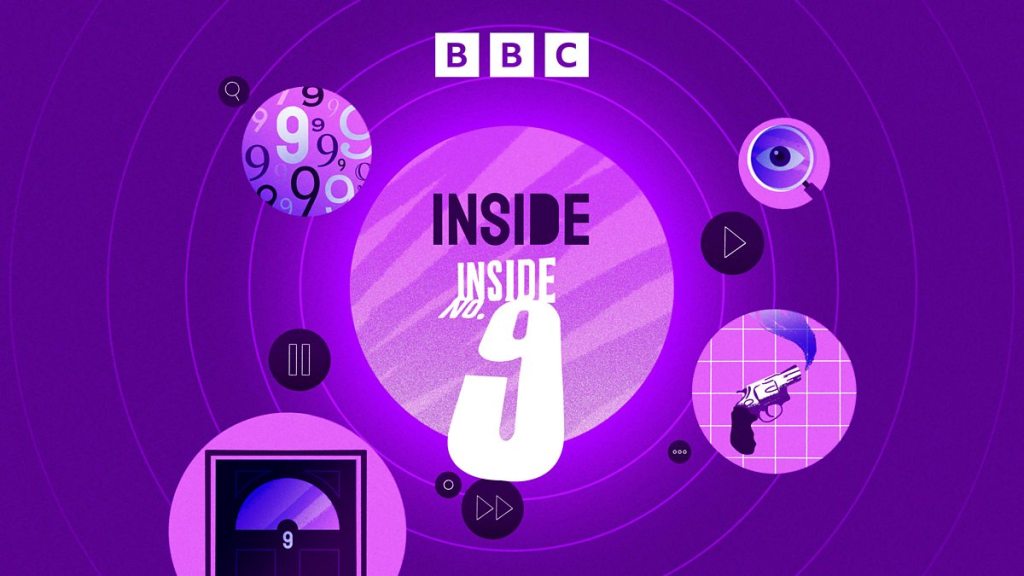 This gem of a podcast hosted by the creators and stars of BBC horror-comedy anthology Inside No. 9 isn't so much a rewatch as a watch-along. Since Series 5 of the TV show, a companion podcast has come out alongside each new episode, giving insights into that week's particular number nine (so expect spoilers). There's one for each story from Series 5-8 so far, plus three Classic No. 9 installments looking back at earlier fan favourites 'The Twelve Days of Christine', 'A Quiet Night In' and 'The Riddle of the Sphinx'.
Invaluable for fans, in these well-edited half-hour accompaniments Shearsmith and Pemberton discuss their story inspirations and how each idea evolved from its initial spark, explaining homages and cultural context. If that makes it sound at all like homework, it isn't at all. It's a funny, illuminating insight into their very special creative partnership, and how the pair works with their guest interviewees – the actors, directors and production team members who come on to give their take. With excellent BBC Sounds production values, it's essential for Shearsmith/Pemberton obsessives, and an especially good source of weird film recommendations. Subscribe here. Louisa Mellor
The West Wing Weekly
Hosted by: Joshua Malina, who plays Will Bailey, and musician Hrishikesh Hirway
One of the earliest entries in this new sub-genre of podcast, The West Wing Weekly ran
from 2016 to 2020; you can listen to all episodes in their archive. That means you can
"binge-listen" to the podcast alongside a binge-watch of the show, though it can be a slightly
disconcerting step back in time. The podcast ended before Covid-19 hit America, but as a
podcast on a politically-themed show, the presenters could hardly avoid talking about the
Donald Trump's Presidential victory and term of office, so be prepared for a trip down
memory lane.
Hrishi and Josh are excellent, friendly hosts and there are plenty of interviews with other cast
and crew along the way, as well as occasional live shows with multiple guests. The balance
of one presenter who worked on the show against one who did not allows for quite a bit of
question-and-answer type analysis – but of course, Malina did not join the show until season
4, so much of the first part of the podcast is essentially two fans with a bit of inside
knowledge reviewing it. Luckily there are plenty of interviews with the stars of those earlier
seasons to fill in the gaps. JH
Battlestar Galacticast
Hosted by: Tricia Helfer, who plays No. 6, and writer Marc Bernardin
"All of this has happened before, all of this will happen again" is the mantra at the very core of the early aughts sci-fi television masterpiece Battlestar Galactica. It's no wonder then that nearly two decades after its two-hour miniseries premiere, BSG keeps happening again. Most recently the show, based on an ill-fated '70s sci-fi series of the same name, happened again in the form of a rewatch podcast hosted by star Tricia Helfer and journalist Marc Bernardin.
Helfer played the human-like Cylon model known as Number 6 throughout Battlestar Galactica's four seasons. Bernardin is a former editor at The Hollywood Reporter and EW turned TV writer and podcaster (who has some shows with fellow nerd Kevin Smith). Together, the unlikely duo tear through the entirety of BSG's 76-episode run. Beginning with the episode "Mini-Series: Part 1" on Dec. 11, 2018, Helfer and Bernardin quickly grow comfortable with each other and the show as they recap episode after episode of one of the most important sci-fi properties of the new millennium.
Through its two-year run, Battlestar Galacticast would host many other folks involved in the franchise from stars Mary McDonnell and Katee Sackhoff to showrunner Ronald D. Moore to even a very special episode with legendary composer Bear McCreary. Give it a listen. So say we all. Alec Bojalad
Supernatural: Then and Now
Hosted by: Rob Benedict and Richard Speight Jr.
Supernatural was the little sci-fi show that wouldn't die …until it finally did, on its own terms, back in 2020. If you have rosy memories of all fifteen seasons worth of monster-slaying Winchester brothers adventures and miss the characters' banter dearly, you're in luck!
Supernatural: Then and Now hosts Rob Benedict and Richard Speight Jr., who played Chuck/God and Gabriel in the show respectively, are taking you behind the scenes of the long running CW behemoth episode-by-episode, and bringing in key members of the cast and crew for a chat, including stars Jared Padalecki and Jensen Ackles. You can listen to it here. Kirsten Howard
Fake Doctors, Real Friends (Scrubs)
Hosted by: Zach Braff and Donald Faison, who play JD and Turk
As you can tell from the title, there is a lot of warmth and friendliness at the heart of this
show. Like Scrubs itself, this podcast can be hilarious, heart-breaking, and thoughtful.
Neither the hosts nor their regular guest, showrunner Bill Lawrence, shy away from
discussing aspects of this 2000s comedy that have not aged well, like its occasional use of
blackface for jokes in JD's fantasies or flashbacks. Most of the series gets better the more
you watch it though, and this is an excellent reminder of just how good Scrubs was, and a
chance to catch up with many more of the cast and crew in occasional guest spots, including
Brendan Fraser in a 2020 episode recorded before his triumphant 2022 comeback.
Braff and Faison are slowly working their way through the series, putting up re-runs of earlier
podcasts when they are too busy to record a new one. They also occasionally cover other
projects, like Braff's new film A Good Person, which is the subject of the 21st March episode.
All in all, this podcast is essential listening for anyone who is a fan of Braff and/or Faison, as well as fans of Scrubs itself. JH
Inside… Ghosts
Hosted by: Nathan Bryon, who plays Obi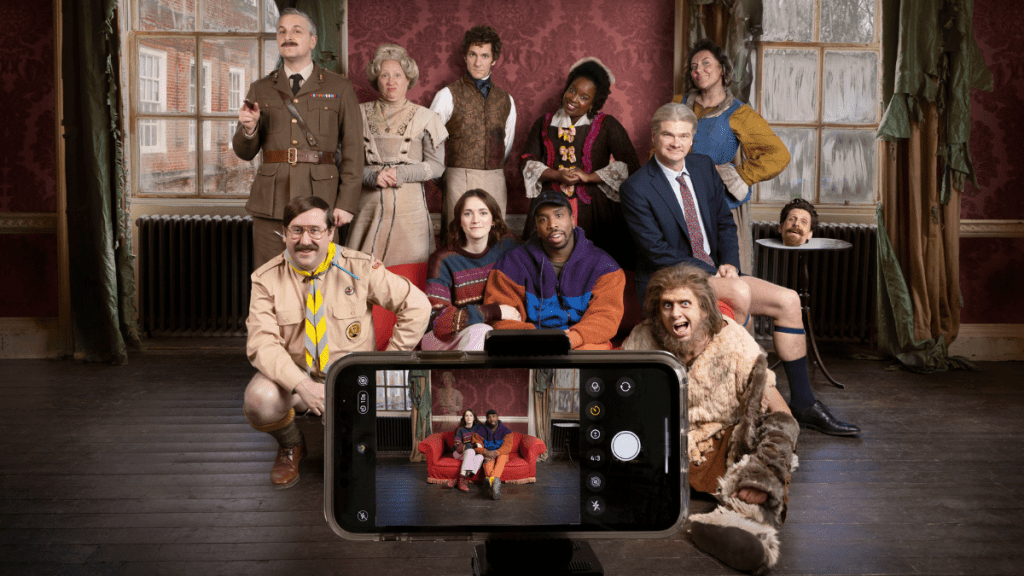 A pocket-sized treat here, because at the time of writing there are only seven installments of Inside… Ghosts, which started to coincide with the release of Series 4 (of the UK original) in 2022. Fingers crossed that there are plans to go back and revisit previous runs, because these are a really delightful listen.
Hosted by guest cast member Nathan Bryon – whose energy is unbeatable – it has excellent access to the Ghosts stars and creators, and welcomes Mat Baynton, Jim Howick, Martha Howe-Douglas, Ben Willbond and Laurence Rickard, alongside Lolly Adefope, Kiell Smith-Bynoe, Katy Wix and other regular actors in various configurations to discuss each episode. Learn about the writers' inspirations, behind-the-scenes filming experiences and everything you'd expect on a TV deep dive, as well as some emotional insights into what the comedy is really all about that feel even more poignant now we know that the end is nigh. Listen here on BBC Sounds. LM
The Always Sunny Podcast
Hosted by: Charlie Day, Glenn Howerton, Rob McElhenney, who play Charlie, Dennis and Mac
Much like the show they are rewatching, The Always Sunny Podcast has built a cult status among its fans – you could casually ask any of us if we're 'creeps' (within the context of the podcast of course) and rather than take offence we would immediately know what you meant.
Most of the time it's just the boys and the unsung hero of the podcast Meg (It's Always Sunny in Philadelphia writer Megan Ganz, who has the thankless task of constantly pulling her co-hosts back from their improv bits and tangents) but often there's great dedicated episodes to interview guests like Sweet Dee/Kaitlin Olsen (McElhenney's wife), The Waitress/ Mary Elizabeth Ellis (Day's wife) and of course, global treasure/Frank Reynolds (Danny DeVito).
The Always Sunny Podcast is like listening to very funny friends have a chat, then remember that it is supposed to be a podcast and they should probably talk about the show that they have written, produced and starred in for nearly 16 seasons. Rob McElhenney (whose drive and ambition is audible) comes across as the grown-up of the three, Charlie Day is adorable and Glenn Howerton is more like Dennis Reynolds than he is willing to admit (but in the charming and slightly unhinged way rather than the potential serial killer way). ED
Taskmaster: The Podcast
Hosted by: Ed Gamble
Less a podcast for fans than a therapy session for contestants, this exhaustive dig into Taskmaster past and present is a mammoth undertaking. Nigh on every episode of the past 15 series gets its own individual look-back from previous champion Ed Gamble in the company of a comedian from that series, or an interested bystander.
One for Taskmaster completists, this is a chance for contestants to a) explain themselves, and b) to work through any lingering psychological scars resulting from their time on the show. Feel they were undermarked on the 'Best Burstable Item' prize task? Here's the opportunity for redress. Wish to explain why their funniest moment ended up edited out due to Channel 4's compliance guidelines? The floor is yours. It's a deep dive into the dysfunctional family dynamics of each set of contestants, that allows them to entertainingly rake over old rivalries, share behind-the-scenes secrets and settle scores, expertly wrangled by host Gamble. Listen here. LM
Welcome to Our Show (New Girl)
Hosted by: Zooey Deschanel, Hannah Simone and Larmorne Morris, who play Jess, Cece and Winston
Sometimes you wonder if these three remember they're being recorded – this really is just a genuine chat among friends reminiscing about a sitcom they clearly adored making. Like New Girl, Welcome to Our Show is wholesome, quirky, naturally funny and chock-full of chemistry between the hosts.
As the hosts go chronologically through every episode of New Girl, they're joined by various cast members, including Jake Johnson (who plays Nick), Dermot Mulroney (Jess' mega-rich boyfriend Russell) and Nelson Franklin (who plays Robby). Superfans of the show will be pleased to know there are tons of tidbits from behind the scenes too, from the show's original audition process to details about which scenes needed the most takes, and the creation of the New Girl roommates' legendary game, True American. Laura Vickers-Green
TalkVille (Smallville)
Hosted by: Tom Welling and Michael Rosenbaum, who play Clark Kent and Lex Luthor
A little over a decade after the series finale, Smallville stars Tom Welling (Clark Kent) and Michael Rosenbaum (Lex Luthor) have come together to rewatch the series, share behind the scenes stories, and answer fan questions related to each episode on the TalkVille podcast. For fans (like me) who spent ten years of our lives with Smallville, this podcast is a fun way to reconnect with the show and learn more about how it was made.
You don't have to worry about Welling or Rosenbaum sugar-coating anything either. Yes, they mostly have fond memories of their time on Smallville and are grateful for the experience, but they also aren't afraid to be honest about what did and didn't work in episodes, both behind the scenes and in the finished product. Welling and Rosenbaum also bring in occasional guests from the series like actor Kristin Kreuk (Lana Lang) and series creators Al Gough and Miles Millar to share their experiences. Brynna Arens
Wizards of Waverly Pod
Hosted by: Jennifer Stone and David Deluise, who play Harper and Jerry
Wizards of Waverly Place stars Jennifer Stone (Harper Finkle) and David DeLuise (Jerry Russo) are taking a trip down memory lane and revisiting the hit Disney Channel series on the podcast Wizards of Waverly Pod. One of the defining Disney sitcoms of my generation, this podcast is the perfect nostalgia trip for those of us who grew up on the show. Where else could you learn directly from a series showrunner that Alex Russo (Selena Gomez) was supposed to have a relationship with Stevie (played by lesbian Jesus Hayley Kiyoko)?
Between Stone and DeLuise's fun energy and noteworthy guest stars including Gomez herself, Wizards of Waverly Pod is the perfect excuse to rewatch the series (or watch it for the first time, no judgment here!). Sometimes it's hard to go back to shows we watched as a kid out of fear they won't hold up to our fond memories, but with this podcast you won't have to do it alone. BA
An Oral History of The Office
Hosted by: Brian Baumgartner, who plays Kevin Malone
This is a beautifully produced, extremely well structured series that's the perfect riposte to anybody who thinks all podcasts are hosted by douchebags who think they're hilarious wangering on about their latest visit to Burger King (only 80 – 90% of podcasts are actually like that).
Hosted by Brian Baumgartner, the man behind dolt accountant Kevin Malone, it's warm, funny and informative. The 12 x 40-minute episodes are planned well, scripted well and filled with genuinely insightful interviews with the cast, writers and directors of The Office: An American Workplace, as well as with cultural commentators and superfans including Billie Eilish (who appears to have watched the show for technically more hours than she's been alive). This one isn't just an excuse for old colleagues to get together and shoot the breeze, but sets out a clear strategy of trying to answer the question of why The US office has won its place in fans' hearts. LM
The Good Place: The Podcast
Hosted by: Marc Evan Jackson, who plays Shawn
Welcome! Everything is fine. The Good Place superfans are extremely well catered to by this official NBC companion podcast, which ran from 2018 – 2020 as the final two series aired. There are over 50 episodes plus bonus roundtables and more with excellent access to showrunner Mike Schur, the writing and production team, and the entire cast including (of course) Ted Danson and Kristen Bell.
Get insights into the writers' room, the gags, that major season one finale twist, as well as philosophical discussions and more Easter Eggs than is medically advisable, all expertly marshaled by the actor behind the demonic Shawn Marc Evan Jackson (who also hosted a short-lived official NBC Brooklyn Nine-Nine companion podcast in 2020.) Extra marks for the "What's good?" format point with which every interview ends, in which guests share a little of their personal joy. LM
Parks and Recollection
Hosted by: Rob Lowe, who plays Chris Traeger, and writer Alan Yang
Writer, director, producer and Mouse Rat bassist Alan Yang hosts this deep dive into Parks and Recreation with Chris Traeger himself, Rob Lowe. It's got a massively catchy theme tune, is packed with behind the scenes info and regularly features special guests including cast members, directors and heads of department on the show. The podcast launched in 2021 while we were in full on pandemic and analyses the show episode by episode, though it only runs up to the end of season 3 (Lil' Sebastian!).
Very informative with loads of technical detail and insights from the writers room, it's not hilarious in and of itself, though as an ep by ep commentary for Pawnee superfans it's gold and full of pub ammo facts, and discussions of dead horse songs.
Rosie Fletcher
WHY NOT ALSO TRY
Gates McFadden InvestiGates: Who Do You Think You Are? (Star Trek: TNG) – hosted by Gates McFadden, who plays Dr. Beverly Crusher
Clear Eyes, Full Hearts (Friday Night Lights) – hosted by: Derek Phillips and Stacey Oristano, who play Billy and Mindy Riggins
It's Not Only Football: Friday Night Lights and Beyond – hosted by: Scott Porter, Zach Gilford, who play Jason and Matt, and actor Mae Whitman,
Zack to the Future (Saved By the Bell) – hosted by: Mark-Paul Gosselaar, who plays Zack Morris, and writer Dashiell Driscoll