Features
The Best Podcasts Like My Dad Wrote a Porno
Now that worldwide phenomenon My Dad Wrote a Porno has ended, here are some equally funny and scandalous podcasts to enjoy next.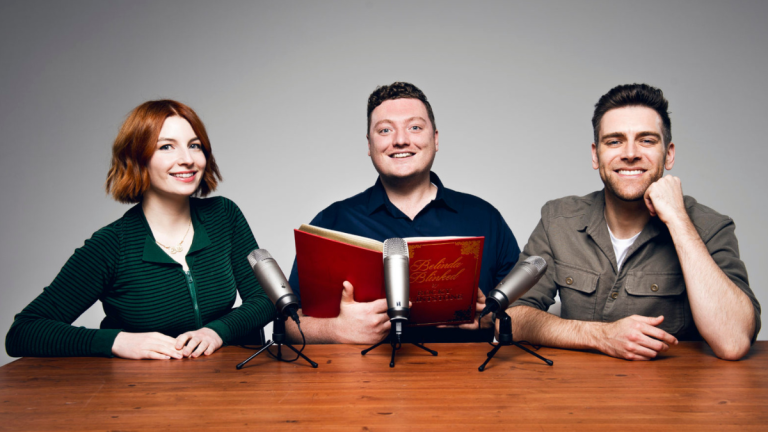 Thank goodness that when Jamie Morton discovered his dad had started writing embarrassingly bad erotica, he decided to share it with the world. This resulted in My Dad Wrote a Porno, a weekly podcast series in which he read a chapter of his father's steamy Belinda Blinked novels aloud, capturing the hilarious reactions of his friends Alice Levine and James Cooper.
When it began in 2015, the podcast renaissance was only just beginning, and you could argue that My Dad Wrote a Porno's runaway success – sparking world tours, a HBO special, and a whopping 430 million downloads – had a hand in bringing the podcasting industry to its current dizzying heights.
Sadly, all good things must come to an end, and after six wild seasons the show released its final episode in December 2022. For some, it remains unbeatable, but here are some excellent – and often equally cringey – comedy podcasts to fill the void:
Help I Sexted My Boss
There's a uniquely brilliant dynamic between the adorable naivety of Jordan North and the uptight outrage of William Hansom that makes Help I Sexted My Boss such a joy, despite its subject matter sometimes being nauseatingly graphic.
Like My Dad Wrote a Porno, it has a pleasingly formulaic nature, with Hansom simply reading out filthy and often sexual confessions sent into the show, and after the duo have got over their highly entertaining reactions, they attempt to give some half-decent advice.
As the show is already five years old, there's also an excellent back-catalogue to work your way through, or you can enjoy some of the best bits on YouTube, with memorable letters including a Harry Potter dilemma, a very unfortunate name, and a truly shocking Grindr disaster.
Mortified
The format for Mortified is utter genius: adults read out the absolutely toe-curling, melodramatic, and often shocking diary entries they wrote as teenagers… to a live audience. From deranged boyband fangirling to cruel teenage feuds and discovering the secrets of your sister's journal, it prompts similarly hilarious reactions to the subject matter in My Dad Wrote a Porno while also being pleasingly relatable.
There have been some excellent guest stars too, including Elijah Wood, Alanis Morrissette and Ezra Miller, who add amusing commentary and interviews alongside the episode's diary entries. Mortified began in early 2017 but episodes can be as short as 15 minutes, so there are over 200 bite-sized instalments ready to enjoy.
Sh*tsnGigs
We all (incorrectly) think that if we recorded conversations with our best friends it would make a hilarious podcast, but with Sh*tsnGigs it's actually true, and you simply can't help laughing along with the authentic banter of hosts James Duncan and Fulhad Dawodu.
Like My Dad Wrote a Porno, the subject matter usually falls firmly in the NSFW category, with the best friends reading out and reacting to the outrageously funny replies to risqué questions, like 'What's the ickiest thing he's said during the deed?' and 'What's the most embarrassing thing you've been caught doing?'
With almost 300 episodes dating back to 2019, there's plenty to catch up on, or you can also enjoy hundreds of mini-clips on the Sh*tsnGigs TikTok (which now has almost seven million followers).
Beach Too Sandy Water Too Wet
This show really captures the My Dad Wrote a Porno trick of mastering a simple but effective format: giving dramatic readings of ridiculous one-star reviews of products and services. It's hosted by siblings Alex and Christine Schiefer, who mercilessly ridicule not just the unreasonable reviewers but also each other in a way that only a brother and sister can.
Reviews cover everything from wedding DJs to truck stops, tourist attractions, boxed wine, video games and more, with nothing off-limits from the wrath of anonymous keyboard warriors with a bone to pick.
It started in 2018 so there are over 200 episodes, but they're neatly themed so you can dip in and out wherever you like.
How Did This Get Made?
If you're mourning the loss of the perfect trio that was Jamie, James and Alice, you'll adore How Did This Get Made?, which is hosted by a US sitcom triumvirate of Jason Mantzoukas (Brooklyn Nine-Nine), June Diane Raphael (Grace and Frankie) and The League's Paul Scheer.
This long-running podcast started in 2010, and each fortnightly episode amusingly dissects a considered-terrible or outlandish film, with targets ranging from Spiceworld The Movie and Catwoman to Speed 2: Cruise Control, Roadhouse, and Space Jam.
Between the main instalment and minisodes there are over 600 episodes to listen to, and some excellent live shows, plus guest hosts including Adam Scott and Roxane Gay.
British Scandal
If you can't bear to say goodbye to the My Dad Wrote a Porno hosts, the good news is that Alice Levine now has another podcast, British Scandal. This true-crime podcast launched in 2021, and as the name suggests it digs into some of British history's greatest scandals, from The Great Train Robbery to Murdoch phone hacking and… well, Boris Johnson.
Although the humour is understandably less frequent than My Dad Wrote a Porno, given the subject matter, Alice Levine is still gloriously entertaining, and this gripping podcast has already won awards.
My Dad Wrote a Porno is available on Apple Music, Amazon Podcasts, Acast, Spotify, Soundcloud and more.