Features
Alex Rider: Otto Farrant on Spy Stunts, Torture and Easter Eggs
The star of Sony's Alex Rider TV series takes us behind the scenes of the teen spy action thriller…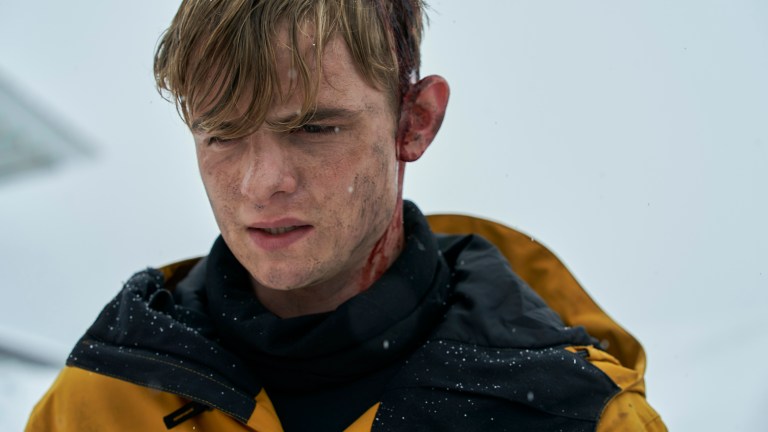 It's March 2019 and actor Otto Farrant is sitting in his car listening to heavy metal at top volume. Over the din, he's screaming out the words to Jake Bugg's 'Seen it All' ('I've seen it all/I've seen it all now/I swear to god I've seen it all/ Nothing shocks me anymore.') He changes songs, trying another, then another, and another. For an hour. For two hours. It leaves him and his voice totally drained.
No, the stress of leading Sony's new teen spy thriller Alex Rider hasn't got to him. This is rehearsal. He's practising for an upcoming scene in which his character – a teenage schoolboy recruited by MI6 – is kidnapped and tortured by a band of mysterious operatives.
"I'll never forget sitting in my car for a good two and a half hours trying different songs to sing over the top of heavy metal," he tells Den of Geek on a Zoom call one year later. "I just turned up the volume really loud of my car and sang about six different songs over and over and over again. By the end I was exhausted."
The character was originally supposed to sing Nirvana's 'Smells Like Teen Spirit' in the scene but director Andreas Prochaska wanted something younger. "Jake Bugg was the one that stuck," says Farrant – it's a more modern, English track for a modern, English teenage spy.
The torture scene itself "felt surprisingly real" laughs Farrant. "When everything's created for you, the water's coming down and I'm strapped in… you really have to do very little!"
Obvious from its desaturated tones and scenes of dark peril, this Alex Rider is very different from the zany cartoony comedy of the 2006 film adaptation. It's a more restrained, straight-down-the-line thriller. There are heightened Bond-style elements – a plot, for instance, involving a super-villain plotting world domination via an exclusive school in the Swiss Alps for the children of the super-rich – but it's much more grounded than the film, which was a critical and commercial failure.
A well-briefed Farrant calls the show "the perfect balance between fantasy and reality."
"The books are predominantly aimed at a younger audience," he continues, "but the series has loads of scope to attract different ages. We really tried to make it so that anyone, whatever age they are, could watch it."
Fans of Anthony Horowitz's book series, many of who are now, like Farrant, in their 20s, will certainly be watching. They should keep an eye out for the odd Easter Egg, Farrant hints. Focus on the bookshelves behind Alex's uncle's desk, and in Alex's bedroom, he says. "You have to look out."
Filmed on location in London and Romania, the Alpine school Point Blanc around which the plot revolves was a real exterior augmented in post-production. "They made it look a bit more eerie. I think it's a sports training camp for athletes, located in the Romanian mountains," Farrant remembers. "We had to take Skidoos and snow machines to get up there every day."
The school exterior is the location for one of the series' biggest stunts, a snowboarding scene highly anticipated by fans of the books. Farrant did as much of his character's stunt work as he was allowed, but the insurance line was drawn there. With its young audience in mind, the show had to be careful not to encourage dangerous copycat behaviour from viewers. That's also why Alex and his best friend Tom (played by Game of Thrones' Brenock O'Connor) are never seen in the series riding their bikes without helmets.
The chief risk for Alex Rider in series one isn't knocks on the head, but the villainous Dr. Grief (Haluk Bilginer). Farrant's co-star O'Connor describes Grief as "a genuinely evil villain, very cold, very calculated. You really understand what's driving him, what's pushing him."
Grief (pronounced Gree-eff) is a "larger-than-life character", says Farrant, "but grounded within the reality of the real world."
A real world in which everybody, and especially young people, has to navigate who to trust, and who is trying to exploit you. "Definitely there are bad people out there," says Farrant. "You've got to be careful, you've got to be on your toes, as Alex knows."
"Throughout the series, [Alex] is learning how to trust other people, he realises he has to rely on the kids at Point Blanc, and he does have to rely on the Department, even though he doesn't completely trust them. It's a story about a boy growing up and learning who to trust."
Alex Rider arrives on Amazon Prime Video on Thursday the 4th of June