Reviews
Alex Rider Review: Amazon's Earnest Teen Spy Thriller
Sony's new take on Anthony Horowitz's Young Adult books ages up the teenage agent and loses the spy silliness. Here's our spoiler-free review…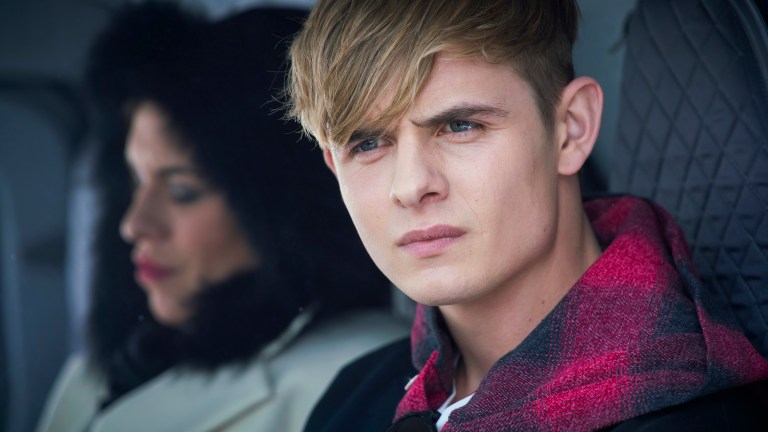 This spoiler-free Alex Rider review is based on episodes 1-4.
For UK kids born after 1990, and parents and teachers of the same, Anthony Horowitz's bestselling Alex Rider books need no introduction. School libraries keep multiple spine-cracked, Sellotape-repaired copies. 'Stormbreaker' posters decorate classroom walls, and in schools around the country, tie-in 'Scorpia' key stage worksheets are photocopied by the hundredweight. Booksellers asked by customers how to entice a young, reluctant, usually male reader into fiction don't even wait for the question to end before plucking an Alex Rider off their shelves. When Harry Potter has done all he can, reach for Alex. 
For everybody else, the Rider books tell the phenomenally popular story of a 14-year-old London schoolboy recruited by MI6 as a spy. Armed with comically age-appropriate gadgets including metal-dissolving acne cream, a grappling hook disguised as a yo-yo, and a Sony Discman that turns into a circular saw, Alex repeatedly saves the world from Bond-worthy villainous schemes.
The action thriller series started in 2000 with the publication of 'Stormbreaker'. Thirteen books later (along with graphic novels, short story collections, world-building tie-ins, Nintendo video games and a 2006 film starring Ewan McGregor), they're celebrating their 20th anniversary this year. The occasion coincides with this eight-part TV adaptation made by Sony and streaming on Amazon Prime Video from Thursday the 4th of June. 
Is 20 years too long a gap to capitalise on the Alex Rider book buzz with a TV adaptation? Haven't the original fans now grown up and swapped the teen spy for Jack Reacher in the escapist action genre? Perhaps. And yes. 
Sony though, has a plan to deal with that – it's fast-forwarded Alex a couple of years and banished the gadget silliness, pitching the new show as suitable for all ages, children and adults alike. It's a moody, realist take on the character that's a world away from the zany, colourful and cartoonish 2006 film (likely because the film wasn't a hit and and failed to spark the hoped-for franchise).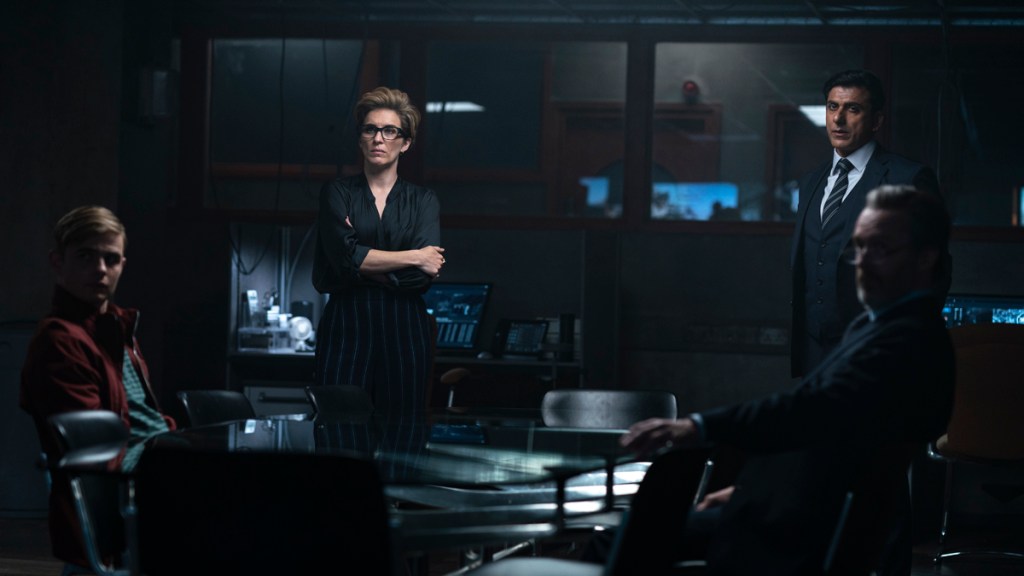 The result is a show that aims to be more Spooks than Spy Kids. The colours are muted and desaturated, the London skyline isn't shiny and upbeat, but chilly and austere. Grown-ups exchange tense words – and sometimes bullets – in dramatically lit rooms. 
It's a world free of frivolity, one attempting to deny that there's anything preposterous about the idea of British Intelligence recruiting a schoolboy to save the world. Denying the inherent lark of the premise avoids cheesiness, but playing it straight down the middle also leaves the series feeling po-faced in places.
In terms of age-suitability, there appears to be a budget of one expletive per episode, which adds to the naturalism of a teen show. A couple of strangely non child-friendly jokes (one referencing donkey porn, another an intimate body piercing) though, might make for awkward family viewing conversation.
At the centre of the cast is Alex, played by experienced screen and stage actor Otto Farrant (in his early 20s but just young-looking enough to convince as a 16-year-old in a school blazer). It's an action role that takes its cue from Alex's buttoned-up British spy screen predecessors. As the lead, Farrant is intense, reserved and emotionally doesn't give much away. 
What unbound energy there is in the episodes available to preview belongs to Alex's friend Tom (written into the plot of 'Point Blanc' in a role expanded from the books), played by Game of Thrones' Brenock O'Connor. Tom's a talkative film nerd who, with Alex, rides bikes, plans movie marathons, awkwardly attempts to navigate relationships with girls, and goes to parties where people drink until they vomit – all normal teen stuff.
The normal teen stuff is spliced with a heightened spy plot kick-started by the execution of some high-profile magnates around the world. When the link between the deaths is traced to an elite international school for the disturbed teenagers of the super-rich, MI6 tries to recruit Alex to find out what's really happening at the Point Blanc Academy (school motto: "Only perfection is good enough"). That mystery is strong enough to pull you through the opening couple of establishing episodes, after which things start to get going.
There are set-pieces in every ep, and cliff-hangers to drive you from one to the next. As an action hero, Alex is nimble, capable and good under pressure. He turns out to be a crack shot who proves handy in a fight. Kit-wise, he relies more on old-school spy tricks (think 101 Ways with a Paperclip) than any of the outlandish gadgets of his book counterpart.
Book readers will recognise from the description that the TV series largely skips the plot of the first book and jumps straight to the second, 'Point Blanc'. Alex's recruitment by The Department and the disappearance of his uncle and guardian is folded into the story. It's a good move that affords the series an impressive snow-bound location – Romania standing in for the Swiss Alps.
The locations are impressive and the show certainly doesn't look cheap. Alex sniffs out one mystery in a great-looking abandoned factory, and suffers a nasty trial in an atmospheric bunker. The overall effect is dark and ominous, with a cool, urban soundtrack. The adaptation, written by Guy Burt (The Borgias, Beowulf, Tutankhamun) feels English and not blandly transatlantic – Tom eats a packet of own-brand supermarket Frazzles in one scene. It's the little touches.
Cast-wise, Alex's housekeeper/mother-figure Jack Starbright is played by Ronke Adekoluejo. Turkish star Haluk Bilginer plays the villainous Dr. Grief (pronounced Gree-eff), Point Blanc headmaster. As members of the shadowy 'Department', Stephen Dillane gets to stretch his legs a little as the morally dubious Alan Blunt, but Vicky McClure is so far wasted as a straight-faced handler. In the early episodes at least, the adult-only scenes feel particularly lifeless – not original enough for grown-ups and not energetic enough for kids.
It's pretty good at times and could well develop into a compelling series. Once the Point Blanc plot gets going in episode four, there's more to recommend it but up until then, there are a fair few flat moments. The issue is that playing it down the middle, neither solely for children or for adults, means it doesn't quite hit either target. By ageing up the lead, keeping a straight face and aiming to make Alex Rider suitable for everybody, it risks not being great for anybody.
Alex Rider launches on Amazon Prime Video on 4th June.