Features
5 Things 1923 Season 2 Must Avoid
With the premiere season of Yellowstone prequel 1923 now complete, it's time to look ahead to season 2 and the freshman mistakes to be avoided.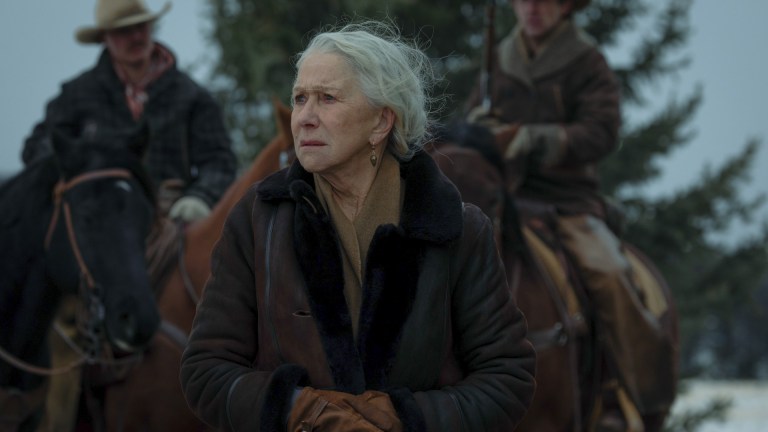 This article contains spoilers for 1923 and the YELLOWSTONE universe at large.
Taylor Sheridan is undoubtedly one of the most talented creative voices to come out of television in the past decade. Even choosing to omit his other shows outside of the Yellowstone universe, the world of the Duttons has had a combined seven and a half seasons of cowboy inspired chaos, and it isn't even finished.
It can be argued, however, that Sheridan is beginning to spread himself a little too thin, and as a result, the first season of 1923 wasn't as strong as some of his previous shows. There were more than a few moments that were uncharacteristic of Sheridan's talent and reputation, and certain traps he should try and avoid for the second and final season of the prequel. 
Shelving Your Two Icons
Early in the season, it was clear that this was going to be Helen Mirren's show, even though she shares top billing with fellow legend Harrison Ford. Mirren's Cara Dutton, the matriarch of the Dutton clan at this point in the fictional family's history had to take charge when her partner, Jacob (Ford) was almost fatally wounded. This meant that Cara, the voice of strength and reason within the family, had to truly step up, and Mirren was a revelation in those early episodes. The Dame truly proved why she has been a perennial performer of stage and screen, and showed the fortitude audiences have come to expect from Dutton women. 
In the meantime, by only the third episode, audiences lost the opportunity to see Ford in action. This may be a result of the Ford television renaissance of late, and perhaps it was a conflict with his shooting schedule, which has been consistently busier in the past couple of years than usual, but to almost literally shelve a legend like Ford by having him bed-ridden is an absolute waste.
The other side of that coin came when Jacob, who miraculously survived, finally made it to his feet, and started to resume his duties as head of the family, and Commissioner of the newly formed Livestock Agency. When this was the case in the latter few episodes of the season, it was Mirren's turn to somewhat take a back seat. When you have two preeminent talents such as Ford and Mirren, it's a shame for either of them to retreat back to the shadows, especially in the first season of a show. When the two shared screen time, which sadly was not all that often, as expected, they absolutely commanded the screen, and it easily became the highlight of that episode.
Weakening The Female Characters
Another side-effect of pushing Dame Helen to the back to allow Ford a little more of the limelight (and vice versa) is it weakens the character. Whoever is not in charge at the time automatically becomes a little more diminutive, which is not what audiences want to see from the heads of the family.
Specifically, when Cara wasn't taking charge, or acting in Jacob's stay, she was quickly reduced to a worrisome housemarm. This is not only uncharacteristic of the generations of Dutton women that Taylor Sheridan has created, but of Cara herself. In the very first episodes, we see her take control of the violence which surrounds her family, to deadly results. A shotgun-wielding Cara takes out one of the attackers who shot Jacob and her nephew in the exact method we would expect from a Dutton woman.
Couple that with her easily stepping into a "man's world" by speaking on behalf of Jacob and the Livestock Commission, and Cara proves time and time again that Dutton women are simply built differently. Yet, as mentioned, in later episodes she is reduced to a helpless shadow of that early character. When Jacob returns to the land of the living, there is scene after scene of Cara merely sitting at home, waiting, worrying and journaling her emotional experiences. She even shares that technique with her niece-in-law, Elizabeth (Michelle Randolph), and together, the two even bake a cake.
Perhaps it's more indicative of the time period, but considering Sheridan has already given audiences 1883, he already established that Dutton women have never cared about gender conformity or what is expected of them. It is a core value fans have come to love about any woman who is a part of this family. 
Subsequently there are several scenes where female characters such as Elizabeth or Emma (Marley Shelton) allow themselves to be defined by their husbands, or even their ability to be a mother. Alexandra (Julia Schlaepfer), a woman who chose to leave her life of privilege to be with the adventurous Spencer (Brandon Sklenar), for much of her globetrotting adventure has been nothing but a liability. She seems completely unprepared for the chaotic and violent aura that surrounds the Dutton family. Granted, this allows room for these characters to grow and become stronger, and granted it's not the case for all female protagonists in this show, but when it occurred, it was certainly out of character for these women.
Stop Delaying Dutton Justice
Another aspect that seemed out of character was the Duttons (more specifically Cara) putting their faith into the justice system. During this first season, we saw Banner Creighton (Jerome Flynn) on trial for his crimes against the family.
The Duttons don't conduct trials, they don't arrest people – they are judge, jury and executioner, and that sense of western frontier justice is exactly why millions of people tune in every week. Fans want the kind of justice that only a snake in a cooler can provide, and typically don't want to see a scene out of Law and Order.
While Sheridan occasionally gave audiences a taste of that Dutton justice, it can easily be said it wasn't enough to satiate the bloodlust and revenge building up inside of his viewers. As a result, fans have witnessed something that never really happens for too long in the Yellowstone universe – the antagonists have continued to get the upper hand against the family.
Creating Caricatures
What has been another absolute treat in the previous seasons of any Yellowstone universe show, is the antagonists have matched the chaos and energy of the Duttons. From season 1 of Yellowstone, they have been darker mirror versions of the family, reflecting their lust for power, control and their greed.
It's what every great rivalry in pop-culture has reflected for decades – the hero and the villain should be two sides of the same coin. It's what makes conflict interesting, and what Sheridan has done so well prior to 1923.
With this newest prequel, quite often the antagonists have been, for lack of a better term – too much. Take Timothy Dalton's Donald Whitfield, a powerful English aristocrat hell-bent on owning as much of Montana as he can and mining it for every precious resource he can drain from it. On paper, that seems like a perfect shadow to the Dutton brand – he is power hungry, and wants the land all for himself. That's interesting.
Yet the scenes late in the season where Whitfield has prostitutes torture one another as he leers in the corner, turned a savvy and intelligent business equal into a one-dimensional antagonist. He was no longer the Duttons' equal, he was merely evil for the sake of being evil. At one point in the finale, Cara asks Whitfield why he is going to such lengths to personally ruin the Duttons, to which he replies "because I can." That is simply lazy writing.
Whitfield wasn't the only one-dimensional villain, either. Spencer and Alexandra in the last two episodes of 1923, just by horrible happenstance crossed paths with Arthur, the Earl of Sussex and Alex's former fiancé. Arthur was so over the top that his foppish dandy of a man was simply laughable at times. Granted, his honor was insulted, and he clearly had a score to settle with Spencer, but to have the well-dressed little weasel actually challenge Spencer to a duel was equally as laughable. Instead of building up some kind of rivalry between the royal family and the Duttons, Young Arthur became, quite literally, a throw away character. It is very uncommon for Sheridan to create such flat and farcical characters, especially in his antagonists.
Repetition
While it can be interesting to search for common threads between the three (or more) generations of the Dutton family Sheridan has shared with audiences, there is one trap that Sheridan must avoid – repetition. There's a thin line between "homage" and being derivative of one's own writing, and in 1923, it seemed that Sheridan crossed that line.
There have been several instances where young Duttons have fallen madly in love fairly quickly. We saw it with Elsa (Isabel May) in 1883, twice in fact. We saw it with Jack (Darren Mann) and Elizabeth in 1923, and again with Spencer and Alex, and yet again with Teonna (Aminah Nieves) and Pete (Cole Brings Plenty) in the same season. A lighthearted trait which introduces some romance into the dark world of the Duttons, perhaps, but while once or twice is a quirky affliction of youth, three or four times is pushing the boundaries of believability.
Same goes for a very poignant story thread that Sheridan has reintroduced this season in Yellowstone. For quite some time now, it has been a definitive, core part of Beth (Kelly Reilly) that she cannot have children. In this latest season, her sister-in-law Monica (Kelsey Asbille) lost her newborn.
In the final episodes Elizabeth must deal with losing her unborn child as well. This led to an absolutely beautiful exchange between Jack and his wife, reassuring her that her purpose on this earth is not merely defined by motherhood, but it did beg the question why Sheridan kept revisiting this storyline, and making it a key moment in so many of his female character's lives. Part of the major draw of Yellowstone is it was unlike anything that this generation of television viewers have seen. Those fans can only hope that Sheridan can continue delivering those dynamic and original storylines throughout the Dutton universe, and not have to simply rehash all-too-common narratives. 
All eight episodes of 1923 are available to stream on Paramount+ now.