Features
30 Rock: A Trip Through Jenna Maroney's Wildly Absurd Backstory
Has any TV character lived a life like Jenna Maroney? With 30 Rock back on Netflix US, we revisit some major events from one hell of a biography.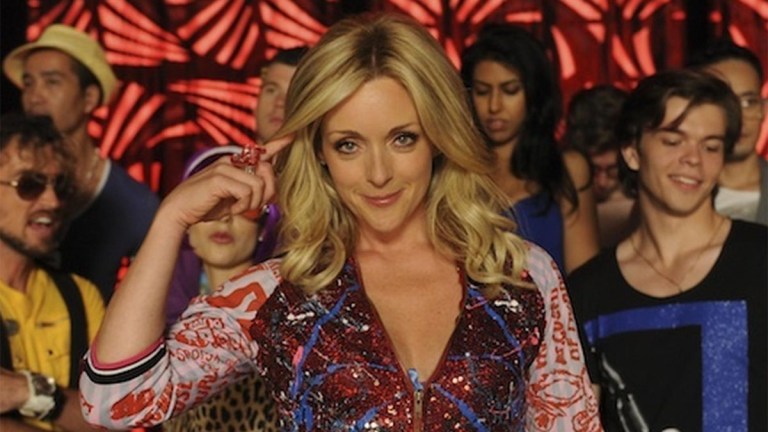 Forget Jay Gatsby, Forrest Gump, and Fievel Mouskewitz, no fictional character so thoroughly embodies the American dream as Jenna Maroney. Conceived on a toilet, born on a kerb, and raised in a swamp, Maroney flew to fame and fortune on a rocket built from desperation and a pathological need for attention (why should babies get all the fuss? They're not the only ones who can fit both feet in their mouths).
Born Ystrepa Grokovitz to parents Verner and Werner, and brought up in Toilet Cove Swamp, Jenna was a natural performer from a young age, gracing many a Florida child pageant stage and at Christmas, regaling mall staff with carols to distract from her mother's shoplifting. She boasts a seventh grade education and a diploma from the Royal Tampa Academy of Dramatic Tricks, at which she majored in game show pointing and theatre superstitions. It all changed for Ystrepa when she met roommate and best friend Elizabeth Lemon, future head writer on NBC late-night comedy sketch show TGS – which brought us such greats as Gaybraham Lincoln and Fart Doctor.
Actor announcement! The character of TGS star Jenna Maroney was originally Jenna DeCarlo, a part Tina Fey wrote for her Second City and SNL co-star Rachel Dratch, who played Jenna in 30 Rock's unaired pilot (see below) before being unceremoniously replaced by NBC execs. Dratch went on to multiple appearances in various character roles in the show's early days.
Back to this timeline. At 29 years old (cough), Maroney has built some career. Not only a comedic sketch performer, she's also a serious dramatic actor with roles ranging from murdered prom queen to murdered runaway to murdered sex worker to werewolf (various). A talented singer, she's enjoyed international pop success with hits including 'Muffin Top', the theme song from musical 'Rural Juror' based on the novel by Kevin Grisham, and, who could forget summer jam 'Balls'. Her vocal stylings can also be enjoyed in such classics as 'Break Another Little Chunk of my Lung' in her lead performance in unlicensed Janis Joplin biopic 'Jackie Jormp-Jomp'.
So high-maintenance she makes Miss Piggy look reasonable and down-to-earth, Jenna's meltdowns are as regular as her name drops. She loves to be wanted, and is, by the Yakuza. Jenna's Hollywood lifestyle brings her into contact with many a famous face, towards all of whom she is fiercely competitive and extremely vindictive. She has multiple running feuds with US tween stars, for whose recently-out-of-rehab mothers she is regularly mistaken at awards ceremonies.
In the cut-throat world of entertainment, Jenna is a survivor. (Literally. She watched her entire church group get eaten by a bear.) That survival is rooted in her unfailing self-belief and deep psychological damage. Vice President of East Coast Television and Microwave Oven Programming Jack Donaghy describes her as an unceasing onslaught of dysfunction, while she's proud to have been declared "unfixable" by TV's Dr Drew. All of which led to a major career boost when she channelled her total lack of conscience into becoming the mean judge on reality talent show America's Kidz Got Singing.
Less America's sweetheart, more its slutty cousin, Jenna's a multi-hyphenate with a colourful dating history and a weird sex tape for every occasion. She's not only on cam-a-rah talent, but also the face of the vaginal mesh industry and briefly, was the spokesmodel for Enormé (America's number one fragrance for plus-sized women). All that, and she's been writing a sex column for Cosmo. (Cosmo is her 14 year old neighbour. He doesn't know anything). Few could live life at Jenna's speed. But you know what they say: if you can't stand the heat, get off Mickey Rourke's sex grill.
Mr Rourke is just one notch of many on Jenna's bedpost, alongside OJ, Roseanne Barr and Tom Arnold, two of the Backstreet Boys, Frank Rossitano and Dog the Bounty Hunter. A legendary international adventuress, Jenna Maroney walked so Alexis Rose from Schitt's Creek could run… away from the Thai drug lord she's bribing with sex to help her free Vin Diesel from a Ugandan diamond smuggler's villa. 
Since the end of TGS, Jenna's been a free woman – doubly so since the sheik who won her in that poker game was beheaded – and therefore able to devote her time to her marriage with gender dysmorphic bigenitalia pansexuelle and female-impersonator Paul, and her hobbies: getting turned on by car accidents, horse-electrocution, and Italian sex parties. From the wiggle in her walk to to the bullet lodged in her jaw, the woman's an original. Charge your glasses and join us in a toast: She runs a tidy bakery, the boys all want her cake for free… everybody, to the monstrous Jenna Maroney!
30 Rock is available now on Netflix US.