Features
30 Rock's Best Running Jokes
As 30 Rock returns for a reunion special, we remember the running gags that made it great…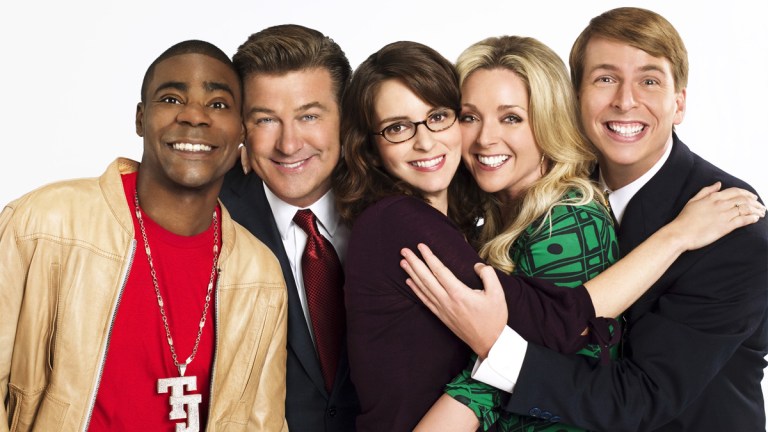 When 30 Rock drew its final breath in 2013, yards of column inches were devoted – deservedly so – to praising the work of creator Tina Fey. Article upon article applauded the characters, cast, performances and seven seasons of energetic, inventive, satirical comedy.
More than anything else though, 30 Rock was always about the gags. It was fruitcake-dense with jokes, regularly fitting in more quotable laughs before its opening credits than many shows manage in a full half-hour. As it returns for a one-off reunion special, join us in celebrating the many, many running gags of its seven-season history, from the fake movies, to the terrible yet incredibly catchy songs, Frank's hats, and those godawful TGS sketches…
The fake movies
The presence of Tracy Jordan (a bonafide Martin Lawrence meets the Wayans Brothers-style movie star) in the TGS cast opened up the world of film parody to 30 Rock.
Admittedly Jenna Maloney also enjoyed a movie career of sorts, but while she was being offered the part of "any blonde actress" in torture porn flicks by the producers who watched and rented Saw, Tracy was turning down the lead in Garfield 3: Feline Groovy to pursue his serious acting career. The latter climaxed with the release of spot-on Precious parody Hard To Watch (Based on the novel Stone Cold Bummer by Manipulate), for which Tracy received the O in his EGOT plan. Sheer class.
Over the years though, who couldn't not smile at Tracy's blaxpoitation-filled back catalogue, from the timeless romance of A Blaffair to Rememblack, to Sherlock Homie, Who Dat Ninja?, The Chunks 2: A Very Chunky Christmas, and last but by no means least, Honky Grandma Be Trippin'. The man is a chameleon (in that he's always a lizard).
Two of Jenna's TGS projects however, bring back the fondest memories of 30 Rock's stinging movie satire: small-town legal drama The Rural Juror (based on a Kevin Grisham novel), and her GE-produced life rights-avoiding Janis Joplin biopic, Sing Them Blues White Girl: The Jackie Jormp Jomp Story.
The TGS sketches
The quality of TGS' output was never under question in 30 Rock; the sketch show was unremittingly bad (when the absence of their star meant a 'Best of TGS' series had to be run in lieu of live shows, Legal objected to their use of the word 'Best', and when a review dubbed it the worst comedy ever made, Liz was thrilled they'd defined it as a comedy). Liz Lemon's opus was a fluorescent collection of fart gags, dodgy caricatures, Jenna's songs, and misjudged celebrity impressions.
Beginning life as, in Kenneth's words, "a real fun ladies comedy show for ladies", TGS was Saturday Night Live's idiot brother, the unsophisticated thorn in NBC's side, under constant threat of controversy and cancellation. Forced to synergise backward overflow, advertise parent company products and promote GE interests, 30 Rock's show-within-a-show satirised both the TV industry and tired trends in comedy (the always hilarious combination of a fat woman who's sexually confident! Old ladies are crazy! Farts!).
Lemon may have seduced pilot Carol (Matt Damon) with her Fart Doctor skits, but TGS failed to win many hearts. With sketches like Pam the Overly Confident Morbidly Obese Woman, Ching-Chong Man Who Loves to Play Ping-Pong, Fat Hillary Clinton, Bear vs. Killer Robots, Me Want Food, and Gaybraham Lincoln, why it wasn't more successful is a mystery.
Astronaut Mike Dexter
Lemon may have ended up with James Marsden's Criss Chros, but fictional boyfriend Astronaut Mike Dexter will always hold a special place in her heart. Handsomer than Dr Drew, less British than Wesley Snipes, less living-in-Cleveland than Floyd, and a million times better than Dennis Duffy, Astronaut Mike Dexter had it all… except of course, a corporeal self.
The fake songs
Over the years, Jenna Maroney's singing career has vomited up some truly dreadful creations, and topping the list has to be Muffin Top (a big hit in the king-making music markets of Israel and Belgium). Seguing from its pop insanity chorus "My muffin top is all that, wholegrain, low-fat" into a Madonna-style spoken-word rap "I'm an independent lady, so please don't try to play me. I run a tidy bakery. The boys all want my cake for free", the song is a battery assault on the senses.
But is it worse than Jenna's summer dance jam, Balls, which earned her the princely sum of $50 in royalties? Or her computer generated, generic benefit song in aid of an unspecific natural disaster, which urged viewers to donate to "help the people the thing that happened, happened to"? How about the Jackie Jormp Jomp performance she gave of Chunk Of My Lung, written by Jack five minutes before the show, containing the classic line "You know you've bought it if life makes you sweet food"? Or Fart So Loud, the un-Weird Al-able song she and Tracy wrote after he parodied the theme to Avery Jessup TV movie Kidnapped? Such riches…
It's not only Jenna who's provided 30 Rock's musical intervals of course. Season three finale Kidney Now! welcomed an eclectic collection of stars including Sheryl Crow, Mary J Blige, Elvis Costello, Moby, two of the Beastie Boys, Wyclef Jean, and Cyndi Lauper to perform a We Are The World-style anthem at the Milton Green benefit gig. Angie Jordan famously released a fifteen-second single My Single Is Dropping, to ride on the wave of her reality-show fame, Frank and Pete's Sound Mound came up with unforgettable rock anthem Weekend Woman, and in the very same episode, even Tina Fey got in on the action by providing excellent Joni Mitchell parody, Paints and Brushes.
The legacy award though, as in the 30 Rock fake song that will continue to bring joy to the hearts of fans decades from now, has to go to one song, and one song only: Tracy Jordan's Werewolf Bar Mitzvah.
Frank's hat slogans
Off-set, stand-up Judah Friedlander favours his 'World Champion' trucker hat, the one he claims to have been awarded as the winner of the World Championships of pretty much all sports, martial arts, and that time he karate kicked Chuck Norris' beard off his face and forced him to legally change his name to Charles.
On-set as Frank Rossitano though, Friedlander wears a series of self-designed trucker hats, each bearing a different gnomic slogan. Often incongruous, sometimes suggestive, and always odd, Frank's hat slogans are part of the bricks and mortar of 30 Rock. In terms of favourites, we're quite fond of 'Alabama Legsweep', or the laconic enigma of 'And', though 'Shark Cop', 'Half Centaur' and 'Space Gravy' also caught our eye over the seasons.
Jenna's Mickey Rourke sex stories
Like Dot Com's intellectualism, this running gag may have been introduced late into proceedings, but Jenna's torrid sexual history with putty-faced beefcake Mickey Rourke gave J-Mo some of her best lines. Jenna's allusions to Rourke's sexually deviant and murderous attempts on her life paint a fascinating picture for 30 Rock fans. Here are some of the finest:
"Your new vibe is a double-edged sword, much like the kind Mickey Rourke tried to kill me with", "Nice try Hazel, but you made the same mistake Mickey Rourke made on that catamaran. You didn't kill me when you had the chance.", "I'm going to have to reinvent you. Break you down completely and build you up from scratch. Just like Mickey Rourke did to me sexually." "Next time you'll tell me Mickey Rourke catapulted you into the Hollywood sign." "You know what they say, if you can't stand the heat, get off Mickey Rourke's sex grill." Wise words.
Kenneth the immortal page
To this day Kenneth Ellen Parcell remains something of an enigma to 30 Rock viewers. In later seasons, Jack McBrayer's character went from being a simple country rube from Stone Mountain, Georgia to  the flesh vessel for a mysterious immortal with no reflection, no age, and links to a world beyond our own.
Plenty of reference has been made to Kenneth's ageless and supernatural state over the years, including the suggestion that not only is he unable to die, but he's also an angel, sent to oversee the transition of souls from one world to the next.
The fake TV shows
It's either a credit to the 30 Rock team or a condemnation of our times that Jack Donaghy's hit reality viewer vote show, MILF Island, no longer feels like a parody. In generations to come, time will no doubt erode the boundaries between fact and fiction, and we 30 Rock fans will be telling our kids about the time we watched Deborah beat her competitors and claim MILF victory in the same breath as educating them about those people who ate kangaroo anuses for public approval.
MILF Island stands head and shoulders above the rest of 30 Rock's fake TV shows (including TGS itself, lest we not forget), but that doesn't mean that Gold Case, Los Amantes Clandestinos, Black Frasier, Homonym, or the inimitable Bitch Hunter deserve any less respect. Our fallen brothers, we salute you.
We could go on indefinitely listing the recurring jokes that made 30 Rock great, from Liz's sandwich lust and desire to go to there, to Jack's gloriously thatched head of hair and Republican conspiracies. As the show prepares to return, which of the above will live again?
30 Rock: A One-Time Special lands on NBC on Thursday July 16th at 8pm in the US.