Features
30 Rock: A One-Time Special – The Best Moments
Suck it, monkeys - Liz Lemon's gone corporate! 30 Rock: A One-Time Special may have technically been an ad for NBC but it does also feature some classic 30 Rock moments and jokes all the same.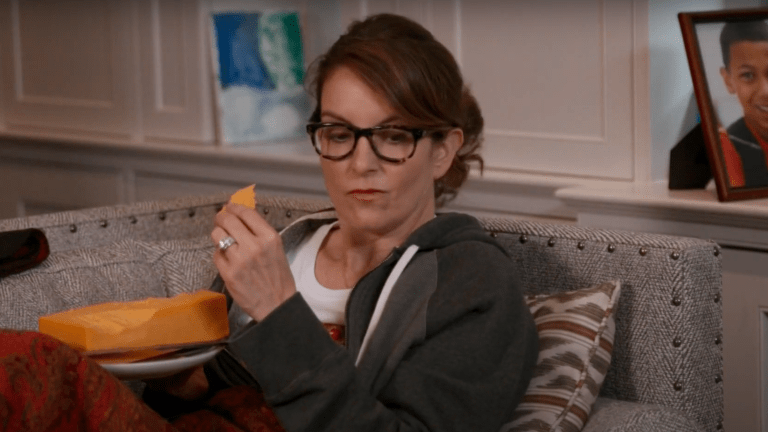 The following contains spoilers for 30 Rock: A One-Time Special.
Unlike the Parks and Recreation reunion special earlier this year, 30 Rock: A One-Time Special wasn't designed to bring comfort to folks during a pandemic or raise money for charity. Instead it was a Trojan horse to sell ad space.
It's not a surprise; since network's upfronts were canceled, the 30 Rock "special" was created to tout NBC's slate of programming, talent, and their new streaming service, Peacock, to journalists and advertisers. The advertorial nature of the endeavor kept many independently-owned NBC affiliates from airing the "reunion" altogether, and though it was disappointing for those looking for a return to the joke-a-minute world of Liz Lemon and her zany co-workers, it wasn't completely devoid of humor (it was also thankfully free of controversy).
Below you can find some of the best jokes and moments from 30 Rock: A One-Time Special, so you don't have to sit through commercials for shows like Law and Order: Organized Crime and Young Rock. Blerg! Grab a big hunk of cheese and read on!
Liz attacks a man on the street for not wearing a mask and using information he learned on Facebook as his defense by saying "Facebook also says my sister's marriage is good! It isn't!"
30 Rock was never afraid to make fun of NBC when it was warranted. While discussing all of the great NBC classics that will be available on their new streaming service Peacock, Liz begins to ask about Friends and is slapped in the face before she can finish. It's likely a sore spot for the network, which lost the rights to streaming the series to HBO Max.
Possibly slyly commenting on the controversy surrounding Jenna's character appearing in blackface in old episodes, Jenna's is currently "canceled" in Hollywood, but not for appearing in blackface, but for "pooping in Mandy Moore's thermos."
Liz hops on a Zoom call with the old TGS writing team and learns that Lutz and Sue are living together, and doing much more, when they begin violently making out.
Liz's reunion calls finally reach Pete, who for some reason looks like a cross between Brett Micheals and Johnny Depp these days. At least his long-suffering wife Paula (Paula Pell) is into it.
Jenna has been trying to keep herself occupied in her exile from Hollywood by "Zoom bombing" unsuspecting high school graduations and delivering unsolicited speeches. The first time she Zoom bombs Liz while Liz is talking to Khloe Kardashian is a legitimately effective jump scare.
Meanwhile, Tracy has transitioned to a new career as a race walker. His secret? Running as fast as he can and "always farting." A sports commentator notes: "Inspiring story here, Tracy Morgan race walking after picking up regular walking in his late 30s."
Kenneth's assistant looks awfully familiar and can barely contain her lust for her powerful boss. Later Jack will ask Liz: "Do you know Vivica? Beautiful woman but there's a sadness there."
Griz is the only person that attends Kenneth's Roarin' 20s Zoom Party. Dot Com is conspicuously absent.
Dwayne "The Rock" Johnson is still upset by Jenna's mean tweets about his animated hit Moana.
Jimmy Fallon echoes Jenna's complaint earlier in the episode that quarantine is most difficult for "hot extroverts."
Speaking of complaints, Liz is upset that her husband Criss "wants to do kissing constantly."
Finally, Tracy's latest plug and play green screen movie is Jurassic Green Book. Looks great! No notes.