News
Wonder Woman 1984 Release Date Delay Expected (Report)
With Wonder Woman 1984 slated to open in a month, it's likely that the sequel will fly to a new date.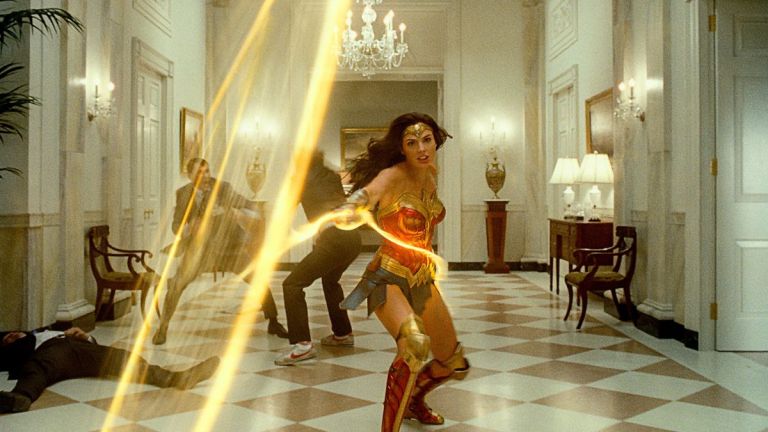 Wonder Woman 1984 is slated to open in theaters on October 2, less than four weeks from now, but according to a new report from Deadline, it's looking very likely that the Princess of Themyscira will fly to a new arrival date.
With theaters in New York, Los Angeles and San Francisco still not opening yet, the report suggests that the second standalone Wonder Woman movie will shift from its early October berth to a weekend in either November or possibly late December.
A late December arrival almost certainly means that Dune, which like Wonder Woman 1984 is distributed by Warner Bros. Pictures, would get pushed out of its December 18 release date and moved to sometime in 2021. Recent trailers for both films do not include specific release dates, so another shift in release dates won't be a total surprise to exhibitors.
Another reason that Wonder Woman 1984 is likely to move is because of the ongoing performance of Tenet. The Christopher Nolan thriller opened in many cities around the country last weekend, but Warner Bros. still hopes to have the movie play on screens in the three major markets mentioned above. The studio doesn't want Wonder Woman in the way if theaters in those cities reopen in time to have Tenet at least take a crack at them.
Opening a big DC movie at Christmas is not out of the question for Warner, which hit $1.1 billion worldwide with a holiday launch for Aquaman two years ago. It's the domino effect on Dune that the studio has to consider.
The other possible release date for Wonder Woman 1984, in November, might put Gal Gadot's Diana in direct competition with Natasha Romanoff, a.k.a. Black Widow, whose long-awaited solo film is scheduled for November 6 after initially moving out of last May. But there are unconfirmed rumors that Disney intends to move Black Widow as well, while also removing its other big November release, Pixar's Soul, out of its November 20 slot and directly onto Disney+.
The two major factors are, of course, money and the continuing pandemic. Tenet only made $20.2 million in its first 11 days of release, including Canada, which does not bode well for other big tentpole films. On the other hand, Disney's big PVOD gamble with Mulan has reportedly not fared that spectacularly either, although hard numbers for that remain a mystery for now.
Meanwhile, even with safety protocols in place at the major theater chains, going to the movies still poses a considerable risk than many moviegoers may not be willing to take, especially with experts warning of the possibility of a fall/winter surge for the virus.
Other major fall/winter releases that could be affected by all this include Candyman (October 9), Death on the Nile (October 23), Lord and Miller's Connected (October 23), No Time to Die (November 20), Free Guy (December 11), Coming to America 2 (December 18) and West Side Story (December 20).