News
Movie Theater Owners Unveil Safety Protocols
The trade group representing movie theater owners, NATO, has issued its own set of safety standards. The hope is to convince audiences it's safe to return to the cinema as screens reopen.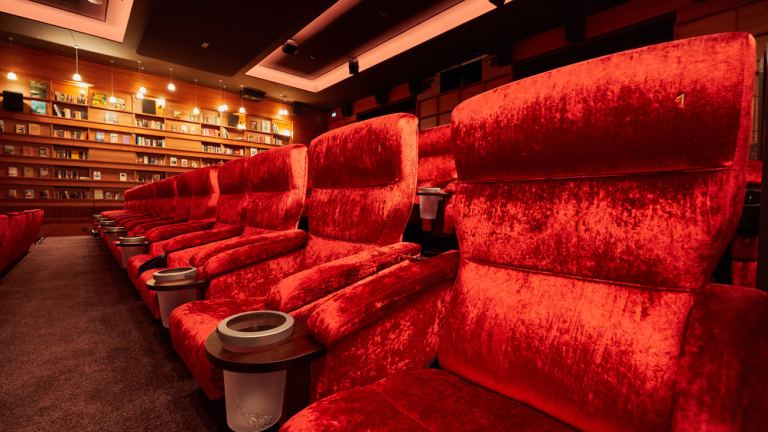 The National Association of Theatre Owners (NATO) unveiled on Friday its own safety guidelines for movie theaters as the major exhibitor chains began reopening around the country. According to The Hollywood Reporter, the guidelines are voluntary but require that all customers and employees wear face coverings as the coronavirus pandemic continues to rage mostly unchecked throughout the United States.
NATO issued the guidelines as a vast majority of screens owned by major exhibitors like AMC Theatres and Regal Cinemas start opening their doors this weekend after a five-month COVID-19 enforced shutdown that nearly drove the theater business to the brink of extinction.
Developed over several months by a team of industry experts, who consulted with leading epidemiologists, the guidelines are called CinemaSafe. They're based on health and safety protocols issued by the Centers for Disease Control and Prevention (CDC), the World Health Organization (WHO), and Occupational Safety and Health Administration (OSHA).
As with guidelines already issued by AMC, Regal, and others, the guidelines require theater customers and employees to wear masks at all times. Customers must keep their face coverings on while in the auditoriums and in common areas of the facility, with some exceptions. Customers without masks will not be allowed inside the theaters. Exceptions to the mask mandate include children under 2 years of age and individuals with medical or physical conditions that prevent them from wearing coverings. Masks may also be removed to consume food and beverages, if allowed by state or local health authorities and for a limited time only.
The guidelines also call for other protocols being deployed by exhibitors already, including reduced capacity, distanced seating, and improvements in air ventilation and circulation, along with more cleaning, frequent employee hand-washing and training, and increased mobile ticketing.
Participants will be able to display a CinemaSafe badge and the list of protocols on their websites and at their theater locations. More than 300 theater owners, representing over 30,000 screens at more than 2,600 locations, have already signed on.
NATO chief John Fithian said in a statement, "In this new pandemic world, moviegoers need to know that there is a consistent, science and experience-based set of health and safety protocols in place no matter what theater they visit. This unprecedented industry-wide effort is a promise designed to meet that need."
While theaters have reopened in many countries and in some regions of the U.S., this weekend represents a serious ramping up of the business in approximately 44 states. Several major states, however, including New York, California, and New Jersey, are keeping theaters closed for now, with those areas accounting for a significant portion of potential box office revenue.
And while NATO points out that "not a single case" of COVID-19 has been traced back to a movie theater either in North America or around the world, The AV Club recently interviewed two epidemiologists who summed up that "there is no scenario in which going to a movie theater is a good idea."
The doctors cited limited ventilation, the experience of being seated in a confined space for several hours, and the inability to control what others do–are you going to ask that freedom fighter two seats down from you to put his mask back on if he feels like taking it off?–as important reasons to continue staying away from theaters.
Nevertheless, with arguments to be made on both sides of the issue, the question is whether customers will decide that going back to the movies right now–an experience we all mostly enjoy but still not an essential one–is something they need to do.
The offerings making their theatrical debut this weekend, including Russell Crowe in Unhinged and director RZA's Cut Throat City, were probably not destined to light the box office on fire anyway. The real test will start to come with The New Mutants next weekend and Christopher Nolan's would-be blockbuster Tenet the weekend after that.