Features
Wonder Woman 1984: Lynda Carter on Passing the Torch to Gal Gadot
Original Wonder Woman Lynda Carter makes an emotional surprise appearance at the Wonder Woman 1984 panel during DC Fandome.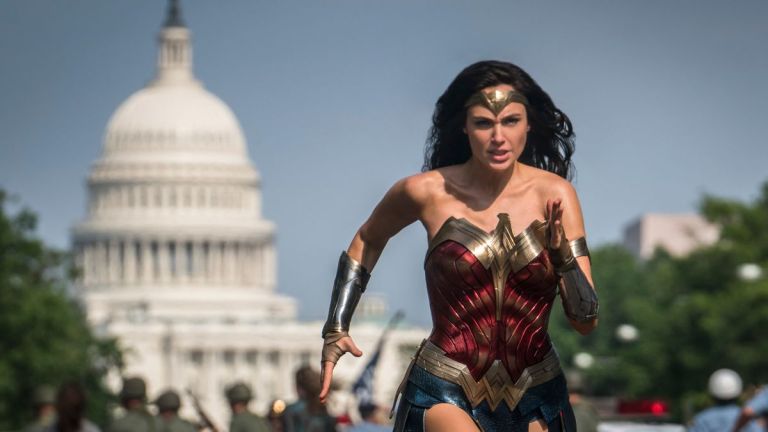 Highly anticipated sequel Wonder Woman 1984 kicked off the Hall of Heroes at DC's first-ever DC Fandome event, serving as the unofficial headliner for the day of film-related panels and promotions.
This makes sense, given that Wonder Woman 1984 is the next big DC film slated to hit theaters, though it's already seen its release date pushed back twice due to COVID-19 pandemic that shut down multiplexes around the world and reshuffled the summer calendar for every major studio. The film is now set to hit screens on October 2. (Fingers crossed.)
As a result, a gorgeous new trailer debuted during the Wonder Woman 1984 panel, giving us our first proper look at the villainous Cheetah and Diana's incredible golden armor, as well as Chris Pine sporting a fanny pack. (The 80s were such a weird time.)
But the most emotional moment from the half-hour virtual conversation between director Patty Jenkins and stars Gal Gadot, Chris Pine, Kristen Wiig, and Pedro Pascal was the surprise appearance by the original live-action Diana Prince herself, Lynda Carter.
Jenkins referred to Carter as "the reason we're all here," as the rest of the cast cheered and made the crossed arms gesture that Diana uses to activate her golden bracelets.
"We think about you every day, Lynda, and we talk about you all the time," Jenkins said. "This would truly not be a Wonder Woman panel if we didn't see your face."
Wiig, who plays Cheetah and is making her first DC film universe appearance in Wonder Woman 1984 seemed particularly overwhelmed by the panel's surprise guest, sharing that she watched the show and dressed up as Wonder Woman for Halloween as a little girl. (She even confessed to owning Wonder Woman Underoos at one point, something I think every Gen X woman out there will likely relate to in some small way.)
Carter, who starred in the Wonder Woman TV series from 1975 to 1979, was equally effusive in her praise of everyone involved in the DC film adaptation.
"I'm beyond excited," Carter said of the movie and about being on the panel. "I've been a fan from day one of Patty's when she was first attached to the film."
And apparently that fandom runs in the family, in a moving and unexpected way.
"My daughter finally saw Gal as Wonder Woman, and she said 'Mom, I finally get it'. I finally understand why everyone idolizes you. I finally get what Wonder Woman means to everyone," Carter explained.
"And that's my daughter. That's my flesh and blood! So, thank you, Gal. Thank you, Patty," she continued, clearly a bit emotional about connecting with her daughter in a new way about the character she once played.
Jenkins expressed gratitude for Carter's support and affirmed that the film adaptation was never meant to erase or replace her performance in the role.
"The first time I ever called you, Lynda, I said we're not here to reinvent Wonder Woman. We're not here to do a new chapter of Wonder Woman. We just hope to pass the torch forward. So that [story] means the world to me.
"Because I was that person," Jenkins continued. "[I] was so moved by you and your performance and the beautiful show you guys did. So being able to know that someone as important as your daughter acknowledges that we could be having that effect on her is a huge compliment."
Gadot made it clear that Carter's involvement with the franchise has not only had a significant impact on her personally but has played an instrumental role in getting the modern-day film franchise off the ground.
"You are a true life Wonder Woman and I can't be more grateful to have your guidance," Gadot said. "To be able to call you Mama Bear and knowing your children now – thank you for everything you've done personally for me. And now this thing is whole because you're here."
"We love you, Lynda!" Gadot concluded. And on that, we can probably all agree.