News
Black Widow Movie: Trailer, Release Date, Cast, Rumors and News
Here's everything you need to know about the Black Widow movie starring Scarlett Johansson.
This Black Widow article contains MAJOR spoilers for Avengers: Endgame. Seriously. Don't read if you don't want to be spoiled.
Those who saw Avengers: Endgame may have been a bit surprised to hear that there was a Black Widow solo movie in the works. After all, Natasha sacrifices herself for the Soul Stone leading into the movie's climactic third act.
However, the fact remains: After years of mumbling and shuffling their feet every time the prospect of a Black Widow movie was raised, Marvel Studios finally saw the light. More likely, they saw the stellar box office numbers and critical acclaim that were heaped on Wonder Woman – the first female superhero to headline her own movie in this modern superhero-driven media era, and steered to success by a woman director – and their own Captain Marvel standalone movie.
The latest news on the flick? Kevin Feige has told Total Film that though they've "hinted at [Natasha Romanoff's backstory] throughout the other films" in Black Widow they "approach it in a completely unexpected way" and we could see some eye-popping cameos and maybe even a little retcon. "She's been up to a lot all along – in between when we see her in the other movies – some of which will be surprising to people."
Here's everything we know so far about the Black Widow movie…
Black Widow Release Date
Black Widow was slated to hit theaters on May 1, 2020, but Disney has pulled the film from its upcoming release schedule (along with many others) as a result of the COVID-19 pandemic and the shuttering of movie theaters across the country and world. We will be getting our Black Widow solo movie, but it has now tentatively moved to November 6.
What are Disney's options if these unforeseeable events have scuppered its carefully-constructed MCU release blueprint? We had a good think about some steps that could be taken, including a potential release on Disney+. Could a special deal be made with other platforms to stream the movie for a hiked-up, theater-level price?
Black Widow Rumors
Potential spoilers ahead!
In Black Widow's final trailer, which you can see below, we learned a little more about the plot of the film, and a lot more of what its villain, Taskmaster, is capable of: an unsettling array of Avengers abilities and strategies that he's already learned to mimic. We also saw what seemed like an army of Red Room assassins on the warpath under insidious control. There's a lot here that warrants Natasha and co's "getting the old gang back together" spirit!
But interestingly, there is also a shot at 0.45 in the final trailer where we get a glimpse of Florence Pugh's Yelena Belova strapped to an operating table with a line drawn around her face.
Hm, is she switching identities with someone?

Well, rumors ran wild after this was spotted, for sure, with some wondering if we really did see Black Widow die in Avengers: Endgame! Was it actually Natasha's face on Yelena's body? The duo's past has been teased to feature some secret missions that include Clint Barton's Hawkeye, so it may have been easier for Yelena to fool him into thinking she was Natasha. Is this a twist that could play out with no plot holes left behind? And if Yelena was the one who died, where is the real Natasha hiding wearing Yelena's face? We have a lot of questions!
Perhaps MCU puppet-master Kevin Feige has already answered one of them. Speaking to IGN Brazil, Feige noted that, though this film takes place before Infinity War and Endgame, it will contextualize the decisions Natasha makes in those films in new ways, saying: "There are things that she does in Infinity War and Endgame that you'll see in a new light once you see the Black Widow."
There could be something to this rumor, then…
Black Widow Trailer
The action-packed final trailer for Black Widow is here…
Marvel released a 30-second teaser for Black Widow during the Super Bowl. Give it a look below…
Check out the earlier Black Widow trailers here…
Marvel also screened some footage from the film at this summer's San Diego Comic-Con. It features Nat and Jeremy Renner's Clint in the oft-discussed city of Budapest. You can read more about that footage here.

Black Widow Cast
Scarlett Johansson returns as Black Widow herself! Joining her are David Harbour as Alanovich Shostakov (aka Red Guardian), Florence Pugh as Yelena Belova (the second Black Widow), O-T Fagbenle as Mason, and Rachel Weisz as Melina.
We recently talked to Pugh, who will be playing the "little sister" of Scarlett Johansson's superhero, and she told us about her entrance into the MCU. Read more about that here.
More on Ray Winstone's character in the film has been revealed to Empire (via CinemaBlend) – turns out he was referenced back in 2012 during the first Avengers movie. When Loki was taunting Natasha as he languished in captivity, detailing the red in her 'ledger', he mentioned "Dreykov's daughter" as a grim moment from her past – in Black Widow, Winstone will be playing Dreykov, leader of the Red Room, potentially in flashbacks, so we're likely to hear more about the history between them.
Will Robert Downey Jr. be back as a younger Tony Stark in the film? In his report on this year's Saturn Award winners, Deadline's Geoff Boucher wrote: "Robert Downey Jr. will be seen in the role of Stark one more time, however, in the Marvel prequel Black Widow in May 2020." This is a big reveal from a reputable source hidden in a relatively minor article, so maybe? Marvel has yet to officially comment, but it would be fitting, as Black Widow first appeared in the MCU in Iron Man 2.
Black Widow Director
Cate Shortland is directing the Black Widow movie. Shortland might be best known for working on Berlin Syndrome, however, we have been fans of the Australian filmmaker ever since we reviewed Lore back in 2013, which is a beautiful and painful film about a young German girl coming of age at the end of the Second World War and realizing that her parents and their generation participated in a Holocaust. The leaders she was taught to admire were nationalist monsters. In retrospect, it sounds a bit prescient, eh?
Black Widow Story
Talking to Vanity Fair, Scarlett Johansson revealed some more details about what the Black Widow movie will be about by telling us what it will not be about.
"I did not want it to be an origin story," Johansson told the magazine. "I did not want it to be an espionage story. I didn't want it to feel superficial at all. I only wanted to do it if it actually fit where I was with that character."
So what will it be about?
"The film talks about a lot of tough stuff. It deals with a lot of trauma and pain," said Johansson. "And so by elevating the genre I mean I hope that it can be both explosive and dynamic and have all that great fun stuff that goes with the genre, but I hope that we can also talk about, you know, self-doubt and insecurity and shame and disappointment and regret and all that stuff too."
The Black Widow movie will be set following the events of Captain America: Civil War (but before Avengers: Infinity War) when Natasha and many of the other Avengers are living life on the lam after having helped Steve and Bucky escape from the airport in Germany.
A prequel movie makes a lot of sense, given the fact that Natasha's death seems pretty permanent in Endgame. While Natasha was introduced to the MCU way back in Iron Man 2 and as much fun as it would be to see a more period-driven prequel a la Captain Marvel, setting the film after Civil War gives lots of opportunities for MCU cameos without the risk of messing with the timeline. (Well, any more than it has already been messed with.)
Black Widow Villain
It looks like Taskmaster is the villain of the movie, and this shot in the trailer with him wielding a bow makes us think he probably encountered Hawkeye at some point.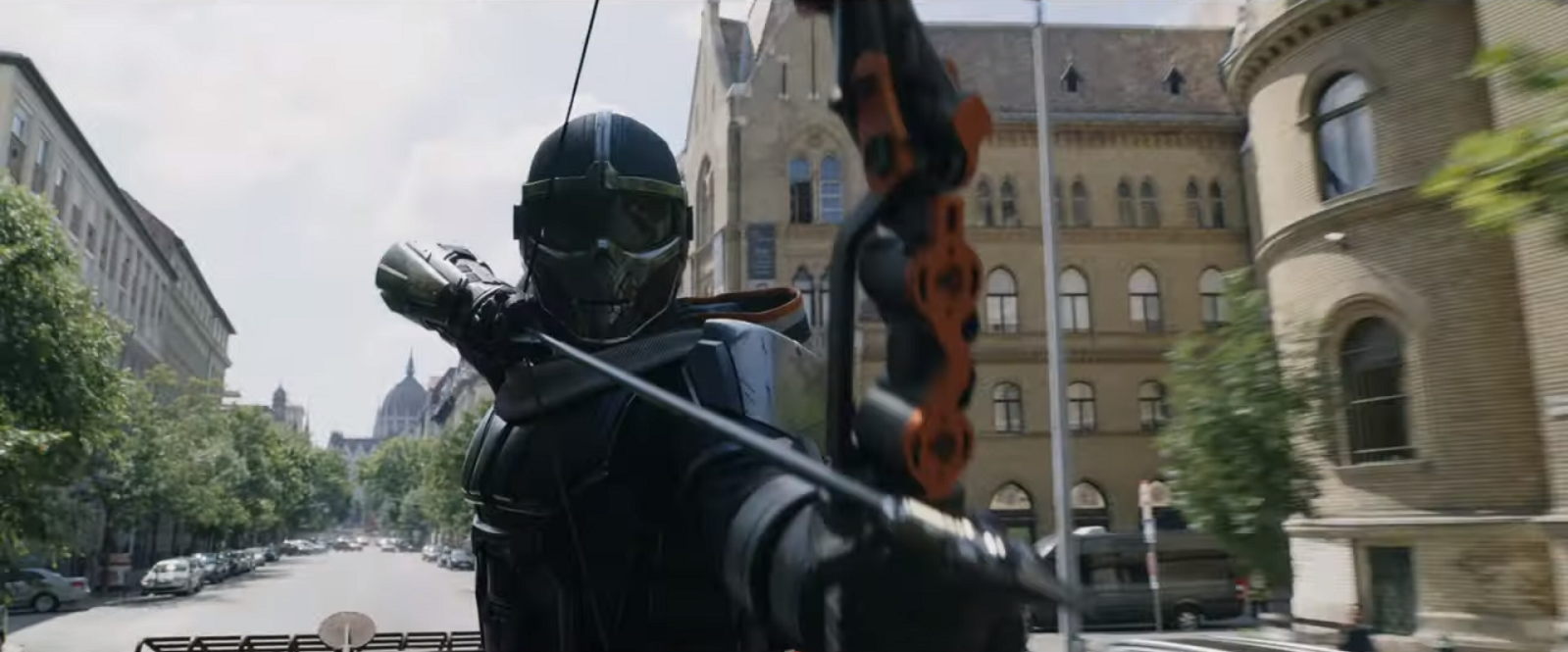 Maybe he's what happened in Budapest!
Wanna know more about the history of Taskmaster? We've got you covered.
We wrote more about the possible stories the Black Widow movie could follow right here.