Features
Wonder Woman 1984: What We Learned at DC Fandome
We got some heartwarming and humorous insight into Wonder Woman 1984 during today's DC Fandome panel. Here's what we learned!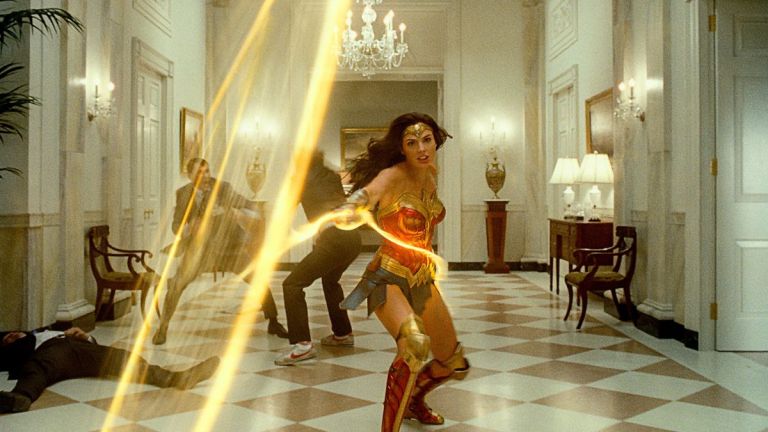 Wonder Woman 1984 kicked off the first ever DC Fandome event, with a 25-minute event that not only dropped a new trailer, but featured insights from the film's cast, including Gal Gadot, Chris Pine, Kristen Wiig, and Pedro Pascal, as well as director/co-writer/producer Patty Jenkins. The panel was steered by Brazilian hosts Érico Borgo and Aline Diniz. Here's everything we learned during the discussion…
Wonder Woman 1984 Will Almost Certainly Release in Theaters
With Disney's decision to release Mulan as a VOD rather than in theaters, many have been speculating about the fate of other upcoming, big-budget releases, in particular Wonder Woman 1984. After watching today's panel, it seems that Warner Bros. is committed to launching this film traditionally, in theaters. Both Jenkins and Gadot made it clear that they put a lot of work into making this a big-screen story. "We're gonna stick it out," said Jenkins, which implies that, even if the October 2nd release doesn't happen, we won't be seeing Wonder Woman 1984 hit HBO Max; rather, we'll likely see another push back of the official release date.
The Costumes in Wonder Woman 1984 Will Be 80s Epic
We've already gotten some sneak peeks at the costuming in Wonder Woman 1984 from the two trailers and promotional images that have dropped. At the DC Fandome panel, Jenkins said that Diana continues to wear "elegant, yet really grounded things," and that she and Kristen Wiig drew on some of their own memories of the 80s in order to think about what a character like Barbara Minerva/Cheetah would dress like.
Pedro Pascal praised costume designer Lindy Hemming's work on the film, calling the Oscar-winning artist "a genius." Pascal, who plays flashy businessman Maxwell Lord in the film (a character whose look is partially inspired by 80s-era Donald Trump), said he was concerned that he would look "like a fool" when he saw the "horrifying power suits from the 1980s" that Lord would be wearing, but that Hemming made them "animated and specific and feel and be completely stylish."
"I was in awe of all of her image boards and how she collaborated," said Pascal."
The Wonder Woman 1984 Cast Loves Each Other
Apparently, the Wonder Woman 1984 cast got along ridiculously well while filming, to the point that Jenkins said she was often jealous that they got to go off and have fun together while she was still working. As Chris Pine described it: "All the cool kids were going to the mall and you had to stay after school."
Tennis star Venus Williams, apparently a big fan of the franchise, made a special appearance to ask a "fan" question. She wondered if, should Wonder Woman and Cheetah face off in a tennis match, who would win? Wiig was adamant that Cheetah would take the victory, while Gadot decided they could agree to disagree. Wiig revealed as her most memorable set experience a time when she and Gadot were filming a fight scene between their two characters and her wig got caught in part of Gadot's costume; they two couldn't stop laughing.
Do I know it? I love it and I appreciate it and it holds me up through the tough times like these. I'm just so grateful that ythat qustion exists, basically.
Wonder Woman 1984 Will Include Plenty of Fish-Out-of-Water Steve
We've already seen glimpses of fish-out-of-water Steve in both official Wonder Woman 1984 trailers, but a fan question asked Pine to reflect on that aspect of his performance in the upcoming film. "Yeah, that interest and curiosity, it was kind of like a good lesson as a human being," mused Prine. "To remind myself to open up and not be so cool, not be so over everything."
Speaking more generally about his role in the film, Pine said: "My job again is to be in love with Gal, which is not a hard gig and try to make me giggle, which is aways fun."
"He does so much more than that," said Jenkins, "but I like that you always sum it up that way."
Pine said his most memorable set experience was filming on a closed-down Pennsylvania Avenue. "You're stepping into the fantasy of playing make believe on that scale and making all of the films you wanted to be in as a kid," said Pine.
Original Wonder Woman Lynda Carter Has a Relationship With This Film
This cast really loves Lynda Carter, who played Wonder Woman in the 1970s screen adaptation, especially the woman. For Gadot, Carter seems to be a mentor and, for Jenkins and Wiig, who both watched the TV show when they were younger, Wonder Woman has given them the opportunity to have a professional relationship with a woman they greatly admire.
"Lynda Carter, the reason that we're all here," Jenkins said, in her introduction for Carter. She added: "We think about you every day, Lynda, and we talk about you all the time."
Wiig nerded out a bit about meeting Carter, saying she watched the show when she was younger and dressed up as Wonder Woman for Halloween.
"I think you're so great," Carter told her, "so we have a mutual admiration … When you meet me, will you do me a favor? Will you throw your arms around me?" Wiig agreed to these terms.
Speaking about what this new screen incarnation of Wonder Woman has meant to her, Carter told Jenkins Gadot: "When my daughter saw Gal as WW, she said, 'Mom, I finally get it. I finally understand why everyone idolizes you. I finally get what WW means to everyone.'"
Gadot responded: "You are a true-life Wonder Woman and I can't be more grateful to have your guidance and to be able to call you Mama Bear. And knowing your children now, thank you for everything that you've done everything personally for me and I'm sure to the world. And now this thing is whole because you're here."
The panel concluded with the display (and cast reactions) to some truly wonderful Wonder Woman cosplay and fan art, and the unveiling of the trailer. The panel will have encore streams at 9pm ET tonight and 5am ET tomorrow.
Wonder Woman 1984 is scheduled to hit theaters on October 2nd.