News
Wonder Woman 1984: Patty Jenkins Still Committed to Coming to Movie Theaters
Patty Jenkins reconfirms her commitment to see Wonder Woman 1984 come to theaters during DC FanDome.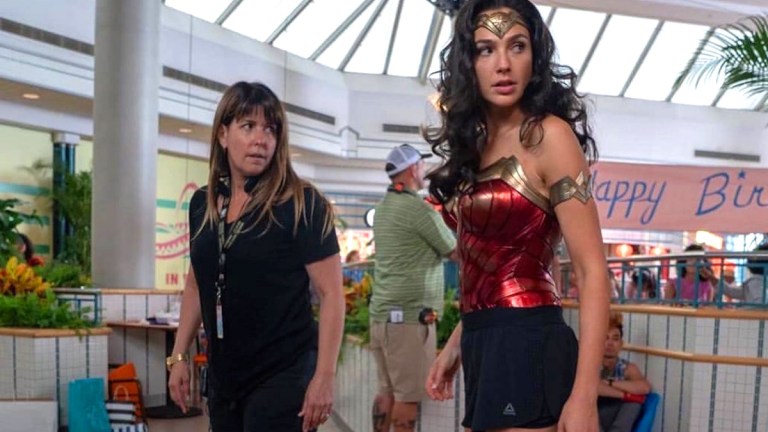 There was a lot to enjoy during the Wonder Woman 1984 DC FanDome panel. While the event itself was nothing short of a lovefest between the talent and fans, it was genuinely exciting when Kristen Wiig got to virtually meet her childhood idol Lynda Carter during the festivities. And the new Wonder Woman 1984 trailer is a definite showstopper too, complete with the reveal of Wiig's villainous Cheetah. And yet, perhaps the most compelling moment in the whole conversation occurred at the very top when director Patty Jenkins reconfirmed she is determined to see Wonder Woman 1984 open in movie theaters.
"It's so great on the big screen," Jenkins said during her first answer. "We all worked so hard to bring something that would be a big visual spectacular great time. So we're going to stick it out. We believe in putting it in the cinema, and I can't wait for you all to see more today… and I can't wait for the movie to come out soon!"
Given the context of this conversation it was a strong, and to theater owners refreshing, renewal of support for the theatrical experience. Remember Wonder Woman 1984 was already supposed to have come out at the beginning of June. But just as DC FanDome exists in large part because in-person events like San Diego Comic-Con's fabled Hall H ceremonies are cancelled, so too has the Wonder Woman sequel been delayed.
Currently, the film is slated for an Oct. 2, 2020 release date. Yet in the current climate where the coronavirus pandemic continues to wreak havoc, including on plans of theatrical moviegoing getting back to normal, there is growing apprehension that the rest of fall 2020 can be saved. After all, Disney abandoned cinemas and their owners when it broke the theatrical window and moved Mulan to Disney+, and at a highly priced PVOD premium at that.
Rumors previously swirled in the past that Warner Bros. was considering moving Wonder Woman 1984 to PVOD or HBO Max before the October release date was selected, though Jenkins publicly and vehemently rejected these rumors. And our own sources have told us they are preposterous. So Jenkins remaining committed to the theatrical experience, even at an event created due to the practical needs of social distancing during a pandemic, feels like a strong boost of confidence in supporting theaters… although we notably heard little about an October release date during the DC FanDome panel.
At the moment, Warner Bros. is testing the waters of returning to theatrical distribution this summer with Christopher Nolan's Tenet. That mysterious epic, which our Rosie Fletcher compared to being as visually stunning as the first time you saw The Matrix, is slated to open in European, Asian, and Australian markets beginning on Aug. 26, and in select U.S. cities on Sept. 3. However, given the two biggest moviegoing markets in North America, Los Angeles and New York City, currently are keeping movie theaters closed, there's a lot of ambiguity about how the Tenet rollout will work. One imagines if it does work, however, that it could pave the way for Wonder Woman 1984 to meet its October release date.
… And considering the movie is about Gal Gadot's superheroine punching a vain '80s businessman with delusions of megalomaniacal greed in the face, having it meet its current release date would be a lovely October surprise, indeed.