Features
Will the New Karate Kid Movie Be in the Cobra Kai Timeline?
Right on the heels of Cobra Kai season 5 on Netflix, a new theatrical Karate Kid film has been announced for 2024. What does it mean for the Miyagi-verse?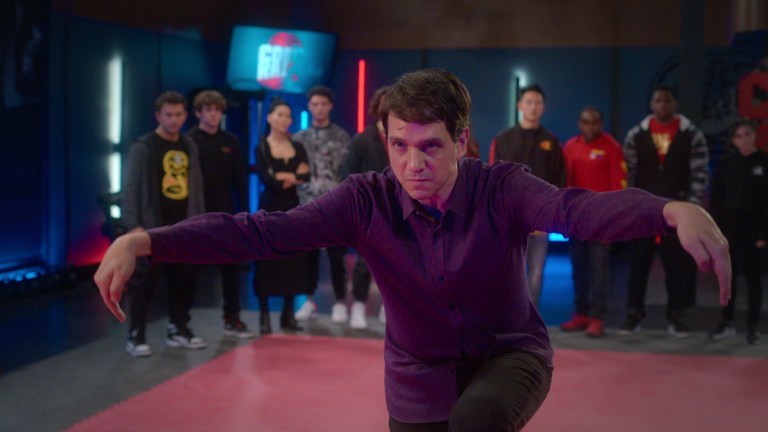 Mark your calendars. On June 7, 2024, a brand-new Karate Kid film will premiere. This is according to Sony Columbia Pictures. Cobra Kai, which is produced by Sony Pictures Television for Netflix, just put out its fifth season to rave reviews, opening with a perfect 100% score on Rotten Tomatoes' Tomatometer. It's a repeat of the first season's perfect 100% score, and every other season has topped 90% or higher. At 10 episodes per season, Cobra Kai is 50 episodes deep. What might a feature film bring to the franchise?
For anyone following along, the show's creators have already tipped their hands. It opens the portal to the Miyagi-verse.
"It's a ginormous universe," teased Josh Heald, one of the show's creators. Heald spoke to Den of Geek last year right after he and his two creative partners, Jon Hurwitz and Hayden Schlossberg renewed their contract with Sony. Their deal lasts for four years. And relevant to this new film, that deal included spinoffs and other offshoots of the Cobra Kai and Karate Kid universe, which Heald dubbed the 'Miyagi-verse.' Per Variety, however, no cast or crew is currently attached to the new untitled Karate Kid film.
What is The Miyagi-Verse?
While the Star Trek and Marvel franchises have darted back and forth between the big and small screens with tremendous success, what's happening with Karate Kid is different. Star Trek began as a TV show, then beamed up to the movies, and returned to TV, for a staggering total 11 TV series and 13 films. The MCU is messier because the rights for certain properties were held by different companies. It's almost all under Disney now, but it's worth to note that accompanying Sony's Karate Kid announcement was the postponement of two of Sony's Marvel properties: Kraven the Hunter and Madame Web. Both are from the Spider-verse, which is its own alternate dimension, sometimes part of Disney's MCU and sometimes not. But that's another story.
The closest parallel franchise to what the Miyagi-verse might become is the Planet of the Apes. It began as five feature films from 1968 to 1973, then evolved into two TV series, one live action and the other animated, and then was rebooted in 2001. That reboot resulted in four more films with a fifth film allegedly about to begin production around now.
The Karate Kid franchise began with four feature films from 1984 to 1994. A short-lived and mostly forgotten animated series was televised in 1989. It only ran for one season, just 13 episodes (the animated Return to the Planet of the Apes only lasted 13 episodes too). Then in 2010, there was the redux film The Karate Kid starring Jackie Chan and Jaden Smith. And now there's Cobra Kai, which began on YouTube Red, and enjoyed a theatrical premiere of the first two episodes through Fathom Events. It moved to Netflix for the third season, where it rose to become one of their most watched series.
The show's creators have stated that neither the cartoon nor the 2010 redux are part of their Miyagi-verse canon. Jackie Chan is referenced in a sly nod in season 1 of Cobra Kai, but as the actor, not as Mr. Han, the character he played. "The actor exists in our universe," says Heald. "But these characters in that storyline are not something that does have overlap." It makes sense for this film to stand outside the Miyagi-verse because Mr. Miyagi (Pat Morita) does not appear in any way.
There's a clever Easter egg for the animated series buried in the show too. The cartoon was a globe-trotting quest to recover a stolen magic artifact. Daniel (voiced by Joey Dedio, not Ralph Macchio) and Mr. Miyagi (voiced by Robert Ito, not Morita) were joined by an Okinawan girl Taki Tamurai (voiced by Janice Kawaye), and together, this threesome chased the artifact around the world.
Coincidentally, the animated series Jackie Chan Adventures was also about a globe-trotting quest, but to recover several magical artifacts. A fictional Jackie Chan (voiced by James Sie) was joined by Jade Chan (voiced by Stacie Chan and Lucy Liu) and that series ran 95 episodes. Both Jackie Chan and Pat Morita did appear in these cartoons in cameo-like introductory or concluding segments. But back to that Easter egg, the artifact that Daniel, Mr. Miyagi, and Taki were trying to recover in the cartoon was a miniature pagoda shrine. Despite being outside of canon, a version of that shrine appears in Chozen's (Yuji Okumoto) dojo in Cobra Kai season 3.
Will The Karate Kid Project Be in the Miyagi-Verse?
There's just one problem with this upcoming film project and the Miyagi-verse. The day after Sony made its announcement about the 2024 Karate Kid film, Jon Hurwitz took to Twitter and tweeted diplomatically: "The guys and I would love to make Karate Kid and Cobra Kai movies and hope to someday. But this one isn't from us or focused on the Cobra Kai cast. Don't know much about it, but wish it well."
Hurwitz, Heald, and Schlossberg built and defined the Miyagi-verse with Cobra Kai, but if this isn't from them, it's akin Sony's Spider-verse films – the MCU without Kevin Feige. This makes the new film a total wild card. It doesn't appear to have any connection to Cobra Kai whatsoever.
It could be a sequel to Jackie and Jaden's redux. There have been rumors circulating around that since the first film came out, although there's never been any confirmation from either actor. If that seems unlikely given the success of Cobra Kai, follow the money. The Karate Kid 2010 earned a global box office of $359 million, more than all the first four films combined. Will Smith (Jaden's father as if you didn't know) was the producer of The Karate Kid redux. He is also an executive producer for Cobra Kai. He is also listed as the producer of The Karate Kid 2 on IMDb, which is listed as 'announced' at this writing. Smith is attached to a dozen projects in various states of production, but such listings are occasionally dubious on IMDb. Until the project actually comes to fruition, IMDb's listings are not written in stone.
Nevertheless, IMDb states that the project has six screenwriters: Jeremiah Friedman, Nick Palmer, Zak Penn, Ethan Reiff, Anthony Tambakis, and Cyrus Voris (Christopher Murphey wrote the original reboot). And two producers are alongside Smith, James Lassiter and Ken Stovitz. Lassiter and Stovitz produced the reboot alongside Smith, Jerry Weintraub, and Jada Pinkett Smith. There are currently no cast listings on IMDb, but it does include the following synopsis: "After the sudden death of Dre's old Kung Fu Instructor, Mr. Han, young Kung Fu Champion, Dre Parker must learn The Dark Stepstones of how to become a good Instructor and teach his old fellow enemies a little more than respect."
There's another issue. Jaden's character Dre Parker was 12 in The Karate Kid. Today, Smith is 24, so he's no longer a 'kid'. He might still play a teen, but unlike Macchio, who convincingly played an 18-year-old Daniel when he was 27, Smith doesn't have that eternal baby face.
Another possibility is that this could be something completely new, another redux with a completely new cast. The writer of the original film trilogy, Robert Mark Kamen, had initially envisioned a completely different version of The Karate Kid Part III. He pitched a prequel where Daniel and Mr. Miyagi traveled to 16th century China in a dream, however the producers shot that down. Kamen is credited in Cobra Kai as the creator of the characters, and there's a delicious Easter egg in the premiere episode of season 4. Toward the end of the episode, Terry Silver (Thomas Ian Griffth) shatters a bottle of wine from Kamen Estates, Kamen's winery in Sonoma.
Beyond being a vintner, Kamen is still an active screenwriter. His last film was Angel has Fallen in 2019 and he has consistently delivered film and TV scripts almost every year since the Karate Kid trilogy. While it would be a stretch to go back for this story now since Morita died in 2005, perhaps they could steal a page from Cobra Kai, and recast a young Miyagi akin to young Kreese (Barrett Carnahan) and young Silver aka Twig (Nick Marini).
The creators of Cobra Kai have stated that their initial concept was for a 6-season run, and they do have an endgame in mind. Whatever the 2024 Karate Kid might bring, it'll take the franchise into new territory.
Cobra Kai Season 5 is available on Netflix.