Features
Who is Cobra Kai's Biggest Bully?
The Karate Kid franchise has always been about bullying. After Cobra Kai season 5, here is our choice for the worst.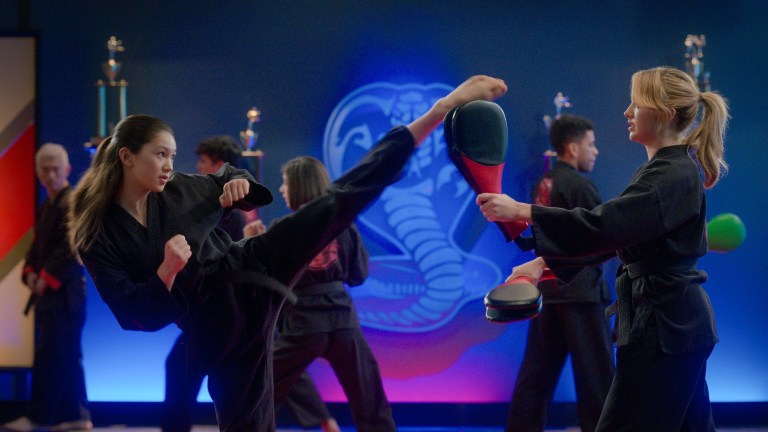 This Cobra Kai article contains spoilers.
When it comes right down to it, Cobra Kai is about bullies. If Johnny Lawrence (William Zabka) had never bullied Daniel LaRusso (Ralph Macchio) way back in the first film, The Karate Kid, Daniel probably wouldn't have pursued Karate. And if Sensei Kreese (Martin Kove) had not bullied Johnny, he probably wouldn't have swept the leg. 
But with all of this bullying in the Miyagi-verse, who is the worst offender? Let's find out!
The Case for Johnny Lawrence
Cobra Kai has expanded the backstories of many of these bullies and has somewhat redeemed them. They've progressed from cardboard cutouts into complex characters with relatable motivations. Case and point: Johnny Lawrence.
From the very beginning of Cobra Kai, Johnny is portrayed as more of a victim than a bully. Dysfunctional relationships with his domineering and abusive stepfather Sid (Ed Asner), his alcoholic ex Shannon Keene (Diora Baird), his estranged son Robby Keene (Tanner Buchanan), on top of his lingering regrets about what happened at the All Valley Karate Championship, combine to make Johnny a sympathetic character, and inevitably an antihero. Underneath his bullying there lies a broken heart, and even some mercy.
This was evident all the way back in the first film when he balked at Sensei Kreese's order to be merciless. Cobra Kai took that small moment of hesitation – that flash of humanity – and capitalized upon it, converting Johnny's character from bully to victim. "It's a great evolution," Zabka tells Den of Geek of Johnny. "But you know, there's always the other side of him lurking underneath that pops out here and there in the season. He's still got a long way to go."
The result is that Johnny is no longer a bully and by season 5, Daniel and Johnny have a blossoming bromance.
"Well, I got the yin and the yang here," says Zabka wistfully. "At this point, they're almost reversing roles. Daniel's getting in the bottle and flying off the handle and Johnny's trying to become a little more level-headed."
With Terry Silver stepping in as the lead villain in season five, Johnny isn't aware of how maniacal he is because he wasn't there in The Karate Kid Part III. He left the Cobra Kai dojo in Part II after Kreese tried to strangle him. Silver is a sly fox and has everyone duped about how psychotic he really is. Only Daniel sees it, which completely reverses the dynamic between him and Johnny. When Johnny finally sees it, they finally find their common ground. 
Zabka elaborates. "It's been a blast playing all the levels in the bromance, the on and off, the fights, they've been through a lot. They find a nice balance in season 5 that's been really refreshing."
The Case for Senseis Kreese and Silver
But back to the question at hand, if Johnny is no longer the bully, who is? The successive films in the Karate Kid trilogy set up more bullies for Daniel-san. The Karate Kid Part II introduced Chozen (Yuji Okumoto), and Part III added Terry Silver (Thomas Ian Griffith) and Mike Barnes (Sean Kanan). Now in season 5 of Cobra Kai, all five bullies are in play.
Like Johnny, Chozen and Barnes have flipped to be good guys in Cobra Kai, leaving the obvious choice for the top bullies to be the Cobra Kai dojo senseis: Kreese and Silver. Ultimately, they are the source of all the conflicts in Cobra Kai by now, or at least, all the fights can be traced back to their warped teachings. And yet Cobra Kai provides some justification of their actions too.
In season 3, flashbacks revealed Kreese's tragic backstory. His mother had mental health issues and committed suicide when he was 19. He enlisted in the army and was captured in Vietnam where he was tortured. Silver was there too, captured with Kreese, and the two men did whatever they could to survive. Both veterans returned from the war with severe PTSD. 
After their escapades in The Karate Kid Part III resulted in the closure of the Cobra Kai dojo, Kreese became homeless and destitute. For Silver, it was a wake-up call. He recovered from his cocaine addiction, became vegan and somehow rebuilt his wealth. However, his PTSD resurfaced when Kreese re-entered his life, sending him back down the dark path of Cobra Kai.
While their backstories explain how their twisted motivations were triggered and that they were essentially victims of circumstance, it doesn't redeem them fully. Nevertheless, Kreese and Silver deserve some mercy after the horrible trauma they experienced during the war.
Kreese walks a fine line throughout the series. Clearly, he's a villain and a bully, but there are moments where he's an almost sympathetic character. Silver appears less of a bully and more of a victim of Kreese in most of season 4. This is until he savagely reverses showing he was the ultimate villain after all. In season 5, Silver is the obvious choice for the biggest bully, so much so that ultimately all the characters unite to vanquish him. 
"Yeah, well, it's funny because I was like, 'Oh my God, everybody's turning on Terry Silver," says Griffith.
But given Silver's fate at the end of season 5, his run at top villain was short lived. Even though he was one of the worst bullies of the show, he wasn't so for very long.
The Case for the Teen Bullies
With five seasons under their karate belts, almost every character of Cobra Kai has been bullied and taken revenge by bullying back. Whether any given character is a bully or a victim depends on which episode is being watched. The bully and victim roles change dramatically back and forth throughout the show.
This bully victim flip flop is the ace up the sleeve for Cobra Kai, and the series constantly plays with it, particularly with the teenage characters. There are key rivalries such as Robby versus Miguel Diaz (Xolo Maridueña) and Samantha LaRusso (Mary Mouser) versus Tory Nichols (Peyton List). Each takes turns bullying the other, but like Johnny, Kreese and Silver, each is also a victim of their circumstances. In season 5, Robby and Miguel finally make amends after a knock-down drag-out fight. The same goes for Sam and Tory, although they use an unconventional resolution method for Cobra Kai. They talk it out.
"A lot of the time we're either like hurling insults or fists at one another," says Mouser, "so it's exciting to explore a world where I get to talk to Peyton. Not that that necessarily makes that any easier for them."
"I feel when we do have that conversation," adds List, "Tory is at her most vulnerable. Her hand is injured. She's at an all time low."
It's a poignant moment, as these characters have been vicious rivals for the entire show. Both actresses had to really step up their performance for when they buried the hatchet.
"I wish I was more like her sometimes," confesses List. "I really do. I wish I would've told someone that the waiter had dipped his balls in the miso."
The rest of the teens waffle back and forth between bully and victim too. Eli Moscowitz (Jacob Bertrand) is bullied because of his harelip and transforms into Hawk, one of the top Karate fighters in the valley. Chris (Khalil Everage) switches from Cobra Kai to Miyagi-Do and Mitch (Aedin Mincks) does the same, and then goes over to Eagle Fang, so their alliances are in the wind.
Demetri Alexopoulos (Gianni DeCenzo) is an exception, one of the only characters that after being persistently bullied, never gets revenge through bullying back. ("You know, it's very relieving to always be in the right," DeCenzo deadpans.)
Demetri is often the moral compass of the teens, the only one who espouses non-violence. That keeps him entrenched as a victim.
"Demetri's just kinda been the punching bag for everyone. He gets tossed around quite a bit," DeCenzo says.
Nevertheless, in the latter part of the series, Demetri hooks up with one of the hottest gals at school, Yasmine (Annalisa Cochrane). The pair bond over being wedgie victims. It's Demetri's reward for being non-violent.
The Case for the Youngest Bullies
But back to bully victim flip flops, the most recent have been with the youngest cast members. When Kenny Payne (Dallas Dupree Young) was introduced last season, he was the victim of Anthony LaRusso's (Griffin Santopietro) bullying. Anthony had been a background character since season 1, but his story arc launched with his rivalry with Kenny last season. After Kenny joins Cobra Kai and learns some Karate, he turns the tables on Anthony to become his bully.
"The biggest change with Dallas and I is that we completely switch when I go from the bully to the victim," says Santopeitro. "Dallas beats me up all the time so I think we have had a lot of fun getting to switch."
Young concurs: "I believe Kenny at the moment is the bully but I'm just going to say he's misunderstood right now."
Young feels the topic of bullying is important and understands that a lot of people relate to Kenny.
"It's such a difficult topic," says Young, "and a lot of people have come to me and they talk about the fact that I have inspired them to stand up to bullies. That's the message that I'm trying to give off with Kenny is that you can't allow your bully to affect your life. And I do not promote violence. Just tell a trusted adult."
The other freshman from last season, Devon Lee (Oona O'Brien), has flipped too. She started out as the only girl in Eagle Fang, but in season 5, she enrolls at Cobra Kai.
"I think for Devon, she starts out this season as kind of a victim but then learns to hold her own," says O'Brien. "I really thought she was going to stay on the good side, but I think it was a great experience for her."
And the Biggest Bully is…
So, who's the biggest bully in Cobra Kai? There's only one character who's bullying has never been explained – the very first bully to appear in the show when he beats up Miguel in the premiere episode: Kyler Park (Joe Seo).
From season 1, Kyler has been a bully back when he was dating Sam (more like harassing her) and tormenting Miguel, Eli, and Demetri in the most classical High School bully ways. He joins the dojo Cobra Kai in season 3 and continues to bully anyone he can there. Unlike the other bullies, even Kreese and Silver, Kyler is completely unredeemable and unsympathetic. His bullying persists through season 5. Perhaps in season 6, there will be some explanation as to why Kyler is such a bully, but as of now, he stands as the most unjustified and therefore, the biggest bully.
Kyler does suffer some small defeats throughout the show. He is beaten by Johnny, Sam, and Miguel back in season 1. And despite Demetri's pacifist attitude, he finally does exact some revenge on Kyler in season 5.
"It's cool seeing Demetri finally getting a good hit on Kyler," says DeCenzo.
It's not Demetri bullying Kyler. It's Demetri defending himself after being bullied by Kyler so much throughout the show.
"There's actually the line where I'm like 'How's that, bitch?'" DeCenzo says. "I actually got to add that myself. I was quite proud of that."
Cobra Kai season 5 is available to stream on Netflix now.