Features
Cobra Kai Season 5 Ending Explained And What To Expect From Season 6
Cobra Kai season 5 wrapped up several major story arcs, but it still left us with a fresh cliffhanger. Here are our guesses as to what happens next.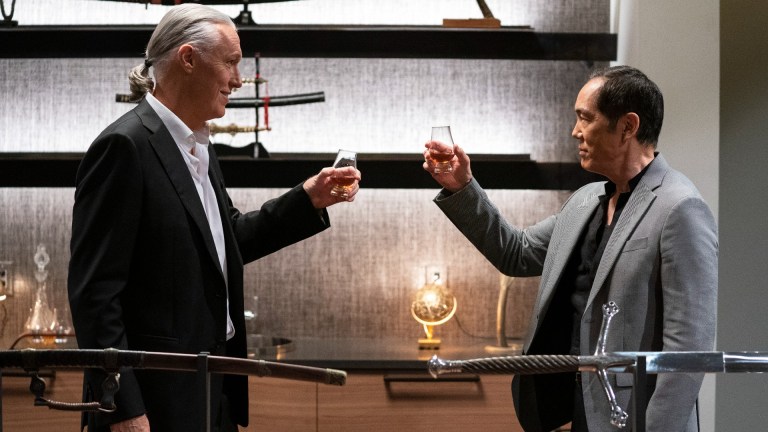 This Cobra Kai article contains spoilers for season 5.
Cobra Kai has been one heck of a ride. Each season has navigated through a nearly forty-year-old feud, coupled with a teen soap opera while juggling bullying with romance, all thrown in with a copious helping of fight scenes. Throughout the series, Cobra Kai has delivered plenty of surprising twists and crazy cliffhangers.
Season 5 kept up its breakneck pace (and we do mean breakneck – remember how season 2 ended). This season's finale was oddly parallel to last season's finale, the villainous sensei gets taken away by the police, only this time it's Terry Silver (Thomas Ian Griffith) instead of John Kreese (Martin Kove). All the beloved main characters put aside their rivalries to vanquish Silver, so once he's busted, they can all live happily ever after, right? But wait! Kreese escaped jail. That will surely be a major plot point for next season.
With Kreese back in the picture, there's no telling what he might do. As an escaped prisoner, he'll be desperate. It's likely that he'll tap his most loyal student, Tory Nichols (Peyton List), for help while he's on the run. Tory was the only one who visited Kreese in jail, aside from Daniel LaRusso (Ralph Macchio) and Johnny Lawrence (William Zabka) but they had ulterior motives. Tory visited seeking more guidance from her sensei. She has a special bond with Kreese. Despite his evil ways, Kreese has become like a surrogate father to Nichols, so much so that he blocked Silver's command to be merciless when fighting Sam LaRusso (Mary Mouser) at the end of season 4.
Nevertheless, Kreese will have to remain in hiding. Even though Stingray (Paul Walter Hauser) is coming clean about falsely accusing Kreese for the beating he got from Silver, a jail break is an entirely new offense. Kreese on the run will be more dangerous than ever. He's not beholden to playing "nice" anymore. He's hellbent on revenge. If cornered, he'll attack with all he's got.
For that matter, if Kreese can escape, why not Silver too? Unlike Kreese, Silver has the means to employ a good lawyer, so it's not a given that he's going to jail at all, despite all the chaos he has caused in season 5. Perhaps we haven't heard the last from Silver yet.
Will Cobra Kai…Die?
With the two founding senseis Kreese and Silver gone, who will remain loyal to the Cobra Kai dojo? It'll fall upon the new sensei Kim Da-Eun (Alicia Hannah-Kim). Her main desire is to carry on her father's Tang Soo Do teachings, and the best place to do that in the USA are through the Cobra Kai dojos. This is predicated on her not getting busted too, along with her squad of Korean senseis, as they fought to defend Silver's mansion as well. But perhaps they all escaped any blame. It sets up more conflict between Daniel and Cobra Kai.
With all the rest of the chaos of season 5, Sensei Kim's character was only minimally developed. We've only seen a little of her childhood and know from her treatment of Tory that she's a hard ass when it comes to teaching. We're just beginning to learn her story, so there's still lots of room for character growth. She's a wild card.
But back to the Cobra Kai loyalists, Tory will likely remain loyal to Kreese as she had issues with Kim. Beyond Tory, will the season 5 sophomores, Kenny Payne (Dallas Dupree Young) and Devon Lee (Oona O'Brien), stay with Cobra Kai? They both made progress there. And then there's Kyler Park (Joe Seo) who, like Tory and Kenny, has been with Cobra Kai dojo all the way through. And then there's Mitch a.k.a. Penis Breath (Aedin Mincks). Following his unforgivable betrayal of Miyagi-do and Eagle Fang, there's nowhere else for him to go. Despite the growing list of scandals within the Cobra Kai dojos, their membership won't wane. After all, it is the titular dojo.
Time to Unbury the Hatchet
At the conclusion of season 5, we saw two of the biggest teen rivalries unite against Silver. Sam and Tory finally made their peace after Sam visited Tory's home and got a better grasp of her situation. And Miguel Diaz (Xolo Maridueña) and Robby Keene (Tanner Buchanan) finally had it out in a brutal big fight staged by Johnny in episode 5. As ridiculous as it seemed, it worked, and they found some common ground.
What's more, Sam and Miguel made up, and Robby and Tory have partnered too. This resolves the most prominent feuds and romances amongst the kids, effectively dissolving the dramatic tensions that has been the crux of much of the teen conflicts throughout the series. But will it last? Everyone agreed to unite to defeat a common enemy, Silver, but now that Silver is gone (maybe) will those truces be broken? After so much rivalry, any little thing might trigger a feud relapse.
The biggest remaining unresolved feud is between Kenny and Anthony LaRusso (Griffin Santopietro). Anthony has tried to apologize, but Kenny continues to hold a grudge. Sensei Silver was Kenny's mentor, so losing him might just fuel his anger more. Their rivalry continues to fester, and now that Kenny has the 'Silver bullet' technique, Anthony better get some Karate skills quickly.
New Additions to the Cast
Cobra Kai has nearly tapped all of the major characters of the original movies by now, except for a few notables. Dutch (Chad McQueen) is the lone member of Johnny's original Cobra Kai gang who has yet to make an appearance. He's in jail, but so was Kreese. Dutch was the most vicious of the Cobra Kai gang, and now that there's a villain vacuum, it's a perfect time for him to return.
The other untapped resource is The Next Karate Kid – Julie Pierce. Although the fourth and final film to feature Mr. Miyagi (Pat Morita) is completely unconnected to the films with LaRusso, the creators have said that they consider it part of the Miyagi-verse canon. Even though none of the characters in that film had any connection to any of the characters in Cobra Kai, if it's canon, she's fair game.
The most likely new addition will be a baby – Johnny's and Carmen Diaz's (Vanessa Rubio) baby. And when it comes to the birth of a baby on TV, the mom habitually goes into labor at the worst possible time. What's more, as any villain worth his salt knows, pregnant lovers make great hostages.
Cobra Kai Going Global
Except for excursions to Okinawa in The Karate Kid Part II and Cobra Kai season 3, the franchise has remained in the valley. Season 5 opened the door with the competing dojos qualifying to enter the Sekai Taikai, an international championship. Like the All Valley Karate Tournament, it's a fictional competition. If translated from Japanese Sekai Taikai means "world convention." It has yet to be revealed where it might be held, but if it's a competition of traditional Karate, Okinawa would be the place.
There's a fleeting scene in season 5 episode 9 that offers a clue. Chozen (Yuji Okumoto) drunk dials Kumiko (Tamlyn Tomita). When Daniel romanced Kumiko, there was an undertone of jealousy in Chozen's rivalry. And in season 5, Chozen confesses that he still holds a candle for her. After his defeat, he had gone into hiding, and it was Kumiko who brought him out again, despite his threatening her life. Their childhood bond was too strong for her to let him go. So, what's the point of having Chozen's declaration of love and drunk dialing if not to set up their romance?
We'll just have to wait and see. Cobra Kai never dies…or does it?
Cobra Kai season 5 is available to stream on Netflix now.