Features
Does Cobra Kai Season 5 Redeem Karate Kid Part III?
With the return of some old favorites, Cobra Kai season 5 pays homage to the much-loathed Karate Kid threequel. Does does the show redeem it?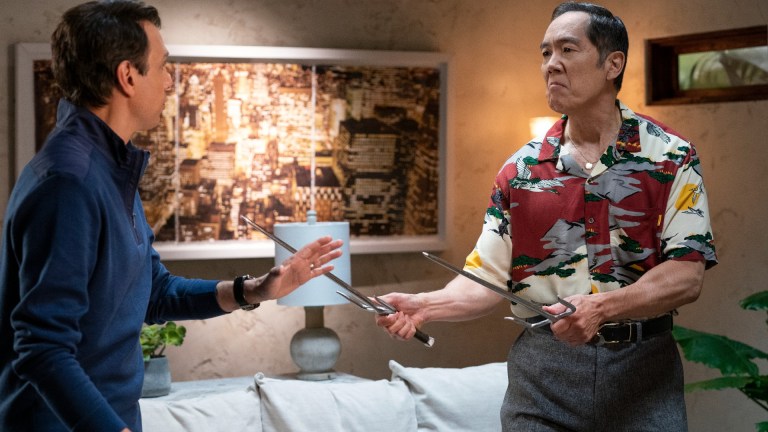 This Cobra Kai article contains spoilers for season 5.
When it comes to the original Karate Kid films, The Karate Kid Part III is unquestionably the worst installment of the trilogy. Part I launched the franchise. Part II took it to Okinawa. Part III nearly killed it. Even Daniel-san himself, Ralph Macchio, rejected the film. 
"I was not a fan of how the Karate Kid III came out," Macchio said to The Hollywood Reporter last January. "I felt the story was only repeating itself and was not character forwarding for the end of LaRusso."
Macchio went on to say it wasn't a smooth ride for him and that there were parts of the character he didn't embrace. "I don't put it on the top of my résumé."
Is Macchio (and mostly everyone else's) estimation of Karate Kid III a fair one? And if so, is there any chance that the Karate Kid III-centric Cobra Kai season 5 redeems it? Let's discuss.
Why Karate Kid Part III Sucks
Among the many issues that ruined Part III was the loss of Sensei Kreese (Martin Kove) as a main villain. Kreese is unceremoniously sent off to Tahiti by the new villain who supplants him, Terry Silver (Thomas Ian Griffith). 
"When I read the script, it's like, they were rewriting it because they had lost Kreese…" recalls Griffith to Den of Geek. "Robert [Mark Kamen, the scriptwriter] came in thinking he had to create a villain badder than Kreese. So it's like this over the top thing."
Silver is indeed a caricature of a baddie replete with stereotypical "bwahahaha" laughs. The entitled inheritor of a sketchy toxic waste disposal company called DynaTox, Silver hatches his evil plots against Daniel-san as he soaks in a bubble bath, smoking a cigar.
Silver enlists "Karate's Bad Boy" Mike Barnes (Sean Kanan), another cookie-cutter villain, and together, the pair terrorize poor hapless Daniel-san in completely psychotic ways. What's more, Kanan almost died while filming an action scene. He suffered internal bleeding from a ruptured connective membrane and collapsed four days after the shoot. He was rushed to the ER where the surgeons were barely able to save his life.
On top of cliche villains, hackneyed plot, and set accidents, there were other issues to contend with. Robyn Lively was cast as Jessica Andrews, who was originally intended to be LaRusso's third love interest after Ali (Elisabeth Shue) and Kumiko (Tamlyn Tomita). But at the time of filming, Lively was only 16 and Macchio was 27 (although his character LaRusso was 18). Uncomfortable with that arrangement, the script was rewritten so Jessica was only a good friend.
Writer Robert Mark Kamen had a completely different vision for Part III. He originally pitched a dream sequence story that transported Daniel and Mr. Miyagi (Pat Morita) back to the 16th century. But after that project was canned, Part III became a corny timeworn story in the same vein as so many B-grade grindhouse martial arts films, the very genre that the original film transcended. Kamen only agreed to participate after he was given a substantial raise. 
Why Karate Kid Part III Succeeds
Despite their mawkish roles, Griffith and Kanan brought something new to the franchise – real martial arts. Although The Karate Kid is such a groundbreaking martial arts franchise, until Part III it actually had mediocre martial arts. In many ways, that was part of the charm of Daniel LaRusso. Macchio had not studied any martial arts prior to getting the role and it shows. Consequently, LaRusso has a physical awkwardness, but that only amplifies his underdog status.
In contrast, both Griffith and Kanan were lifelong practitioners. Griffith started Taekwondo when he was 18 and Kanan began Shotokan Karate and kickboxing when he was 13. Both actors remain active practitioners.
"I started martial arts as a kid to get out of trouble," says Griffith, "and has been my 'go-to' my whole life." 
So, despite its undeveloped characters and weak storyline, The Karate Kid Part III has the best martial arts demonstrations of the trilogy.
And the LaRusso-Andrews platonic relationship is kind of charming. Unlike LaRusso's previous two romances (both Ali and Kumiko were way out of LaRusso's league), LaRusso's friendship with Andrews feels genuine. It also relieves the pressure of wedging a superfluous romance story arc into a redundant martial arts tale.
Griffith has mixed feelings about The Karate Kid Part III. It was his first feature film, and everyone always has a fondness for their first.
"Fans, I'm surprised they go, 'I love Karate Kid 3,' or a lot of them are like 'I hated Karate Kid 3,' says Griffith, "so it was a very divisive film."
Griffith's prior work was in television and theater so getting to work with director John Avildsen was an exceptional opportunity, even if his performance as Silver was "over the top." Karate Kid director John Avildsen convinced Griffith that Silver would drive new life into the Karate Kid franchise and his excesses provided some comic relief. 
"I was like, 'Okay, I'm going for it,'" recalls Griffith.
He equates that commitment with Silver's commitment.
"I can look back and go, I'm fine with that. I'm proud of that. Granted, I'm the first to say it's not a good film, but I do love that character."
The Cobra Kai Redemption
In the finale of Cobra Kai season 4, the reveal of Silver's true intentions with his double crossing of Kreese was another brilliant Cobra Kai twist. Silver emerges from being a subservient Sensei, roped back into the martial arts by his old war veteran buddy, into a truly despicable character. And the previous over-the-top villainy from the film is easily explained away with one line in Cobra Kai. 
"Thank God I said, 'I was on cocaine back then.' Because how do you explain that?" says Griffith. 
In the season 4 finale, Silver teased the return of Barnes with a parting shot to Kreese "I'm sure I can dig up an old friend or two to help out with Cobra Kai while you deal with your legal problems." With that, we all knew Barnes was coming soon. But we didn't expect his episode 3 appearance to portray him as reformed into a furniture salesman.
"Again, the creators twisted up that back story to the unexpected," Griffith says. "And I think Sean did an incredible job."
The reversal was yet another clever play, exactly what we've come to expect from Cobra Kai, and why we keep watching.
Season 5's best Easter egg by far was the return of Jessica in episode 5. When it's revealed that Jessica is Amanda LaRusso's (Courtney Henggeler) cousin, it gives clever closure to that awkward shift of Daniel-san's intended romantic interest into the friend zone from over thirty years ago. Now all the female leads of the original series have had Cobra Kai moments. And after Chozen's (Yuji Okumoto) drunk dialing to Kumiko, maybe season 6 will mark another moment for Tomita's character.
"In a way, it's a redemption story," Griffith says. "We are really seeing what drove Terry Silver, we got to tell that story."
He also thinks this makes rewatching The Karate Kid Part III much more fun – "not that I'm saying anyone should go back and watch Karate Kid 3 right now," he adds.
He feels that knowing Silver's psychology through his development in Cobra Kai makes him much more interesting. "That makes Terry Silver in Cobra Kai, in this goofy, ridiculous world, a very fascinating, watchable character. It means so much to the fans to bring back the OG crowd. I'm so glad it worked out this season."
But what does Daniel-san think?
"It doesn't necessarily change my perspective on the film at the time, but what it does do is teach me something,"Macchio says. "Even the shortcomings of this franchise bear fruit going forward."
Macchio remembers his first meeting with the Cobra Kai showrunners, Josh Heald, Jon Hurwitz, and Hayden Schlossberg, and even that early on, they discussed the potential of bringing in Silver and Barnes in the future. Macchio realized that with the showrunners being 'substantially younger' than him, Part III was the last time they saw Daniel. Despite its shortcomings, it meant something to them. He's impressed with the layers that they have added to the characters.
"It shows how you could use that and grow different paths in different directions," says Macchio. "The door is never closed. But will I go back to watching Karate Kid 3 and say 'Now this is a brilliant film and I feel the LaRusso in that story is the best he's been in all three movies?' No, it's not going to change that.
"But man, it has been an amazing gift going forward now."
Cobra Kai season 5 is available to stream on Netflix now.