Features
Who's Your Safe Bet Actor?
If they're in the cast, you know there's a reason to tune in.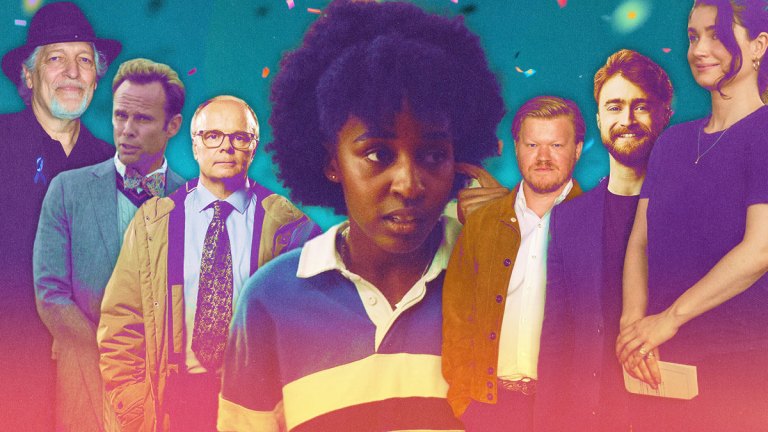 This isn't about favourite actors. Those guys surf along on a wave of goodwill and personal adoration that means you'll pretty much watch them in anything, regardless of quality. If Wes Bentley's your fav, for instance, you'll have sought out Dolan's Cadillac and Hirokin: The Last Samurai because you love the man, but you'll be no better off for it.
This is about a different kind of actor – not your indulged favourite, but the one who's earned your respect. When this actor's name appears in a cast list, you sit up and pay attention because over the years, they've proved that they have the taste, integrity and talent to make their IMDb credits page if not a flawless, then certainly an interesting place to be. The collaborations they're a part of and the projects they pick are worth seeking out. In short: if they're in, so are you.
Our writers picked theirs, share yours below.
Jesse Plemons
We all remember the moment we realized that Jesse Plemons was one of the best young actors in the world. For me (and many others, I imagine) it was with his Game Night line delivery of "How can that be profitable to Frito Lay?" At that instant it became clear that this former Friday Night Lights actor who looks vaguely like a melted Matt Damon was a titanic talent. This list, however, is not just about talent but rather taste. What actors out there are not only skilled but have a keen eye for good scripts? With that in mind, it's hard to think of many other actors who are more discerning than Jesse.
Plemons is always awesome in something awesome. Going back to his first prominent TV role as the dweebish (and one time randomly murderous) Landry on Friday Night Lights, the actor has had a deep understanding of what makes a great role and a great project. Those who didn't meet him through Friday Night Lights surely got to know him as the bone-chilling villain Todd in Breaking Bad, where he did the impossible by establishing a menacing presence in the wake of Giancarlo Esposito's Gus Fring. And then there was his leading role as the meek Ed Blumquist on Fargo season two (where he just so happened to meet his wife Kirsten Dunst)
Over on the movie side of things, Plemons has hit homerun after homerun. Not only has he succeeded in goofy comedies like the aforementioned Game Night but he's also become something of a go-to offbeat leading man in prestige projects like The Power of the Dog, I'm Thinking of Ending Things, and the upcoming Killers of the Flower Moon. If Jane Campion, Charlie Kaufman, and Martin Scorsese all think someone is worth watching then you can be damn sure they are. – Alec Bojalad
Walton Goggins
I couldn't be happier to announce that I am a total Gogg-head (self-coined but very happy for others to adopt). Not only does Walton Goggins have the best name in the business, he has some of the best taste. From Justified, The Shield and Sons of Anarchy to Vice Principals and The Righteous Gemstones, this man makes great choices.
His roles show that he can't be pigeonholed and is incredibly versatile; he's done Tarantino, Marvel and even starred alongside Academy Award winners like Hillary Swank (admittedly it was in The Next Karate Kid but look at that foresight! He knew she was a talent 30 years ago). In The Shield he just got it; even when a lot of the other actors were chewing up the scenery, he was simply great. He may have helped Vic Mackey kick down a lot of doors and do a lot of dodgy stuff, but he brought real depth and pathos to his character of Shane.
In his work with Danny McBride, Goggins shows that he can go toe to toe with one of the most entertaining (and ridiculous) actors out there. Many would doubtless be intimated to take on roles with the man who has cornered the market in playing egomaniacal man-children like Eastbound and Down's Kenny Powers, but Goggins' performance as Uncle Baby Billy in The Righteous Gemstones is a complete materstoke. He's selfish, a terrible Uncle, brother, husband and father but somehow you're rooting for him. The power of Goggins.- Elizabeth Donoghue
Daniel Radcliffe
To be clear, Daniel Radcliffe isn't a guarantee of quality for me, he's a guarantee of interest. As in, everything he does is at the very least, interesting. Radcliffe – who is obviously massively rich having starred in all the Harry Potter movies – appears to just want to do weird and interesting projects. He wants to flex his acting chops, and he clearly isn't in it for the money. No Marvel or DC franchise movie for Radders – but if he was suddenly cast as a superhero, wouldn't you watch?
Post-Potter Radcliffe has picked up roles including farting corpse, Igor, a neo Nazi, a bloke with guns strapped to his arms, a man who grows horns, a crazy billionaire kidnapper, Allen Ginsberg, and most recently Weird Al Yankovich. To varying degrees of success, sure, but Radcliffe always puts his back into it, even if the casting isn't necessarily quite right. You have to hand it to him – he's an actor who can do anything he wants, or not really do much acting at all if he doesn't want to, so the only reason he seems to be doing these things is for the joy, or perhaps for the challenge. An aside, which is also a shameless name drop, but he also appears to be a really nice guy. Good luck to you, Radders! – Rosie Fletcher
Clancy Brown
I had an emotional experience playing the problematic video game Detroit: Become Human a couple of years back. If you're unfamiliar, the gameplay invites you to make choices and then those choices have an effect on what happens in your narrative later. At this point in the game, I had made some bad decisions while trying to solve a crime, and my aging police lieutenant, Hank Anderson, said he was disappointed in me. The game flashed up some key text: I had lost Hank's trust. I remember feeling devastated, for you see, Hank was played by Clancy Brown, and to have Clancy Brown disappointed in me was more than I could bear.
Brown has acted in a number of incredible TV shows and films. His IMDb credits are in the 300s at the time of writing so it seems futile to even begin listing his notable appearances, but many still know him as the voice of Mr. Krabs in SpongeBob SquarePants. He's a man with a kindly face and soft wavy hair who can slip into utterly terrifying roles with undeniable ease. Not all the projects he's been in are great, but when I see his name in the opening credits of anything, I settle in. I won't disappoint you again, Mr. Brown. – Kirsten Howard
Ayo Edebiri
If Ayo Edebiri is involved, you can bet that I'll be watching. From writing on series like What We Do in the Shadows and Dickinson to starring in The Bear, Bottoms, and Teenage Mutant Ninja Turtles, Ayo has quickly proven herself as a talented performer with impeccable comedic timing. Even if she isn't writing the script herself, her line delivery is consistently on point and she never fails to make me smile.
Aside from the last three projects mentioned above, this year alone Edebiri has appeared in Clone High, Black Mirror, Spider-Man: Across the Spider-Verse, I Think You Should Leave With Tim Robinson, Abbott Elementary, and Theater Camp. If a normal person has 24 hours in a day, it seems like Ayo has 30 with the sheer number of projects she's involved in. But whether I'm expecting to see her or not, I know that as soon as she appears on my screen, I'm in for a great time and an incredible performance. Despite playing awkward characters, Ayo exudes a coolness and easy-going energy that makes me want to be best friends with her no matter what role she's playing. But as that's not likely to happen, I'll gladly settle for catching her next movie or TV show, no matter how small or large her role. – Brynna Arens
Jason Watkins
Jason Watkins is rightly a household name thanks to his acting CV full of juicy, memorable roles, but while his 30-year career rivals some of the most celebrated actors of our generation, he remains a bit of an unsung hero of British TV. While he might not yet be celebrated loudly enough, if you see his name on the lineup of a new show, you're 100% guaranteed a treat.
My first encounter with Watkins was being scared silly by him as vampire copper Herrick in supernatural drama Being Human, a chillingly evil role that still somehow managed to be funny. And despite only appearing in the opening episode of Line of Duty's fourth series, he's still responsible for one of the show's most iconic – and grisly – scenes.
It's not all blood and guts, though: Watkins is equally good as the pompous but lovable choirmaster Mr Shakespeare in the Nativity! films, and the smart-but-socially-awkward detective in cosy crime drama McDonald and Dodds.
He really comes into his own when depicting famous real-life figures. Watkins was beautifully understated as Prime Minister Harold Wilson in The Crown, accurate and colourful as Dennis Nielsen biographer Brian Masters in Des, and deservedly won a BAFTA for The Lost Honour of Christopher Jefferies, portraying the titular retired schoolteacher who was unfairly targeted by the tabloids during the Jo Yeates murder investigation. You simply can't go wrong with Watkins. – Laura Vickers-Green
Eve Hewson
Eve Hewson is my personal guarantee of quality on screen. If Eve Hewson's in a show or movie, then that show or movie is on my to-watch list. Never mind that Eve Hewson is a great actor with a great voice and a great face and you'd be stupid not to watch her in the great stuff she's in (Bad Sisters, The Luminaries, Papillon, Bridge of Spies, The Knick, This Must Be the Place…), there's a much more fundamental reason for picking Eve Hewson, which is that Eve Hewson's daddy is rich, because Eve Hewson's daddy is Bono.
Admittedly, not all children of rich parents go on to be great actors, but consider the financials. Drama school ain't cheap and mama has to make rent. That's why, on their way up, jobbing actors have to take any gig they can get. Strangle Victim Three. Screaming Junkie. Sexy North Pole Elf. Screaming Sexy Junkie North Pole Elf Strangle Victim Three. Those roles are the building blocks of an IMDb page, but not for Eve Hewson.
When your family is worth somewhere in the region of $700 million, you don't do Screaming Junkie roles. Aged 20, you do Paolo Sorrentino's latest Sean Penn collaboration. You work with James Gandolfini and Julia Louis Dreyfus. You do a Spielberg picture opposite Tom Hanks and Mark Rylance, and so on and so on. You have what money always gives you – the power to choose. With a Bono daddy, good taste and talent, any actor's quality-to-shit ratio is going to be stacked the right way. It's simple economics. – Louisa Mellor
Jeffery Combs
If a movie or TV show can't be good, it should at least have the decency to be weird. And no one helps a project be weird better than Jeffery Combs. Star Trek fans know Combs as the franchise's best utility man, dropping by as duplicitous Vorta Weyoun and the rigid Ferengi Brunt (FCA!) on Deep Space Nine, or as the prickly Andorian Shran on Enterprise. So great was Combs' paranoid take on The Question on Justice League Unlimited that he moved the faceless detective out of Rorschach's shadow in a way that not even Denny O'Neil could do. He even managed to be a bright spot in otherwise dismal z-list superhero flicks, like Doctor Mordrid, the Band Brothers' take on Doctor Strange, and the (relatively) tame Brian Yuzna movie Faust: Love of the Damned. No one has used Combs better than the late, great Stuart Gordon. Of course, most readers know Combs from his role as Herbert West in the H.P. Lovecraft adaptation Re-Animator. No other actor could convince audiences that West's eccentricities, staring down his professor (David Gale) or killing and then reviving a pet cat, come from a real place. But he's best deployed as a normal guy in one of Gordon's outrageous stories, such as the researcher gone mad in From Beyond or the inheritor of a gothic estate in Castle Freak. Not all of Combs' projects are good – in fact, most of them are pretty shoddy – but he always makes them worth watching. – Joe George