Features
The Bear Season 2's Most Stressful Episode Is a Cameo Bonanza
The Bear season 2 episode 6 "Fishes" is a stunning piece of work with lots of familiar faces.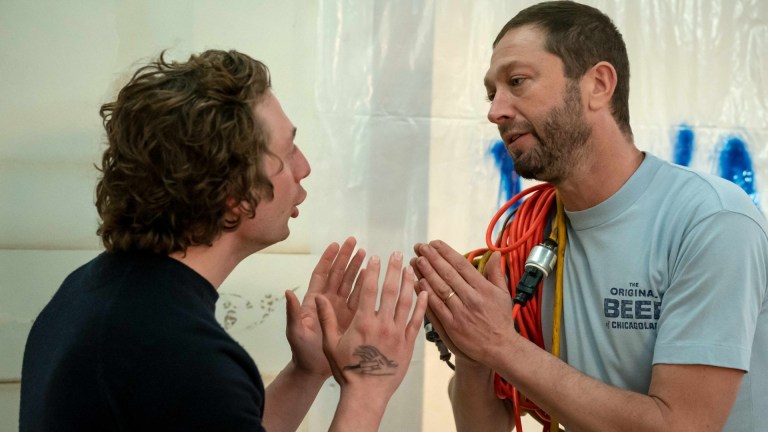 This article contains spoilers for The Bear season 2 through episode 6.
Through its first five episodes, season 2 of FX's culinary dramedy The Bear is every bit the equal of its exciting freshman season. Still, there is one element from season 1 that's lacking in this season about the creation of a new Chicago restaurant: the stress.
That's not to say there aren't inherently stressful elements presented in the first half of season 2. Carmy Berzatto (Jeremy Allen White), Sydney Adamu (Ayo Edebiri), and friends have embarked on an unimaginably difficult journey to transform their neighborhood lunch spot The Original Beef of Chicagoland into Michelin-magnet The Bear. As is the case with all restaurant openings, The Bear faces severe deficits of both time and money. The omnipresent calendar checks off the hours in the background as opening day gets closer and disturbingly few action items get checked off.
So yeah, it's stressful. It's just not quite as stressful as The Bear season 1 which takes viewers directly into the belly of the beast as we live inside The Original Beef's dysfunctional kitchen as the temperatures get hotter, knives fly, and every word of dialogue is screamed. Initially it seems as though The Bear season 2 is opting for a more leisurely experience for its audience. But then we get to episode 6.
The Bear season 2 episode 6 "Fishes" is both a marvel of storytelling and an absolute nightmare to endure. It takes all of the stress of season 1's infamous one-take stunner "Review" and elongates it out into over an hour of excruciating family drama. It also just happens to feature some of the most bold casting choices you'll ever see on TV.
Prior to the release of The Bear season 2, FX made only the first four episodes of the season available to critics. Even the few critics who received the entire season did so with the explicit instruction as to not mention anything that happens after episode 4, as Rolling Stone's Alan Sepinwall notes in his review. After watching episode 6, that approach now makes a fair bit more sense. This flashback installment to a holiday dinner at the Berzattos features some cameos no one would have wanted spoiled.
Even the name of the episode is a bit of a red herring. Its "official" title of "Fishes" is in keeping with the rest of the season's title formats that invoke the name of an ingredient or dish. But when "Fishes" cuts to black at the end, viewers are greeted with a title card that reads "The Berzattos" as though that were the real title of this drama all along. So without further ado, let's go ahead and meet the Berzattos.
Jamie Lee Curtis is Donna Berzatto
The scream queen, herself, Jamie Lee Curtis stars in this episode as Carmy, Sugar (Abby Elliott), and Mikey's (Jon Bernthal) mom Donna. And yes, the Laurie Strode Halloween actress does plenty of screaming. Donna is profoundly unwell, suffering from a clear alcohol problem and a likely mental illness like bipolar or borderline personality disorder.
In her alcoholic stupor she is adamant that that no one help her with the massive Christmas dinner, leading to a cacophony of screeching egg timers and sauce stains all over the place. Upon finishing said dinner, she rides through a major depressive episode, despairing that no one in her family ever wants to help her.
Through it all, the rest of the Berzattos do their best to help Donna but largely resign themselves to just staying out of her way. When Donna has her final, most climactic blowup at her daughter for having the audacity to ask if she's OK, everyone treats it as an inevitability they just had to get over with. But Donna then crashing through the living room with her car is a clear escalation.
All in all, Jamie Lee Curtis crafts the most dysfunctional TV matriarch since Livia Soprano. Carmy's ability to operate under extreme pressure now makes a hell of a lot more sense.
Bob Odenkirk is Uncle Lee
Bob Odenkirk's appearance in The Bear season 2 was not much of a surprise. Not only does the proud Chicago-native make a lot of sense for this extremely Chicago show but Variety already revealed the Better Call Saul actor's involvement before the season premiered. In episode 6, Odenkirk plays Uncle Lee, a Berzatto family member who has finally had enough of Mikey Berzatto's failure to launch.
Before Donna turns the Berzatto home into a parking lot, Mikey's fork-throwing provocations with Uncle Lee serve as the violent climax of the episode. All in all, it's the perfect role for the legendary comedy writer turned equally legendary comedic/dramatic actor.
John Mulaney is Steven
Speaking of folks with Chicago ties, John Mulaney unexpectedly pops up in this episode as the New York-based partner to a Berzatto family member. Anyone who has paid attention to the SNL writer and famous stand up comedian's impressive career knows that Mulaney's Chicago connections run deep.
Steven is tasked with giving grace before dinner and he does a pretty decent job, all things considered.
Sarah Paulson is Cousin Michelle
You likely know Sarah Paulson from her role as Ryan Murphy's muse across many seasons of his American Horror Story and American Crime Story franchises. She also recently had the title role in Murphy's Netflix series Ratched about One Flew Over the Cuckoo's Nest's Nurse Ratched. In "Fishes," Paulson plays the Berzatto cousin Michelle. Based on her frank conversation with Carmy about taking some time off in New York, it seems as though she was a big part of his culinary journey.
Gillian Jacobs is Tiffany Jerimovich
Richie Jerimovich's (Ebon Moss-Bacharach) estranged wife and co-parent has been a character in The Bear since season 1. We just haven't seen her onscreen until now. In this flashback, Gillian Jacobs (Britta on Community) steps in to play Tiffany. When we see the Jerimoviches, they are hopelessly in love and Tiffany is pregnant. So what did Richie do to ruin it all? I imagine we'll find out soon.
All 10 episodes of FX's The Bear are available to stream on Hulu now.