News
G.I. Joe Lady Jaye Series to Expand Hasbro Universe on Amazon
Amazon's Lady Jaye series signals an effort from Hasbro to grow the G.I. Joe live-action universe.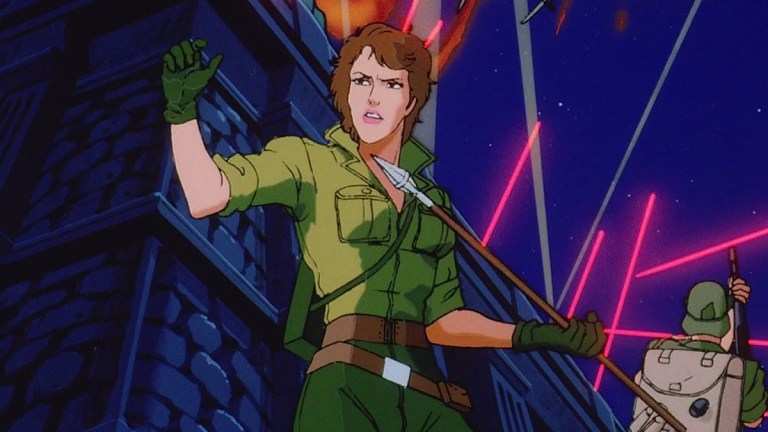 G.I. Joe has been enduring a period of relative mainstream dormancy since the release of 2013 movie G.I. Joe: Retaliation. However, Hasbro's popular toy property—specifically, the Cobra-combating "A Real American Hero" iteration launched in the early 1980s—has serious comeback plans that have just expanded, thanks to a live action television series set for Amazon focused on Lady Jaye.
While the pandemic derailed the intended 2020 release of reboot prequel Snake Eyes: G.I. Joe Origins, which is scheduled to hit theaters this October, that film now stands to be complemented by the untitled Lady Jaye live-action series, which Deadline reports that Paramount Television Studios, eOne and Skydance Television are developing for streamer Amazon Prime Video. While details are lacking regarding the plot, the project is being described as a standalone story that connects to the larger G.I. Joe Universe. Indeed, Lady Jaye is clearly part of a major multimedia endeavor for Hasbro, which has spent the past few years conjuring similar plans for its Transformers property.
Tellingly, the show has tapped an experienced storyteller in Erik Oleson to serve as showrunner, executive producer and credited creator, bringing pertinent genre experience as an EP on Netflix's Daredevil (during its third and final season), Amazon's The Man in the High Castle, The CW's Arrow , and short-lived 2014 NBC ensemble thriller series Crisis. He also notably serves in that capacity for Amazon's upcoming second season of Carnival Row. Oleson will be joined by producer Lorenzo di Bonaventura, who—via his Di Bonaventura Pictures shingle—has served in the capacity for all of Paramount's Hasbro pictures, starting with 2007's original Transformers.
The choice to focus on Lady Jaye is certainly an intriguing one. The character, whose real name is Alison R. Hart-Burnett, is a covert ops specialist who was introduced in the G.I. Joe 3 ¾" toy line in 1985. The cardback bio describes her as highly-educated with a diverse skill set that complements cryptological linguistics, signals intelligence, and electronic interception with Airborne and Ranger training. Yet, a major aspect of the character—besides an affinity for green outfits—is her romantic link to fellow Class of '85er, the rough, beret-wearing warrant officer, Flint.
Lady Jaye has seen her share of exposure, starting with her appearances on Sunbow Productions' 1985-1986 G.I. Joe: A Real American Hero animated series (voiced by Mary McDonald-Lewis) and DiC Enterprises' stylistically-divergent 1989-1992 continuation of the series (voiced by Suzanne Errett-Balcom), and appeared—albeit briefly and without lines—in 2009 animated film, G.I. Joe: Resolute.
However, Lady Jaye would eventually arrive on a most prominent platform, the movies, in the aforementioned sequel, G.I. Joe: Retaliation, played for the first time in live-action form by Adrianne Palicki (pictured below), the Friday Night Lights standout and eventual Agents of SHIELD Mockingbird who famously starred as Wonder Woman in David E. Kelley's failed 2011 television pilot.
While Retaliation was a recalibration for the franchise that saw Dwayne Johnson's Roadblock assume the starring role, Palicki's Lady Jaye was a prominent part of the film, bringing the ops abilities to which she was classically attributed, depicted as a seductive master of disguise. Interestingly, while Flint was present in the film, played by D.J. Cotrona, the initially-unlikely romance angle with Lady Jaye that defined both characters didn't quite manifest. Of course, that was hardly the biggest issue with that film, which arrived in 2013 after a notorious year-long delay that left Hasbro in the lurch as its unsupported toy line languished in store aisles; an occurrence that, more than anything, was likely the cause of the franchise's lengthy dormancy.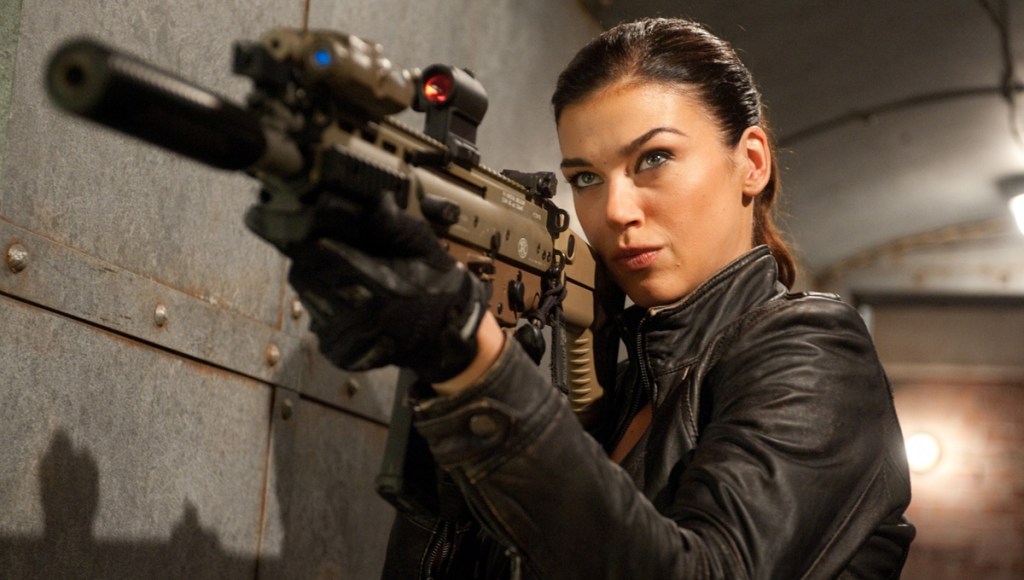 Consequently, Hasbro's new universe-building aspirations seem destined to manifest as a major course correction to the misfires of Retaliation and 2009 predecessor G.I. Joe: The Rise of Cobra, both of which failed to make the kind of significantly bankable pop culture impact that was clearly envisioned by the toy-slinging IP owners.
While the upcoming Snake Eyes may still be hiding story details, it has assembled an auspicious cast, with Crazy Rich Asians' Henry Golding fielding the title role of the iconic black-clad commando, pit opposite Warrior star Andrew Koji as frenemy ninja Storm Shadow, and joined by a rising star in Ready or Not's Samara Weaving as the franchise's original female hero, Scarlett. Likewise, the Lady Jaye series—as a continuity-connected standalone—can help flesh out the non-ninja aspects of the new G.I. Joe movie canon, potentially whetting appetites enough to treat a prospective proper team-up film with Avengers-like reverence. It's an unconventional approach that could pay off tremendously at the box office.
Snake Eyes: G.I. Joe Origins will attempt to make black (head-to-toe black) the new orange on its scheduled theatrical premiere of Friday, Oct. 22. The Lady Jaye series, on the other hand, has just gone into development and doesn't have any production or release dates at the moment.