News
How Hubris Undid the Dark Universe Movies
While Universal's Dark Universe movie monster franchise flopped at the box office, writer Eric Heisserer explains how it first imploded behind the scenes.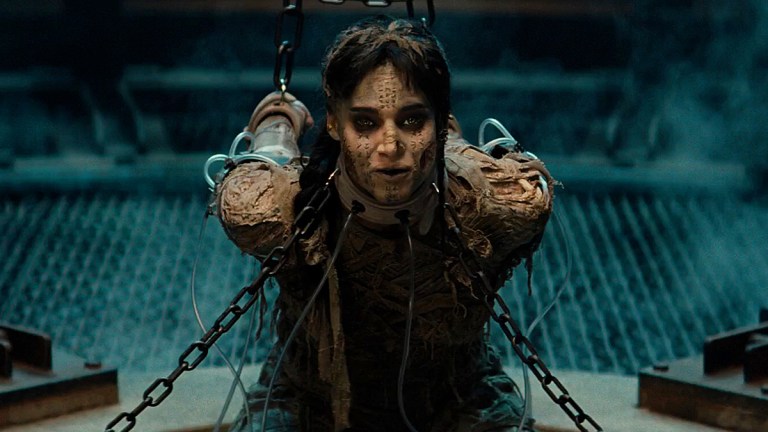 The Dark Universe, Universal's would-be monster movie franchise, may have only fallen apart a scant four years ago with 2017's The Mummy, but the mindset behind its conception now (amidst the post-pandemic, theater-averse dominance of streaming,) feels like a notion from a completely different age. That logic, of course, implied that lucrative, Marvel Cinematic Universe-like film franchises could be conjured from just about any intellectual property. Interestingly, one of the writers involved, Eric Heisserer, believes the Dark Universe imploded behind the scenes well before it did at the box office.
Heisserer, who's serving as showrunner for franchise-aspiring Netflix television adaptation Shadow and Bone, had just broken big with his Oscar-nominated screenplay for 2016 sci-fi drama Arrival and horror film Lights Out when he was tapped to co-write (with Jon Spaihts) a Dark Universe reboot movie for vampire hunter Van Helsing, which Channing Tatum was expected to headline. The gig put him in a dream team writer's room convened by Universal to plan out a roadmap for the monster movies, which were to follow The Mummy with similar shared-universe renditions of the studio's classic black-and-white adaptations like The Invisible Man (later revived in a scaled down Blumhouse-produced effort), Bride of Frankenstein, The Creature from the Black Lagoon, The Wolfman, Dr. Jekyll and Mr. Hyde, The Hunchback of Notre-Dame, and The Phantom of the Opera.
However, as Heisserer recently explained on The Playlist podcast, the unbridled enormity of the backlog made these plans untenable.
"To try and assume you are building something that is already pre-packaged as a cinematic universe, there's a kind of hubris that I think audiences pick up on right away," explains Heisserer. "They know you're selling them a trailer to a bigger movie and assuming they're going to show up. I don't think that's the right approach."
Indeed, Universal's Dark Universe plans put the franchise cart before the proverbial plot horse, since the assumption that The Mummy—brandishing A-list headliner Tom Cruise, exorbitantly budgeted at $120 million—would launch a vast franchise from the outset interfered with the fundamental elements of atmosphere and storytelling. The flaw didn't go unnoticed by contemporary audiences and critics, resulting in a paltry $80 million domestic gross, which, while boosted to a worldwide total of $409 million by a better overseas performance, fell significantly short of a $450 million break-even mark.
"It was a very strange experience," says Heisserer of the rudderless status of the Dark Universe's creative coalition. "There was certainly a big brain trust of writers around the table. You had a lot of voices and none of them could agree on much. Much like when I'd visit my relatives for Thanksgiving and everyone's arguing with each other…You had some people saying, 'Should our monsters all be villains in these movies or can they all be heroes?'"
Thus, even with prominent producers Alex Kurtzman and Chris Morgan as heads of the table, and names like Noah Hawley, Aaron Guzikowski and Ed Solomon on board, the Dark Universe writer's room—akin to a bureaucracy—couldn't even come to a basic consensus about whether each film's eponymous monsters would be heroes or villains. Consequently, in September 2017, a mere three months after The Mummy's disastrous run, Kurtzman and Morgan bowed out, and the once-auspicious dream team writer's room would abruptly disband.
Yet, the ambivalence that sunk The Mummy—and, by proxy, the overall Dark Universe—is understandable, since the frenetic 2017 movie attempted to have its cake and eat it by centering on Tom Cruise's heroic protagonist, U.S. Army sergeant Nick Morton, who was pit opposite a villainess in Sofia Boutella's undead bandage-wrapped witch, Ahmanet (a version of Boris Karloff's classic Mummy, Imhotep). At the risk of dropping four-year-old spoilers, the film ended—of course, after Ahmanet's defeat—with Cruise's Nick becoming a kind of mummy after stabbing himself with magical trinket the Dagger of Set. Left endowed with the power to restore life, heroic quasi-mummy Nick properly resurrects his killed-and-zombified comic sidekick, Chris (Jake Johnson), setting up more cinematic adventures that could justifiably retain The Mummy branding. Yet, compounding confusion over the franchise focus, Russell Crowe's Dr. Henry Jekyll (who even got to show off Mr. Hyde in a battle sequence,) was unsubtly positioned in the film as an expository Nick Fury-type figure, foreshadowing an Avengers-type crossover centered on a monster-hunting secret society called Prodigium.
Of course, none of that would come to fruition, and even the "Welcome to Prodigium" viral website that Universal had auspiciously set up to sow interest in the Dark Universe's long-term plans now ignominiously calls up an unclaimed domain page. It's a sorry state that resulted from a dysfunctional dynamic that became too common in the film industry, which typically gives in to impatience and a lack of understanding of the Marvel movie formula of starting small (like with 2008's Iron Man) with compelling characters worthy enough for the audience's continued investment before subtly teasing disciplined franchise plans. Heisserer poetically sums up the manic modus operandi of the Dark Universe writer's room, explaining, "[S]omeone else would say, 'We can build the plane when we fly it.' And it's me and Jon Spaihts at the table going, 'That's a terrible analogy. We don't want to be on that plane. What are we doing here?'"
Having learned his lessons from the Dark Universe debacle—not to mention the apparent collapse of Columbia Pictures' plans to spin off 2020 film Bloodshot (which he wrote,) into a Valiant Comics movie universe—Heisserer is currently focused on Shadow and Bone, which adapts the popular Grishaverse novels of author Leigh Bardugo. With the Netflix series garnering widespread acclaim, we can safely assume that this proverbial plane was safely built on terra firma. All eight episodes of Shadow and Bone's inaugural season can be binged on Netflix right now.