Features
Venom: Let There Be Carnage Post-Credits Scene is a World-Shattering Game Changer
Venom: Let There Be Carnage's after credits still has us reeling about what it means for Tom Hardy's Eddie Brock… and the universe at large.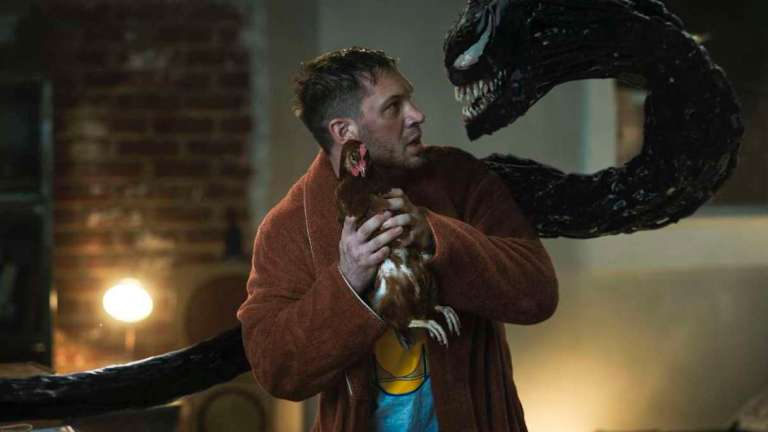 This article contains major Venom: Let There Be Carnage spoilers. Read the spoiler-free review here.
It was the moment fans have been waiting for ever since they announced a Venom movie way back in the day: the big gooey black monster we call Venom is now sharing a scene with Tom Holland's Spider-Man. Kind of. It's still a bit confusing how we got there, but there's no doubt that the implications for the Marvel Cinematic Universe are earth-shattering. Or is that multiverse-shattering?
To recap, after Tom Hardy's Venom made a tasty meal out of Cletus Kasady's brains, Eddie and the oozy one decided to celebrate by taking some desperately needed rest and relaxation. The scene on the beach with Eddie and Venom watching the waves was an already sweet sendoff on its own. After a whole movie of the two protagonists butting heads, this is the real romantic happily ever after. Of course it wasn't the real ending.
For those smart enough to wait a few minutes into the credits, we got the true cliffhanger when at their resort later that night, Venom's disembodied voice tells a dozing Eddie that the symbiote species' collective consciousness has assembled enough knowledge and power over the last few billion years to blow Brock's mind. Always a bit of a schmuck, Eddie scoffs at the idea. So Venom proves it: He'll give Brock just one small example of his powers—something out of this world.
Before you know it, Eddie and Venom are in another dimension with the television on. It was an especially nice touch to allow us to slowly realize this by seeing on the TV J.K. Simmons' J. Jonah Jameson from the similar internet breaking post-credits scene in Spider-Man: Far From Home. Indeed, Simmons' Jonah is plainly bald and without the flattop he sported in Sam Raimi's Spider-Man trilogy, and his "news" show looks like a fictional version of real-life greasy conspiracy theorists' social media rants. If you recall, earlier in Venom 2, Eddie read a newspaper article about Cletus Kasady in a more respectable looking version of The Daily Bugle. In Eddie's world, it's a real newspaper and not Info Wars: Superhero Edition.
But the real kicker came when Jonah revealed an image of Tom Holland, unmasked as Spider-Man and in public. Venom instantly takes a liking to the kid, licking the screen with a teenager on it in a way that's more disturbing than Sony Pictures likely intended!
The revelation is a game changer for both the Venom franchise and the Marvel Cinematic Universe. There's of course the obvious implication that we're finally going to get a Spider-Man versus Venom film. Well, another one after the less than fondly remembered Spider-Man 3 back in 2007. Venom's in the MCU, at last!
But if you dig further, there's the question of how Venom got in the MCU and what that might mean for Spider-Man: No Way Home and beyond. We're led to believe that the Venom symbiote willed itself and Eddie Brock into the MCU's strain of the multiverse with its unexplained ancient power. However, the symbiote seemed as surprised as Eddie about their new digs in that hotel room.
Admittedly, Venom: Let There Be Carnage introduced a lot of inexplicable symbiote "powers," including the ability to hack the entire internet in an instant by inserting itself into laptops and summoning indoor tornadoes as if it were the Wicked Witch of the West. Those powers, as well as being able to jump between dimensions at will, are not in the comics, our Venom scholar has assured me.
But what if the symbiote's little magic trick for Eddie was not to take them to another random dimension? What if this was coincidentally caused by something else at the exact same moment like, say, Peter Parker screwing up Doctor Strange's enchantment, as seen in the Spider-Man: No Way Home trailer? That seems plausible enough, especially when you realize the JJJ broadcast in the post-credits scene is not the same one in Far From Home. Indeed, when JJJ broke news about Spidey's identity, it was an open question whether Peter could deny the accusations. Now JJJ has a photo of Tom Holland's Peter Parker unmasked and in the Spidey costume. Some stuff clearly went down between Far From Home's post-credits scene and the one in Let There Be Carnage.
Does this mean Venom could be the sixth member of the presumed Sinister Six in Spider-Man: No Way Home? It seems plausible as the first teaser for the film only hinted at Alfred Molina's Doctor Octopus, Willem Dafoe's Green Goblin, Jamie Foxx's Electro, and some versions of Sandman and the Lizard. Venom showing up in the next No Way Home trailer would likely cause it to break the YouTube records set by the superhero movie's last sizzle reel.
Additionally, if Spidey is responsible for Eddie Brock being in the wrong timeline, it would at least give a nominal motivation for Venom wanting to squash the bug. As it stands, Hardy's Brock is the "lethal enforcer" and about a million miles away from the original comic book version of Venom who was a stalker obsessed with Spider-Man due to Peter screwing over both Brock and the symbiote. Seriously, Topher Grace's Venom was closer to his comic book counterpart in this regard. So how do you get Hardy's goofy antihero to become Spider-Man's arch-nemesis? Having Venom view the wallcrawler as his key back to the world where he has Michelle Williams waiting for him makes a wee bit more sense, no?
Of course if Venom does stay in the MCU, then future Venom movies could do well to incorporate all manner of MCU heroes and villains. And hey, maybe there can be another version of Carnage out there since the one we got in Venom: Let There Be Carnage was pretty meh.
But what do you think? Are you excited about Venom in the MCU, and do you want him to be part of Spider-Man: No Way Home's Sinister Six?