Features
Thor: Love and Thunder Trailer Breakdown and Analysis
The first trailer for Thor: Love and Thunder has arrived and it's absolutely packed with good stuff for Marvel Comics and MCU fans, from Natalie Portman's heroic Jane Foster to the Guardians of the Galaxy!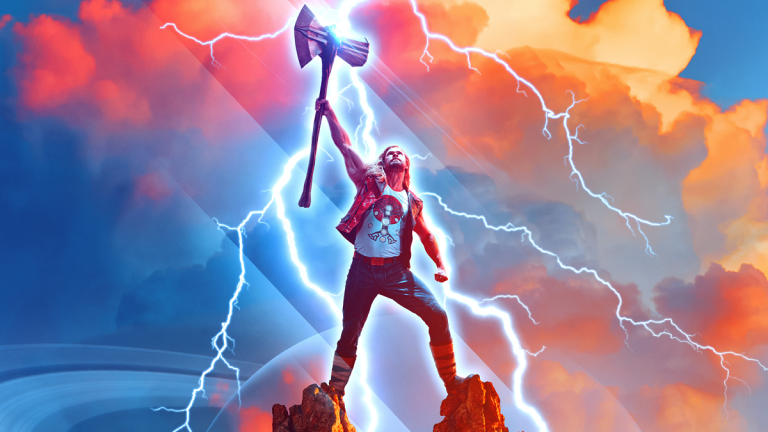 Marvel sure took their sweet time, but we finally have a Thor: Love and Thunder teaser trailer. It was absolutely worth the wait. Taika Waititi's long awaited sequel to Thor: Ragnarok (the movie which landed at #1 on our comprehensive ranking of the MCU movies) is a brightly-colored blast of good vibes, Marvel Comics Easter eggs and references, and callbacks to Thor's earlier adventures.
There's plenty of humor, even more cosmic scope, and barely a hint of the terrifying villain waiting in the wings for our heroes. Clocking in at just 89 seconds, there's still plenty to unpack, both for fans of the comics and Marvel Studios.
Watch the Thor: Love and Thunder trailer here if you haven't already, then we'll get to work breaking this down…
Now, let's break this down. We're not necessarily going in order through the trailer, but instead we'll try and group things together when/where they make sense. And, as usual, if you spot something we missed, let us know in the comments! If it checks out, we'll update this piece.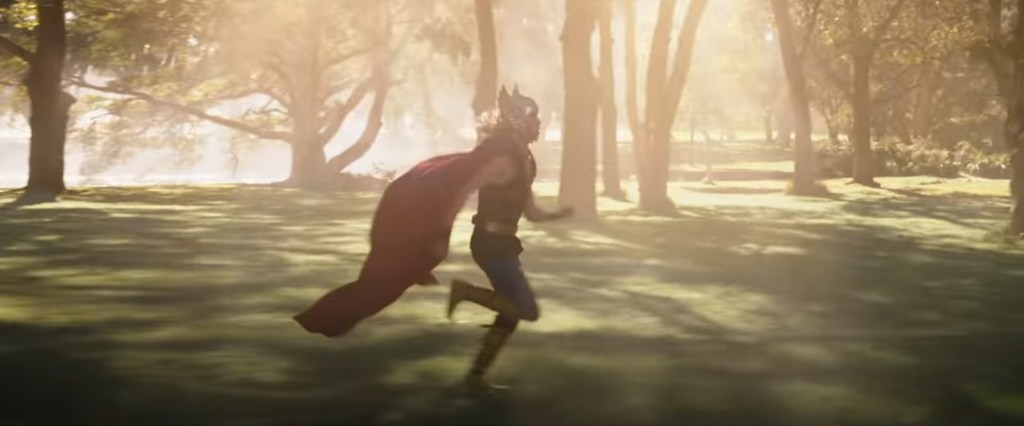 Comics Accurate Thor Costume
ok, fine, for this part we ARE starting at the beginning of the trailer. Mostly because this is the first time we've gotten a Jack Kirby style Thor costume in live action in the MCU. This joins some of our favorite other "classic costume looks" from MCU efforts like Steve Rogers' "Star Spangled Man" suit in Captain America: The First Avenger, Richard E. Grant's "Classic Loki" from (where else?) Loki, and most recently the final form Spidey suit in Spider-Man: No Way Home.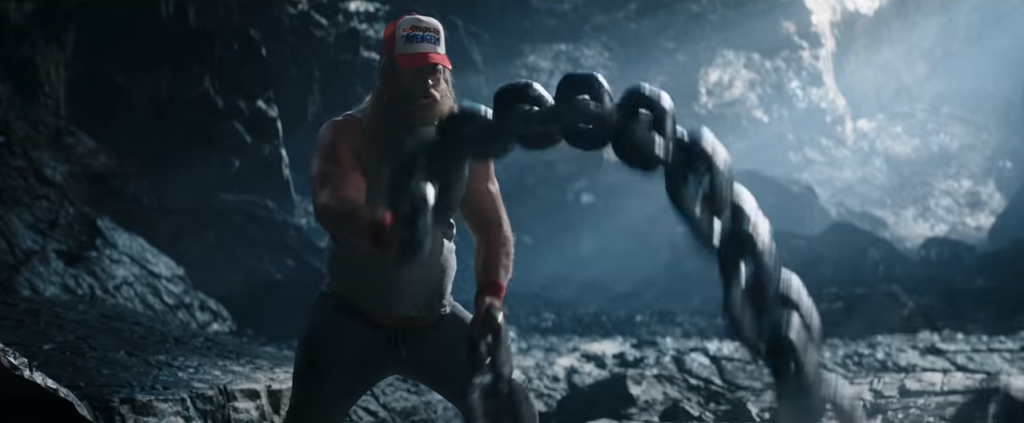 "Strongest Avenger"
This isn't necessarily an Easter egg, but Thor losing his Endgame weight by using the shackles of some massive, imprisoned subterranean giant (considering the presence of Zeus and Olympus in this trailer, maybe that's supposed to be one of the Titans of Greek mythology?), he's wearing a hat that says "strongest Avenger." Look, we all need a little affirmation when we're trying to get back in shape.
Also, the font on that hat is taken from the original Avengers comics logo of the 1960s and early '70s, not the one that has graced most comics and MCU marketing over most of our lifetimes.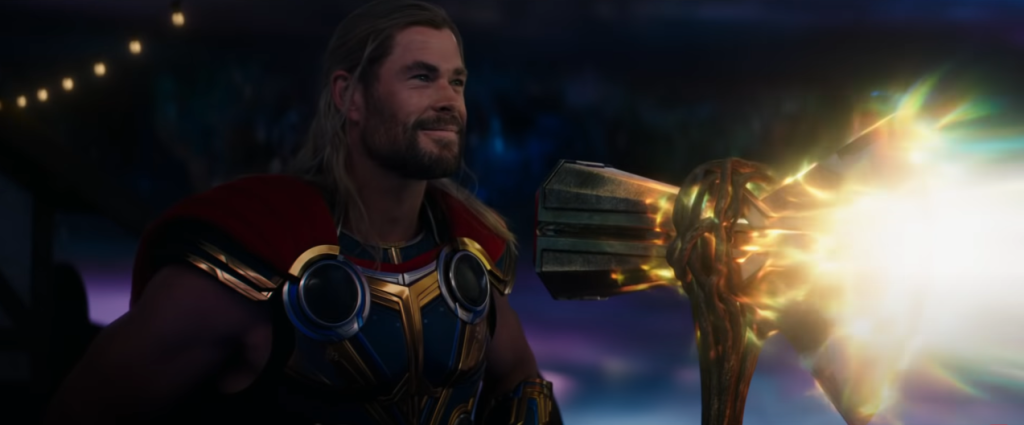 Thor's New Look
OK, so…this is a pretty stellar look for Thor, and probably the best suit the character has ever rocked in live action. The gold trim recalls a little bit of the "God of Thunder Reborn" design by Mike Del Mundo from the final volume of Jason Aaron's tenure as writer on the Thor comics. But mostly, this is a new suit, and one of the cooler MCU costumes we've seen in a while. More color in superhero movie suits, please!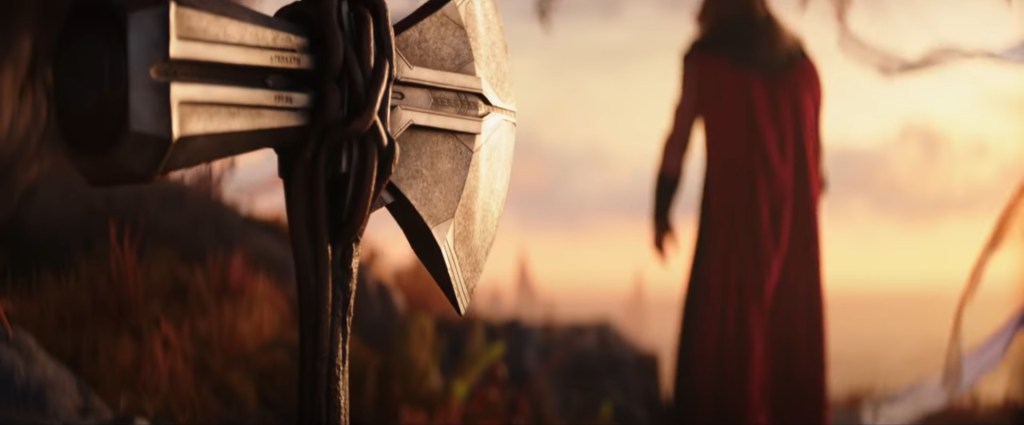 Stormbreaker and Thanos
Thor burying Stormbreaker and walking off feels pretty symbolic, considering that's the weapon he used to kill Thanos, thus exacerbating the chain of events that led to the bleak opening of Avengers: Endgame that were put in motion when he failed to stop the Mad Titan in time in Infinity War.
It also kind of recalls the "scarecrow" Thanos armor that the genocidal villain planted when he felt his work was done after Infinity War.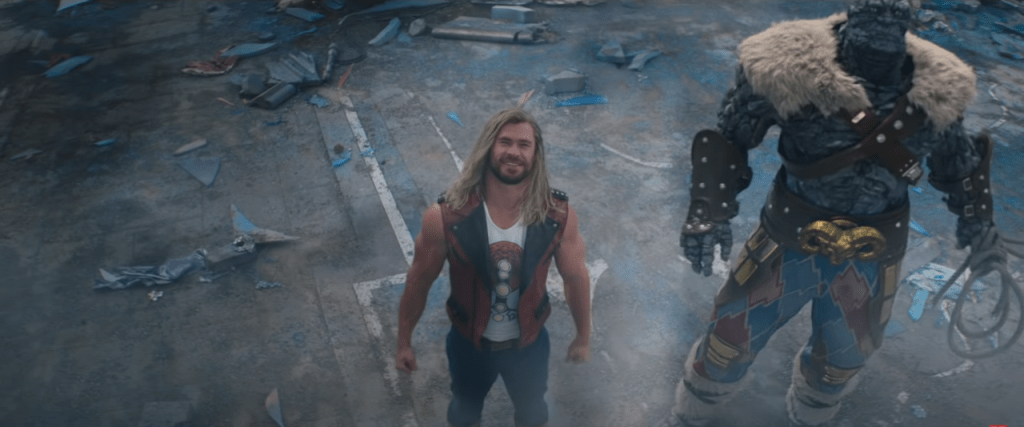 Thunderstrike Ravager Thor and Korg
Oh? You thought we were done with new looks for Thor? Think again!
First of all, Korg is looking sharp and like an awesome Masters of the Universe action figure here. Second of all, there is ZERO CHANCE that there isn't supposed to be a third character in the left of this frame who has been deliberately left out. Doesn't seem like it would be Jane, since we get her later in the trailer, so who could it be? Beta Ray Bill? Hercules? Howard the Duck? Tell us!!!
As the opening narration of the trailer explains, Thor has given up superheroing, even though he has gotten himself back into superheroic shape. His look here, with the cool abstract design on the shirt (which, I'm not 100% sure, but appears to be the World Tree and a map of the Nine Realms) and sleeveless vest sure makes him fit in well with the Guardians of the Galaxy crew, and in fact recent toy releases have dubbed this look as "Ravager Thor." There's even a little Jack Burton from Big Trouble in Little China here, right?
But there's another inspiration we can't help but see, and it comes from some cool Thor comic from days of yore…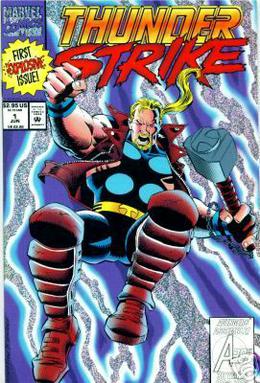 There was a brief period in the early '90s when Thor was no longer Donald Blake (not that he ever really has been in the MCU anyway) and the mantle of the God of Thunder was passed on to a construction worker named Erik Masterson. This change (as all changes in comics do) eventually passed, but Masterson retained some of his godly power and carried on as Thunderstrike, wearing a very '90s sleeveless jacket that looks more than a little bit like the one that Thor is rocking in this trailer.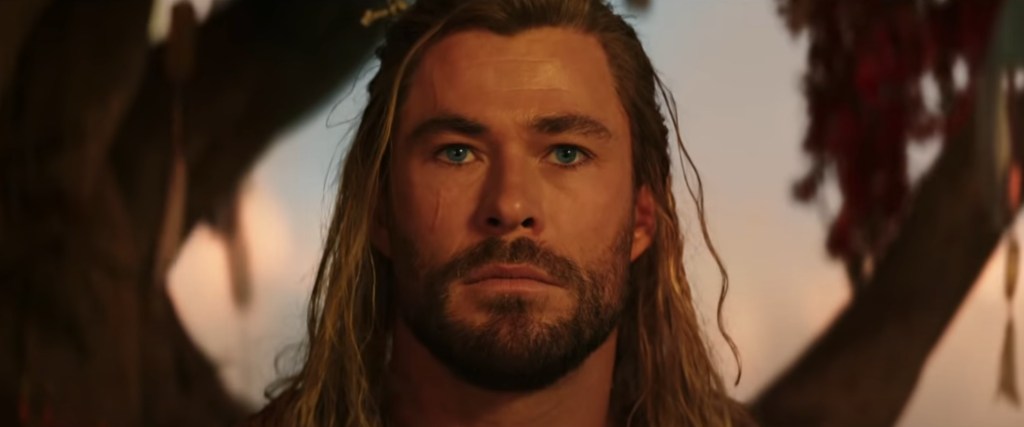 Thor's Eyes
Aren't they dreamy? Star-Lord sure doesn't think so. ANYWAY that's not why I put this here. Whatever changes Thor has been putting himself through, they also appear to have "fixed" his heterochromia after he received his new eye in Infinity War.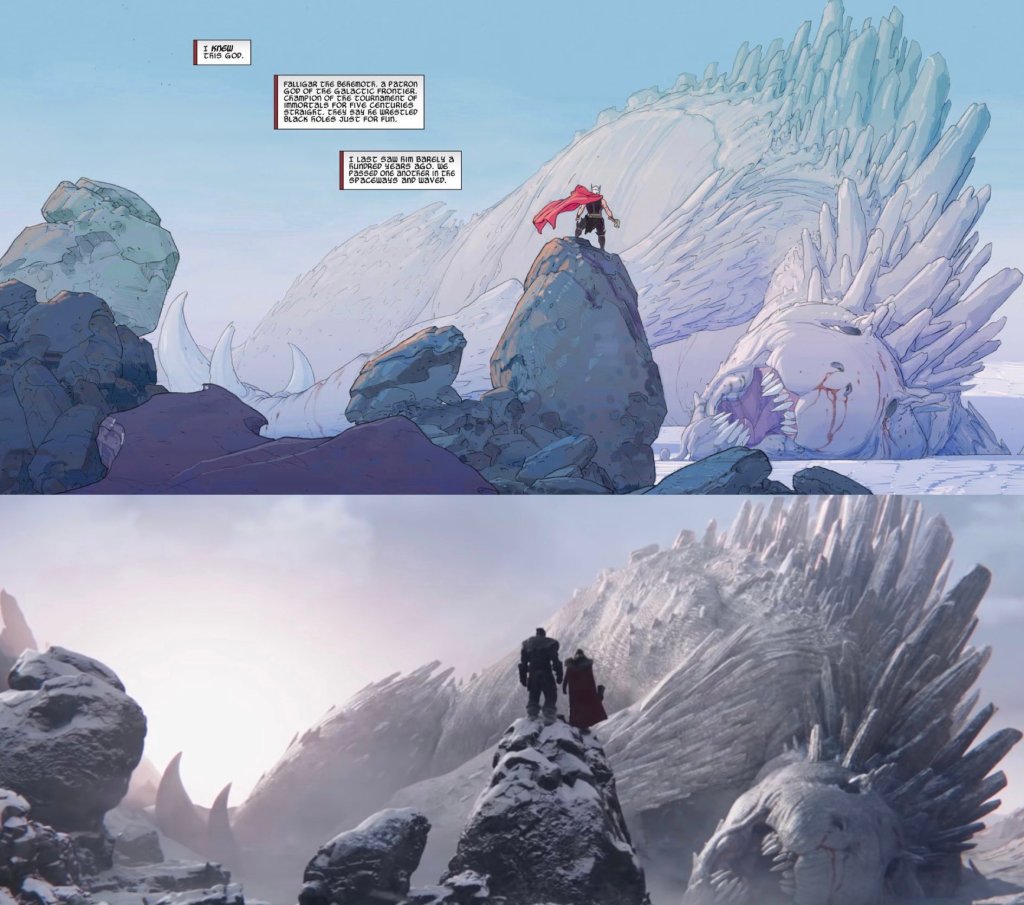 Gorr the God Butcher
Christian Bale's Gorr the God Butcher is… nowhere to be found in this trailer. Well, not officially. But his handiwork sure is (and there's another moment we'll get to, as well). This shot is a perfect re-creation of a panel from Jason Aaron and Esad Ribic's Thor: God of Thunder #3, the third issue of the story that first introduced Gorr to the world, and which Thor: Love and Thunder is clearly drawing some inspiration from.
The fallen beast in question isn't a beast at all, but rather it is a dead god. Falligar the Behemoth, to be exact. In the comics, he was discovered as Thor was first learning of Gorr's brutality and tracking the God Butcher throughout the galaxy, finding a trail of dead deities along the way.
This is such a cool shot, but seriously, I hope Esad Ribic is getting paid right now.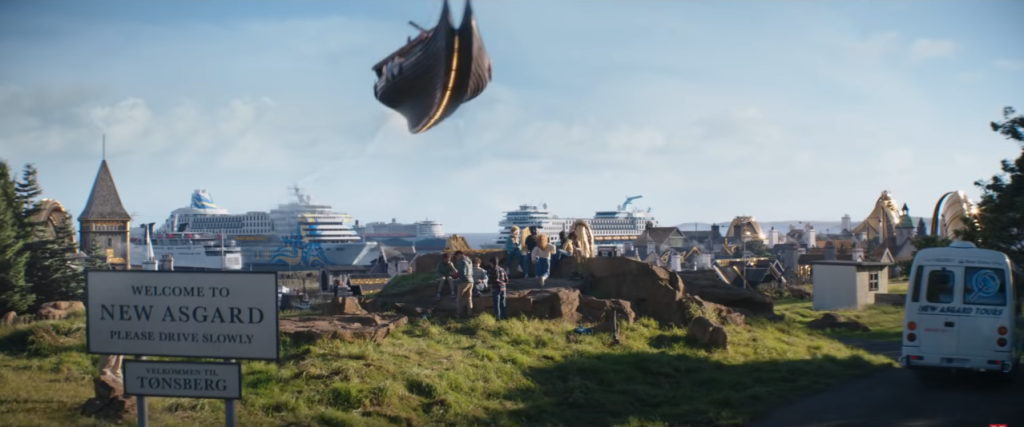 New Asgard
Unsurprisingly, New Asgard has become something of a tourist attraction. Are those "Viking Cruise" ships in the background? Also, is it us or does the New Asgard Tours logo look like the ol' hammer and sickle. If so, um…read the room, New Asgardians!
King Valkyrie
Tessa Thompson returns, now as King Valkyrie of New Asgard. Here she is "entertaining" a delegation from other nations, a task which clearly bores her warrior's spirit. We're quite certain she'll get plenty to do in this movie and…wait a second…is that Miek in a suit on the far right of the frame?!?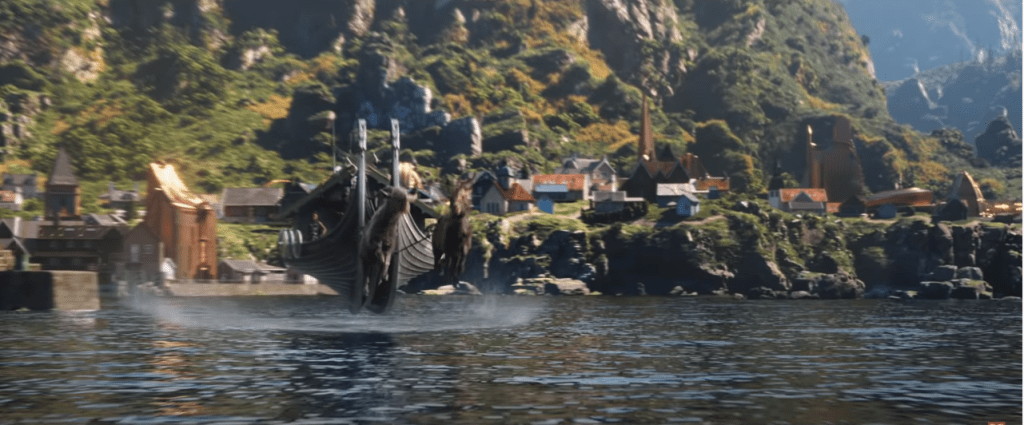 Goat Boat!
We all got excited when the Goat Boat made its online debut via some images of upcoming LEGO sets. I mean, how could we not? It's the Goat Boat for cryin' out loud! But seeing the Goat Boat actually onscreen here reveals some really fun stuff.
For one thing, the Goat Boat is pulled by Toothgnasher and Toothgrinder, who have only appeared sporadically in Marvel Comics, but they are indeed the ones who pull Thor's chariot in the Norse myths that inspired the comics and thus the MCU. Also, if you look closely, the Goat Boat appears to have a purple neon sign that says "cocktails and dreams" as seen in the 1988 film Cocktail with Tom Cruise.
And where, pray tell, is the Goat Boat off to? Well, it appears to be heading to…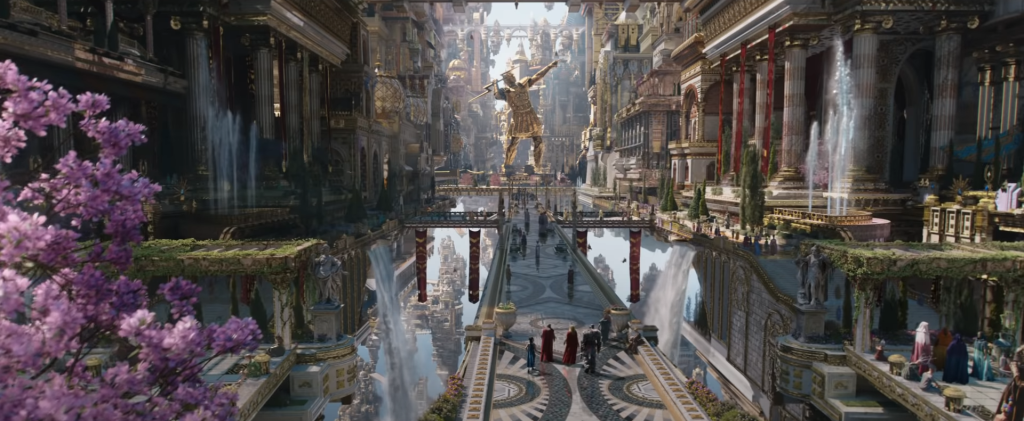 Olympus
We're finally exploring other cosmic pantheons in the MCU, and Olympus is off to a gorgeous start here. But this other shot of it…
Not that this is a bad thing at all, but that above look at Olympus looks a lot like how George Perez would render it in his spectacular Wonder Woman run. Considering that Waititi wasn't shy about paying tribute to great artists like Jack Kirby and Walt Simonson in Thor: Ragnarok, it wouldn't be surprising if the legendary Perez (who also did a spectacular Avengers run at Marvel) was on everyone's mind as they designed the MCU's Olympus.
Hey, who lives in Olympus, anyway?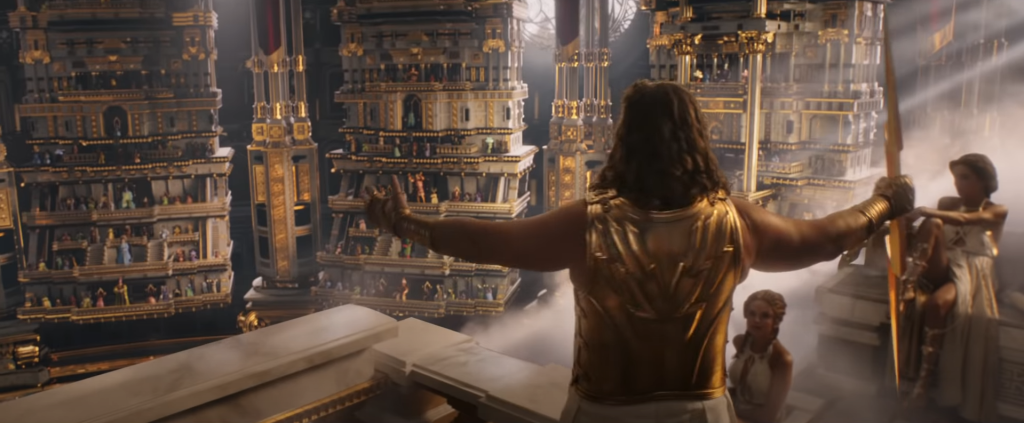 Russell Crowe as Zeus
Everyone, please give a warm MCU welcome to Russell Crowe as Zeus! That's it. That's the entry. Well, not exactly…
Crowe's arrival as Zeus, aside from potentially teasing some thunder god on thunder god action with Thor (who is probably in need of a father figure these days, come to think of it), could (if we're lucky) herald the arrival of another character with a much deeper connection to Thor: Hercules. Not only is Hercules a natural fit for the weirder, cosmic side of the MCU, his ongoing rivalry with Thor is tremendous fun.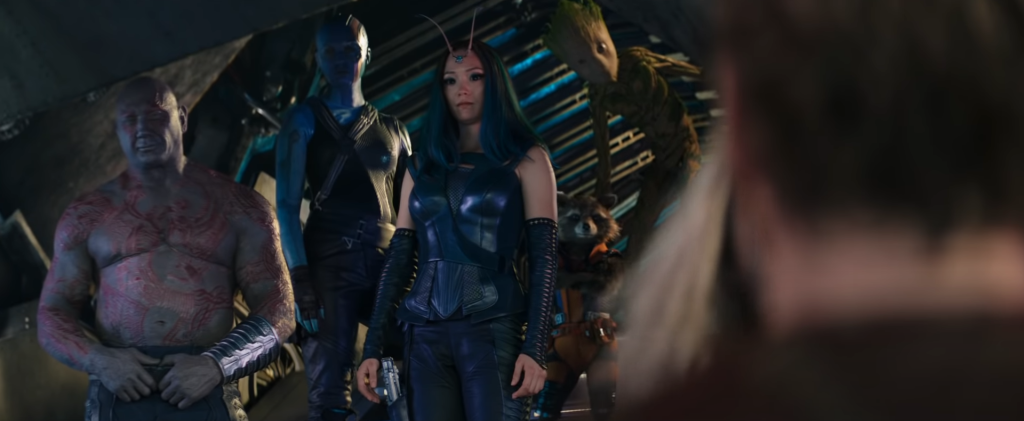 Guardians of the Galaxy
It's no surprise that the Guardians of the Galaxy are in this movie, but Rocket's slightly sleeker new costume (with a collar) is pretty cool. There's bound to be lots of fun Guardians moments in this movie, but probably none as much fun as…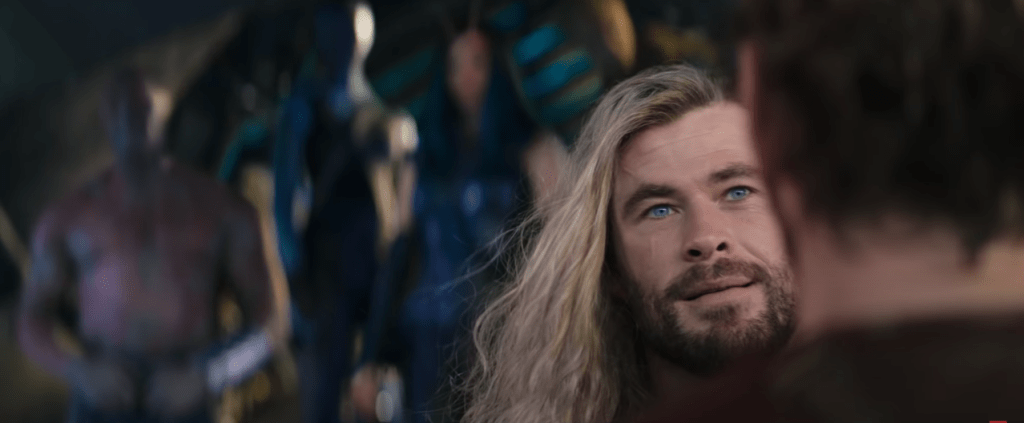 Thor Hearts Star-Lord
I'm in absolute hysterics imagining Ron DeSantis and assorted other bigots guzzling Pepto Bismol right about now. Anyway…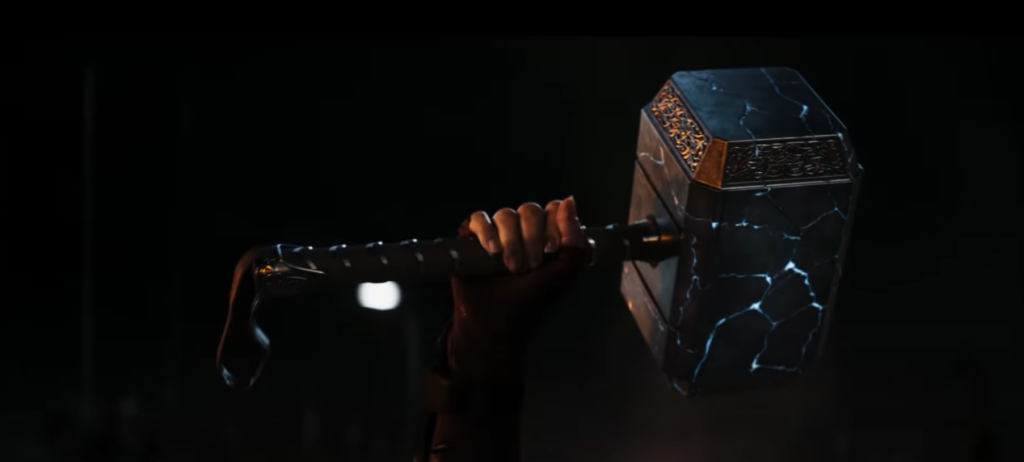 Mjolnir Reforged!
It's a nice detail that this isn't a new Mjolnir, or even a perfectly reconstructed Mjolnir. But rather a Mjolnir that still shows the signs of its destruction by Hela back in Thor: Ragnarok, and it's still brimming with cosmic energy. But it's who's holding it that matters…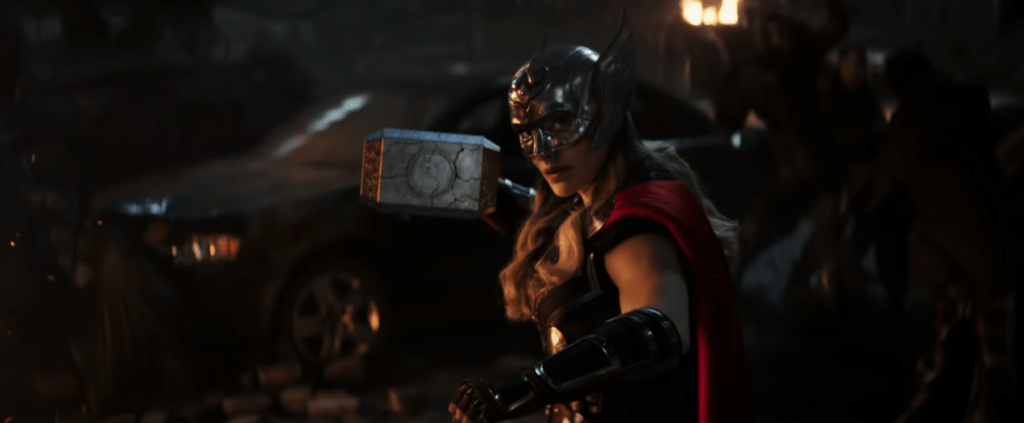 Natalie Portman is Jane Foster as Thor
Jane Foster is back in the MCU, and she's the new God of Thunder. And holy moley is Natalie Portman appropriately jacked. Even from this one shot, it's clear they've absolutely nailed Jane's Thor look as delineated by Russell Dauterman. Glad to see that we finally have a Thor willing to wear the winged helmet on screen, too!
Also, this shot might have another sign of the elusive Gorr the God Butcher in it. It's hard to tell what's causing the chaos/battle in the background, but it appears at times to be weird, formless, tentacle-y type stuff. Could this be Gorr's Black Berserkers running amok? We'll find out eventually. Surely, the next trailer will focus more heavily on the villain of the movie, rather than the all-around good vibes we got here.
Thor: Love and Thunder opens on July 8.