Features
Thor: Love and Thunder Cast – Who's Back and New Characters
Thor: Love and Thunder will see the return of some old faces as well as the debut of quite a few new ones, including Natalie Portman as Thor and Russell Crowe as Zeus!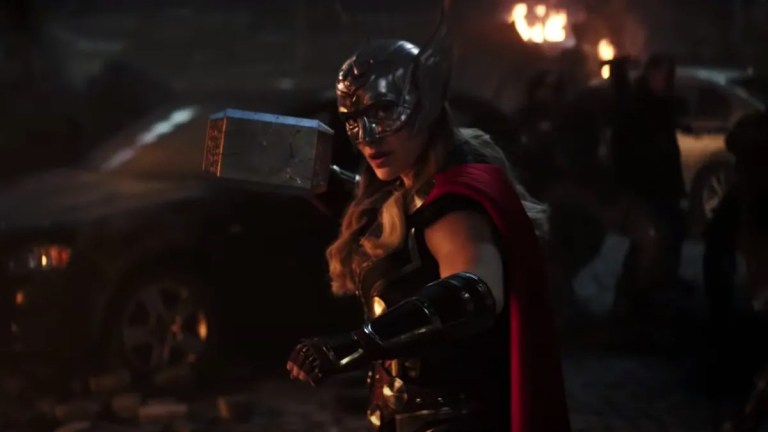 Even though the first Thor movie grossed almost $450 million in 2011, few people walking out of the theater probably thought the God of Thunder would go where Captain America and Iron Man could not and earn a fourth entry in his franchise. Sure, some of this achievement has to do with Chris Evans and Robert Downey Jr. completing their stories in Avengers: Endgame. But it has just as much to do with the revelation of Chris Hemsworth's comedic abilities and the total tonal shift director Taikia Waititi brought to Thor: Ragnarok.
For this unprecedented fourth solo movie, Thor: Love and Thunder, Hemsworth and Waititi not only reprise their roles as Thor and Korg but they're joined by a team of Academy Award winners and fan favorites. These remarkable talents will help tell the next chapter in Thor's story, which finds him looking for his place in the galaxy after dealing with the trauma of failing to stop Thanos and losing his home planet Asgard.
Since it's been five years since Ragnarok, and even longer since some characters have been in the MCU, here's a quick rundown of the new and returning faces in Love and Thunder.
Chris Hemsworth as Thor Odinson
In the lead role is Chris Hemsworth as Thor, son of Odin. We last left Thor taking the first steps down the path of healing in Endgame. After losing an eye and his planet in Ragnorok, Thor lost his brother Loki and was beaten by Thanos in Avengers: Infinity War. A broken and depressed Thor rejoined the Avengers, but he found real catharsis when time travel allowed him to speak one last time with his mother Frigga. Throughout these movies, Hemsworth has shown that he's much more than a big strong guy.
After regularly appearing on Australian television throughout the 2000s, Hemsworth made his film debut as George Kirk, father of James T., in J.J. Abram's 2009 Star Trek reboot. That same year, Hemsworth shot Cabin in the Woods (which would not be released until 2012) for Drew Goddard and Joss Whedon. Those experiences helped Hemsworth win the role of Thor, which itself spun off to well-liked performances in movies such as Blackhat and Rush.
But his most notable non-Marvel role may be Kevin in Ghostbusters, which gave him a chance to show off his comedic chops. Since then, Hemsworth has embraced more comedy roles, developing skills sure to come in handy for Love and Thunder.
Natalie Portman as Jane Foster / The Mighty Thor
Perhaps the most surprising member of the Love and Thunder cast is Natalie Portman as Jane Foster. Although Hemsworth was a relative unknown when cast as Thor, Portman was an incredibly popular actor in 2011, winning an Academy Award in 2010 for Black Swan and starring in the Star Wars prequels. However, after original director Patty Jenkins was replaced by Alan Taylor for Thor: The Dark World, Portman left the MCU, seemingly for good. In the years that followed, Portman worked with some of the best directors, including Terrence Malick on Knight of Cups, Alex Garland in Annihilation, and Pablo Larraín in Jackie, for which she received another best actress nomination.
At this point, we don't know exactly what drew Portman back into the world of Thor. But you can be sure that her character's new status had something to do with it, as she will be lifting Mjolnir as the new God of Thunder.
Christian Bale as Gorr the God Butcher
Another big return in Love and Thunder comes not from within the MCU, but from the Distinguished Competition. Christian Bale makes his way back to superhero movies to play Gorr the God Butcher, a creature bent on murdering gods of every pantheon.
Comic book fans know Bale as Bruce Wayne/Batman in Christopher Nolan's Dark Knight trilogy. In the 10 years since The Dark Knight Rises, Bale has remained very busy, appearing in 11 films. Those films earned Bale two Academy Award nominations, including best actor for American Hustle and best supporting actor for The Big Short.
Before putting on Batman's cape and cowl, Bale debuted as a child actor, earning praise for his performance in Steven Spielberg's Empire of the Sun at age 13. Since then, Bale has played in a wide range of movies, from Disney musicals Newsies and Pocahontas to horror films The Machinist and American Psycho. That range will serve him well as he brings a terrifying character to life in a seemingly goofy movie.
Tessa Thompson as Valkyrie
A standout from Thor: Ragnarok, Tessa Thompson returns as Valkyrie, the king of New Asgard. Love and Thunder marks Thompson's third movie with Hemsworth, as the two starred together in Men in Black: International. But Thompson also previously worked with Portman on Annihilation.
Thompson came to prominence first during the second season of Veronica Mars and in films such as For Colored Girls. Her breakout role was as a provocative radio host in 2014's Dear White People, which led to parts in Ryan Coogler's Creed and the satire Sorry to Bother You. More recently, Thompson starred opposite Ruth Negga in the award-winning Passing, directed by Rebecca Hall.
Thompson's brief cameo in Avengers: Endgame showed us a Valkyrie at home and at peace in New Asgard. But if rumors are true that Love and Thunder follows her search for a queen, then Thompson will get ample opportunity to use her full range as an actor.
Taika Waititi as Korg
Arguably the most popular character from Ragnarok, Korg is a gentle alien made of rocks who settled in New Asgard after helping Thor escape the Grandmaster. Since then, it appears that Korg has spent his time either playing video games with his bug friend Miek or playing Tom Servo to Deadpool's Crow T. Robot while roasting the Free Guy trailer.
The even bigger breakout is Korg's voice actor, Taika Waititi, director of Ragnorok and Love and Thunder. Waititi started in his native New Zealand, creating a 2005 short film Two Cars, One Night, which earned an Academy Award nomination. In addition to working with Flight of the Conchords and appearing with Ryan Reynolds in Green Lantern, Waititi wrote, starred, and directed the vampire comedy What We Do in the Shadows, which spawned a successful television series. Ragnorok's success allowed Waititi to direct the Oscar-winning film Jojo Rabbit and make appearances in The Mandalorian and The Suicide Squad. After Love and Thunder, Waititi will next direct a Star Wars film.
One hopes that none of this success will go to Korg's head, as the kindly Kronun returns to aid his buddy Thor once again.
Chris Pratt as Peter Quill/Star-Lord
While he's busy shooting Guardians of the Galaxy Vol. 3 and this year's Guardians of the Galaxy Holiday Special, Chris Pratt's Star-Lord and his fellow a-holes dropped by for Thor's latest adventure. More than a mere cameo, Star-Lord and the Guardians' appearance continues the storylines from Infinity War and Endgame, which teamed the God of Thunder with Rocket (aka Rabbit) and Groot (aka Tree). If the teaser trailer is any indication, Star-Lord's advice will help Thor take his next steps.
For Pratt, Star-Lord has been a career-changer. Before his casting in the first Guardians film, Pratt was best known for his roles in CW series Everwood and the NBC comedy Parks and Recreation. Since Guardians, Pratt has become a true movie star, with lead roles in The Lego Movie and its sequel, the three Jurassic World films, and the upcoming Super Mario Bros. movie. But based on the positive reaction to his brief comic scene with Hemsworth in Infinity War, Pratt's most anticipated appearance may be the return of Star-Lord in Love and Thunder.
Russell Crowe as Zeus
Like Christian Bale, Russell Crowe will make the jump from the DCEU, where he played the Superman's father, Jor-El, in Man of Steel and Zack Snyder's Justice League, to the Marvel Universe, where he'll play Greek god Zeus.
Crowe will certainly bring his larger-than-life demeanor to his performance as the ruler of the Greek pantheon. However, Crowe has shown himself to be a remarkably diverse actor, at home in realistic dramas and genre pieces. The New Zealand actor was nominated for three consecutive best actor Oscars from 2000-2002, winning for Ridley Scott's Gladiator. He's also received praise for dramas such as Master and Commander: The Far Side of the World and L.A. Confidential, as well as the musical Les Misérables and the comedy The Nice Guys.
He will be returning to the world of comic book heroes next year, when he plays the titular character's father in Kraven the Hunter.
Karen Gillan as Nebula
While Zoe Saldana's Gamora appears to be missing from the Guardians crew, he sister Nebula will be present. The Scottish actress broke out among genre fans in her four-year run as Amy Pond, companion to Matt Smith's Doctor Who. In addition to those roles, Gillan co-starred with John Cho in the well-received sitcom Selfie and in the Mike Flanagan horror film Oculus. Outside of her Marvel work, Gillan's biggest success has come playing one of the avatars in Jumanji: Welcome to the Jungle and its sequel The Next Level.
Gillan beat her Love and Thunder co-stars to cinemas this year by appearing in Dual, which released on April 15.
Pom Klementieff as Mantis
The newest member of the Guardians had limited screentime with Thor in Infinity War, so hopefully we'll get to see more of them together in Love and Thunder. The French actress made her American debut in Spike Lee's poorly-regarded remake of Park Chan-wook's Oldboy in 2013. Since joining the MCU in Guardians of the Galaxy Vol. 2, Klementieff has appeared in James Gunn's superhero follow-up, The Suicide Squad, as well as Uncut Gems and The Addams Family.
Dave Bautista as Drax the Destroyer
While Drax only spent a few minutes with Thor in Endgame, he made the most of it, so here's hoping he'll get more chances to dunk on Quill while praising the God of Thunder. The breakout actor of the Guardians films, Bautista was formerly best known as a wrestler in the WWE. After his turn as Drax, Bautista showed more comic timing and surprising depth in movies such as Blade Runner 2049, My Spy, and Dune. In addition to the next Guardians film, Bautista can also be seen reprising his role as the Beast Rabban in the highly anticipated Dune: Part Two.
Vin Diesel as Groot
As the teenage "Tree," Groot played a crucial role in helping Thor fight Thanos in Infinity War, even becoming the handle for his ax Stormbreaker. While we don't know what Groot will do with Thor in Love and Thunder, we can probably guess what he'll say. In his performance as Groot, Vin Diesel continues a tradition of excellent voice acting that began with Brad Bird's animated feature The Iron Giant. Diesel also found more success as Groot than he did attempting to launch a new cinematic universe in 2020's Bloodshot, based on the Valiant Comics superhero. But everybody knows that superheroes are only secondary to Diesel's true franchise loves, the Riddick series that began with Pitch Dark, and the Fast and Furious films, which saw its ninth entry last year.
Bradley Cooper as Rocket Raccoon
Along with Groot, Rocket (aka "rabbit") accompanied Thor not only to the weapon-making planet Nidavellir, but also to Asgard of the past, retrieving the Reality Stone while Frigga comforted her son. Even if Thor appears to no longer have use for the fake eye Rocket secured for him, it's clear that the two have a bond greater than any of the other Guardians.
It's also clear that Love and Thunder will give Cooper another chance to do comedy, something he deeply loves. No matter how many accolades he receives, the actor repeatedly returns to comedy, appearing in movies such a Wet Hot American Summer, The Hangover, and Silver Linings Playbook. However, Cooper has shown himself to be far more than a handsome guy with a good sense of humor. The actor has earned praise for not only his dramatic roles in movies such as American Sniper and Nightmare Alley, but also for the Oscar-nominated film A Star is Born, in which he starred and directed.
Jaimie Alexander as Lady Sif
Given the way the Warriors Three were so uncerimoniously dispatched in Ragnarok, it's reasonable to assume that Lady Sif died off screen. After all, the character has only appeared on TV since The Dark World, in two episodes of Agents of SHIELD, as a memory in Loki, and alternate reality versions in two episodes of What If…?. But Lady Sif will come back alive and in the flesh in Love and Thunder, once again played by Jaimie Alexander.
Even if Sif hasn't been seen lately, Alexander has certainly remained busy. The actor, who got her first break in the sci-fi series Kyle XY, starred in 100 episodes of the NBC show Blindspot.
Matt Damon as Actor Loki
Unsurprisingly, Thor's mischievous brother/arch-enemy Loki will make an appearance in Love and Thunder. However, the official cast lists indicate that he will be played by Matt Damon, reprising his role as an Asgardian actor portraying Loki alongside fellow thesbians Sam Neill as Odin and Luke Hemsworth as Thor. Melissa McCarthy is slated to appear as an actor portraying Hela, the Ragnarok villain played by Cate Blanchett.
There's currently no indication that Tom Hiddleston will be returning as the real Loki, but that makes sense. The Prime Loki died at the start of Infinity War and Variant Loki from the Loki Disney+ series is on the run with Sylvie. It does not appear that Loki will hassle Thor on his latest adventure. But if there's one thing we've learned about Loki, it's that appearances can be deceiving.
Thor: Love and Thunder releases July 8, 2022