Features
The Power Rangers "Reboot Universe" Is Exactly What The Franchise Needs
Jonathan Entwistle ("I Am Not Okay With This") will be heading a new "reboot universe" for the Power Rangers franchise. We break down everything we know and what it means for the old universe.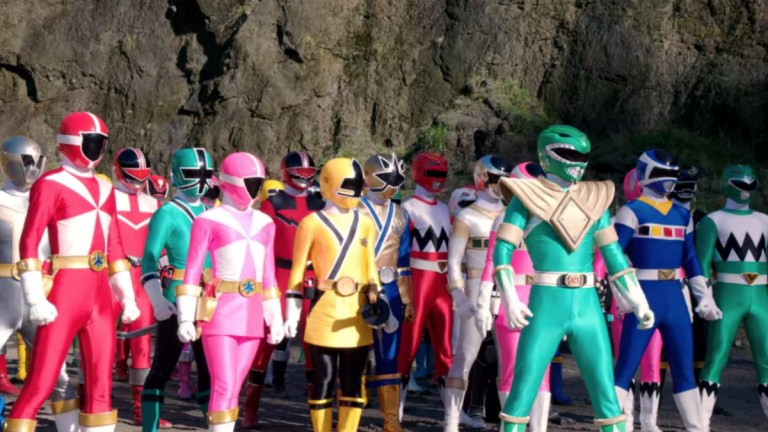 In the early 1990s Mighty Morphin Power Rangers burst onto the scene and quickly became one of the hottest kids shows on the planet. Millions of toys were sold, ratings went through the roof, multiple copycats were created, and a big budget movie was put into production. Power Rangers' place in pop culture was cemented and secured a long future for the franchise.
However, as the years went on and Power Rangers continued on television its fame slowly evaporated. It fell into the background; successive seasons of the TV show were enjoyed by new generations of kids and hardcore fans but never captured the public consciousness again like it had in the '90s. Multiple attempts were made to try and bring it back into the spotlight but they all had little success in the grand scheme of things.
The most recent attempt, the 2017 movie, was deemed a disappointment at the box office despite making its budget back and pleasing many fans. The TV show has mostly stuck to the same formula for the last ten years and has suffered slow erosion in its ratings. Still this isn't the lowest point in Power Rangers history at all (arguably the rock bottom ratings of Power Rangers RPM.) There have been several successes recently, including the Power Rangers comics and Legacy Wars mobile game.
However, new franchise owners Hasbro want Power Rangers to be a massive success. They didn't pay half a billion dollars to collect license fees and take up a small section of the toy aisle. They want Power Rangers to be big, to be its own cinematic universe… but after over twenty-years of attempts can Hasbro reinvent Power Rangers?
They're about to try. Hasbro has tapped Jonathan Entwistle, known for his work on I Am Not Okay With This and The End of the F***ing World to "shepherd new film and television adaptations of Power Rangers." Adaptations of Power Rangers that, a press release pointed out, will be "non-kid." In addition they're planning an animated Power Rangers and some form of continuation for the "kids-oriented" series whose 28th season is currently in production.
A movie. A "non-kid" TV show. Some form of animation. A kid TV show. That's four major Power Rangers projects that have all been announced or discussed in the past few weeks. Not only that but Entwistle told Insider that what he's working on is a "reboot universe" and a "whole new world" for the franchise.
This is by far the biggest push Power Rangers has ever received to bring it back into the spotlight and reinvent the franchise. Hasbro is betting big on Power Rangers and looks to be taking the franchise in directions it's only brushed up against in the past. What do they all mean? How will they relate to each other? What does this mean for the TV series that's been running for so long with one (mostly) continuing universe? Let's break it all down because there's a lot to discuss here.
The New Live-Action Power Rangers Movie
With Hasbro's acquisition of Power Rangers and the 2017 Lionsgate/Saban Power Rangers movie's lack of success, it was inevitable the new movie wouldn't be a follow up to that film. We know for sure that the film will be live-action, Titans writer Bryan Edward Hill has been tapped to write the script, it will be more mature than the TV series and Entwistle will be directing.
We aren't sure if the story of the new film will follow the plot originally mentioned in reports back in December of a new team of Ranger time-traveling back to the 90's. That movie was in the works with Hasbro and Paramount but Paramount hasn't been mentioned in any of the recent press releases so it's unclear if that story is still in play or not.
The "Non-Kid" TV Show
We know very little about this show but Entwistle will direct at least some of the episodes. What's fascinating is how much the press release made a clear distinction between this project and the currently airing Power Rangers Beast Morphers. Specifically it stated, "in addition to the new non-kid projects under Entwistle, Power Rangers-inspired kid series Beast Morphers is currently in season two."
If a Power Rangers TV show isn't for kids, who will it be for? Besides the 2017 movie, which was aimed at a more general audience, Power Rangers was always first and foremost a show for kids. Even at its zenith the show never tried branching out into programs meant for teens or adults.
A mature Power Rangers was in fact something that previous owners of Power Rangers were starkly against. In 2015, director Joseph Kahn and producer Adi Shankar released the fan film Power/Rangers, a decidedly violent and sexual take on the franchise. Within hours the short was removed after a copyright claim from then franchise owner Saban Brands. The film was only allowed back up with extensive disclaimers noting it was a fan film and was not affiliated with Saban.
This new show could be targeted to teens or even solely for adults. We suspect it'll probably be more teen/young adult focused (think the Arrowverse shows) for maximum audience potential but you never know. This alone could help Power Rangers redefine itself. By removing all the strict restrictions that come with making TV for younger audiences, Power Rangers would finally have the room to reinvent itself and explore new dramatic territory.

It could shake off the monster of the week combined with moral lessons format and go in any direction it wanted. It could take the form of a bingeable "prestige" series, where it's allowed to fully explore its characters and world to depths previously only dreamed about by fans. We could see a Riverdale style show (let's call it "Angel Grove") that focuses more on the characters' romantic relationships with one another, something the series up to now has shied away from. It would even allow the show to have more intense action, the legendary stunt team able to go all out instead of pulling their punches for fear of their action being copied by children.
Power Rangers could be anything it wanted.
Will The Movie or TV Show Use Japanese Footage?
One of the hallmarks of Power Rangers is its use of footage from various Japanese Super Sentai series for some of its fight scenes and megazord battles. It's been both a blessing and a curse to the show, saving it tons of money but also locking the show into themes or stories depending on the footage.
While so far no one has commented on whether the "non-kid" show or film will use Sentai footage, we're fairly confident they won't. It's tough to reimagine the franchise while still being forced to use whatever Sentai is given to them. As much as fans love seeing how Power Rangers utilizes the footage, it does keep Hasbro from making exactly what they want. If they're going to invest the money into a show and film, they want to have full control over it.
The footage from Sentai is also for kids and it'd be tough to add that to even a teen program and get the general audience to take it seriously. Power Rangers fans, after years of exposure to the franchises over the top nature, sometimes miss that, to an outsider, the action of Power Rangers is silly and takes them out of the story. That's one of the delightful charms of the show if you're a fan but to outsiders it's a massive stumbling block. Without it, Power Rangers can finally grow and change in ways it hasn't been able to in years.
Plus, the art of cutting up Japanese programs and reselling them to America in drastically altered states is archaic at this point. It's a relic of the '90s that somehow managed to survive in Power Rangers. It doesn't need to continue.
Power Rangers "New Animation"
As reported by No Pink Spandex, Casey Collins (Senior VP, Global Consumer Products, Hasbro) stated on Oct. 6th at the Europse Festival of Licensing event that Hasbro is exploring content for the franchise, which includes "new animation." Entwisle also stated in the Insider interview that he's working on animation for the franchise.
Unlike the movie and general audience series, there was no statement regarding what age group the animated series would be aimed at. The only thing we know for sure is that Entwistle is overseeing it.
In its 27 year history there's never been an official Power Rangers animated series. Some pitches have been leaked and various people associated with the brand have spoken about the possibility in the past but nothing official ever came to light.
The possibilities for an animated Power Rangers series are endless. With animation you can do anything you want and you certainly wouldn't (and couldn't) use Japanese live-action footage with it. There's an infinite canvas, whether they want to tell stories that flesh out the world and characters of the film/live-action show, a totally separate story, or a series that skews towards adults akin to Castlevania on Netflix. They could even use it to dive into the continuity of the kid show… although some comments from Entwistle make us suspect that won't be the case.
Speaking of…
The New Reboot Universe
Entwistle stated in the Insider interview, "I am now running the new Power Rangers reboot universe from scratch… I'm mapping out a whole new world of movies and television and animation." Calling it a reboot universe makes us 99% certain these projects will break with the continuity of the kids TV series and create something that completely stands on its own.
This wouldn't be the first time. The 1995 film, though taking many elements from the TV series, was in its own continuity. The 2017 film also served as a complete reboot, starting the universe over from scratch. The TV show itself contains seasons that are set in alternate universes. Even the current Power Rangers comic books, though trying to stick to key events of the show, take place in their own universe.
Hasbro has a key interest in building "entertainment universes" around their core properties (as stated in a recent press release) and doing that with a franchise like Power Rangers is a smart move. The thought of abandoning the 27 year old continuity may anger some fans but it's the right move. It makes sure no one in the audience feels left out and it avoids the admittingly messy continuity the show's developed over the years.
All this doesn't mean we're seeing the end of the Power Rangers kids TV though.
The Kid Show
With all this talk of new universes and projects, fans have been wondering what will happen to the Power Rangers TV show as we know it. Currently the 28th season, Power Rangers Dino Fury is in production and its first season will air on Nickelodeon next year.
Past that, things start to get hazy.
We know that Dino Fury will have more than one season, thanks to a report from Worldscreen (via NPS.) Olivier Dumont (President of Family & Brands, eOne, which Hasbro owns) stated that they are working on "the first season of Power Rangers Dino Fury." However, Power Rangers is only guaranteed to be on Nickelodeon through 2021. After that, no one knows where the show will end up. It could potentially move to another network (or streaming service) but this means we'll have Power Rangers through 2022. That doesn't mean the show will remain untouched by Entwistle or Hasbro's new plans for the brand.
As reported by NPS, Hasbro CEO Brian Goldner stated in a Third Quarter 2020 Earnings Conference Call that Entwistle is handling, "the kids-oriented TV show that's in its 27th season." This raises a ton of questions. What is Entwistle's level of involvement with Dino Fury and will it tie into the new reboot universe? Will he continue to handle the show going forward after Dino Fury? Will it keep using Japanese footage?

There's also the strange distinction made in the initial press release about these projects where Beast Morphers was referred to as a "Power Rangers-inspired kid series." What does that mean? What makes the kids TV series "Power Rangers-inspired?" Is this some kind of new legal or corporate distinction to keep the kids show separate from the new projects?
It's hard to answer any of these questions without more information. We can only speculate that perhaps the kids show will continue on in the "original" continuity (along with the Sentai footage) while Entwistle will simply make sure it somewhat matches the tone or aesthetic of the other projects. Another possibility is that the kids show will take place in the new "reboot universe" and it will completely drop the Sentai footage.
The Future of Power Rangers
To quote the final line of Power Rangers Time Force, "the future looks pretty bright." Of course some of these projects may not get off the ground. That's Hollywood, but seeing how committed Hasbro is to Power Rangers with multiple shows in the works gives us a lot of hope. They'll be different from what fans are used to, no doubt, but that's what Power Rangers needs right now.

Becoming a teen or adult show/film that doesn't use Sentai footage may be off putting to hardcore fans but it's the kind of move that'll draw in a whole new audience. It could reinvent what people think of Power Rangers and that'll help it grow after years of relative stagnation in pop culture. There's been a lot of great work for the fans done over the years (the 2017 movie, the recent Boom comics, the Legacy Wars mobile game) but to really make a splash in the wider entertainment world, Power Rangers needs to do something bold and these new projects could be just that.
For over 20 years Power Rangers has tried to recapture the success of the original MMPR and never succeeded. There are many reasons for that but perhaps the announcements of these new projects show that Hasbro is finally done with trying to reach that zenith. Instead, it's forging a new path. One that could bring Power Rangers a new level of success in a totally different realm. We're fascinated to see how it goes.