Features
New Power Rangers Showrunner Reveals Dino Fury Plans
The new Power Rangers showrunner discusses what's upcoming for Dino Fury, how COVID-19 impacted production, and writing the show for children and adults.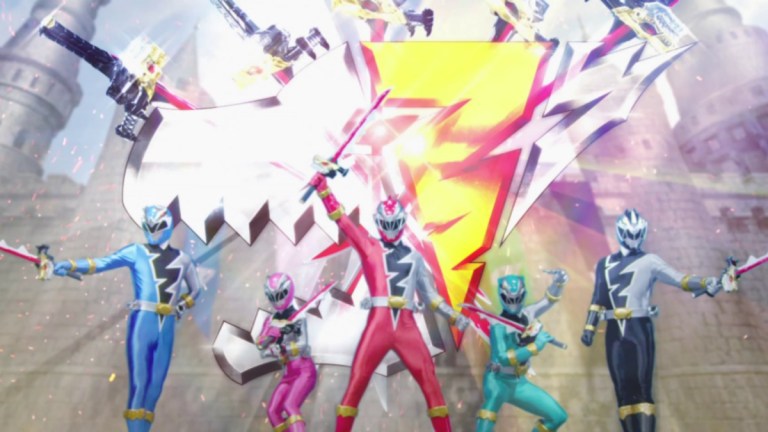 Back in January fans of Power Rangers learned through an IMDB post that Simon Bennett, director of many Ninja Steel and Beast Morphers episodes and producer of several well-known New Zealand dramas, had "taken over the reins as EP (executive producer) of Hasbro's famed Power Rangers TV series." He later stated that he was also the showrunner as well.
At the time this left fans a bit confused since Chip Lynn, who'd worked on the show back in the 90's and returned in 2015 for Dino Charge, was the executive producer. While TV shows having two executive producers isn't uncommon the whole situation was further muddled by comments from former Power Rangers actor Austin St. John. At at a convention appearance he started that Lynn was "phasing out" of his role on the show. Fans were left wondering who was in control of Power Rangers' production and could Bennett's new position mean a new creative era for the show?
Thankfully we were able to clear up many of these questions with Bennett who not only talked with us about how he got the role of showrunner on Power Rangers but also his plans for the upcoming season and how Lynn will be involved in Power Rangers Dino Fury.
DEN OF GEEK: What landed you the role of the new showrunner of Power Rangers?
SIMON BENNETT: Well, I didn't make the decision. I can't say exactly what the reason was other than I had worked as a director on the show for four years on both Ninja Steel and Beast Morphers. Prior to that, I have a long track record in the New Zealand screen industry as a director and creative producer. I think the powers that be probably thought my particular skillset was right for the role when it came up. And so, I was approached, I was shoulder tapped and asked if I might possibly be interested and I jumped at the opportunity.
Partly because as a director, you have limited control of the project you're working on. You are given the scripts; you have two weeks to shoot them and to bring them into some sort of reality. Then you walk away again because the post production, which is long on a show like Power Rangers, is in the hands of the executive producer.
Directing is a lot of fun and I love it, but it's only a small part of the process of making a show like Power Rangers. So I am a kind of polite megalomaniac in a way, the opportunity to have involvement with all aspects of the show, from the writing through to the final visual effects and sound mix was too good to pass up.
So for all the fans out there who've commented about you directing episodes with lots of fart jokes in them, you had no control over that. You just had the script and you had to do it the best you could.
(laughs) I had the script and I had to make it work. And you know, that's a lot of fun. One of the things that I love about Power Rangers is the challenges that every script throws out. "How can I possibly make this work?" is one of the questions. You're given the scripts; you have eight days to prep. When you first read the scripts on day one of prep, you go, "Oh my goodness, how on earth are we going to achieve that?" A lot of ingenuity in collaboration with very clever people and all aspects of the show goes into bringing these things to life and making them happen.
You had mentioned on Twitter that you and Chip Lynn are working closely together on the development of the new season. Is Chip going to be involved in the season once it starts production?
Well, Chip has been in New Zealand, as I have, pretty much for the last year or so that we've been developing the new season. He's been going backwards and forth to the States until the COVID scenario made that increasingly difficult. There's been a kind of handover going on. Once we go into production on the next season, Chip will be based in the States and I will be based in New Zealand, running the production, running the show. Chip will still be working on the show and he and I are both continuing to work closely with the writers on the scripts.
We're well into writing the new season. In fact, we started pretty much as soon as shooting finished on Beast Morphers. Way back last May we began developing the new season. So as far as scripts for the new season goes, they're advanced and looking exciting.
Has it always been this way where the scripts are developed so far ahead of when you actually shoot or is that a more current development?
I think that's the case. It takes a long time. It's not quick to write these scripts. There are a lot of complexities and also the adaptation of the Sentai is tricky as well because we have to retrofit Power Rangers around an existing Japanese TV show. We have to spend quite a lot of time looking at the episodes that exist of the particular Sentai season that we're going to adapt, and looking at the world that the Japanese show has created, like the design and all the elements and the range of characters. Then we have to think about how what they have given us might work for an American audience and what might not work. Because there are couple of differences between Japan and the States and different levels of what works for two-to-six year olds, which is our target audience, and different cultural expectations.
We have to build a world that mirrors what Sentai has already created but it's got to be fascinating and intriguing for our audience and also generate potential for the number of episodes that we're going to write. Then once the world and the characters are designed, then we have to come up, obviously, with some arcs that run across the season, but also strong individual stories because there's always been a directive that episodes of Power Rangers have to work on a standalone basis. There's not a huge appetite for serial threads. Although the writers do try and sneak in Easter eggs for people who like to watch them in sequence and work out what's going to happen next and what the clues are.
Obviously the show is made for two-to-six year olds, but then there are a lot of adult fans of the show as well. How do you balance making it for kids, because that's whom it's mainly for, but also knowing that there are a bunch of older fans watching it? How do you balance those two audiences or do you just focus more on the kids?
It's tricky. It really is a challenge because you don't want to neglect the adult fans either because they are an important and loyal part of the audience for the show. They're also a very vocal audience because they make their opinions known loudly and clearly online, particularly. I've worked on other long running TV shows and I think it's true to say that the fandom always holds the earlier episodes with a huge amount of fondness and nostalgia because it was when they first fell in love with the show and they were watching it as a kid. It's a bit like a relationship. You look back on the honeymoon phase with a huge amount of affection and with rose-tinted spectacles, and I think that's the case with any long-running TV show. And you do learn to accept that, however inventive you might be, whatever great ideas you think up and how modern and exciting you are? You're unlikely to be able to measure up to the golden memories that a lot of the super fans actually have.
That's just a given. Having said that, we always try and reward the loyal, long-standing audience members with some things that are only going to mean anything to them. They won't mean much to the younger audience who are only watching the show for the first time but it's a juggling act. It always is. The writers here in New Zealand, they are probably of a similar age to a lot of the long running fans and they are fans of the show themselves and they loved the canon lore. We're always trying to throw in rewards for people who have been long running fans of the show.
In terms of Dino Fury, what do you plan to bring to Power Rangers that's different from before?
Well, I can't say anything about the new season and because it's top secret, obviously. I mean, people know that Ryusoulger is the Japanese Sentai that we're adapting and that season is dinosaur-themed.
In terms of what I intend to bring to the show? You know, there are a lot of overlords for someone in my position, I don't have carte blanche to be able to say, okay, let's make this show unique, different, and my vision, that's not the way television works. It's a very collaborative medium. And there are a lot of people who have input into the tone and what the show is. And so I certainly wouldn't go into this wanting to reinvent the wheel or rock the boat.
What I do hope to do is come up with an exciting world, a bunch of compelling characters, a whole lot of episodes that keep people hooked and on the edge of their seat and some surprises and twists and turns along the way.
What I will be doing is bringing my skill as a drama producer and director to bear on the show and make sure the standards in my view remains consistently high. That's my job. What I see one of the main jobs of a creative producer being is to work closely with the writers, to completely understand the vision and the intent behind the stories. Then make sure that every single person who works on the show shares that vision so that what we end up with is consistent, rather than a hodgepodge of slightly mismatched ideas. I follow it right through to the end of the process.
COVID-19 has affected the entire world but how has it impacted Power Rangers specifically?
From a practical point of view, it has been a challenge. New Zealand went into a complete lockdown for about six weeks, which meant that we were all working from home. Luckily, we were able to stay productive because we were in the development phase of the show. So we kept writing stories and scripts. We were Zooming many times a day as part of that process. We had to delay production by a couple of months because we didn't know how things were going to proceed.
At one stage it didn't look as if we'd be able to shoot because of the level of lockdown, but where we're at in New Zealand now, it's pretty much life as normal here because the virus has been eliminated, apart from a few cases who show up at the border from returning New Zealanders. There is a 14-day quarantine for anyone who comes into the country and everyone has to be tested twice during that period so they're finding the few cases that are coming into the country.
As far as anyone knows, despite a huge amount of testing, there's no community transmission in New Zealand. So we're very lucky in that regard and it means that we will be going ahead with the production. Though there are certain logistical issues involved in bringing people into the country.
As far as this show is concerned, I think it would be imprudent to actually try and reflect what is happening now with COVID-19 in stories and scripts that are going to be on air in a year or so's time because the world is changing so fast. It's unlikely to be an accurate reflection then of what is the case. And also, by the time COVID-19 happened, we were well on the way with writing the show.
Is that why it was reported that casting sides for the main characters were being posted in New Zealand? Did COVID-19 have to do with that?
I think in previous years, possibly not the last two seasons, but in previous seasons, the casting sides went out to New Zealand as well. But yes, the Coronavirus meant that we have been casting for all the characters in New Zealand, as well as in the U.S. and Australia.
Power Rangers is a very diverse series. It's one of the most diverse series on air but how do you plan to increase the diversity, not just in front of the camera, but behind the camera as well?
That's a tricky question. I would say that there is diversity behind the camera, as well as in front of the camera. In terms of the cast, obviously it's a diverse group of people reflecting the diversity that we find in the world. There's a huge range of different ethnicities, cultural backgrounds, and other forms of diversity involved in the crew and making the show in New Zealand. New Zealand is a very liberal country and issues like gender fluidity, sexuality, ethnicity, they really don't affect the making of the show. I would say the film industry here is incredibly diverse and open.
Are there any plans to include more representation, as you said, of different sexualities and gender fluidity in Dino Fury's characters?
I think I would just have to say watch and wait. I can't answer that question because of confidentiality issues. You just have to wait to see.
You've been directing on the show for some time but now you're a much bigger creative force as a showrunner. What message do you have to the fans as the newest showrunner for Power Rangers?
Have faith in the strength of the Power Rangers franchise and brand. This is a very powerful and long-lived thing, and it works. The people who are working on the show, work on it with a huge amount of love and passion and attention to detail and faith in the brand and we will bring that passion to bear on the new season. I hope that the fans who watch the show who read Den of Geek will get as much pleasure from what we bring to the screen as we do in (making) it.