News
Will The New Mutants End Up on Streaming or Disney Plus?
As the coronavirus pandemic continues to chill theatrical moviegoing, we examine the likelihood and hurdles of The New Mutants getting a streaming release.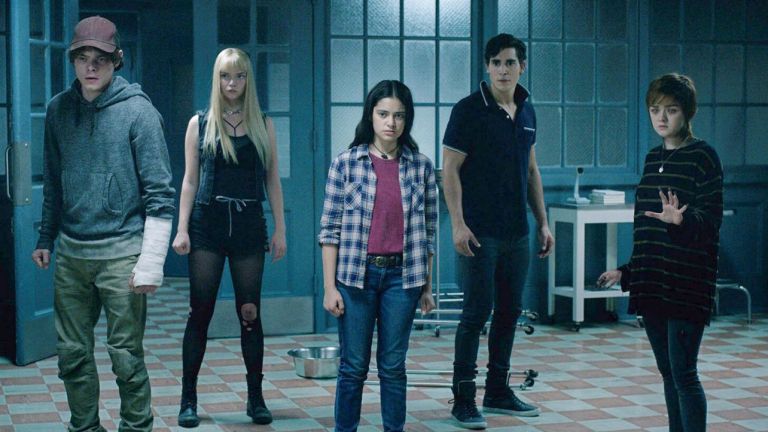 Poor The New Mutants. Initially one of the bolder and more interesting X-Men projects to originate out of 20th Century Fox, the superhero spinoff has turned into a corporate football delayed by studio mandates, merger politics, and now the coronavirus crisis. When The Walt Disney Company announced The New Mutants would be delayed alongside Mulan and Antlers last month due to the pandemic, it amounted to the fourth time New Mutants' release date has been pushed back or postponed.
In the more bizarre corners of fandom, this has resulted in whispers of "curses," and in the less crazy parts, it's led to a general skepticism that Josh Boone's horror-superhero hybrid will never be released in theaters. Many, in fact, are speculating the film could premiere on Disney's shiny new streaming service, Disney+, or on Hulu, another streamer that Disney owns a 60 percent stake in. After all, Universal Pictures is premiering Trolls World Tour on VOD, and that movie was scheduled to premiere in theaters just one week after Boone's film. But how likely is that fate for New Mutants?
While Disney is keeping its cards close to the chest, from what we know about the legal intricacies that led to New Mutants' delay, it would be unusually difficult for the Mouse House to put the X-Men spinoff on VOD without a theatrical release.
To understand the full situation, one must go back to why New Mutants has been delayed for the last two years. Originally slated for April 13, 2018, New Mutants made waves when its first trailer evoked movies like A Nightmare on Elm Street 3: Dream Warriors and 2017's It remake as much as it did traditional superhero fare. Indeed, it was that positive reception that apparently led Fox to delay the movie. Despite allegedly scoring well with test audiences, reshoots would align it closer to Warner Brothers' massive It success and the R-rating it enjoyed. But then the Disney-Fox acquisition heated up in early 2018 and all reshoots were put on hold. In essence, New Mutants was put on a shelf and left to become Disney's problem.
Enjoy a FREE TRIAL of Disney+, courtesy of Den of Geek!
Hence the problem Disney now faces, including what to do with New Mutants in the age of coronavirus. As reported by Variety, Disney is contractually obligated to theatrically release all finished movies, or films in post-production, on Fox's slate at the time of the the acquisition deal. And because those reshoots were left up to Disney for more than a year before the acquisition was finalized, New Mutants remained in an unpleasant limbo until Disney executives could see the film for themselves in mid-2019. According to that same Variety report, executives were unimpressed with the movie's horror aesthetic. But keep in mind that at least one Disney executive was also horrified by Jojo Rabbit's sense of humor and was afraid it would "alienate Disney fans." That movie went on to win an Oscar for Best Adapted Screenplay.
But whatever Disney's opinion on New Mutants, the studio is required to release it in theaters, thus the April 3, 2020 release date the movie just lost. For that same reason, Disney cannot easily release New Mutants on streaming without a theatrical debut.
However, according to Jeff Sneider and a report he filed at Collider in 2019, there is a way for Disney to individually renegotiate New Mutants' contract for a VOD release. According to Sneider's anonymous source, a streaming release "would require Boone and the cast to amend their contracts and sign off on a new deal." One imagines some of the talent in the film would be eager to close the book and move on, and Boone himself has moved on to adapting Stephen King in earnest with The Stand at CBS All-Access. So while they might've been excited to (finally) have a theatrical premiere in 2020, there is a possibility that all involved would be agreeable with getting the film to fans as soon as possible in our current new normal.
It is even fair to wonder if renegotiating talent contracts would be more affordable for Disney than a second marketing campaign after April 2020 fell through. With that said, there are additional hurdles that could make Disney+ and even Hulu appear to be a nonstarter. The biggest being that Disney is honoring Fox's premium cable commitments to HBO through 2022. That means all Fox films—or "20th Century Studios" and "Searchlight Pictures" films—released for the next two years premiere on the HBO Now/HBO Go streaming service, as seen with Dark Phoenix. So if Disney wished to actually earn money off New Mutants, it would need to release it on a direct-to-consumer VOD model, as they did with Onward—although it would be likely longer than the one week of exclusivity that the Pixar movie enjoyed before moving to Disney+.
Admittedly, there may be ways to renegotiate that HBO contract if New Mutants never sees the inside of a public movie theater, but again only Disney (and HBO) would know for sure.
All of this amounts to a great shame since these delays have been due to circumstances beyond the control of New Mutants' cast and crew. We maintain that attempting to make a horror movie based on superheroes is a novel approach to a genre that has been saturated by repetitive formula, including at Disney. With a talented young cast that includes Anya Taylor-Joy, Maisie Williams, and Charlie Heaton, there is still a chance the movie could work as well as early reports suggested in 2017. Director Boone, who was doing publicity for the movie last month before its delay, recently insisted that unlike Disney's other Fox superhero obligation, Dark Phoenix, New Mutants tested well with audiences. It'll be a greater shame then if wide audiences never get the chance to see it for themselves in the way Boone and company intended. But then so would be delaying it for another year…