News
How to Watch Onward at Home
The Onward digital release date has been moved up by several months, so families can enjoy the film at home on Disney Plus and more.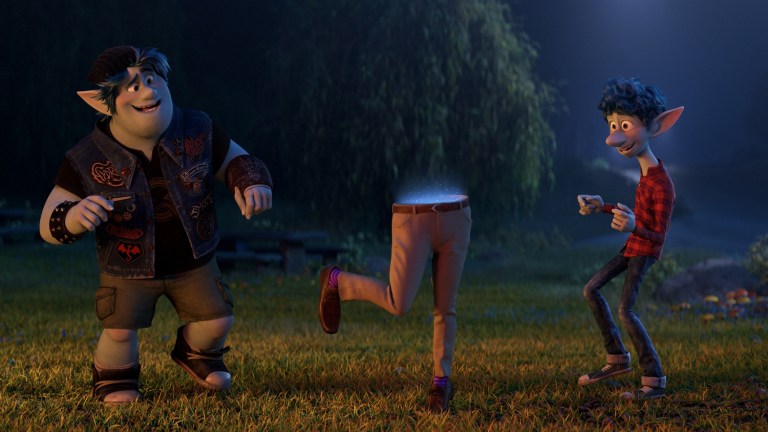 What a difference a week can make. Just two weeks ago, the conversation around Disney and Pixar's Onward was about how the film opened in first place at the box office with $39.1 million—an okay if somewhat disappointing number for a Pixar movie. Still, it was a much more upbeat story than seven days later when it was number one again… and saw a stunning 73 percent drop-off between weekends. Of course what happened in between was realistic anxiety about the coronavirus outbreak finally taking hold in North America while the World Health Organization declared the crisis to be a pandemic.
And that was all before the theaters began closing nationwide and across Europe, including in the UK. Now with theaters closed around the world and major cities on lockdown, many are wondering if Onward will be following in the footsteps of Universal Pictures' spring output, as well as Warner Brothers' Birds of Prey, and be available on VOD soon, or even better Disney+? But unlike the indefinitely delayed Mulan and Black Widow, Onward will indeed get a home release much earlier than anticipated.
How much earlier? Well, how does today sound?
"While we're looking forward to audiences enjoying our films on the big screen again soon, given the current circumstances, we are pleased to release this fun, adventurous film to digital platforms early for audiences to enjoy from the comfort of their homes," said Dan Scanlon (Director, Onward) and Kori Rae (Producer, Onward) in a statement.
Onward Digital Release Date
As of 8 pm tonight, March 20, Onward will be available for digital home purchase on VOD and Movies Anywhere for $19.99. It will hit the Disney+ streaming service on April 3 in the US. At the moment, there's no word on whether it will also be available in the UK on that date.
Enjoy a FREE TRIAL of Disney+, courtesy of Den of Geek!
Onward hitting VOD and streaming this early is historic. To date there has only been one Pixar film that was released theatrically and then made its non-VOD streaming bow on Disney+. Opening to enormous box office, Toy Story 4 debuted in June 2019 before eventually premiering on Disney+ in February 2020. With a healthy window of nearly eight months between theaters and Disney+, Toy Story 4 appeared to lay the groundwork for the life cycle of a new Disney blockbuster from theaters to home media/digital, and then finally Disney+. That model, however, is now out the window.
Disney releasing Onward early on streaming is a nice incentive for families to stay home while the coronavirus pandemic passes, but it's also something of a financial necessity for the studio. With Onward playing to mostly empty theaters even before the closures began, the film is going to be unable to make back its budget in the U.S., never mind overseas where entire nations like China, the UK, Italy, France. The film has been unable to open in major Asian markets, including China, so Disney will have to mitigate the loss of the film being quickly pirated on torrent sites around the world in markets they cannot penetrate with the film (China, for one, does not even have a Disney+ service). Disney is likely hoping that the rise in subscription rates will make up for this.
For comparison, Frozen 2 debuted on home media, including digital download and Blu-ray, on Feb. 25 and became available on Disney+ less than one month later on March 15. However, that was a special circumstance in which the company appeared to literally be providing a gift to anxious families in self-isolation. The purchase window for Onward is now even tighter than that, and it's worth noting for comparison that Frozen 2 also had already made $1.5 billion at the box office, a number that Onward will never approach.
However, the point of a streaming service model is to have a constant flow of new content that excites viewers and keeps subscriptions steadily renewed month to month. It's the business model Netflix used to become one of the biggest television and film content creators on the planet, and it's one Disney intends to emulate with Disney+. So in the same way Netflix keeps subscribers engaged with movies they're not profiting off of from theaters month-to-month, Disney could use Onward, which already debuted at a slightly disappointing box office bow before the coronavirus outbreak, as an experiment in going straight to Disney+ while skipping the VOD step.
Unlike Universal and WB, Disney already has its own streaming service apparatus in place, and it would generate great publicity (and good will from isolated and bored families) to put the new Pixar movie on Disney+ as soon as possible. With the early releases of Frozen 2 and Onward, this is another step toward making Disney+ as self-sufficient a content library as Netflix.