Features
MST3K Turkey Day: The Long History of Mystery Science Theater 3000 and Thanksgiving
In 1988, an oddball comedy experiment hit a certain UHF station on Thanksgiving and as it grew, so did the MST3K connection to the holiday.
Sometimes a long-running TV show finds itself linked to a certain holiday. Community had Christmas. The Simpsons has Halloween. Brooklyn 99 had Halloween, then changed it to Cinco de Mayo for scheduling reasons. Saturday Night Live has…Election Day, I guess? I probably should have thought this through a bit more.
While Mystery Science Theater 3000 has done a handful of Christmas-themed episodes (one major one per host, at least), the series has a much deeper relationship with Thanksgiving. Turkey Day is essentially its legacy. It started on Thanksgiving and it always comes back to that one Thursday in late November, whether the show is on the air or not.
Back in 1988, Joel Hodgson created a new show idea inspired by a random image from the liner notes of an Elton John album, wherein a couple of silhouettes sit in front of a movie screen. He and some robot puppets would watch bad movies and crack jokes. While the 15-minute proof of concept footage of him watching The Green Slime never made it to air, the world would be introduced to Mystery Science Theater 3000 on November 24 as he and Crow (here voiced by J. Elvis Weinstein) sat through Invaders from the Deep.
Well, only a very small piece of the world would be introduced. The show aired on KTMA-TV in Minnesota. Regardless, the first time MST3K hit the airwaves, it was Thanksgiving night.
The episode – and really the entire KTMA-TV season – wasn't great. The idea was there, but they hadn't come close to hitting its potential. It still found an audience and about a year later, it was airing on the Comedy Channel. That first season, which had Joel Hodgson as Joel Robinson, Weinstein as Tom Servo, and Trace Beaulieu as Crow T. Robot, was also pretty rough. It wasn't until the second and third seasons (where Kevin Murphy had taken over the Servo role) that MST3K really started to find its footing.
On November 28, 1991, to celebrate MST3K's third anniversary, Comedy Central put together the very first Turkey Day marathon. Starting at midnight and ending at 6 AM on the following day (!), they would air fifteen episodes in a row, accompanied by various Thanksgiving-based bumpers and sketches.
Keep in mind, this was long before the days of The Daily Show and South Park, so Comedy Central's pool of popular shows wasn't the deepest. This was back when you'd turn on the channel in the middle of the day and see episodes of Soap or some '80s movie about a mime joining a ninja academy. No really, that was a thing. They played it all the time.
In 1992, they kicked up Turkey Day a notch. While still a 15-episode marathon, it started on Wednesday, November 25 at 6 PM with the debut showing of The Beatniks. By the time they reached the home stretch at 10 PM on Thanksgiving night, they played the episode premiere for Fire Maidens of Outer Space. At midnight, to finish things off, a half-hour special called This is MST3K was aired.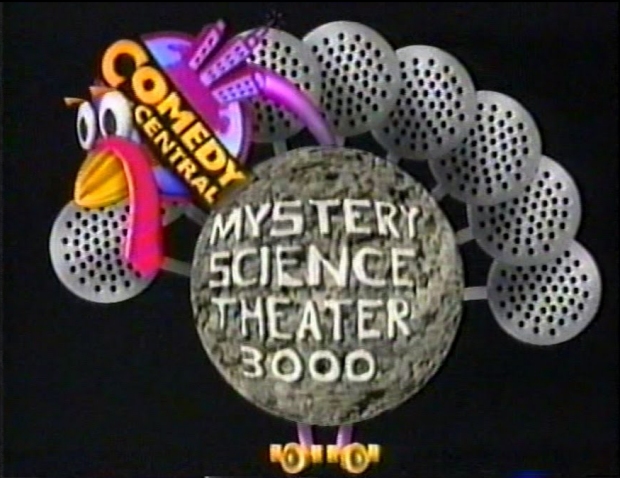 They kept many of the bumpers from the first Turkey Day, added some more, and each episode was introduced with a segment where Dr. Forrester would force-feed TV's Frank some kind of turkey dish themed to the featured movie.
1993 went even bigger by adding one more episode to the marathon, making the whole thing 32 hours long. This time, the framing bumpers took the form of clips from a party that an MST3K fan won via contest. Initially, Comedy Central wanted the guys from the show to put together some segments with a tiny budget, but it was probably for the better that they didn't. By the time Turkey Day '93 aired, Mike Nelson had taken over for Joel as the show's host and that major transition was still less than a month old.
This time the marathon went from 6pm on November 24 to 2am on November 26. At 10pm on Thanksgiving night, they premiered the episode featuring Beginning of the End.
The next year's special episode premieres were Kitten with a Whip (starting the marathon) and Zombie Nightmare (ending it). Using Zombie Nightmare worked out perfectly because that movie's antagonist was played by none other than Adam West and who better to host the Turkey Day segments? Though in retrospect, Adam West was pretty much everywhere in the mid-90s, so it wasn't the biggest deal ever.
Still, it was nice and even featured appearances from other MST3K targets like Robert Vaughn, Beverly Garland, and Mamie Van Doren. The main focus was Adam West cooking turkeys themed to each episode and delighting us with his smooth, tryptophan-laced voice.
The 1995 edition (officially called "MST3K Anthology" despite still airing on Thanksgiving) existed to debut the seventh season of the show, known for its meager six episodes. As Comedy Central was losing interest in the series, the marathon was shortened to fifteen hours. It also featured a rare inclusion of a Season 1 episode, The Crawling Hand.
What made MST3K Anthology so memorable was not that it was the last hurrah for Comedy Central's annual marathons or the shortened string of episodes. It was for the premiere of Episode 701, Night of the Blood Beast and the interesting way that episode was handled. Throughout the marathon, episodes would be introduced via Dr. Forrester being forced to host an impromptu Thanksgiving party with guests including preexisting characters Jack Perkins (Mike Nelson), Mr. B Natural (Bridget Nelson), Pitch (Paul Chaplin), Kitten with a Whip (Kevin Murphy), and Michael Feinstein (also Mike Nelson). This led to the airing of Night of the Blood Beast, where not only were the host segments based on celebrating Thanksgiving, but it was shown that Forrester's Thanksgiving party was still going on.
In later airings of that episode, the host segments were completely different and had zero connection to Thanksgiving. Everything inside the theater remained the same. They just took a holiday-themed episode and made it run-of-the-mill for the sake of easier reruns. The host segments from the MST3K Anthology version of Night of the Blood Beast are available as extras on various DVD releases.
MST3K would spend three seasons on the Sci-Fi Channel, but would only get one Thanksgiving marathon, taking place in 1997. Even then, it was a bit half-assed. The marathon aired from 7:30am on November 27 to 4am on November 28, but with a six-hour break in the middle to play a couple of Star Wars movies. It also lacked any special flavor to it, foregoing any special bumpers or segments. No episode premieres. Just a handful of Sci-Fi era episodes and a lengthy Star Wars break.
Then it was sixteen years of silence. MST3K was cancelled after its tenth season in 1999. Those involved in the show mostly split into two teams. Some followed Joel as he started his new venture Cinematic Titanic. Others followed Mike, whose failed series The Film Crew was followed by the much more successful RiffTrax. That left MST3K rights owner Jim Mallon, who tried to move forward with an animated web series starring the robots and…the less said about it the better.
Joel was seeing enough money coming to him from DVD sales to realize that despite being cancelled a long time ago, there were still people wanting MST3K. With a 25-year anniversary DVD set coming out, Joel decided to promote it with the return of Turkey Day. Turkey Day '13 featured Joel introducing the six most popular episodes of the show, which he'd also give hints about ahead of time. Streamed online, the special ended with him at the dinner table with Servo and Crow, causing speculation amongst the fans.
There was more speculation a year later when Turkey Day '14 had the two bots regularly appear during the host segments, voiced once again by J. Elvis Weinstein and Trace Beaulieu. There would also be segments of Joel, Trace, and Frank Conniff sitting back and reminiscing about the history of this MST3K/Thanksgiving connection.
While riding the wave of the previous year's success, this installment of Turkey Day was also promoting a DVD set Mystery Science Theater 3000: The Turkey Day Collection. The set mainly featured four random episodes (Jungle Goddess, Painted Hills, Screaming Skull, and Squirm), but with Servo and Crow hosting intro segments to give it the illusion of a Turkey Day marathon.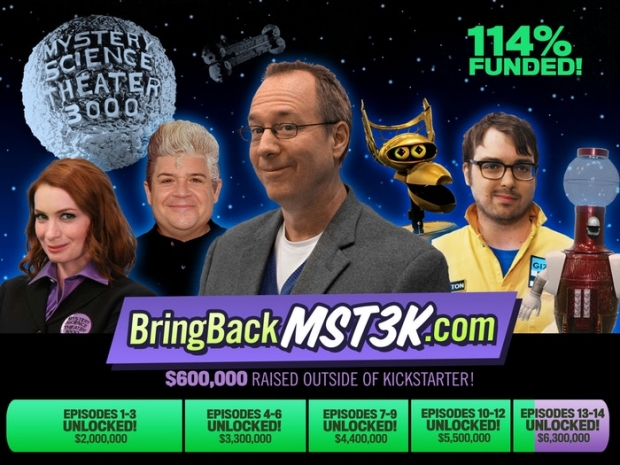 By early November of 2015, shit had hit the fan. Joel had bought the rights to MST3K from Mallon and started up a Kickstarter to raise money for new episodes. Wouldn't you know it, Turkey Day '15 happened right during said Kickstarter. The theme of the marathon was mostly Joel hanging out with different Kickstarter employees, but it also had newly-announced Season 11 host Jonah Ray Skype his way into the broadcast to introduce one of the episodes.
The following year was pretty chill, all things considered. The new season hadn't started yet, but it was very much on the way. Just not far along enough to show us any clips or give us any juicy news. Joel and Jonah casually hosted the six most popular episodes as polled by the fans. Nothing too crazy.
The chillness continued in 2017. This time, things were hosted by Joel, Jonah, and Felicia Day. Things seemed pedestrian with another six episodes being streamed online, but there were two important things about this marathon.
First off, everyone realized that Joel's arms are beefier than expected, netting him the nickname Swole Hodgson.
Second, after it seemed like they were off the air, it bounced back with a special announcement that – yes, Virginia – MST3K was coming back for a twelfth season on Netflix! It's a Turkey Day miracle! Happy Thanksgiving, you ol' savings and loan!
Turkey Day '18 was a bit complicated. Rather than air on Thanksgiving, the marathon streamed on the Sunday prior, once again hosted by Joel and Jonah. What made it special was that Netflix had allowed them to include the Season 11 instant classic Cry Wilderness. As for why they didn't air the Turkey Day marathon on actual Turkey Day?
Well, Thanksgiving was when MST3K's twelfth season debuted all at once on Netflix. Also known as MST3K: The Gauntlet, the six-episode season was based around the idea of binging the whole thing in one day. Kind of like what MST3K fans have been using Thanksgiving for for many years. While it wasn't on the exact date as the first KTMA-TV episode in 1988, both that debut and this debut happened on the same holiday and that's good enough as a way to celebrate the show's 30-year anniversary.
Unfortunately, much like the Comedy Central days, having a season of only six episodes was a bad omen. Merely a day before Thanksgiving 2019, it was announced that Netflix had canceled the show. The jerks. Any hope that Turkey Day '19 was going to include some kind of announcement about a thirteenth season was immediately crushed and murdered like it was one of the Brute Man's victims.
That said, the marathon that year did feature segments filmed behind-the-scenes at the third MST3K live tour. In a pre-COVID time, this was how Joel and the rest intended to keep MST3K in the minds of the public until the Netflix contract runs out and they can search out new outlets.
Up next is Turkey Day '20. Right now, details are a little scarce, but they are figuring out the six movies via fan votes. A tournament of 24 episodes has been set up on MST3K.org, though I'm not quite sure how a tournament leads to six winners instead of just the one.