News
The Last Days of American Crime Trailer and Release Date on Netflix
Edgar Ramírez stars in Netflix's adaptation of the acclaimed graphic novel The Last Days of American Crime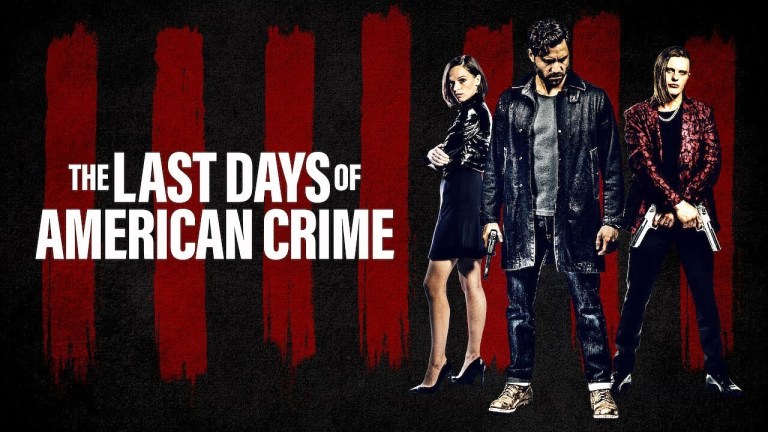 Shakespearean Transformer Olivier Megaton is back with a brand new actioner. The Versailles-born director of Taken 2 and Taken 3 will bring his latest cars-and-shooting movie to Netflix in June, and the streaming service has just released a first trailer for it.
The Last Days of American Crime is based on the 2009 Rick Remender and Greg Tocchini graphic novel, and has been adapted for the screen by Oblivion scribe Karl Gajdusek. It's got a decent cast, too – The Assassination of Gianni Versace's Edgar Ramírez leads the pack alongside Anna Brewster (Star Wars: The Force Awakens) with a surprising appearance from Boardwalk Empire's Michael Pitt, who appears to be firing on all cylinders at Full Michael Pitt. That just so happens to be our favorite level of Michael Pitt, so we'll probably have to check this one out.
An official synopsis from Netflix lies yonder:
"As a final response to terrorism and crime, the U.S. government plans to broadcast a signal making it impossible for anyone to knowingly commit unlawful acts. Graham Bricke (Édgar Ramírez), a career criminal who was never able to hit the big score, teams up with famous gangster progeny Kevin Cash (Michael Pitt), and black market hacker Shelby Dupree (Anna Brewster), to commit the heist of the century and the last crime in American history before the signal goes off."
See the trailer below…
It seems as good a time as any, i.e. not really the time at all, to get a feel for the Megaton aesthetic, since it's a sunny day and we're mostly stuck inside. The French helmer supposedly has an official website, and it includes a roughly-translated interview with the man himself. If you were ever curious about how he ended up with that name, here's the delightful story:
"Being born on the 6th of August in 1965, the doctor present at the time of my birth noticed that it was exactly 20 years (day and hour) after Hiroshima tragic event.
"When I was told the story, I kept a profound souvenir of it despite the fact I didn't know exactly what it was. It's only when I was 12-13 years old, period of my life when I was asserting myself, that I finally understood it.
"It is also at this time that I had to choose a nickname so, I choose – Megaton – like the biggest explosion ever created by man, on earth."
So much to unpack there; really hope this is legit.
Uhh, anyway, The Last Days of American Crime also stars Patrick Bergin (Sleeping With the Enemy) and Sharlto Copley (District 9), and it will be streaming on Netflix from June 5.
Have a good day and stay safe.