News
Da 5 Bloods Trailer: Spike Lee's Netflix War Drama with Chadwick Boseman
Netflix-bound Spike Lee joint Da 5 Bloods showcases a drama centered on African-American Vietnam War vets.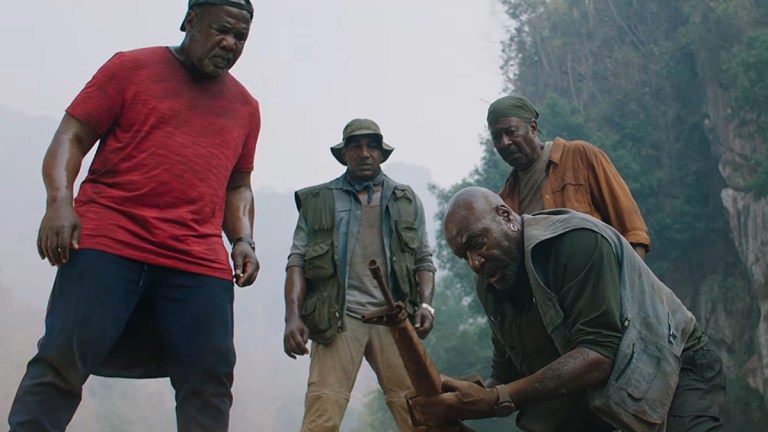 Da 5 Bloods trailer has arrived, previewing director Spike Lee's intense, pathologically-potent Netflix feature following four African-American Vietnam War veterans who return to their former battlefield several decades later to recover a cache of gold and quell personal demons.
The events of the film unfurl through the time periods of the Vietnam War—in which our quartet of Paul (Delroy Lindo), Otis (Clarke Peters), Eddie (Norm Lewis) and Melvin (Isiah Whitlock Jr.) are young men—and a contemporary period in which they—joined by Paul's adult son, David (Jonathan Majors)—return to the jungles to reclaim their gilded prize and recover the remains of their fallen squad leader—a flashback role provided by Black Panther himself, Chadwick Boseman.
Check out the trailer for Da 5 Bloods just below!
The trailer, brilliantly accompanied by The Chamber Brothers' epochal 1967 hit, "Time Has Come Today," is a monumental montage of powerful imagery of the Vietnam War-era, specifically through the lens of the conflict's many African-American soldiers during an era of Civil Rights struggles in which they were openly abused by portion of the country they served. It was an aspect effectively utilized (albeit disingenuously,) by North Vietnamese propagandists, notably with the trailer showing real-life radio personality Hanoi Hannah, played here by Van Veronica Ngo, who's perhaps best known as Paige Tico—Rose's sister—in Star Wars: The Last Jedi.
Netflix nabbed the rights last year to this new Lee joint, with the acclaimed filmmaker riding momentum from 2018's BlacKkKlansman, which, in 2019, yielded his first Oscar statue by way of a shared win for Best Adapted Screenplay. Yet, given the current corona-closed state of the theatrical distribution model, the move proved to be less surprising in hindsight, and a sign of things to come regarding high-profile projects from A-list filmmakers and stars. Indeed, the streaming giant made similar surreal waves this past November with its exclusive release of director Martin Scorsese's The Irishman, which brandished stars like Robert De Niro, Al Pacino, Harvey Keitel and even a mostly-retired Joe Pesci.
Lee directed Da 5 Bloods off a screenplay he co-wrote with Danny Bilson, Paul De Meo and Kevin Willmott, the latter of whom shared his BlacKkKlansman Oscar win. Besides aforementioned players in Lindo, Peters, Lewis, Whitlock Jr., Majors, Boseman and Ngo, the cast also consists of Jean Reno, Jasper Pääkkönen and Mélanie Thierry. Also present is Paul Walter Hauser, who's coming off an acclaimed breakout performance as the star of director Clint Eastwood's Richard Jewell.
Da 5 Bloods lands on Netflix on Friday, June 12.