News
Space Force: Netflix Series Debuts First Trailer
Steve Carell and The Office Creator, Greg Daniels, are shepherding a series about the government's Space Force for Netflix.
When Donald Trump and the executive branch of the U.S. government announced the creation of a sixth division of the armed forces called "Space Force," many of us had the same idea. Space…Force? That's the name? That sounds like a generic Star Trek ripoff you'd find on the front of a DVD in a Lagos street market.
Steve Carell and Greg Daniels, star of and creator of NBC's The Office, respectively, had a slightly different idea altogether. This is going to get us that sweet Netflix money.
Netflix has greenlit a new series from Carell and Daniels based on the Space Force idea, fittingly titled Space Force. Carell and Daniels will produce and Carell will star. The series is described as a workplace comedy (hey, that sounds familiar!) about the men and women tasked with creating the actual Space Force based off of the President's demented ramblings.
Here is everything we know about Space Force.
Space Force Release Date
Space Force is set to launch on May 29, 2020 on Netflix.
Space Force Cast
The latest Space Force casting is an exciting one. Lisa Kudrow (Friends, The Comeback) is joining the Netflix comedy. Kudrow will be playing Maggie Naird, who "is a Washington Air Force wife who has sublimated parts of herself to her husband's career for two decades. But as he takes on his biggest challenge, she is growing in a different direction." Now we can see the Nairds in action in this new photo.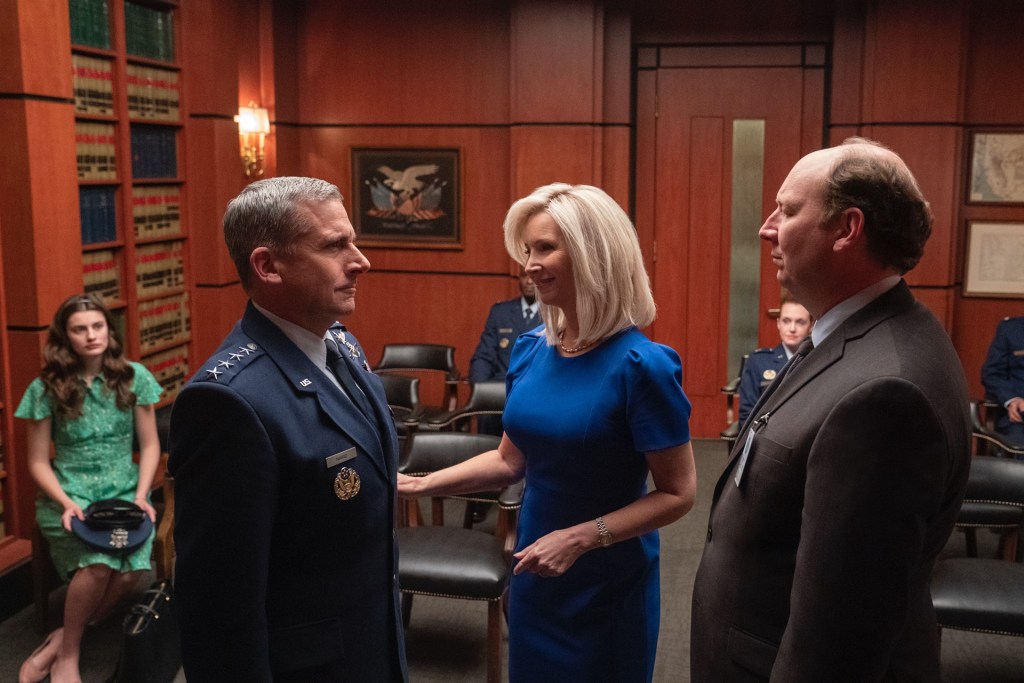 Previously, Netflix announced six actors that will joining the Space Force cast alongside Steve Carell, who will play Space Force project lead Mark R. Naird.
John Malkovich (The New Pope, Billions) will play Dr. Adrian Mallory. Dr. Mallory is the brilliant Head Science Advisor for the project and is concerned with not turning space into a battlefield.
Ben Schwartz (Parks and Recreation, Sonic the Hedgehog) will play F. Tony Scarpiducci. He is a self-centered media consultant with Machiavellian goals.
Diana Silvers (Booksmart) will play Erin Naird. Erin is Mark Naird's popular and intelligent daughter who begins to act out after being transferred to a military school to be closer to her father.
Tawny Newsome (Bajillion Dollar Properties, Brockmire) will play Angeli Ali, an ambitious helicopter pilot.
Jimmy O. Yang (Silicon Valley) and Alex Sparrow (Unreal) will recur as Doctor Chan Kaifang and Yuri "Bobby" Telatovich respectively.
Noah Emmerich, Alex Sparrow, and Don Lake will all be involved in unspecified roles as well.
Space Force Trailer
The first official Space Force trailer presents one stark fact of life: space is hard.
Previously Steve Carell got a promotion in the first Space Force teaser.
Netflix released a little teaser along with the Space Force announcement. 
Now that's a teaser, friends. The Richard Strauss 2001: A Space Odyssey music plays over very basic, mundane facts of what Space Force will be tasked with. The goal of the branch is to "defend satellites from attack" and "perform other space-related tasks" Or something.
Space Force Story Details
Space Force will find mankind boldly going…where it's already gone before. Per Netflix's synopsis:
"A decorated pilot with dreams of running the Air Force, four-star general Mark R. Naird (Steve Carell) is thrown for a loop when he finds himself tapped to lead the newly formed sixth branch of the US Armed Forces: Space Force. Skeptical but dedicated, Mark uproots his family and moves to a remote base in Colorado where he and a colorful team of scientists and "Spacemen" are tasked by the White House with getting American boots on the moon (again) in a hurry and achieving total space dominance. From co-creators Carell and Greg Daniels (The Office), SPACE FORCE is a new kind of workplace comedy, where the stakes are sky high and the ambitions even higher."