Reviews
Netflix's White Lines Review: Ibizan Pills 'n' Cheap Thrills Murder Mystery
From the creator of Money Heist, Netflix's raunchy new Spanish-set whodunit is a gratuitous 90s rave scene nostalgia fest. Superstar DJs, here we go!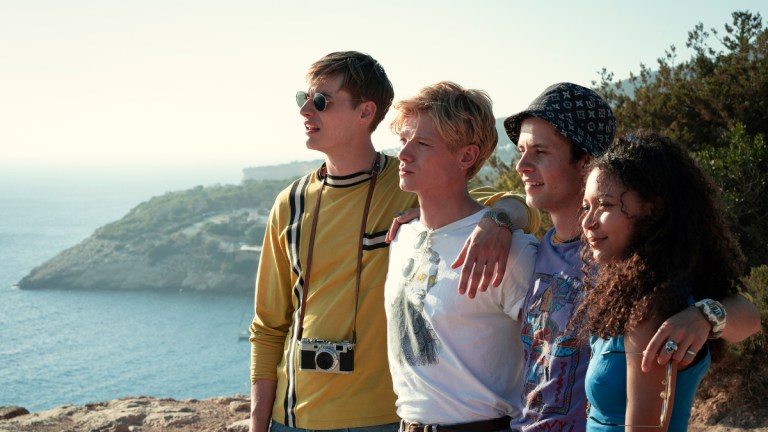 There are few more tedious experiences than being sober around people who are off their heads. If you're not also buzzing your tits off, the life epiphanies of dilated-pupil, jaw-clenched, hug-fetishist ravers resemble nothing so much as the unmusical cawing of an especially stupid crow.
Not that it's put Netflix off setting new 10-part drama White Lines in the heart of the Ibizan rave scene. That's because Netflix knows that if a show provides enough topless women, slo-mo shagging and Sunday supplement-worthy beach villas, audiences will tolerate anything – up to and including loved-up 90s kids talking about how house music is going to change the world.
On one level, White Lines is about the conflict between youthful freedom and adult responsibility, hedonism versus restraint, instinct versus intellect. On another, much louder level, it's about tits and coke and abs and Laurence Fox being chased by a hallucinated gorilla.
Fox (of Question Time fame) plays David, a lifestyle guru parody who facilitates mescaline-aided vision quests and 'let it all hang out' therapy sessions at his stunning clifftop palace. David is one of four Mancunians who left England in 1996 for Ibiza's club scene. There, they found fame, fortune and hedonistic excess as DJs until the disappearance of their leader Axel (Tom Rhys Harries) one night 20 years ago. Now there's just David and recently separated childhood sweethearts Marcus and Anna (Daniel Mays and Angela Griffin) left living la vida loca.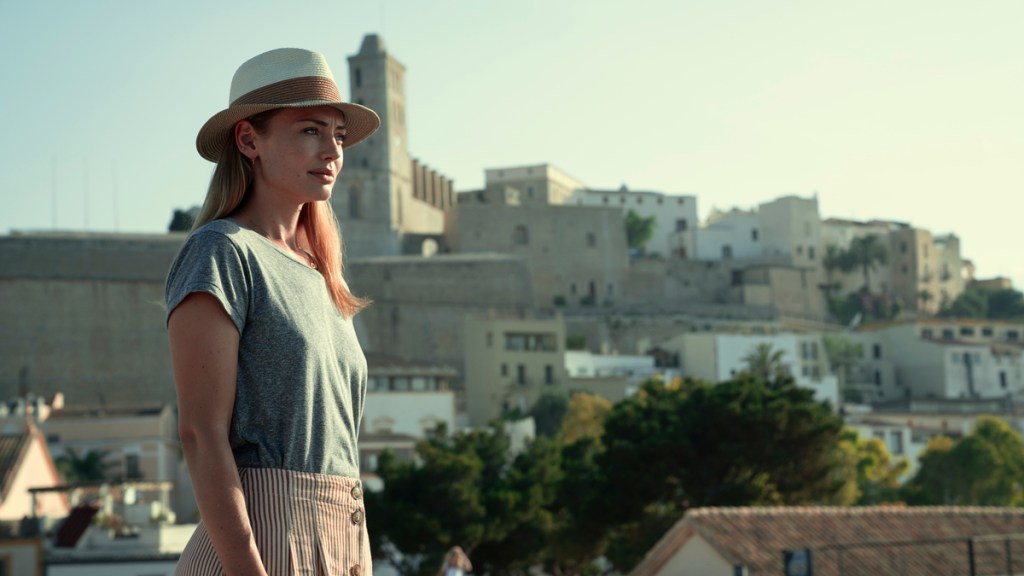 When a body suspected to be Axel is dug up in the Spanish desert, his younger sister Zoe (Laura Haddock) leaves her family in Manchester and flies to Ibiza to find out what really happened to her brother. And in the tradition of uptight, responsible film and TV gals visiting tropical islands, she does a Shirley Valentine while she's there, getting her groove back courtesy of some house tunes and a nightclub bouncer with biceps the size of tree trunks. Beats Pray Love.
White Lines, from Alex Pina, the creator of acclaimed Spanish drama Money Heist/La Casa de Papel, plays out over two timelines. We watch both Zoe's present-day investigation and Axel and co.'s adventures in the mid-late 90s. In the modern-day section, there's also a drug dealer plot featuring some comedy caricature Romanian traffickers, and a family melodrama about a super-rich Ibizan crime family's feud with a rival clan.
The Calafat family storyline offers Dynasty-like soap glamour with a dark underlying psychodrama. They're a muy caliente bunch, the Calafats, from sexy mother Conchita (whose power, like that of biblical Samson, resides in her voluminously blow-dried hair) to son Oriol (a sort of Spanish David Tennant who goes to orgies). It's all infinity pools, designer swimwear, palatial coastal mansions and disquieting sexual secrets with them. The owners of a chain of hotels and clubs, the Calafats are Ibiza's oversexed, underdressed royal family.
DJing in one of their clubs is Marcus, the sole regular bloke in the land of tanned supergods. As is so often the case with characters played by Daniel Mays, he's easily the best thing in the show – comedic but tragic, light-hearted and sympathetic. The script, which has more low points than the Netherlands and Belgium combined, does him few favours ("I was hard like a dog" he's forced to say mid-seduction), but Mays' irrepressible likeability shines out. 
Tom Rhys Harries too makes an impact as 20-year-old Axel, the superstar DJ at the heart of the mystery. His story about the dark underbelly of fame and excess has been told a hundred times before, with a hundred times more nuance, but it's a committed performance from a face to remember. His rise from Mozart-loving youth ("This overture is savage […] It's pretty much techno.") to becoming the "messiah of electronic music" with his face on billboards is hackneyed but eye-catching.
As the lead, Laura Haddock shoulders most of the weight, fighting her way admirably through some laborious dialogue as Zoe moves along her journey of self-realisation and transforms from repressed librarian to sun-kissed goddess.
The script is ropey, lumbering characters with lines like "Axel lived his dream, that's how he became the greatest DJ of his time" and "You say you want white lines marking out your life, but I think you're going to destroy these white lines. I think you're going to cross red lines," but that's clearly not the main attraction here.
White Lines doesn't aspire to being prestige drama. It's a thrills 'n' pills gangster caper with an irreverent sense of comic silliness. It's an expensive Hollyoaks after-dark, filled with beautiful people, aspirational backdrops and gags about dogs. It's house porn. It's travel porn. It's nostalgia porn. On several occasions, it's actual porn, filled with wholly gratuitous nudity – naked trampolining, pneumatic bare breasts, and heads bobbing up and down in front of tanned crotches.
The nostalgia hit is also massive, from the tunes (Primal Scream, Josh Wink) to the clothes (tie-dye t-shirts and bucket hats) to the glow-sticks (everywhere) to the simple optimism of being 20 and surrounded by mates in paradise. It's got a music video aesthetic. Wherever you look, there's a slo-mo underwater bikini shot and sun-soaked youths doing lines of speed off Happy Mondays CDs. You can almost smell the sea spray and Factor 15.
And in a year when beach holidays are looking less and less possible, it might also be all we have. This dopey, muscle-bound, clubbing-and-shagging drama could be the closest we get to driving around the Balearics in an open-top Mini or eating a big tomato under the Mediterranean sun. So why not? Switch your brain off, and have it large.
White Lines arrives on Netflix UK on Friday May 15th.