Features
The Enduring Legacy of Classic Baseball Movies
Stars from A League of Their Own, Major League, The Sandlot, and Bull Durham weigh in on the impact of their hit baseball films.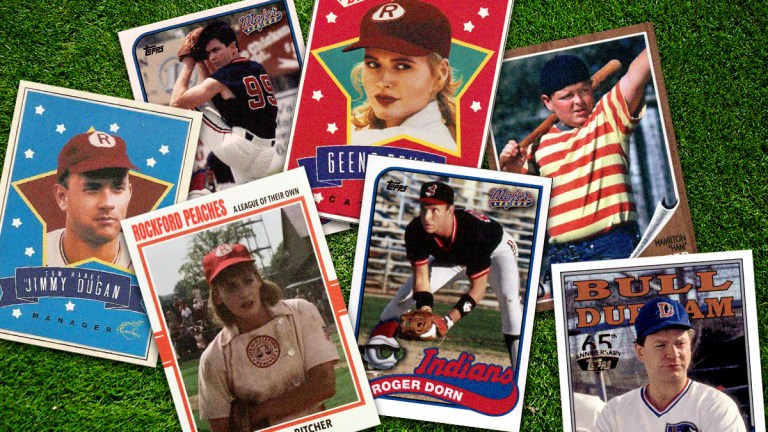 There's one specific memory from A League of Their Own that actor Lori Petty carries with her.
Every night, co-star Tom Hanks would move his trailer onto the outfield grass of Wrigley Field in Chicago, the site of the film's tryout scene, and park it in front of the historic ballpark's famed ivy wall. The film's stars cracked beers, took batting practice, and soaked in the big league atmosphere after hours. One evening, Petty, who played Rockford Peaches pitcher Kit Keller, and Hanks were having a casual game of catch when the future Oscar-winning actor paused the throwing session to take in the moment.
"Petty, you know when people go, 'Remember when?' That's this right now," Hanks said. "This isn't going to happen again. This isn't every movie. You're going to do a lot of movies. This is not going to happen again."
Hanks' prophetic words under the stars at Wrigley Field actually undersell the impact A League of Their Own would go on to have with now three generations of viewers, including countless young women who were inspired to take up baseball or softball because of the movie. A League of Their Own isn't exactly in a league of its own when it comes to baseball movies. Baseball and cinema have been intertwined for over a century, according to Baseball Almanac. Baseball may have more at-bats at the theater compared to other sports, but the game also has an exceptionally high batting average in Hollywood classics, one that would make Ted Williams proud.
Being part of a favorite baseball movie in some ways is like signing onto a lifetime contract with a team. The actors who played notable roles in these films carry their legacies with them wherever they go–to new projects, to ballparks around the country, even to Cooperstown, the site of the National Baseball Hall of Fame, for an annual film festival. Yet even as other sports have gained popularity in recent decades, and baseball has kept a perilous grasp on its status as "America's Pastime," several classic baseball movies continue to see their impact grow.
Petty and Tracy Reiner, who played Betty "Spaghetti" Horn, joined Den of Geek on a Zoom call earlier this year to dig into the impact of A League of Their Own. Most of the baseball films that appear on "Best Of" lists are fictional. A League of Their Own, although a fictionalized story, was based on the real-life All-American Girls Professional Baseball League, which ran from 1943 to 1954, and notably entertained Americans while some of Major League Baseball's finest players went off to fight the Second World War.
Petty still feels the love from athletes who were inspired by Kit Keller's rocket arm and youthful tenacity. Reiner, who had an emotional scene in the locker room when her character, Betty, finds out her husband was killed in combat during the war, often hears from veterans and "anyone who'd gotten that letter during World War II and their families were affected."
Reiner says the film continues to resonate with anyone it touches: "Every coach, every parent, every grandparent, every father, every mother, every girl who felt all of a sudden she was given permission and acceptance."
Part of Reiner's fondness for the film is also tied to memories of her family. Her mom, the late Penny Marshall, directed A League of Their Own, and numerous family members worked on the film in various capacities. While Marshall had a long career as an actor and director, including directing Hanks in Big, Reiner says it's gratifying to see her mother's legacy live on through new generations of fans.
"Even to this day, [young] girls dress up like us for Halloween," Reiner says. "You can't make a kid dress up like something they don't want to dress up like for Halloween. You see all these children [dressing up] and all the fan mail and photos. These are kids born in 2010. Our movie came out in 1992. This is the third generation."
Count the most recognizable softball player of all time, Olympic Gold Medalist Jennie Finch, as another directly inspired by the film.
"I remember watching that movie on repeat," Finch tells Den of Geek. "I'm so thankful for those women for paving the way and providing the opportunity. I usually get to run into them at All-Star events, and that's always one of the highlights. After my first Olympics, I became a mother, and so going through the Olympics and the tour with a bus and my child, it was like, 'Oh my gosh, I'm living A League of Their Own out.'"
A League of Their Own made an immediate impact upon release given the historical significance and A-List talent, including Hanks, Geena Davis, Madonna, Rosie O'Donnell. In the case of The Sandlot, it took a quarter of a century to become baseball movie royalty.
Patrick Renna, who played 'Ham' Porter, recalls the Westwood premiere, the press tour at the Ritz Carlton, and initial buzz around the film. And then it faded. At the time he was a young actor feeling out his career, and he'd next go on to have a lead role in another sports film, the 1995 Disney soccer flick, The Big Green, and guest star in a monster-of-the-week episode of The X-Files, then at the absolute peak of its popularity. The gravity of what The Sandlot would become only sunk in years later. Around the time of the 20th anniversary, and then again in celebration of the 25th, Renna started to realize the staying power of one of his first major film roles.
"Every five years it gets more and more over the top because it's just older," Renna says of the excitement for the film amongst fans. "There are more generations to bring in. So now you're at like three generations that all love it. It's a pretty humbling thing to be part of. It's why actors perform, to be part of something that's lasting."
Some actors resent a catchphrase that helped make their career. Renna has leaned into it, even naming his new podcast "You're Killing Me" after Ham's iconic "You're Killing Me, Smalls!" line. Although Ham Porter didn't make the big leagues like Benny "The Jet" Rodriguez, the character lives on through real-life Dodgers third baseman Justin Turner, who used "Ham Porter" as his alias at hotels and restaurants on the road, according to Renna.
"He used it until I said it on national television and then blew his cover," Renna says with a laugh. "So I've gotten to become kind of buds with him. When I see Justin Turner [on the field], I'm like, 'That's my ginger brother hitting home runs. That's been the coolest thing, meeting Major League Baseball players and seeing what The Sandlot meant to them. But then to hear it from these larger than life pro athletes who I watch crush home runs, that's pretty special."
The romanticization of baseball is an inseparable part of what makes many baseball movies memorable. Bull Durham became an instant classic by pushing back against just that. The film depicted the mundanity of the game, the larger-than-life characters who make up the minor league experience, and presented a sober outlook on climbing baseball's professional ladder (minus a few bar fights).
Written and directed by Ron Shelton, a former minor league ballplayer, Bull Durham was a film about ballplayers, made by ballplayers, including the film's technical advisor, then Durham Bulls manager and future Red Sox skipper Grady Little. Actor Robert Wuhl, who played Durham's pitching coach, Larry, credits Shelton for bringing a ballplayer's mindset to the film.
"[Ron] said most sports movies suck because they're from the perspective of the fan. And the fan only cares about one thing: Did the team win or lose?" Wuhl says.
Through a love triangle between Susan Sarandon's Annie, Kevin Costner's Crash Davis, and Tim Robbins' "Nuke" Laloosh, the film peels back the layers behind the mental and emotional journey of being a baseball player, or in Annie's case, the perfect muse.
"It's a movie about characters who work in baseball," Wuhl says. "Bull Durham doesn't have a big game. The best sports movies don't have big games. It was about character and that was something I learned from Ron [Shelton]."
One film that does have "the big game" is Major League, the slapstick comedy written and directed by David S. Ward. In the film, the Cleveland Indians were the underdog of all underdogs, a roster of has-beens and never-haves carefully constructed to lose so the small market club could ditch Northeast Ohio for greener pastures and a new stadium in Miami during the offseason. The scrappy Indians spit in the face of baseball's turning economic tide: they defeat the big market Yankees and, as we learn in the sequel, remain in Cleveland.
Now over 30 years since the film's release, Corbin Bernsen, who played aging star third baseman Roger Dorn, still hasn't soured on people quoting the film's countless one-liners back at him, even lines that weren't said by his character.
"It's nice when you go out and people say, 'Hey man, Roger Dorn. Don't gimme this ole' bullshit.' And I go, 'That's not my line, but okay.'"
Bernsen, now 65, puts the continued love affair with Major League in the context of his own career. "I have this super diverse career of major movies, [TV shows], soap operas. I love the fact that I was in a film that for a long time now is an iconic baseball movie, an iconic comedy. It's great to know that you've been a part of something that meant something, even if it is a silly comedy about teamwork."
The Indians clubhouse was a group of misshapen puzzle pieces, but off-camera Bersen says he made lifelong friends because of his role in Major League, including co-star Tom Berenger whom he remains close with. "We made a film together that had some impact and that's nice to know," he says.
When films have ensemble casts, the actors tend to form strong bonds over the course of production. A big hit can tie actors together for life. The team element of these iconic baseball films adds to that dynamic.
"During an ensemble movie, there's definitely perks to it because it doesn't all rest on your shoulders and there's a lot of interaction and there's a lot of things you find just from hanging out with each other that end up in the movie," Renna says. "I actually prefer it because everyone lends their hand to making something really great. Sports movies are the epitome of that."
The 25th anniversary of The Sandlot put the film's legacy into perspective for Renna, but also brought him closer to his "teammates" through events celebrating the film.
"I hadn't seen Tom Guiry, who played Smalls, in 25 years. Chauncey Leopardi, who played Squints, and I have kept in touch over the years. We did three movies together. So we were buds in our early teens, through our late teens, and through our 20s and 30s. The other guys, I would just see once in a while. But the 25th, ever since then, we're thick as thieves and we've got a group chat, and we see each other a lot."
Perhaps no ensemble cast is as close as the ladies of A League of Their Own. They stay in frequent contact on text chains and through Facebook, and appear together constantly at baseball and softball events, speaking engagements, and to throw out ceremonial first pitches (Reiner says their arms aren't quite what they used to be, but the ladies still have their fastballs).
When one member of the cast is approached for an interview, such as this one, they often invite others to tag along because it's more fun for the team to reminisce together. "We're all friends, " Reiner says. Petty does her one better: "We're family for life."