News
MLB The Show: Watch David Dahl,Justin Long and Christian Long, and Christopher Jackson Interviews
In episode 4 of our baseball-themed series MLB The Show (The Show), we're joined by Rockies All-Star David Dahl, Hamilton star Christopher Jackson, and Justin and Christian Long.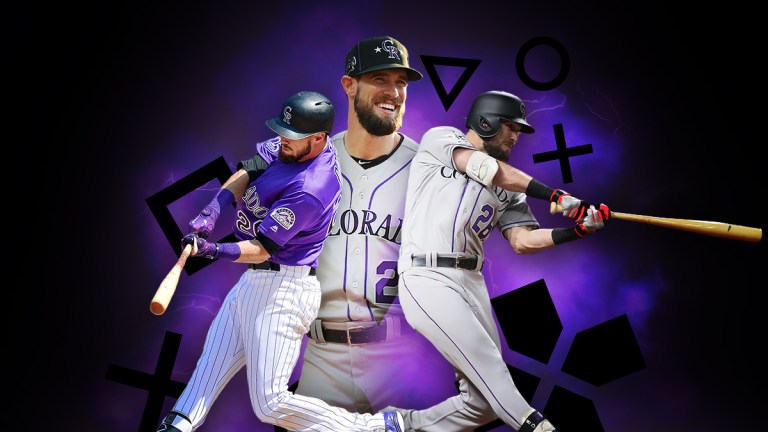 Grab a burger, a beer, and a seat on your couch for the latest episode of MLB The Show (The Show), our major-league mashup of baseball, entertainment, and video games.
The fourth episode of MLB The Show (The Show) boasts a formidable lineup of guest stars from the worlds of baseball, film, and stage. Colorado Rockies All-Star outfielder David Dahl joins the show to take us through his self-homer in the MLB The Show Players League earlier this week, as well as offer a face-to-face with his Instagram-famous pooch Rookie. Brothers Justin and Christian Long, who teamed up for their upcoming feature directorial debut with comedy Lady of the Manor, dish on New York Mets and Yankees fandom. Plus, Hamilton star and baseball fan Christopher Jackson steps to the plate to talk about playing Derek Jeter on Broadway in Bronx Bombers.
Watch episode four below and please show us some love by liking, subscribing, and commenting on our YouTube channel!
MLB The Show (The Show) Extra Innings
Big thanks to Dahl, the Long brothers, and Jackson for joining us on this week's show. You can follow them on Twitter: Dahl (@ddahl21); and Jackson (@ChrisisSingin). Instagram: Justin Long (@JustinLong) and Christian (@poodollar72).
You can watch the full interviews with Justin and Christian Long and Christopher Jackson below!
We'd also like to thank to our partners at Soundstripe for helping make this series possible! All music in MLB The Show (The Show) is licensed from Soundstripe.com, which provides stock music for creators, with plans starting at $11.25 / month. For 10% off, use coupon code "DENOFGEEK10" at checkout.
Instant Replay of MLB The Show (The Show) Episode 3
In last week's episode, the creators and stars of Tacoma FD Kevin Heffernan and Steve Lemme dropped in, as did MLB Network's Robert Flores. Watch that episode below, especially if you need a recap of the first week of the MLB The Show Players League.
MLB Players League Highlights and Recaps
Jeff McNeil (New York Mets) is closing in on punching his playoff ticket after a 3-1 night Wednesday, moving his overall record to an impressive 14-4. Fernando Tatis Jr. (San Diego Padres) sits at 13-6 after taking two of three and ranks seventh in winning percentage, with ust 10 games left in the regular season. Although Dwight Smith Jr. (Baltimore Orioles) also went 2-1 Wednesday and has put up monster performances, he's currently in ninth in the standings — only the top eight men reach the postseason — with only seven matchups left to play.
Through two weeks, a few teams look like locks to advance. Joey Gallo (Texas Rangers) lost his perfect record this week, but he's still out in front with a 17-3 mark. Blake Snell (Tampa Bay Rays), McNeil, Gavin Lux (Los Angeles Dodgers) and Lucas Giolito (Chicago White Sox) are in great position to qualify with more than half of their games completed. Bo Bichette (Toronto Blue Jays) is doing great at 9-3, but he's played nearly half as many games as some teams. The next seven days will be crucial for teams who are on the playoff bubble.
MLB Players League Streams and Social Links
Want to follow along with the MLB The Show Players League? You can check out the following channels for more info and streaming links: MLB social media accounts (Twitter, Facebook, YouTube, Twitch), MLB Network's Twitch site, "MLB The Show" social media (Twitter, Facebook, YouTube, Twitch), the clubs' social media accounts and the players' Twitch channels. You can also check out the newly created MLB Gaming Twitter.