Features
The Best Baseball Movies of All Time
When Hollywood meets America's Pastime, it can be a real home run. We take a look at the best baseball movies and find out where to stream them.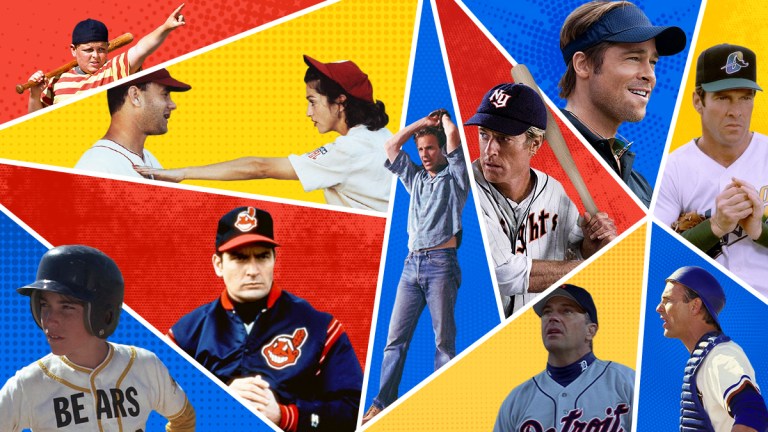 The history of baseball on film is as rich and diverse as the players who have stepped onto ball fields over the last 150 years. The first baseball movie dates back to the silent film era with the 1915 dramedy Right Off The Bat, according to Baseball Almanac, and spans to the present day where a streaming service released The Unauthorized Bash Brothers Experience, a "visual poem" from The Lonely Island about former Oakland A's stars Jose Canseco and Mark McGwire. You won't find another sport with that kind of range.
Stadium lights tend to shine a little brighter when Hollywood lenses focus in on America's Pastime. Baseball already has a deep bench when it comes to camera-ready personalities. The game also provides stranger-than-fiction narratives fit for screenplays. Some of the best baseball stories to appear on screen have been directly plucked from the game itself (see Moneyball or A League of Their Own). Others have romanticized the game, parodied its wackier facets, affirmed the value of teamwork, and championed the underdogs, has-beens, and little guys.
Like any outstanding highlight or crucial Word Series moment, the sport's best cinematic scenes (looking at you, Roy Hobbs) are revisited time and time again. The baseball films listed below are like a manager's most reliable arm out of the pen or best bat off the bench. Without slowing down the pace of the game, we present the best baseball movies of all time and where to stream them.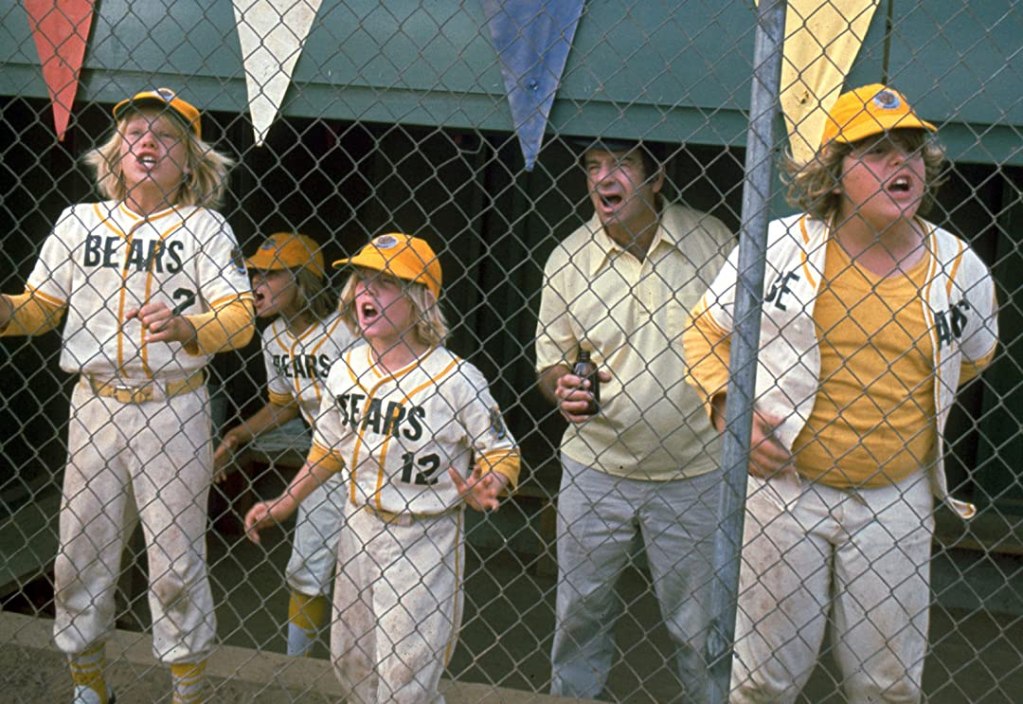 The Bad News Bears (1976)
The Bad News Bears revolves around one of the classic movie templates: a ragtag bunch of losers come together to learn the value of working together and achieve — or nearly achieve — what they set out to do. In this case, however, the losers are the worst team in a Southern California Little League and the most foul-mouthed, hilariously troublesome lineup of malcontents you'll ever meet.
Walter Matthau is pitch-perfect (pun intended) as their drunken, washed-up coach, Tatum O'Neal spot-on as the star pitcher, and the movie also features a breakout performance by a young Jackie Earle Haley. The team delivers plenty of truth about winning, teamwork and perseverance — all while making you constantly laugh out loud or gasp at what is coming out of these kids' mouths. You'll root for the Bears all the way. – Don Kaye
Where to stream The Bad News Bears: Hulu (via Starz), Sling TV (Subscription), Amazon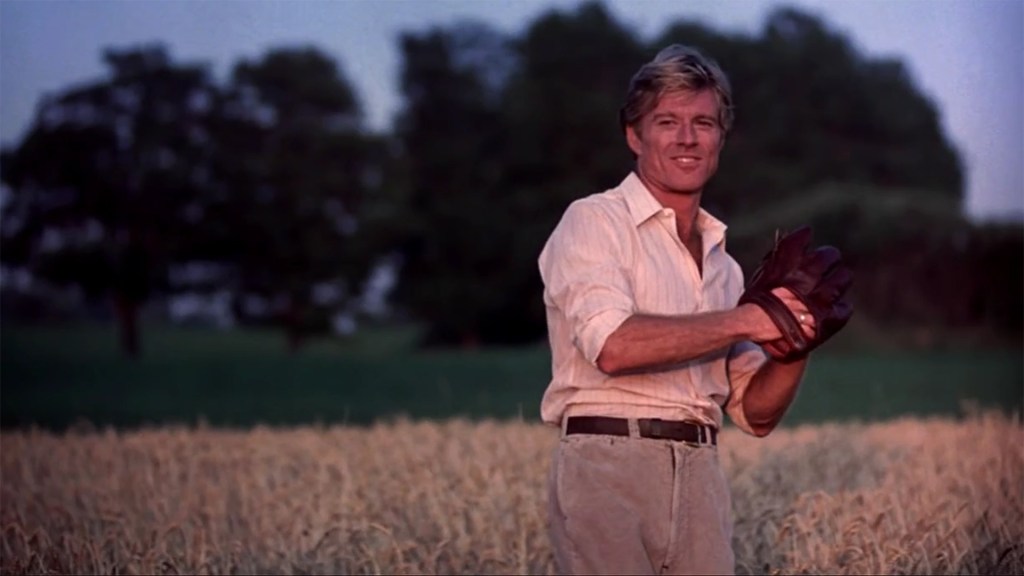 The Natural (1984)
If there was ever one movie to lean into the mythmaking of baseball, it's Barry Levinson's The Natural. Elevating the romance of the game to folkloric levels, it makes central hero Roy Hobbs a demigod among men, and his nine innings into Hercules' 12 Labors. It also has Randy Newman's iconic musical score to fill in the gaps when the film's ambitions exceed its grasp.
Positioning itself as something of a parable for the cyclical rise and fall of American life, our national pastime becomes an arena in which Robert Redford's overly earnest hero struggles against the temptations of capitalism, greed, lust, and notoriety. Basking in the nostalgia of '80s era baby boomers looking back on the Greatest Generation, Roy's 1939 USA is shaded in both noir shadows and golden wheat field glories. But the ballplayer's natural gift at the mound, and the way Levinson depicts it in profound slow-motion and rising musical transcendence, is what makes The Natural a classic. The melodrama might fade from memory, but that final bottom of the ninth never will. – David Crow
Where to stream The Natural: Crackle (Free), Amazon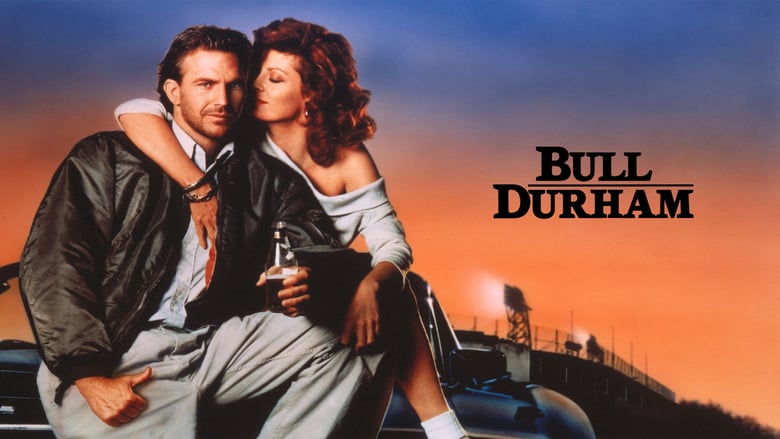 Bull Durham (1988)
Ron Shelton, writer and director (his debut as the latter) of Bull Durham, was a minor league infielder in his younger years and it shows in this elegant, funny and deeply romantic movie. In the end, Bull Durham is about love: not just the mature, complex kind that develops between longtime minor league catcher Lawrence "Crash" Davis (Kevin Costner) and lifelong baseball groupie Annie Savoy (Susan Sarandon), but the abiding love of the game and its undying youthfulness that keeps men playing it long after their dreams have expired.
Crash, near the end of his career on minor league baseball team the Durham Bulls, is assigned the job of developing another: that of dim-witted loose cannon pitcher Ebby Calvin "Nuke" Laloosh (Tim Robbins). As Nuke is destined for the big leagues, "The Show," which Crash only fleetingly touched, Annie picks him as her lover for a Durham Bulls' season. But soon finds herself attracted to Crash. The feeling is mutual, and the sparks that fly between the charismatic Costner and the sensual Sarandon are as natural and true as the film's many details about minor league life. "There's no guilt in baseball," says Annie. "And it's never boring, which makes it like sex." Bull Durham proves her right. – Don Kaye
Where to stream Bull Durham: Vudu (Free), Tubi (Free)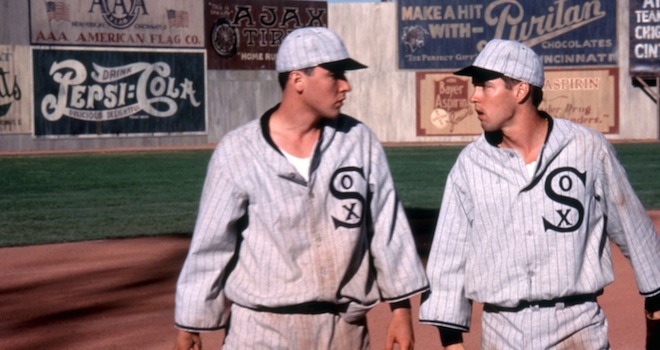 Eight Men Out (1988)
In the 1980s, the name "Shoeless" Joe Jackson was back in the public eye. The legendary baseball player would surely have earned his place in the Hall of Fame were it not for one unfortunate fact: he was a member of the infamous 1919 Chicago White Sox team who participated in a scheme to fix that year's World Series. W.P. Kinsella's fanciful 1982 novel Shoeless Joe was adapted as the film Field of Dreams in 1989 (more on that in a minute), a rich fantasy about the spirit of baseball itself. But the actual scandal that earned Jackson a lifetime ban from Major League Baseball and kept him out of Cooperstown is told in 1988's Eight Men Out, John Sayles' solemn exploration of that 1919 Black Sox scandal.
With a terrific cast that includes John Cusack, Christopher Lloyd, John Mahoney, Charlie Sheen, and a standout performance from D.B. Sweeney (as Jackson), Eight Men Out is a two-hour crash course in what Houston Astros fans probably hope will continue to be viewed as the single biggest cheating scandal in baseball history. It's also the perfect double feature with Field of Dreams. Alongside Ken Burns' Baseball documentary (and the standalone Jackie Robinson two-parter) and Penny Marshall's wonderful A League of Their Own, there are few more enjoyable history lessons on America's Pastime you can occupy yourself with until baseball eventually resumes. – Mike Cecchini
Where to Stream Eight Men Out: Amazon Prime
Field of Dreams (1989)
Field of Dreams has everything one would look for in a baseball movie. This 1989 film is saccharine, punishingly sincere, and has an overinflated appreciation for the American dream. In short, it's baseball itself. As America's pastime, baseball has been a cultural mainstay since the late 19th century and has grown up with the country surrounding it. For better or worse, baseball is synonymous with all the amber waves of grain from sea to shining sea. And that's why this pastoral ghost story is such a perfect baseball film.
Field of Dreams takes the real life events of the 1919 Black Sox scandal and then brings it to the present for a simpler tale about one family dealing with ghosts of their own. When Ray Kinsella (Kevin Costner) hears a disembodied voice instructing him to build a baseball field in his backyard, he's fully prepared to do so. In a world strange enough to create something as otherworldly as baseball, why wouldn't there be voices from beyond as well? The film has entered into the cultural lexicon, with phrases like "if you build it, he will come" to a real "field of dreams" built out in Dubuque County, Iowa. But its enduring legacy is its simple story about a guy who just wants to finally play catch with his dad. – Alec Bojalad
Where to stream Field of Dreams: Hulu (via Starz), Amazon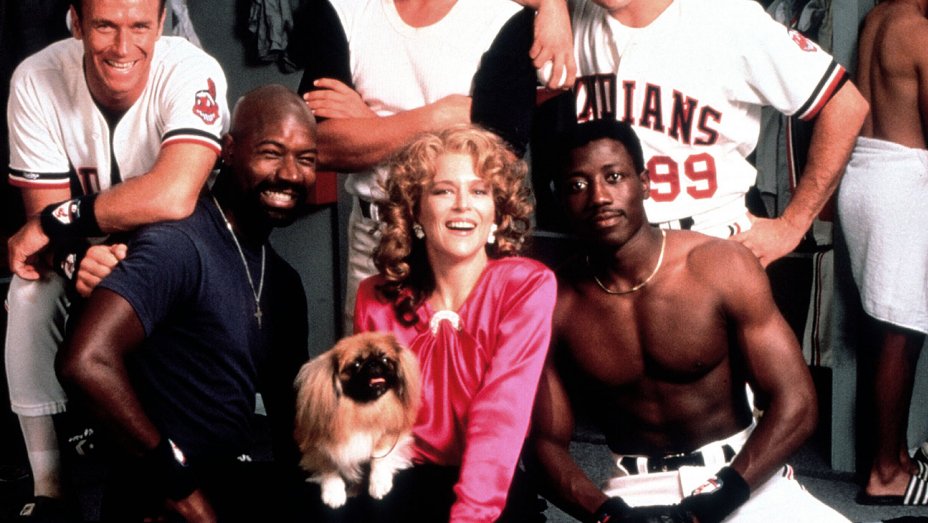 Major League (1989)
Pedro Cerrano. Lou Brown. Jake Taylor. Willie "Mays" Hayes. Roger Dorn. Rick "Wild Thing" Vaughn. These names inspire their own individual fandom as much as they do pride in their ballclub, the Cleveland Indians, in the 1989 comedy Major League. This collection of misfits, has-beens, never-haves, and convicts—the kind of guys who would throw at their own sons in a father-son game—inexplicably come together as a formidable squad when they learn their owner, Rachel Phelps, seeks to relocate the team south to Miami and has stacked the cards against them.
Despite the screwball-ness of the film's humor, Major League is a slice-of-life look into a professional baseball clubhouse—from on-field shenanigans and off-the-field romances to clubhouse in-fighting. The film captures how one magical season can transform the lives of the players and inspire hope in a city. But the charm of Major League all starts with the players who will go down as unsung heroes in baseball lore—one could argue that Charlie Sheen's Rick "Wild Thing" Vaughn is the most beloved character on this list.
In the end, these spare parts eventually formed an underdog story for the ages as the Indians made a surprise run (or a spite run) to a division title over the hated New York Yankees. Two sequels were made, each with diminishing returns, although Major League II will also help satisfy your baseball fix during the 2020 season hiatus if you've exhausted all other options on this list. – Chris Longo
Where to stream Major League: Amazon
A League of Their Own (1992)
Baseball is a game that raises the victors to an almost mythic stature, but there is something to say about those who got left behind–or written out. Take the All-American Girls Professional Baseball League, a division of women ball players who arguably saved the sport in America during the height of World War II between 1943 and 1945, and who were then unceremoniously disbanded by 1954 and largely erased by the game's gatekeepers. But for a brief shimmering moment, these women stood outside the narrow roles society had designed for them, all the while playing a hell of a game.
Penny Marshall memorializes this with all the sentimentality you would expect out of a baseball movie or a '90s star vehicle. But she also brings a knowing candor toward the material. Sure, the baseball scenes are nice, but it's the story of Geena Davis' Dottie Hinson and the dawning self-awareness of a life and identity outside her husband which gives the game such profound importance. It also allows Davis and Tom Hanks to make a great odd couple pairing as the star athlete and her cantankerous manager. Hanks is a delight as a drunken washout who learns through the team what an actual love of the game means, and he gets to speak another truism about the sport: "There's no crying in baseball." – David Crow
Where to stream A League of Their Own: Amazon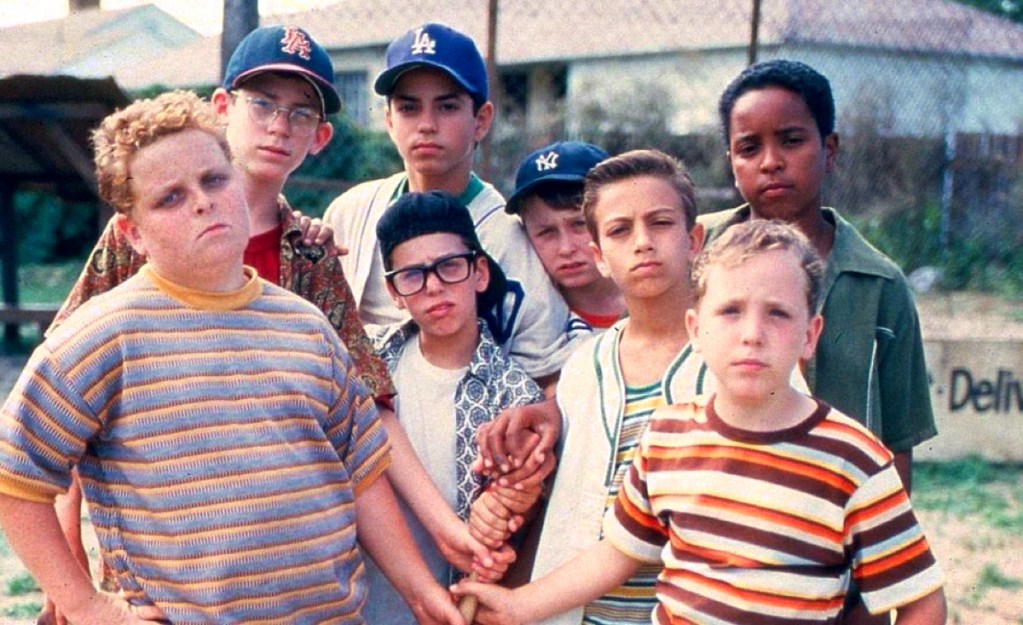 The Sandlot (1993)
For most, baseball is never more pure, or more fun, than when you're playing pickup games in your neighborhood cul-de-sac or vacant lot with your childhood friends. No baseball movie captures that spirit better than The Sandlot. Between the juvenile trash talk, the tight-knit camaraderie of the daily players, and the palpable memory of those seemingly never-ending summers from youth, The Sandlot is the definitive coming-of-age baseball movie.
There are virtually no movie stars in the film, and the climax doesn't hinge on one big game or final at-bat; The Sandlot rounds the bases relying solely on nostalgia, a key ingredient of baseball's longevity and mythic aura. The Sandlot is about the ways that baseball brings us together, whether you're an unathletic new kid just looking to make friends, or searching for a way to break the ice with a new step parent. Perhaps more importantly, the movie fondly looks back on the time in your life where the local lifeguard was the most beautiful girl on the planet, a neighborhood dog was not a pet, but a Beast, and the worst thing that could happen to you is being told that you throw like a girl. – Nick Harley
Where to stream The Sandlot: Amazon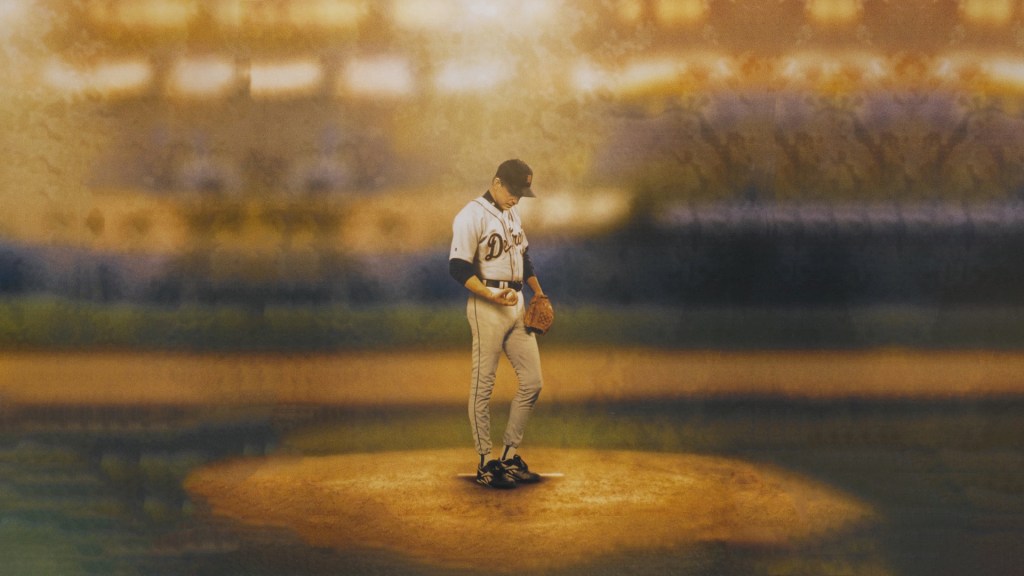 For Love of the Game (1999)
Improbably directed by Sam Raimi (Evil Dead, Spider-Man) and starring Kevin Costner in the third baseball-themed film of his career, For Love of the Game once again centers on a main character who is at the tail end of his career. Unlike Bull Durham's Crash Davis, however, the Detroit Tigers' Billy Chapel has spent his professional life in the majors but is unsettled about the direction his personal affairs have taken.
As he pitches the final contest of the season — and what is likely to be the final game of his career — against the New York Yankees, Chapel begins to ruminate on his failed romance with Jane (Kelly Preston), and is distracted enough to be unaware that he is pitching a perfect game. Raimi clearly loves baseball and the film captures the tension of Chapel's potential achievement, while Costner still shows evidence of his peak as the quintessential all-American actor. It may be a sentimental mess in some ways, but For Love of the Game still hooks us in. – Don Kaye
Where to stream For The Love of the Game: Hulu (via HBO)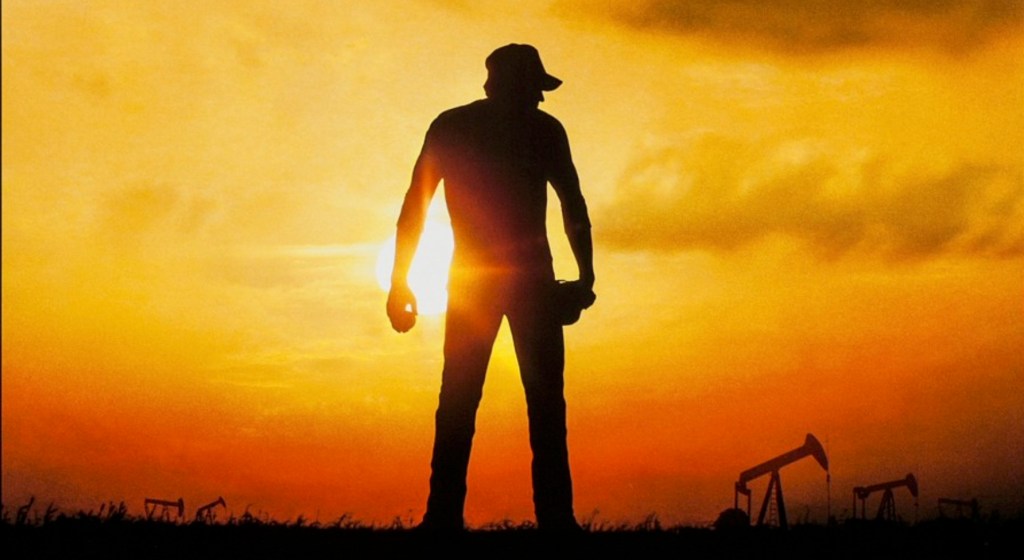 The Rookie (2002)
Scouts aren't looking for high school science teachers, unless that teacher is Jim Morris. The Rookie is based on the true story of a former minor league pitcher turned high school baseball coach who defies the odds by making it back to the pros at the age of 35. The comeback starts on a dirt field in Texas, where Coach Morris (Dennis Quaid) challenges his team after a listless effort. They challenge him right back: if the team improves and wins the league, Morris has to go to a professional tryout.
The real Morris received his cup of coffee in the big leagues with the Tampa Bay Devil Rays in the 1999 and 2000 seasons. Just two years later, the feel good story got the Disney treatment from sophomore director John Lee Hancock, who'd later earn a Best Picture nomination for another sports film, The Blindside. Hancock and screenwriter Mike Rich (Radio, Secretariat) underscore that Morris' dream relies on much more than just his rocket arm—it takes the support of his family, his team, and his community to cap off this story of perseverance.
The Rookie is a reminder that not every big league dream is made equal. As Coach Morris tells his disinterested ballplayers at the start of his journey: "If you don't have dreams, you don't have anything." – Chris Longo
Where to stream The Rookie: Disney+, Amazon
Moneyball (2011)
"How can you not be romantic about baseball?" Oakland Athletics general manager Billy Beane (Brad Pitt) says partway through 2011's Moneyball. He's right of course. How could you not be romantic about such a lovely sport? But the source of said quote is a strange one, as many would argue that there are few people who have done more to remove romance from baseball than Billy Beane.
Moneyball is based on the 2003 Michael Lewis book of the same name. It follows Beane as he tries to build a competitive baseball team on a low budget to go up against the rich New York Yankees of the world. In doing so, Beane embraces all sorts of analytics and metrics, alienating some of his more traditional scouts who tend to prefer what a player's swing looks like or how he fills out a jersey rather than what his On Base Percentage is. But of course, Beane is right. Not just because he is successful in rebuilding the Athletics on the cheap after many of their good players leave for bigger markets. He's successful because math, physics, and a little luck is every bit as crucial to the romance of baseball as the crack of the bat. – Alec Bojalad
Where to stream Moneyball: Hulu (via Starz), Amazon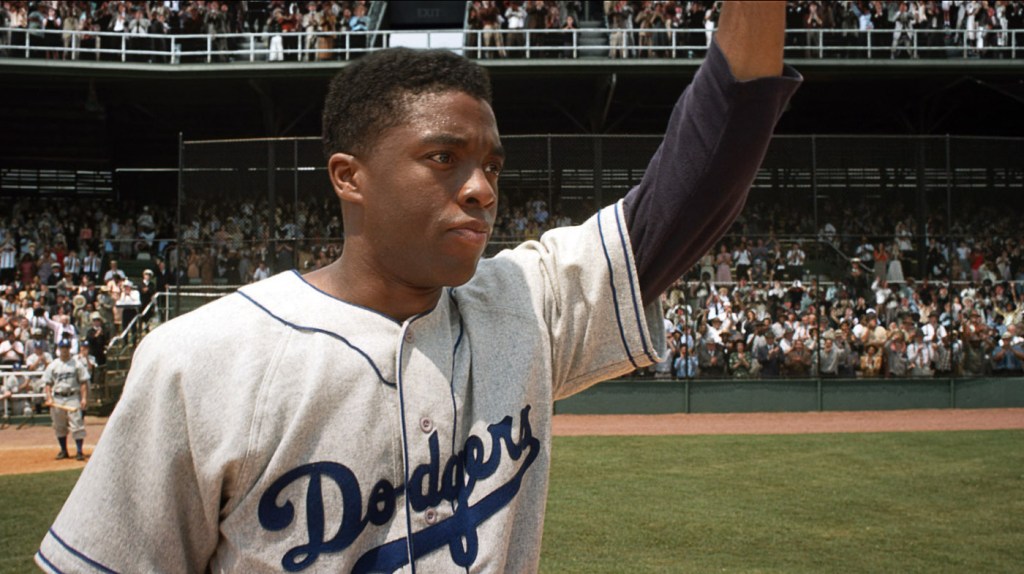 42 (2013)
The second big screen telling of the life of the first African-American ballplayer (the first was 1950's The Jackie Robinson Story, which saw the legendary second baseman star as himself), 42 is perhaps a little too tethered to biopic conventions to be considered truly great. But that doesn't mean there isn't greatness to be found in it.
The historical importance of Robinson's story, which stretches far beyond baseball, can't be overstated, and it's aided by a tremendous performance from Chadwick Boseman. Delightful supporting turns from Harrison Ford as Brooklyn Dodgers general manager Branch Rickey and Christopher Meloni as team manager Leo "The Lip" Durocher help sweeten the deal. The incredible digital recreations of stadiums long gone like Brooklyn Dodgers' home Ebbets Field or the New York Giants' Polo Grounds, authentic enough to convince fans old enough to remember, help make 42 an immersive history lesson. Major League Baseball celebrates Robinson every April 15th with Jackie Robinson Day, the anniversary of his MLB debut. With the season unlikely to resume by then this year, spend that day with 42 and Ken Burns' two-part Jackie Robinson documentary to get the full story, and to honor one of the most important figures in baseball history. – Mike Cecchini