Features
The 10 Best Movies of 2018
With the Oscars just around the corner, we revisit our top critics' picks for the best movies of 2018.
The year of 2018 is long over now, and for many that will be received as happy tidings. After a full 12-month season marked by division and acrimony, unrest and unpleasantness, it's easy to reach toward apathy, but this would be a mistake. For all its faults, 2018 has brought the culture at large many things to celebrate, from the ice of Pyeongchang to a new desire to put rockets in our orbit. And the movie house has had its virtues too.
While the general notion is that cinema is endangered by the growing (and fracturing) glut of television and streaming options, such avenues are actually budding opportunities for filmmakers with dreams in search of an audience. As the below lists indicate, we have a wider range of storytellers embracing the motion picture art form than ever before. Thus our main Den of Geek critics, film section editor David Crow and associate editor Don Kaye, have compiled their separate top 10 movies lists of 2018. As you'll see, our conclusions are quite different, yet each offers a testament to the better moments of the year that was.
David Crow's Top 10 Movies List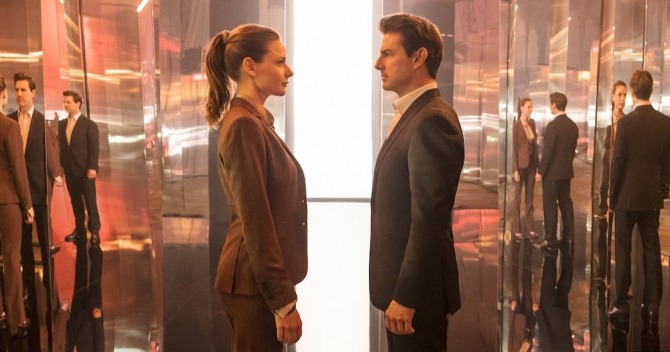 Honorable Mention: Mission: Impossible – Fallout
The best live-action blockbuster of 2018 is easily Christopher McQuarrie's latest Mission: Impossible rendezvous. In addition to relying on an audacity that is steadily verging on insanity, with 55-year-old Tom Cruise dangling from dazzling heights, McQuarrie's spearheaded one of the most honed action movies in recent memory. He's the first director (and writer) to return to the franchise, and he does so while throwing out much of his old school school Hollywood classicalism from Mission: Impossible – Rogue Nation in favor of a modern, stiletto-edged spectacle.
With every action sequence fine-tuned and designed for maximum suspense, the movie is a perfect storm of white-knuckled adrenaline that's made all the more irresistible because it really is Tom Cruise jumping out of that plane at 25,000 feet or breaking his foot as he leaps headfirst into the wall beneath another building's rooftop. It's exhilarating and also an ode to how the old ways of making movies are still often the best. It stands as a dazzling island lost in a sea clouded by a computer-generated beige. (Further honorable mentions that almost made the Top 10 cut include: Vox Lux, Disobedience, Can You Ever Forgive Me? and Green Book).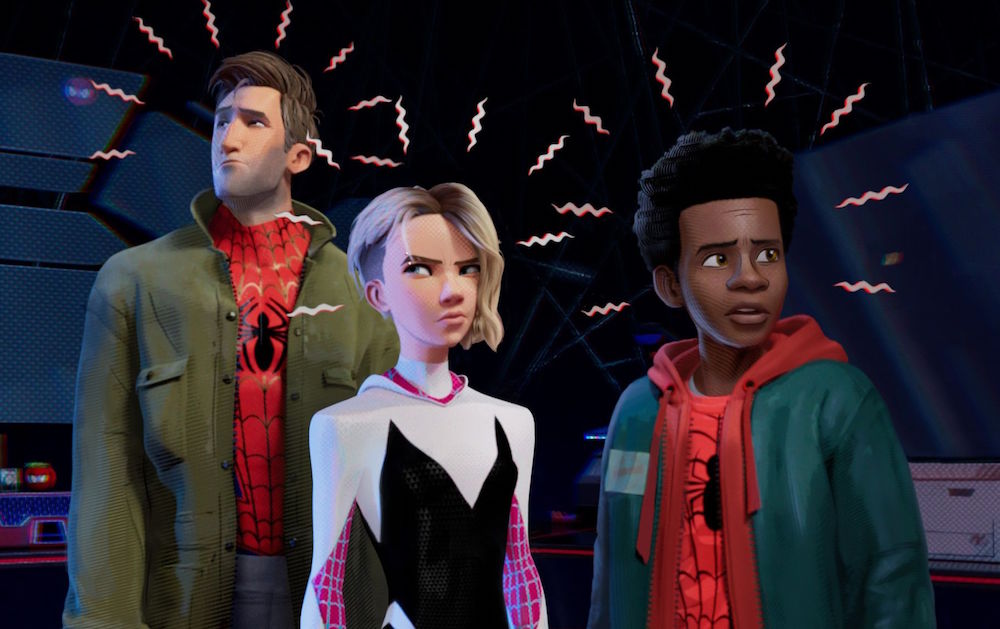 10. Spider-Man: Into the Spider-Verse
With each passing year, the superhero genre ever encroaches closer to a wall. While 2018 alone has seen a number of adequate to even great costumed adventures, as a whole the format risks collapsing in exhaustion. Which makes the creativity pouring out of Sony Animation's Spider-Man: Into the Spider-Verse all the more striking in its joyful delight. Easily the year's best superhero movie, its best animated movie, and arguably the best Spider-Man picture ever produced, it would still be a disservice to the spark of imagination lit by Phil Lord, Chris Miller, and all their collaborators to limit the film by only the boxes it checks.
further reading: Phil Lord and Chris Miller Take Us into the Spider-Verse
A gorgeous computer-animated symphony that blends decades-old comic book techniques with modern graffiti flourishes, Spider-Verse is an experimental hybrid of tone and aesthetic that feels downright transgressive when it comes out of the Hollywood system, and in a medium traditionally associated with only entertaining children. While an all-ages film, Spider-Verse adroitly explores the interior life of new hero Miles Morales (Shameik Moore) and the pressures put on him by a New York City that's more recognizable than the shimmering emptiness of the Marvel Studios alternative. That this is complemented by a middle-aged, 40-something Peter Parker (Jake Johnson), who's midlife crisis might be the most sophisticated portrait of the character ever placed on screen, causes the film to instantaneously endear. But the reason it transcends is that the above is simply a foundation for a bigger love letter to Spider-Man mythology and the need to innovate, as a youth, as a superhero, and as a visual art-form.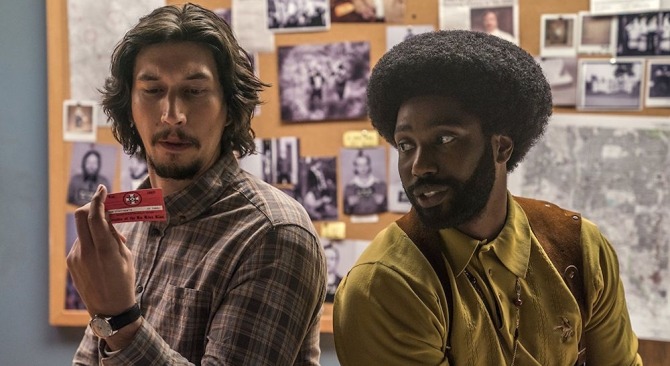 9. BlacKkKlansman
There has been some harsh criticism of this film, including by other filmmakers on this list, but such critiques ignore the ambiguity with which the wall of blue is presented as in BlacKkKlansman, as well as what the film really is: Lee's best joint in years that in addition to superb craftsmanship and filmmaking—effortlessly drifting between buddy cop and thriller formulae, and poetic essay and Blaxploitation wish fulfillment—also challenges the very role of historical revisionism in cinema. It offers a compelling counterpoint to the century-long narrative of hate that has festered its way back into the mainstream and White House.
Aptly drawing a critical gaze toward malevolent forms of cinematic transfiguration, like Birth of a Nation and Gone with the Wind, Lee creates a rebuttal to an onscreen narrative of hate that once emboldened the real Ku Klux Klan in favor of his own cinematic alchemy that channels inclusion and unity among disparate elements. This not only pertains to cops and black activists at the movie's core, but also the movie's clarion call to form a unified front against regressive hate, which BlacKkKlansman traces from the backroom initiations in the 1970s to modern day tragedy.  The film is an engrossing and beautifully acted melting pot of styles, aesthetics, and ideas, all in the effort of creating a more perfect narrative union wherein Lee fires back against previous Hollywood "lightning" revisionism with his own thunderbolts.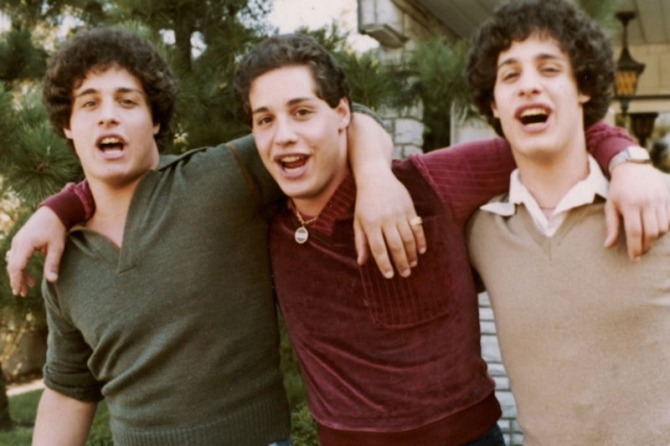 8. Three Identical Strangers
Tim Wardle's hypnotic distillation of a stranger-than-fiction story proves that sitting in a movie theater can still be quite like a seesaw. One moment you're on top of the world, savoring the euphoria of this one-time beloved human interest story from the greater New York area, and then you're falling into the creepiest conspiracy theory you've heard in ages. Mostly because it's true. As a film that benefits from the less you know, Three Identical Strangers unspools its story as a mystery rather than a series of events. By judiciously choosing to withhold and reveal information until the most dramatic moments, Wardle presents the seductive appeal of a news story that took talk shows by storm in the early '80s before uncovering the realities that challenge our very ideas of nature versus nurture.
As told by the charming boys who lived the seeming fantasy, Strangers picks up during 19-year-old Bobby Shafran's first day of college when, in his own words, everyone mistakes him for a guy named Eddy. It's understandable since it turns out they were brothers separated at birth. Things only get more phantasmagoric when they discover they have a third sibling named David. Each of the triplets grew up in a different socio-economic class, and each of them initially appear to have more similarities than differences. From this point, the film is a sugar rush of quizzical wonderment and the gnawing sensation that the bottom is going to drop out at any moment. It does. To say more would ruin the experience of this captivating doc.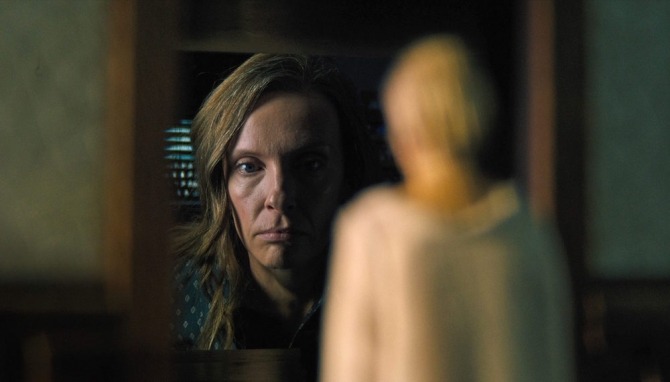 7. Hereditary
In this modern renaissance of thinking people's horror movies, no indie studio is making us think more than A24. In that vein, writer-director Ari Aster knocks it out of the park with his feature debut in this vaguely perverse nightmare. A film derived from dread and the often overlooked storytelling tools that made Rosemary's Baby and The Exorcist endure in our haunted subconscious beyond their mere red eyes and green plea soup, Hereditary is both a throwback and something original. Showcasing the slow descent into madness and despair of a family with an already tragic history, the film cheerfully muddies the water between supernatural and psychological terror, suggesting they're one in the same.
further reading: About That Hereditary Ending
Hereditary would be on this list no matter what, yet the reason you'll be thinking about it for years to come is the tour de force performance by Toni Collette. Personifying the messy overlap of trauma, guilt, self-loathing, and maybe even the insidious notion of complicity acting as a connective tissue, it is a devilishly layered turn that leaves no one, onscreen or off, feeling clean. Plus, for our money, this movie has the most unforgettable shot composition of 2018, albeit once witnessed, you're just as likely to wish your eyes had never been so scarred.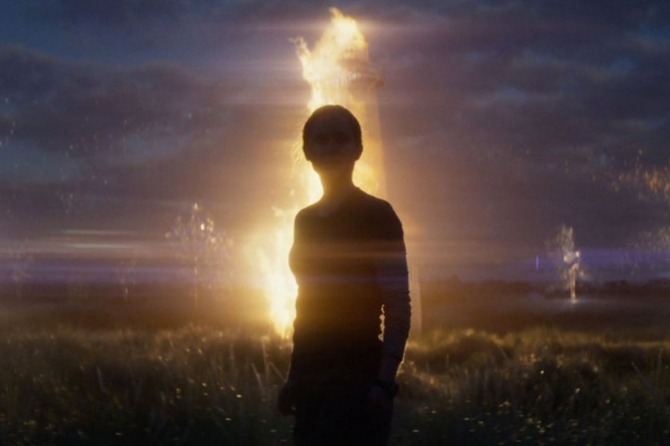 6. Annihilation
When Paramount saw the writing on the wall, they gave up taking Alex Garland's second effort as a writer-director, Annihilation, to market. Given that domestic audiences steered clear of this opus in theaters, the studio might be justified in dumping it on Netflix, but the global moviegoing community is poorer for it. Annihilation is an exquisite masterwork in adult science fiction that harkens back to a time when movies weren't expected to be "explained." They were meant to be felt as viscerally as the turning of a tide or the first wisps of a summer evening's dusk.
further reading: About That Annihilation Ending
Make no mistake, this ostensible sci-fi thriller is an art installation every bit as beatific as when the film's alien entity, called "the Shimmer," turns human bodies into sculptures of grass and petal. And that is just one of the numerous evocative images in a film about a group of women who enter an ecological disaster—a huge swath of southeastern American marshland that has been trapped beneath a kaleidoscopic bubble. Anyone can walk in but nobody walks out. The answers transcend traditional narrative conceits and instead reach for a level of Kubrickian metaphysical grandiosity. More astounding still is the movie makes good on that lofty promise by achieving a third act that science fiction aficionados will debate for as long as this movie's other broader themes are raised, such as what is the nature of humanity and why do we seek our self-destruction? Coupled with a stellar and almost entirely feminine cast led by a baleful Natalie Portman, and Annihilation acts as a genre reclamation.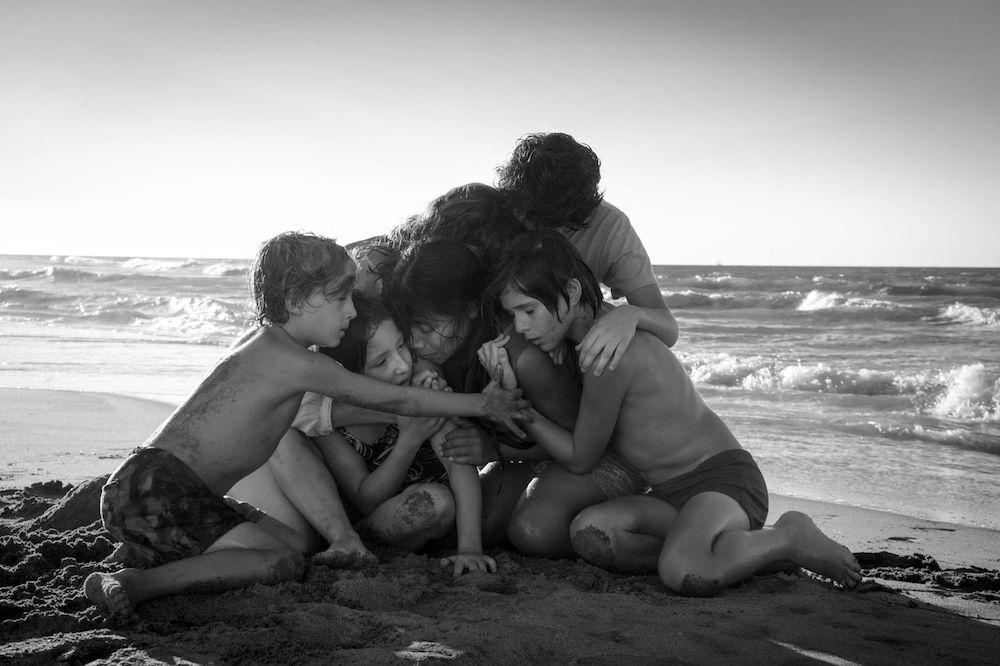 5. Roma
It truly is a brave new world when Netflix releases the most exquisitely shot and breathlessly cinematic project of its calendar year. As the 2018 picture destined to be dissected and scrutinized in the halls of film school, Alfonso Caurón's Roma is a wistful ode to his childhood that has the masterstroke of avoiding the urge to make his younger avatar the protagonist. Rather that duty, like so many others, falls to Cleo (Yalitza Aparicio) the unsung and often unseen housecleaner and caretaker of an upper-middle class home in 1970s Mexico City.
further reading – Oscars Contenders and Frontrunners
An obvious tribute to the women who's pain and suffering are usually a footnote in the fuzzier memories of those they thanklessly shaped, Roma is Caurón's most personal film, which is marked by the fact that he, and not Emmanuel Lubezki, was cinematographer. And that photography is quite stunning, indeed. With the intimacy of a François Truffaut reverie and the sweep of a David Lean epic, the film takes over two hours to bring audiences to tears, but for those who surrender to its hypnotic thrall, it most definitely will. Finally the unseen has been made visible in this celluloid monument that is as irresistible as the rolling of the surf.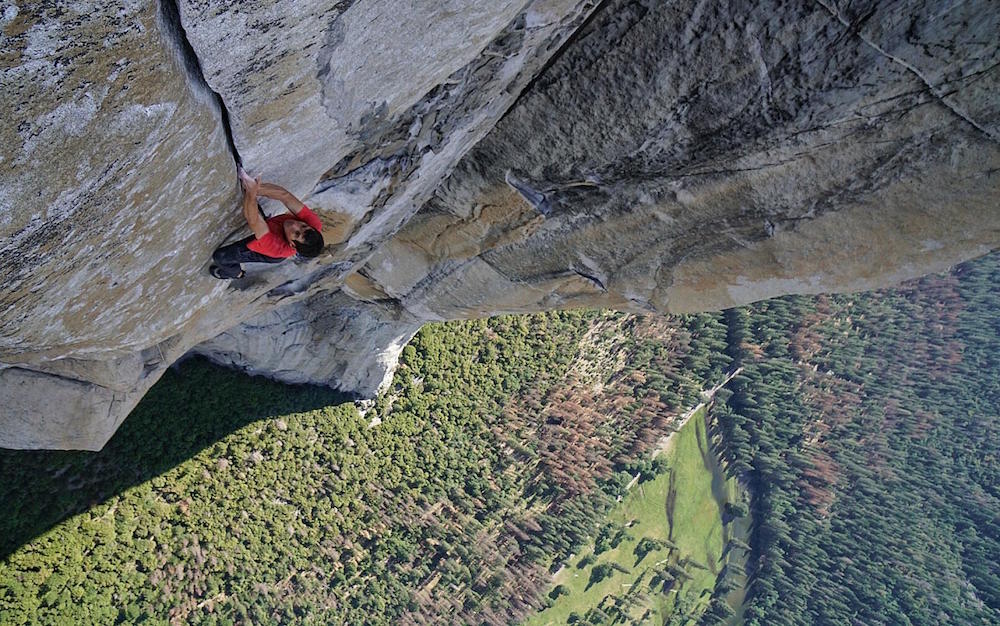 4. Free Solo
A film that's mere existence becomes a fascination unto itself, Free Solo is a remarkable achievement for subject and storyteller alike, which in this case refers to Alex Honnold, the young man who holds the record for climbing the tallest vertical surface ever without a rope, and the moviemakers who dared to hang just out of his reach with cameras. A deceptively complex narrative about human endurance and the drive to actualize one's dream, directors Jimmy Chin and Elizabeth Chai Vasarhelyi are forced to place themselves into their own film as they discuss the ethical limitations of recording a dream with life-or-death stakes… and whether they should finish it if death actually enters into the equation (especially if their presence factors in).
A tense exercise in the morality of moviemaking, as well as a compelling story of a man who is only most alive when he could actually die at any moment, Free Solo captivates from beginning to end. And it's dizzying height is reached in no small part due to the rock solid foothold discovered in the quiet love story between Alex and Sanni Mccandless, an infinitely patient woman who must come to terms with the knowledge that time and again, Alex will pick the mountain over her, just as he must come to accept ascending to the top only matters if there is someone to call afterward. There is, and for anyone lucky enough to see it on a big screen, they'll never forget what he has to say.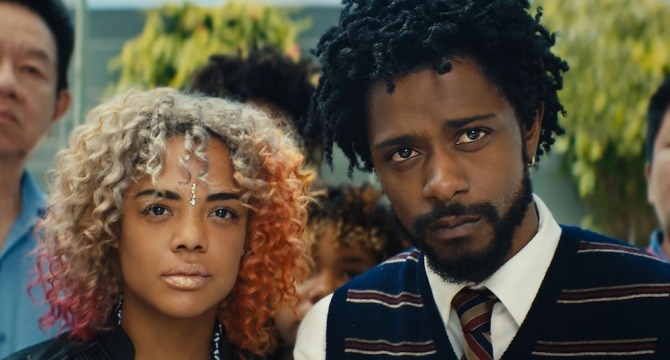 3. Sorry to Bother You
Film criticism too often relies on the claim "you haven't seen anything like this before," but that would be putting it mildly in the case of Boots Riley's Sorry to Bother You. Rushing onto the cinematic scene with more creativity and ambition in his debut than many directors can tease in a lifetime, Riley announces himself to film culture with a defiant and deafening mic drop. Sorry to Bother You is not only an original vision, but something even rarer in its industry: an actual subversive manifesto.
further reading: Sorry to Bother You and Making Resistance a Part of Life
Merging magical realism with a joy for balancing multiple allegorical conceits, Sorry to Bother You is a pro-union, anti-capitalist, and fanged deconstruction of the corporate-labor-media triptych that grinds most Americans in their everyday life into dust. It is also funny, insightful, and features a fantastic leading man turn by Lakeith Stanfield. Armie Hammer similarly dominates in perhaps his finest work to date as the devil made white CEO-bro flesh. It follows Stanfield's success as a telemarketer after adopting a white voice (an honest to God alabaster cadence, compliments of David Cross' vocals), even as his Cassius Green becomes a scab during a union strike in the process. With a humor sharper than most comedies, and a Grand Guignol edge that can be more shocking than any horror, there simply isn't anything else like Sorry to Bother You out there.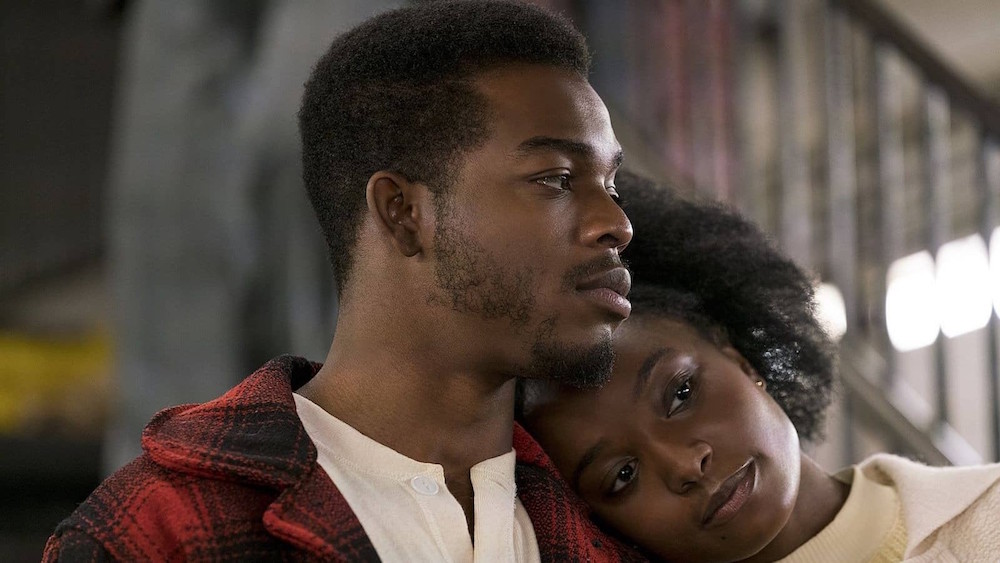 2. If Beale Street Could Talk
After winning the Best Picture Oscar two years ago, Barry Jenkins follows up Moonlight with the even more ambitious If Beale Street Could Talk. An elegiac tome to love, and how easily it can be cut down early in the African American experience, Jenkins turns his lens toward legendary writer James Baldwin. Beale Street is a novel that Baldwin himself tried and failed to get Hollywood to produce in the 1970s, but here lives at last with an essayist's vitality. Jenkins reconfigures Baldwin's prose into the interior monologue of Tish (KiKi Layne), a young woman who discovers she's pregnant after her lover and lifelong friend Fonny (Stephan James) is wrongfully accused of rape by the police.
further reading: Barry Jenkins on Nature vs. Nurture in Beale Street and Moonlight
While the film is set in early '70s Harlem and not the Beale Street of Memphis mentioned by the title, the clear implication is this is a universal love story for black lives in this country, and one ever haunted by the fear of "the Death" and the innumerable forms it might take for young men. Yet with a lyrical effervescence, If Beale Street Could Talk is not a despairing film, even when it can be a tragic one. Rather it celebrates humanity and the ties that bind, be they in Tish's happy home which is ruled by a watchful matriarch played by Regina King, or in the connection between young people who are not defined by the broken rules of society. It holds close those with the ability to see into one another's souls, just as Jenkins' film so acutely does one mesmeric close-up at a time.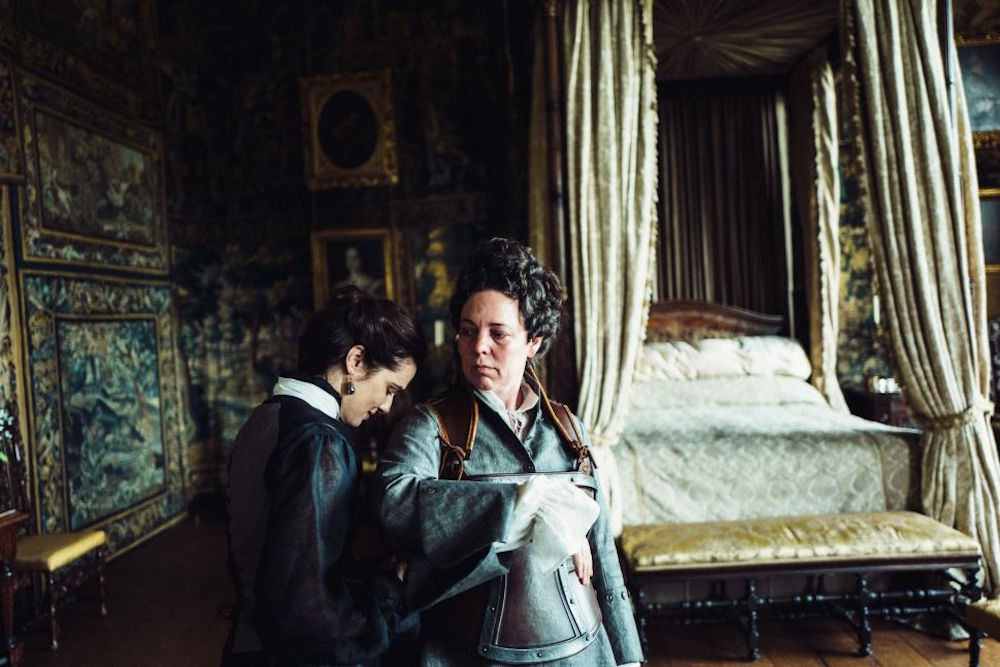 1. The Favourite
An acerbic dismissal of an entire genre's strained melodrama and evermore straining corsets, Yorgos Lanthimos' The Favourite is an obsidian-encrusted jewelry box of a film. It wears such inherent charm on its sleeve, and lets it springs from a sense of humor as fit for an execution block as the throne room, thereby crafting a handsomely baroque gift that harnesses its director's peculiar sensibilities into a pitch perfect mockery of those obsessed with monarchy. By centering on a pseudo-love triangle and power struggle between three women who can instantly gear-shift from catty to vaguely sincere, The Favourite deconstructs its own form, which has traditionally condemned women to earnest theatrics while the men play war. Here, playing is all the males do in their foppish shadows while a triumvirate of women's career-highlight performances consume every drop of spotlight.
With a whiff of the barbed dialogue in All About Eve, courtesies turn into a contact sport after Abigail Hill (Emma Stone) comes to Queen Anne's court. There Olivia Colman gives a showstopping performance as the haunted but deranged monarch who prefers playing with her bunny rabbits than ruling a nation. Her sense of entitlement and debauchery, presented with the kind of flair usually reserved for Henry VIII cautionary tales, reconfigures national interest into a competition between her girlhood confidant, Lady Sarah Churchill (Rachel Weisz), and Abigail, the disgraced lady who somehow finds herself first the Queen's maid and then her play thing.
further reading: The Favourite Defies Oscars Definition of 'Lead Actress'
The Favourite is a sumptuous triumph with echoes of Kubrick's dripping sarcasm and Mankiewicz's verbal violence. Frequently using wide, Dutch angles or fisheye lenses, it's a vision of grotesque splendor which underscores the hilarity in the film's pettiness. It is the harmony found within these discordant elements, especially in the high notes achieved by the tremendous performances of Colman, Stone, and Weisz, that raises this film to the status of future classic and the best movie of its year.
Don Kaye's Top 10 Movie List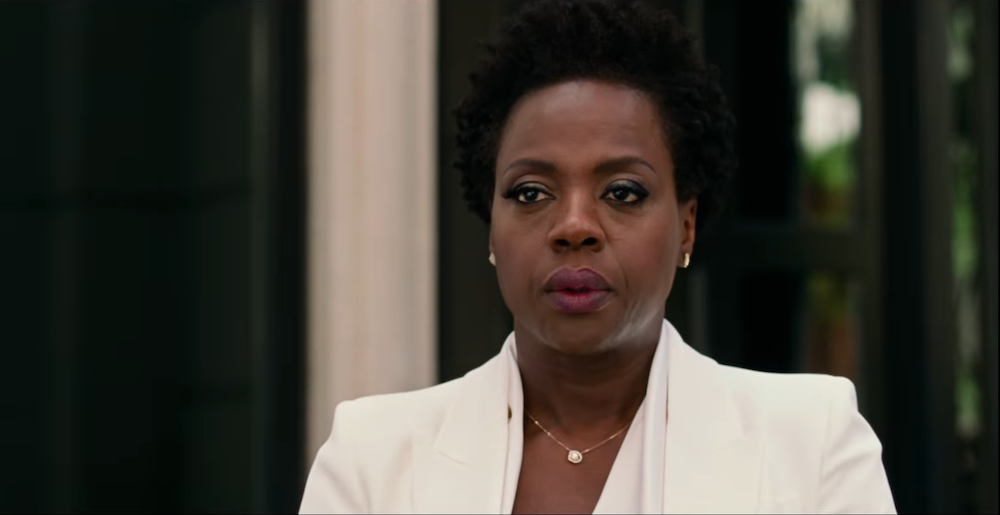 Honorable Mentions
As per usual, we have to address a few films in 2018 that were all great in their own way but didn't quite ascend to the Top 10. Widows was a brilliantly realized crime drama and feminist thriller with a spectacular lead performance by Viola Davis, but its ending didn't resonate as it should have. Damien Chazelle's First Man went the opposite way, building rather slowly from a prosaic beginning to a final half-hour—the recreation of the Apollo 11 moon landing—that was majestic, breathtaking and profound in a way we haven't seen since Kubrick's 2001.
further reading: Widows and the Financial Insecurity of Women
On the other hand, Karyn Kusama's Destroyer took a rather straightforward noir script and elevated it through a devastating performance by an unrecognizable Nicole Kidman. To counter that film's almost too bleak scenario, I would suggest Won't You Be My Neighbor?, a charming and moving documentary about how Fred Rogers worked tirelessly to teach our children well. Also deserving respect and praise: Private Life (Kathryn Hahn has never been better), BlacKkKlansman, Foxtrot, Black Panther, If Beale Street Could Talk, Paddington 2, We the Animals, and The Wife.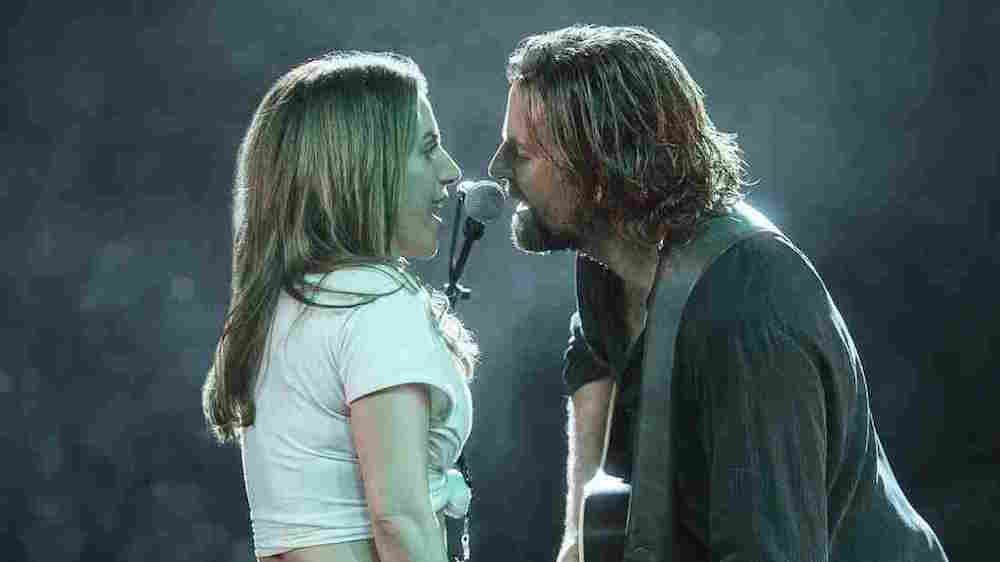 10. A Star is Born
After three previous versions, who would think that a fourth telling could offer anything fresh from this story? And yet, Bradley Cooper found a way to inject thrumming new life into the tale of a musician on the decline (Cooper) finding love with the new star he mentors (Lady Gaga), all while failing to escape his own self-destructive impulses.
Directing for the first time, Cooper captures the life of a touring rock musician almost perfectly and delivers another in a string of excellent performances. Meanwhile, in her first lead in a major motion picture, Gaga brings humanity, warmth and a kind of curdling innocence to the part of the reluctant yet forceful Ally (a nod must also go to the truly great Sam Elliott as Cooper's loyal but no-bullshit brother). Cooper and Gaga's chemistry is fabulous, and if the script seems to skate rather quickly over Ally's rise to fame, it makes up for it with sheer energy and emotion.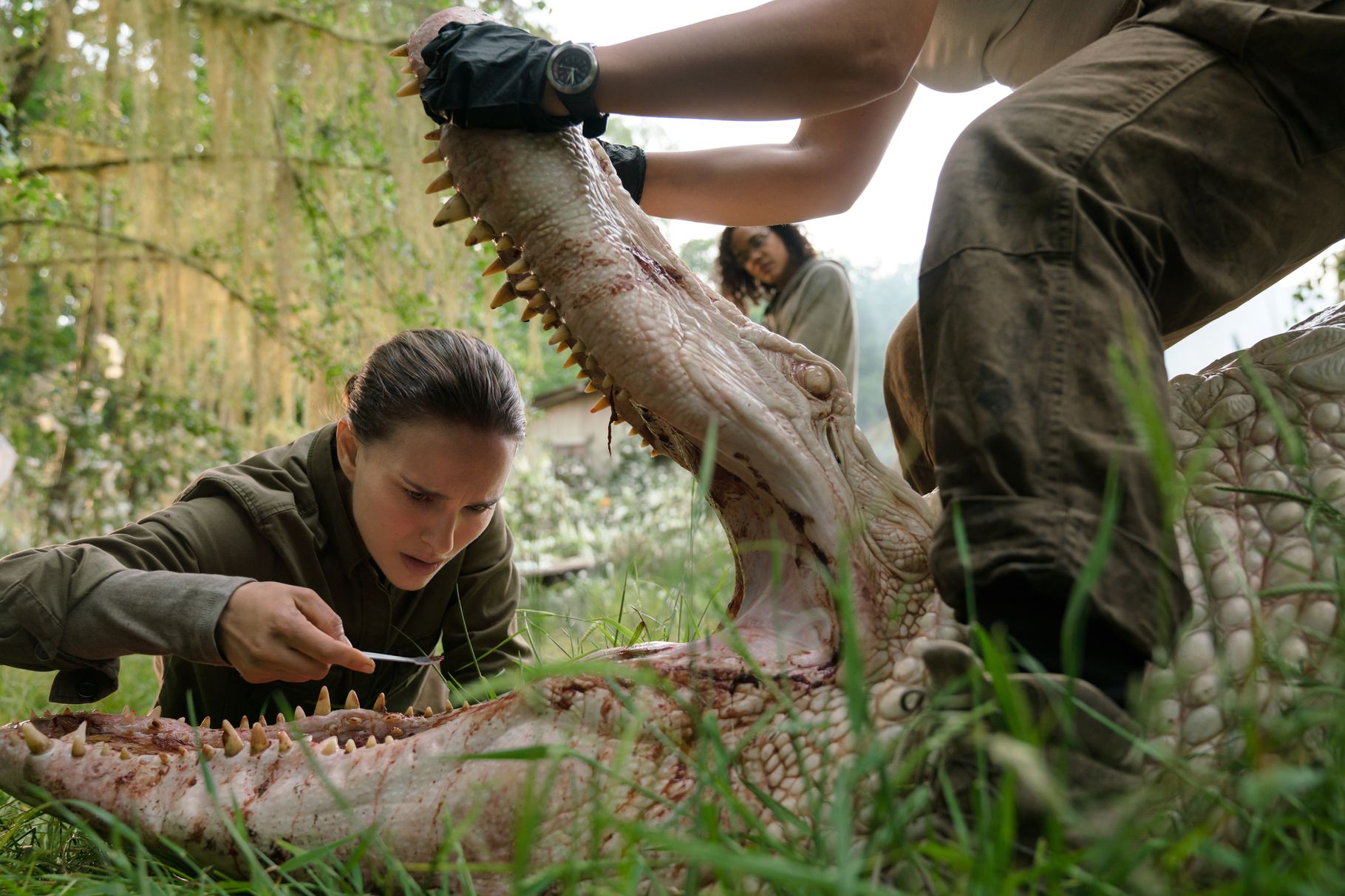 9. Annihilation
As with the horror genre, science fiction cinema has taken a sharp step up in terms of quality, intelligence and meaning—getting away from simple battles in space with monsters and tackling bigger themes through both original work and surprising adaptations. Director and screenwriter Alex Garland has now done both: His Ex Machina was one of the best films of 2015, and now he's back on the list with his version of Jeff VanderMeer's genuinely eerie and thought-provoking novel.
further reading: The Legacy of Annihilation
Natalie Portman leads a team of five women who venture into a mysterious, expanding zone of mutating wildlife and bizarrely evolving landscapes, only to find that change will occur whether we want it or not. While freely diverging from the text, the movie is faithful to the book's surreal tone and ambiguous nature, making Annihilation a challenging, bracing, and ultimately mind-bending experience—which is what we should want from all our sci-fi movies.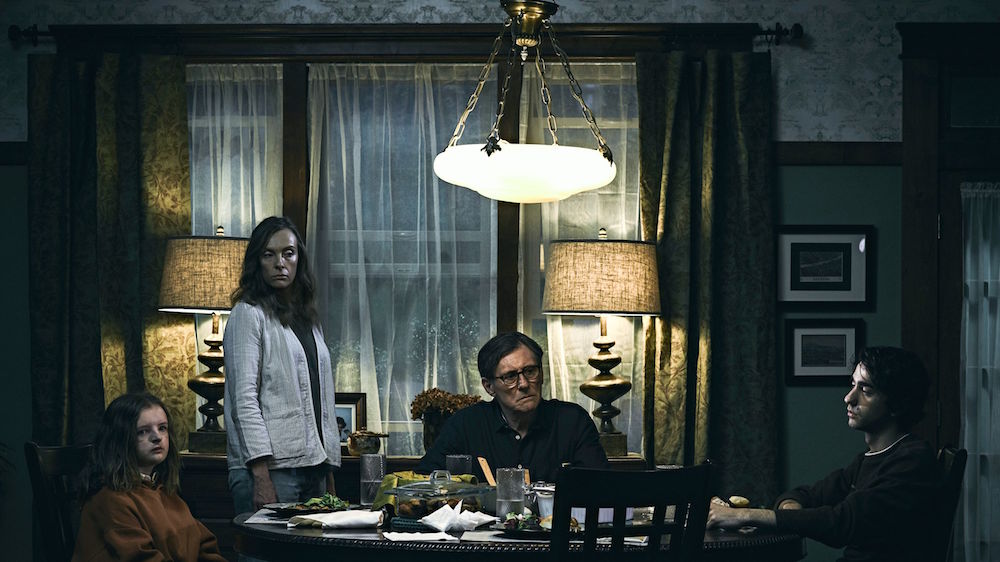 8. Hereditary
The past few years have seen an influx of intense, visceral and deeply frightening horror movies, but Ari Aster's stunning debut—almost a celebration of the genre's best tropes—may be the best yet. Aster gets a convincingly agonized performance out of Toni Collette as a woman who finds out that her late mother had a more disturbing grip on her family than she ever imagined, while at the same time dealing with a horrific tragedy that threatens that family's very existence.
further reading: The Real Story of Hereditary's King Paimon
The dark beauty of Hereditary is that even with its considerable and effective horror trappings, its most terrifying notion is that the family unit itself may be rotten and depraved from within. That is as primal as the horror genre gets, and what makes this film an instant genre classic.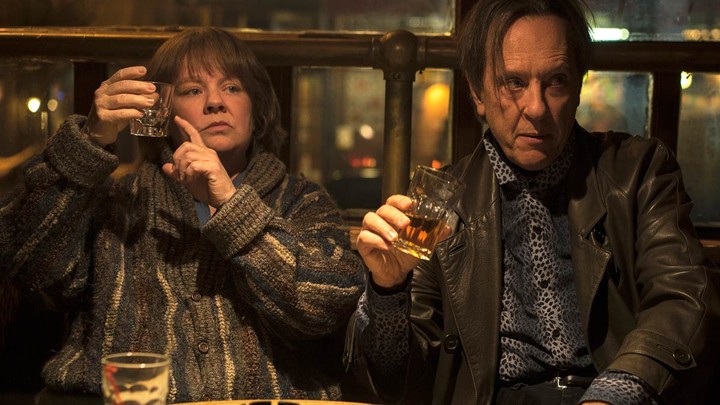 7. Can You Ever Forgive Me?
One thing that many of the films on this list have in common is that they are centered around one or two singularly great performances, a trend that continues in this sardonic, bittersweet and yet affecting adaptation of Lee Israel's 2008 memoir of the same name. As played by Melissa McCarthy in a revelatory performance, Israel is a misanthropic writer of celebrity biographies whose livelihood is drying up—until she begins forging and selling letters from deceased writers and actors. She is joined in her scheme by a dissolute raconteur (Richard E. Grant), but their friendship is rickety from the start.
further reading: Richard E. Grant Remembers AIDS Epidemic for New Film
McCarthy's talent has always been evident even in her most ill-fated comedies, but she takes things to a whole other level here with a complex performance that somehow makes you empathize with a pretty unpleasant person. Grant is fantastic as well, sad and hilarious at the same time. Director Marielle Heller (Diary of a Teenage Girl) also turns the film itself into a love letter to a now nearly vanished literary New York—a place where Lee never quite fit in, as much as she wanted to.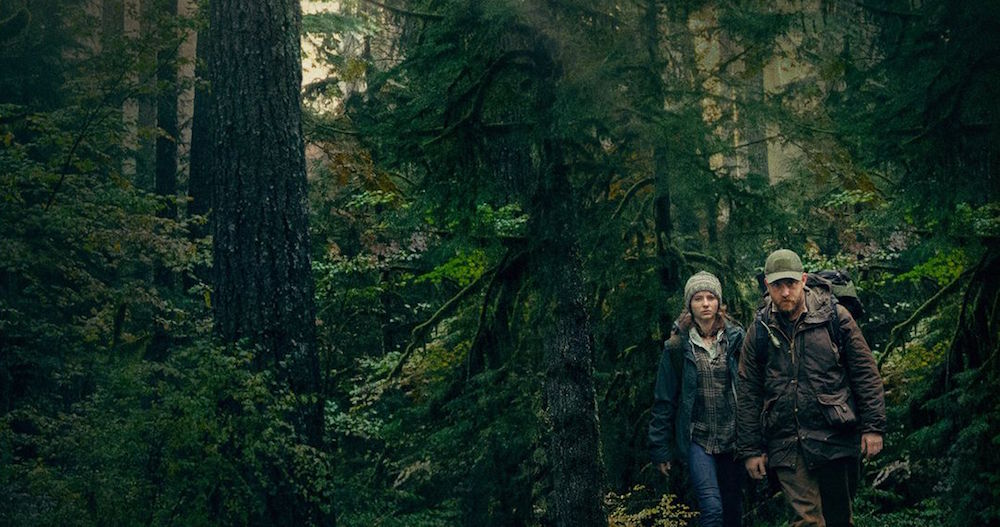 6. Leave No Trace
It's been eight long years since writer-director Debra Granik last wowed us with the riveting Winter's Bone (which put Jennifer Lawrence on the map), and it's with great delight that we can say her latest feature, Leave No Trace, exits 2018 as one of the year's finest films. A sensitive portrayal of the profound but ultimately untenable bond between a deeply troubled veteran (Ben Foster) and his loving daughter (Thomasin McKenzie), Granik's low-key approach makes what could have become an overwrought melodrama into one of the year's more moving studies of PTSD and familial love.
Foster and McKenzie are downright brilliant as Will and his daughter Tom, who live in near total isolation in a remote area of an Oregon park until they are discovered and sent into social services. Despite many well-intentioned attempts to help them find a "normal" life, one of them must eventually make an agonizing decision. A compassionate, humanistic and powerful film.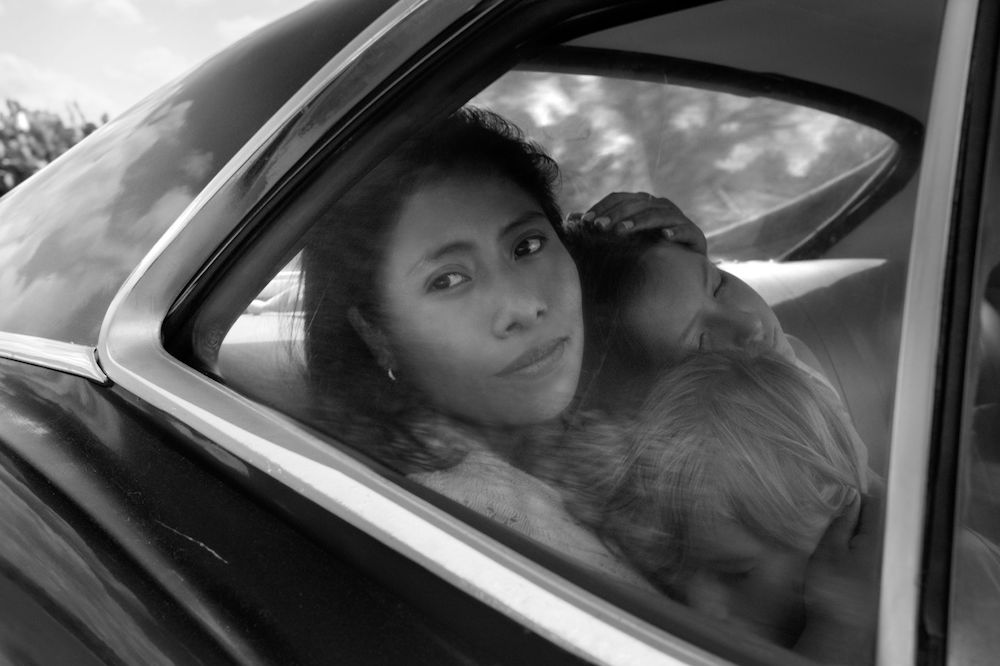 5. Roma
Director Alfonso Cuarón (Gravity) has crafted an exquisite and deeply personal cinematic love letter to the nanny who raised him and his siblings, as well as the middle class Mexican neighborhood in which they grew up. Shot in the actual Mexico City district where his family lived, and in glorious black and white (with Cuarón acting as his own cinematographer) and featuring only Spanish-speaking actors, Roma is meticulously crafted and deeply touching in its incredibly realized recreation of one family's life and surroundings circa 1970 to '71.
further reading: TIFF 2018 Movie Round-Up
Engrossing and moving, Roma is anchored by a heartfelt performance from Yalitza Aparicio. Starring in her first film, she is a treasure as Cleo, the nanny who stoically takes care of the household's four children as if they were hers and whose own personal tribulations happen almost in tandem with those of the family she takes care of. Aparicio is the crowning gem in a film that glitters with them.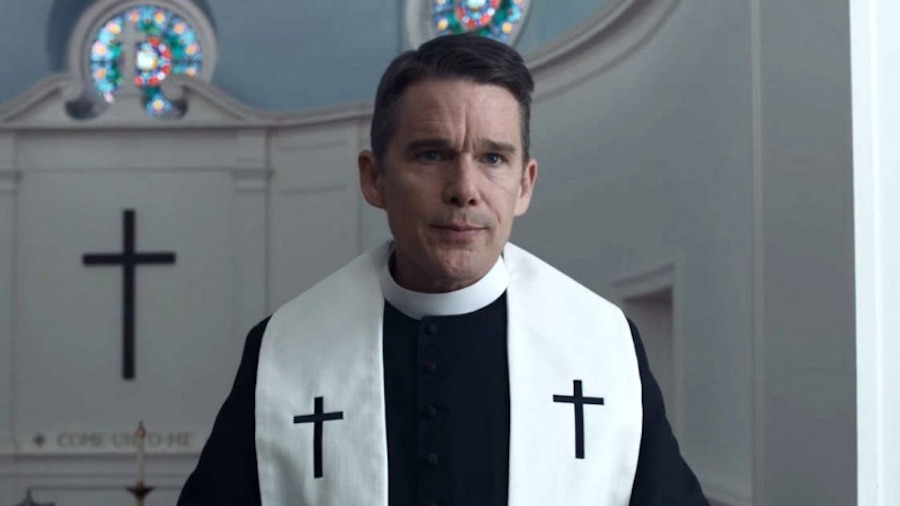 4. First Reformed
Faith, religion, political corruption, loss, sacrifice, and redemption: All the ingredients you find in a film written and/or directed by Paul Schrader (Taxi Driver). But while Schrader has stumbled more often than not in recent years, this time out he makes an incendiary and powerful film that tackles all his favorite themes and filters them through a career-best performance from Ethan Hawke.
The latter plays Reverend Ernst Toller, a pastor at a small church in upstate New York ravaged by guilt (over the death of his son), doubts about his faith, alcoholism, and increasingly serious physical ailments. Toller seeks to redeem himself by helping a young woman (Amanda Seyfried) with a troubled husband—a path which leads Toller in an unexpected direction. Hawke immerses himself completely in this tragic yet dignified character while Schrader's elegant screenplay and uncluttered direction touch on themes of immense profundity in an intimate way.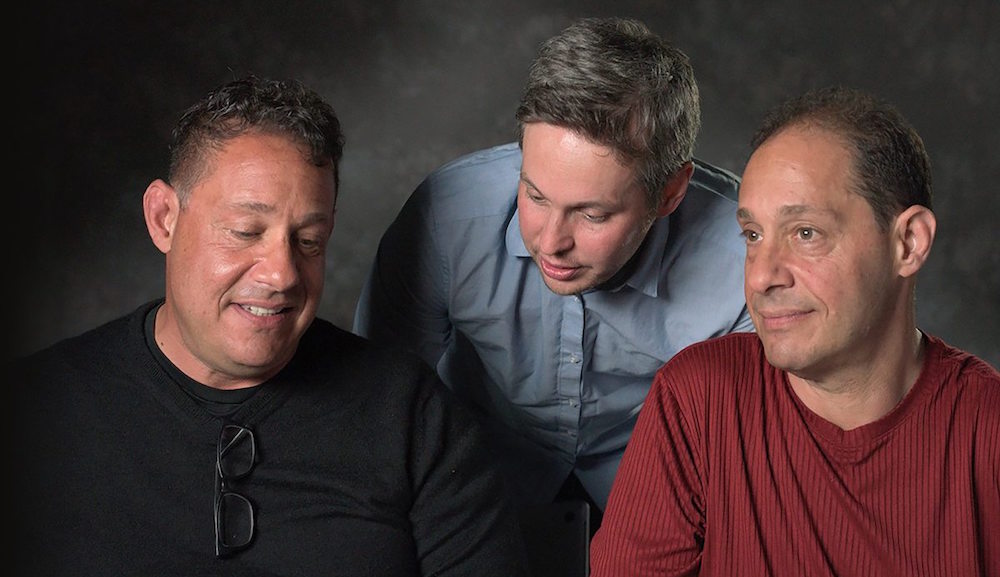 3. Three Identical Strangers
2018 was a great year for documentaries, and this one was sensational—a gripping real-life mystery that played out as tensely and dramatically as any superb piece of fiction. Director Tim Wardle lays out, piece by piece, the almost unbelievable story of three male triplets separated at birth and raised by different families without being aware of the others' existence. But when they do learn that they are brothers, that's only the beginning of an increasingly bizarre, tragic, and even frightening journey.
Three Identical Strangers constantly has surprises around each corner. Just when you think you understand where it's going, it ventures unexpectedly in a different and equally fascinating direction. A meditation on memory, loss and identity, it's equal parts funny, moving, painful, and chilling. It's also mesmerizing from start to finish.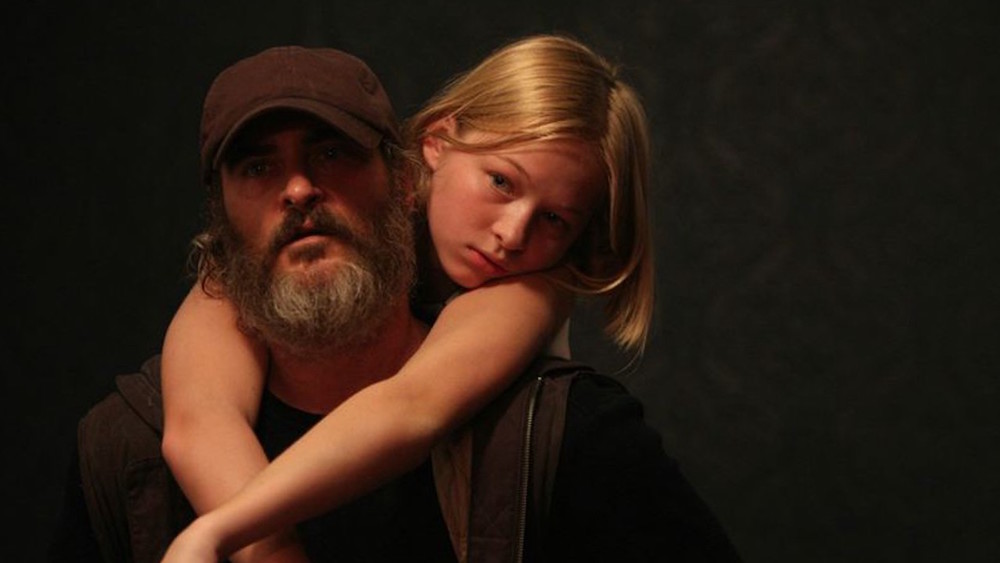 2. You Were Never Really Here
Joaquin Phoenix was mesmerizing in this brutally dark psychological thriller from director Lynne Ramsay, who delved into similarly grim territory with her last film, 2011's We Need to Talk About Kevin. Both movies dealt with children, but the evil teenage son portrayed by Ezra Miller in Kevin has been superseded here by innocent young girls forced into sex trafficking. Enter Joe (Phoenix), a deeply damaged veteran turned enforcer who rescues the girls and takes down their captors as viciously as possible.
futher reading: Jonathan Ames Talks You Were Never Really Here
Ramsay's eclectic style is perfectly suited to this adaptation of Jonathan Ames' novella, and her editing, music selection, and taut direction make the film as lean and intense as it possibly can be without making you pass out from holding your breath. Phoenix looks and sounds unhealthy, and his Joe is not a man you want to spend time with until you need him, and then you'd want no one else. He's an incredibly realized character in a stunning movie that more people should have seen.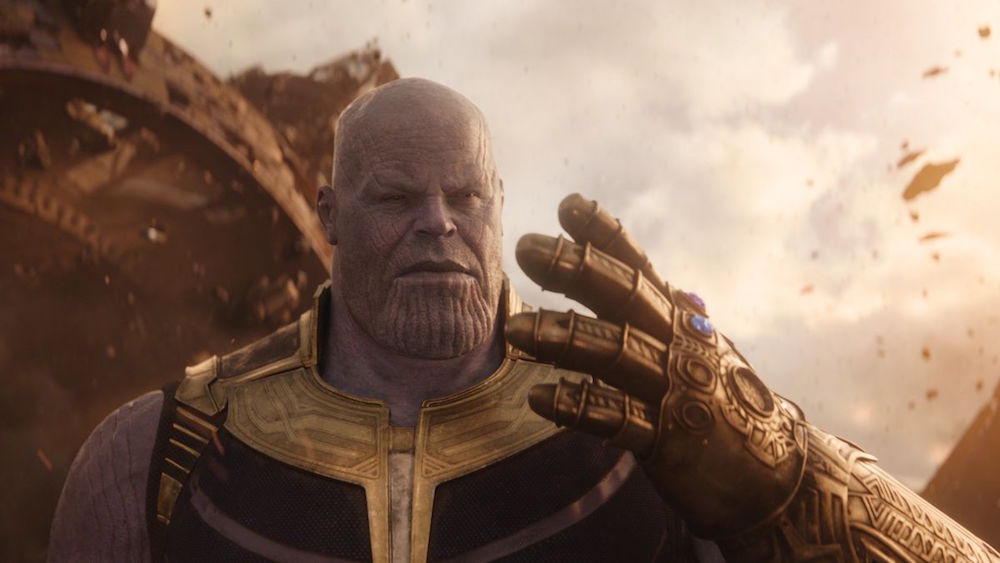 1. Avengers: Infinity War
Superhero movies regularly make my Top 10 (I'm not one of those critics who pretends he doesn't like the genre—although I do give it tough love quite often), but for the first time since 2008 when The Dark Knight topped my list, a comics-based film has become my favorite movie of the year. Avengers: Infinity War was an epic in every sense of the word—a cosmos-spanning saga with dazzling scope, a massive cast, a glorious space opera design (the Russo Brothers have made their most beautiful movie to date), and an elegantly written story in which the stakes were clearly laid out and truly momentous.
further reading – Avengers: Infinity War Reference Guide
It was the characters, however, where Infinity War excelled, and why Marvel keeps eating the lunch of its competitors. Making the villain of the piece, Thanos (an outstanding Josh Brolin shining through the mo-cap), into the protagonist was a brilliant conceit, but it was also affecting to see the heroes we've come to know and love over the last decade put to their greatest test yet. All the little character arcs—Thor's journey from grief and defeat to nobility and rage, the way Doctor Strange and Tony Stark's mutual contempt turned into respect and friendship—added emotion and resonance to a film that could have been a trainwreck. Kudos to all for pulling off an intelligent, thrilling blockbuster that many would never have imagined possible 10 years ago.
David Crow is the Film Section Editor at Den of Geek. He's also a member of the Online Film Critics Society. Read more of his work here. You can follow him on Twitter @DCrowsNest.
Don Kaye is a Los Angeles-based entertainment journalist and associate editor of Den of Geek. Other current and past outlets include Syfy, United Stations Radio Networks, Fandango, MSN, RollingStone.com and many more. Read more of his work here. Follow him on Twitter @donkaye