News
Halloween Kills Shifts to Day and Date Streaming Release on Peacock
Despite renewed confidence in moviegoing, Universal opts to move Halloween Kills to a hybrid release strategy with the slasher now premiering in theaters and on Peacock.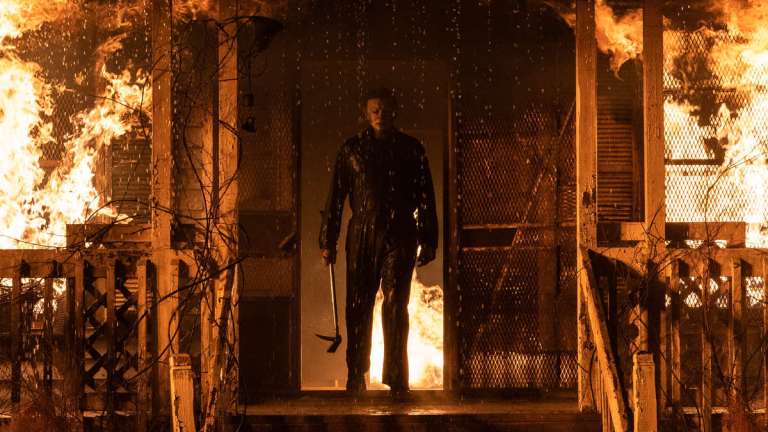 This is going to cut movie theater owners as deeply as, well, Michael Myers after he leaves the kitchenware aisle. Universal Pictures announced with little pomp or fanfare on Thursday that David Gordon Green and Jamie Lee Curtis' long anticipated follow-up to their 2018 Halloween reboot, Halloween Kills, will now premiere simultaneously in theaters and on the NBC-Universal streaming service, Peacock.
The shift does not mean Halloween Kills has been delayed again. In fact, it is now certain to open in theaters on Oct. 15. However, it will also be available for streaming (and presumably online piracy) on the exact same date. This development caught many industry watchers off-guard, particularly after Shang-Chi and the Legend of the Ten Rings beat all expectations over the long Labor Day weekend by earning $94.7 million in the U.S. alone. As indicated by this week's deluge of new trailers, confidence is back up in Hollywood about the willingness of moviegoers to return to theaters during an ongoing pandemic.
So Universal's seeming flinch for what is likely to be a sure thing appears strange at the moment. After all, this is the direct sequel to the last Halloween movie, which earned to $76.2 million in October 2018, and it's coming out in the heart of spooky season. Further there is a pent up demand for Halloween Kills among diehard fans who've already had to wait an extra year for the film, which was originally intended to open in October 2020 prior to the COVID-19 pandemic.
According to Deadline though, this has little to do with the pandemic or the threat of Venom: Let There Be Carnage, the superhero sequel that briefly moved in on Halloween's Oct. 15 date before moving again to Oct. 1. Rather the Peacock strategy is about "eventizing" the film's release, as per the trade. Which may be a fancy way of saying the company is trying to incentivize diehard fans to subscribe to the higher pay tiers of Peacock. To date, the new streaming service has failed to have many original adult-oriented films intended to entice subscriptions.
Yet one also cannot help but wonder if the rather muted reception Halloween Kills has received out of the Venice Film Festival also had a hand in the move. While only 15 critics have currently seen and reviewed the picture on the aggregate website Rotten Tomatoes, Green's second Halloween movie has had a decidedly less rosy embrace on the festival circuit after his first outing received a standing ovation at TIFF three years ago. And whereas that 2018 movie earned a final RT score of 79 percent positive reviews, Halloween Kills is debuting at a currently far more divisive 53 percent.
Then again, since when have fans of Halloween movies or any slasher cared what critics have to say? In any event, they'll soon be able to see the movie for themselves, and in the comfort of their own homes no less, when Halloween Kills gets to stabbing next month in the U.S. and UK.