News
Tenet Will Be Theatrical Release But Other WB Movies May Not, CEO Confirms
AT&T CEO John Stankey confirms Tenet will only have theatrical releases. Yet he leaves the door to streaming open for non-Christopher Nolan movies. Could this affect Wonder Woman 1984?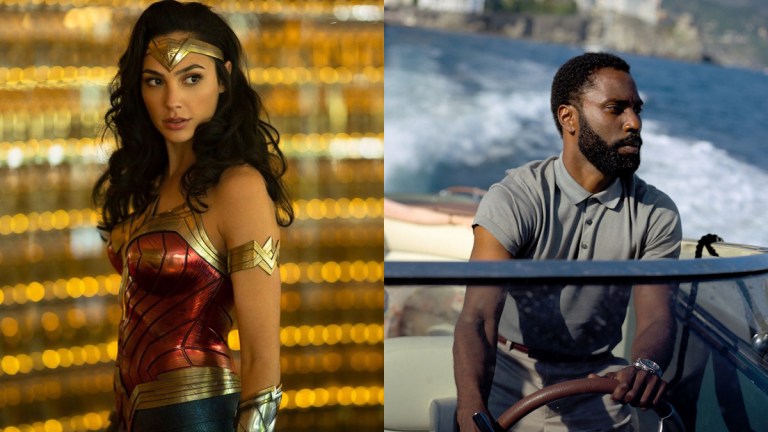 Tenet will be released in theaters. Eventually. While hardly shocking news, there had been some speculation this week after Christopher Nolan's Tenet abandoned its Aug. 12 release date (the third it's had scheduled) over just what Warner Bros. has planned for the time-bending epic. But though WB's previous announcement that the film would not enjoy a "traditional global day-and-date release" confirms the studio is intending to stagger its release around the world, AT&T CEO John Stankey is now making it clear that Tenet will have only a theatrical release… even if other delayed WB films may not.
The news comes out of AT&T's quarterly earnings conference call with investors on Thursday morning. Inevitably the question of AT&T's strategy for Warner Bros. Pictures came up, particularly for its scuttled summer 2020 blockbusters Tenet and Wonder Woman 1984.
When asked whether the Nolan film and Gal Gadot-led superhero movie might end up on AT&T's new streaming service, HBO Max, Stankey said, "I would be very surprised if that was the case." He went on to expressly state "that's not going to be the case" for Tenet. With that said, if the coronavirus pandemic endures for months to come, the CEO left the door open for the studio to explore different avenues of release.
Said Stankey "There is no question the longer this goes on, there is going to be some content [better served on HBO Max]. I love the fact that we have that option now."
This puts to bed the unlikely nuclear option we previously dismissed: that Tenet could have a theatrical release in international markets where the coronavirus pandemic is better under control while being released on VOD in the U.S. That always appeared far-fetched, because not only would it alienate WB's North American exhibition partners, but it would alienate Nolan himself who correctly views theatrical moviegoing as "a vital part of our social life." In fact, rumors are now swirling, including at reliable trade publication The Hollywood Reporter, that Tenet could have a theatrical rollout in some European and Asian markets as soon as late August while the studio would then plan to release the Nolan epic in the U.S. in September. But considering the complete failure of leadership on the national level to combat the coronavirus in the U.S., we find hoping for a good September to be close to magical thinking.
More intriguing though is WB viewing a VOD and/or HBO Max release to be a viable option for Warner Bros. films going forward if (and when) the coronavirus pandemic drags into 2021. While Stankey said it was highly unlikely that Wonder Woman 1984 would release on VOD before a theatrical run, he was not as emphatic about it as he was with regards to Tenet.
Nevertheless, the possibility of Wonder Woman 1984 having a VOD rollout appears exceedingly remote for the time being, if only because the movie has a chance to cross $1 billion and make more in a globally healthy market than Tenet. The first Wonder Woman movie (before the franchise established itself as a popular international brand) grossed more than $800 million in 2017, far beyond the reach of the last two original Christopher Nolan movies, Dunkirk and Interstellar. But then this assumes that anytime between fall 2020 and summer 2021 becomes a viable moviegoing season unlike the past five months of 2020.
Thus it's easy to wonder which WB releases Stankey seems to think a digital release could prove logical for. The studio previously released Scoob! straight to VOD, but that animated movie already had spent the majority of its marketing budget for a May 2020 bow, and lacked the high fan demand (or critical appeal) that a Nolan or Patty Jenkins film would likely generate.
Other finished or post-production films at WB include The Conjuring: The Devil Made Me Do It—which was just delayed to summer 2021 ostensibly to finish up a small amount of reshoots—The Many Saints of Newark, In the Heights, Godzilla vs. Kong, Those Who Wish Me Dead, and Denis Villeneuve's Dune reboot, which is also expected to go through reshoots that the pandemic is delaying. WB also has a Mortal Kombat reboot and The Suicide Squad sequel in post-production with release dates scheduled for next year.
So it seems Stankey has just given the greenlight for speculation about which could end up on VOD and/or HBO Max if infection rates in the U.S. grow.