News
Suicide Squad 2 Cast, Release Date, News, Story, and More Details
Suicide Squad 2 is called The Suicide Squad, features James Gunn writing and directing, and will arrive in 2021.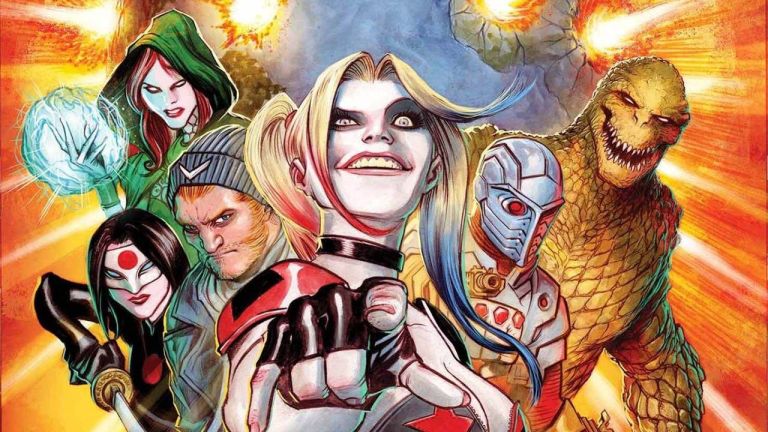 It looks like Suicide Squad 2 is a bigger priority for Warner Bros. than we thought. After the project failed to find momentum under director Gavin O'Connor and writer Todd Stashwick, the studio brought in Guardians of the Galaxy writer/director James Gunn to breathe new life into Suicide Squad 2. And it would appear he has. The sequel to the 2016 film now has a brand new title, The Suicide Squad, which would seem to indicate that they're looking to distance themselves a little from the first film. Understandable, as despite it's nearly $750 million global box office haul, it wasn't particularly beloved by critics, and appeared to be the victim of some hasty editing to counter the Batman v Superman: Dawn of Justice backlash.
But now with Gunn on board as both writer and director, The Suicide Squad will likely be a very different film. Hopefully, Gunn does something more than duplicate his Guardians success and delivers something more along the lines of the late '80s action movie with superpowers that the classic Jon Ostrander Suicide Squad comics were. 
Here's everything else you need to know about the movie:
Suicide Squad 2 Release Date
The Suicide Squad will open on Aug. 6, 2021. That August release date served both the first film and James Gunn's first Guardians of the Galaxy effort well, so this might be a safe bet. The full DC superhero movie release schedule can be found here. 
Suicide Squad 2 Cast
Deadline reports that this will feature a new group of villains. Previously, it was expected that at the very least, proven box office draws Will Smith and Margot Robbie would return as Deadshot and Harley Quinn, likely with Jared Leto's controversial Joker in place. But with the studio seemingly trying to distance itself from that version of the Joker, and Robbie's Harley Quinn taking a more central role in Birds of Prey, that may no longer be the case. What's more, Will Smith has departed the project due to "scheduling concerns" and has been replaced by none other than Idris Elba.
Check out the full cast listing revealed by James Gunn on Twitter. Yep, the filmmaker is bringing out the big guns while also confirming the likes of Doctor Who star Peter Capaldi and Takia Waititi are joining the cast… while also confirming Margot Robbie as Harley Quinn, Jai Courtney as Captain Boomerang, Joel Kinnaman as Rick Flag, and Viola Davis as Amanda Waller are back. Read the full list for yourself and note Guardians of the Galaxy alumni like Michael Rooker.
However, while Elba was initially on board to actually replace Smith as Deadshot, now it turns out that they're going to drop Deadshot from the script entirely and make Elba a new character, leaving the door open for Smith to return in a future movie. Alongside this news came word that Viola Davis will return as Amanda Waller, Jai Courtney is back as Captain Boomerang, and Joel Kinnaman may be back as Rick Flagg, as well.
But given that Harley Quinn is the most recognizable and marketable character in the Suicide Squad lineup, and the closest thing DC Films has to a Deadpool-type character, it's hardly a surprise they got her back as well. There are of course other characters we'd like to see introduced…and then perhaps dispatched in increasingly gruesome fashion.
Collider has word on who some of those other minor characters appearing might be. There will be a gender-swapped female version of Ratcatcher, King Shark (already familiar to fans of The Flash TV series), Polka-Dot Man, and Peacemaker. John Cena has joined the cast, and he might very well be playing Peacemaker. We have more details on that right here.
Variety reports that Daniela Melchor will play a genderswapped version of Batman villain Ratcatcher. Apparently, this version of the character "will have some connection" to the mystery character that Idris Elba is playing.
The Hollywood Reporter broke the news that David Dastmalchian will play Polka Dot Man, think of a guy who uses the "polka dot" theme to create weapons. THR says he will "lean into his embarrassment of his 'lame' abilities."
German comedian Flula Borg has an unknown role (via THR). We're sure he will survive the whole movie. 
Despite reports that James Gunn would be enlisting another of his Guardians of the Galaxy pals for a role in The Suicide Squad and that Michael Rooker was in talks to play King Shark (he's a shaaaaaaark!) in Suicide Squad 2, the actor then claimed it isn't true. That's a shame, as he'd be perfect for the part. Instead, Deadline reports that Steve Agee will voice the character.
The character of King Shark is (a shaaaaaaark!) a humanoid shark, so expect a fair amount of CGI involved…
The character of King Shark has recently appeared in live action (via considerable CGI) on The Flash TV series.
Speaking of James Gunn's friends, another one is set to joining The Suicide Squad. According to Deadline, Nathan Fillion (The Rookie, Firefly) has been added to The Suicide Squad cast. There's no indication on who he may be playing but Fillion previously provided the voice of an enormous alien inmate for Gunn's Guardians of the Galaxy.
Suicide Squad 2 Story
Earlier in development, The Wrap reported that Dwayne Johnson's Black Adam may get his introduction in Suicide Squad 2, indicating that the team's mission this time around will be to secure "a weapon of mass destruction," and that the weapon of mass destruction in question would be Black Adam himself. That's from a pre-Gunn version of the project, though, and the movie is now going in a completely different direction.
Instead, expect it to be far more in line with the sensibilities Gunn displayed in the Guardians of the Galaxy movies. The question, of course, is is Warner Bros. will follow their own Birds of Prey lead and lean into an R-rating for a violent group of misfits like the Suicide Squad. I'd also be curious to see if the movie takes any inspiration from Gail Simone's Suicide Squad-adjacent Secret Six title, which featured some slightly less expendable baddies and antiheroes in more ridiculous, humorous, and extreme situations than we usually saw in the Suicide Squad books. The excellent animated movie, Suicide Squad: Hell to Pay drew on some of that, and it might be a good starting point for a new film.
We'll update this with more information as it becomes available. 
Mike Cecchini is the Editor in Chief of Den of Geek. You can read more of his work here. Follow him on Twitter @wayoutstuff.
Read and download the Den of Geek Lost in Space Special Edition Magazine right here!