Features
Tenet: Could Christopher Nolan's Movie Leave the U.S. Behind?
Christopher Nolan's Tenet has been delayed again, but Warner Bros. seems committed to releasing it in 2020. Could that mean excluding North American markets?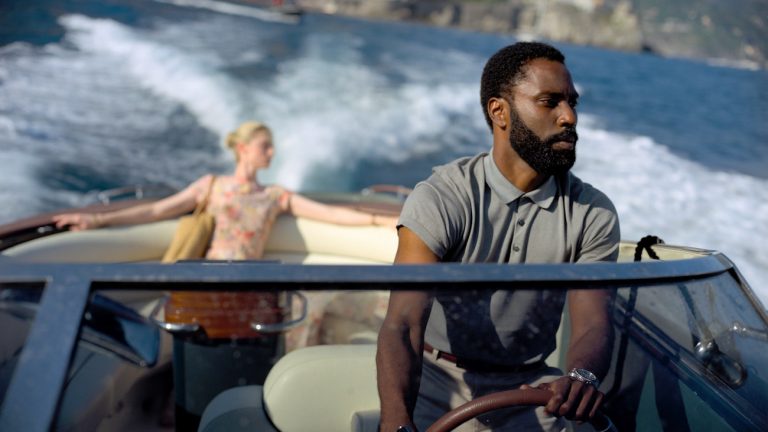 Christopher Nolan's Tenet is delayed. Again. In a media narrative that's depressingly familiar during the coronavirus pandemic, a major blockbuster was forced to move once more when Warner Bros. pushed Tenet off its scheduled Aug. 12 release to dates unknown. This was, of course, the responsible choice due to the recent skyrocketing of COVID-19 infection rates in the United States. But it also marks the third time Nolan and WB were thwarted in reviving the theatrical moviegoing experience.
Yet despite the seeming inevitability of major studios abandoning movie theaters for potentially the rest of 2020, Warner Bros. has signaled it is committed to opening Tenet this year, even if it means changing our traditional understanding of what a blockbuster opening is supposed to be.
"We will share a new 2020 release date imminently for Tenet, Christopher Nolan's wholly original and mind-blowing feature," Warner Bros. chairman Toby Emmerich said in a statement yesterday. "We are not treating Tenet like a traditional global day-and-date release, and our upcoming marketing and distribution plans will reflect that."
With the emphasis on "global day-and-date release," WB appears to signal at least one of several things, none of which are ideal for North American movie exhibitors. The first obvious implication is that WB (with possibly Nolan) is considering opening Tenet in international markets while keeping the film delayed indefinitely in the U.S. This is apparently already something WB previously toyed with, as a report out of Vulture teased. According to unnamed sources, "Nolan and Warner executives discussed releasing the film internationally ahead of the North American rollout."
This would be a bold decision with a certain utilitarian logic. Foreign ticket sales are expected to make up to two-thirds of Tenet's global cume. After all, international ticket sales accounted for over 65 percent of the grosses seen by Inception and Dunkirk, and more than 72 percent of Interstellar's final haul. Operating on the assumption—and it's a very big assumption right now—that international territories will continue to fare better during the coronavirus pandemic than the rudderless U.S., and somehow even improve during the fall's flu season, then Tenet could gross a large percentage of what it might've made before the pandemic while not waiting on the U.S. to actually implement a cohesive national strategy against the virus.
Consider that major European markets like Germany and France began reopening theaters in May and June, as did Japan and Australia. England, meanwhile, started its own slow rollout of cinemas reopening at limited capacity just over two weeks ago. If these trends continue (again if), then potentially staggering Tenet's release to the markets that are open while leaving it out of reach for closed territories might be a shrewd financial choice.
However, this idea was previously considered for the Aug. 12 date before Tenet got pushed, and there are several major red flags that would've prevented it then and now. The first and obvious problem is the threat of piracy. One of the reasons for increased day-and-date global releases for major blockbusters is that if a movie opens in China in April and is pirated there immediately, then it will have already been seen by potentially tens of thousands of customers in the U.S. if it were to open in June. So if Tenet opened in Europe and parts of Asia in 2020, then it would most certainly be extensively pirated in North America before a 2021 release date.
Additionally, Nolan reportedly rejected the idea of keeping Tenet in international markets in August while leaving North American theater chains high and dry. According to Vulture, the filmmaker wanted to stick with all theaters owners in this time of economic crisis. Hence Nolan (correctly) arguing for the importance of moviegoing in everyday American life. He wrote in The Washington Post early on in the pandemic that, "Regular people, many paid hourly wages rather than a salary, earn a living running the most affordable and democratic of our community gathering places."
A proponent of viewing cinema as "a vital part of social life," Nolan was wary of abandoning North American theaters in an effort to save international revenue. This exact conversation is very likely ongoing at Warner Bros. right now. But with Emmerich's insistence that a new release date is imminent, and that the studio has already opted to "not treat Tenet" like a typical blockbuster release, the studio appears to be drifting toward a staggered international release.
With that said, there could be even one more extraordinary solution WB might consider in an attempt to mitigate domestic theater exhibitors' ire and fight off the threat of piracy: the studio could release Tenet in theaters internationally and domestically—as some theaters are still opening in the U.S. in July and August—while also providing the safer option of also premiering Tenet on VOD for those who do not wish to go to theaters. Similar to how Universal released Trolls World Tour and The King of Staten Island on VOD during their original theatrical release windows, or how WB also rolled out Scoob, Warners could dare to put Tenet on VOD while also opening it in actual brick and mortar theaters, thereby easing some tension with trade groups like the National Association of Theatre Owners.
However, this is an extreme long-shot. First this would antagonize North American exhibitors who have been bleeding money throughout the pandemic. AMC Theatres alone has threatened to boycott all Universal Pictures movies due to how the studio announced Trolls breaking the theatrical window without warning its exhibition partners, and since suggesting Universal will pursue more VOD releases for movies where it's deemed profitable. But then AMC Theatres is potentially on the verge of bankruptcy and now has no Tenet or Mulan at the end of summer to mitigate loss.
Arguably an equally big risk though is alienating Nolan, who was eager to keep Tenet on its original July 17 release date well before the movie had been moved once. While a true day-and-date release (as opposed to Trolls 2 pretty much only becoming available on VOD) might give the most enthusiastic cinephiles the opportunity to see Nolan's latest visual symphony on the big screen, it would do little to actually aid the theater owners he wants to save, or at least offer a momentary respite from the economic hardship of the present. And more than any studio, WB has been known for decades as the filmmaker-friendly home to Hollywood auteurs, nurturing career-spanning relationships with the likes of Stanley Kubrick, Clint Eastwood, Ben Affleck, and, yes, Christopher Nolan.
For these reasons, it seems more plausible Tenet would just be delayed indefinitely in the U.S.—or that it moves along with international markets onto a new date like, say, Dec. 13, 2020 (when WB's Dune is currently slated). It just might then be quietly moved off that date while certain international cinema owners can get some much needed relief in time for the holidays. Meanwhile WB will have to make similar hard decisions about Wonder Woman 1984. But since that movie is a potential billion-dollar earner in a healthy moviegoing environment, and doesn't have a director putting the fate of cinemas on his shoulders, I would imagine we're all in for a very long wait on that one.
In any event, the fact WB is grappling with this question just adds new clarity to the dire situation in the U.S. where magical thinking at the federal level has led to a global superpower being potentially left behind by the rest of the developed world.