News
Dune Reshoots Confirmed by Rebecca Ferguson
Director Denis Villeneuve's Dune will, as a recent report claimed, start reshoots soon in Budapest.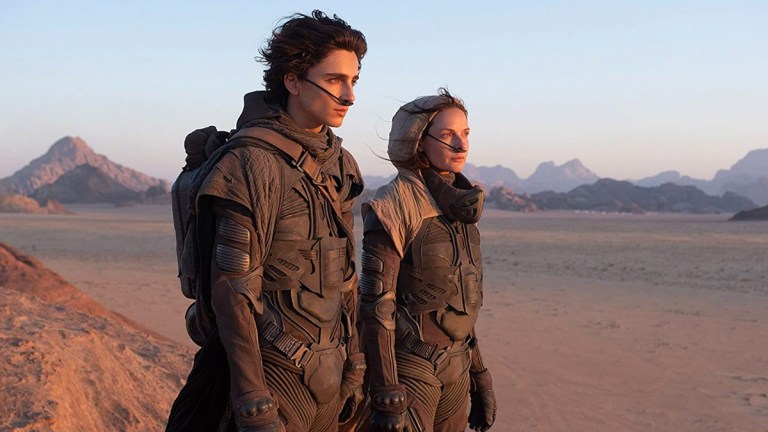 Dune's desert planet of Arrakis will soon resume its sandy cinematic spice wars. That's because director Denis Villeneuve's packed-cast remake movie of author Frank Herbert's novel will once again roll cameras in Budapest, Hungary for reshoots; a notion that was reported back in June, but has just been confirmed.
Rebecca Ferguson, who plays Lady Jessica in the film (the role played by Francesca Annis in director David Lynch's 1984 version), has put the stamp of veracity on the reshoots, revealing that they are officially returning to Budapest, set to pick up additional shots. It's a practice that is hardly out of the ordinary, likely designed to fill continuity gaps and add footage that better emphasizes ideas. However, Ferguson stops short of confirming the reported August timeframe, instead just vaguely states that the production will head back to Budapest "soon."
This is an intriguing development in the process of the Dune production, which started rolling cameras in locations in Budapest and Jordan back in March 2019; an event that studio Warner Bros. proudly heralded in a press statement. Bearing a surreal lineup of cast members headlined by Oscar nominee Timothée Chalamet as protagonist Paul Atreides, this Dune remake (not to be confused with the 2000 Sci-Fi Channel remake miniseries,) was touted as one of the most ambitious cinematic endeavors in recent years, and—in an equally heralded event—wrapped principal photography that July, thusly rendering the reshoots a return to a project that's been in post-production for over a year.
Interestingly, as Villeneuve's Dune is set to go back into production, its pre-pandemic-set release date of December 18 still stands. Depending on the extent of the reshoots, it's still possible that the film could still make that release date. Indeed, such a scenario would put the film in an opportune position regarding the current COVID-locked state of the film industry, since it might (emphasis on "might,") make it past the pandemic hump, ready to be embraced as a much-needed event at theaters, a place from which moviegoers will have been barred for the better part of a year.
Of course, the strategy of holding tight to a release date is a gamble that's all too familiar to those who have been following the news cycle exploits of—Dune's Warner Bros. studio cousin—director Christopher Nolan's Tenet, which had obstinately held onto its long-set July release date until it became clear that COVID wasn't going anywhere, resulting in multiple release date shifts, the most recent of which just occurred earlier this week. Yet, just as with anything else in the civilized world right now, Dune's fortunes are directly tied to the state of the health crisis, which, by December, could very well have the necessary breakthroughs required for its release at theaters.
Nevertheless, Dune continues to be one of the most unique tests for a filmmaker; one that director Denis Villeneuve tackles, having conjured 2017's well-regarded, but under-performing sequel Blade Runner 2049, acclaimed Oscar-nominated 2016 sci-fi drama Arrival, along with films like Sicario, Enemy and a dark dramatic breakthrough with 2013's Prisoners. Yet, whenever Dune does ultimately arrive (and on whatever platform that might be), it will brandish one of the most impressive casts ever, with star Chalamet joined by the likes of the aforementioned Rebecca Ferguson, Oscar Isaac, Josh Brolin, Stellan Skarsgård, Dave Bautista, David Dastmalchian, Zendaya, Stephen Henderson, Charlotte Rampling, Jason Momoa, Javier Bardem and Chang Chen. – Wow, right?
Dune, as mentioned is currently scheduled to be released on December 18.