News
Suicide Squad 2 Full Cast and Character Lineup Revealed at DC Fandome
We finally know who's playing whom in James Gunn's The Suicide Squad!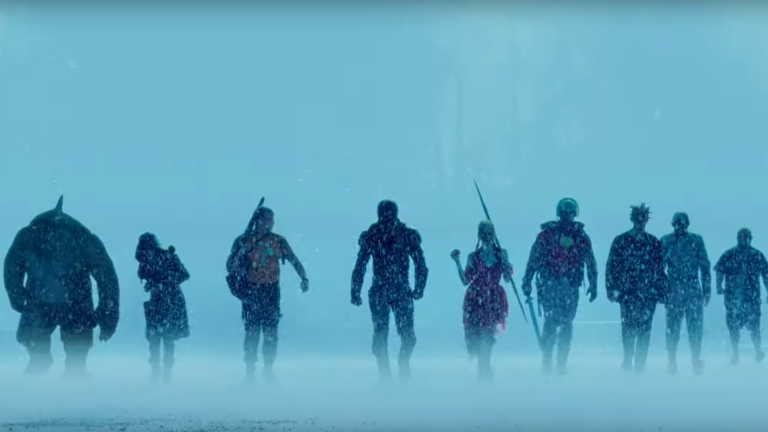 At DC Fandome's panel for The Suicide Squad, Warner Brothers and the crew of the movie finally revealed all of the returning characters for the upcoming movie, and I still can't believe we're finally getting big screen Arm Fall Off Boy. Also Harley Quinn is back.
Returning from the first movie are several characters: Harley Quinn, played almost perfectly (twice!) by Margot Robbie; Boomerang gets to be a Captain in this movie, played by Jai Courtney; Viola Davis' Amanda Waller; and Joel Kinnaman's Rick Flagg. But it's the new cast members who are big surprises.
Check out this stylish video revealing who everybody's playing. It's pretty great. Then we'll help explain who is who.
John Cena joins the movie as Peacemaker. We'll have more on him soon, but he's a Captain America-type heavily involved in the super spy agencies of the DC universe.
Idris Elba will be playing Bloodsport. Based on the news that he starts the movie in prison for shooting Superman, he's probably the first Bloodsport, Robert DuBois. Dubois becomes a violent vigilante tricked by Lex Luthor into believing Superman was his enemy. He has a teleporter, kryptonite bullets, and a mental breakdown because his brother took his place in Vietnam and came back a quadruple amputee.
We wrote more about Bloodsport here.
Peter Capaldi will be playing The Thinker. You probably recognize him as the main villain from season 4 of The Flash, a genius with a "thinking cap" that gives him limited telekinesis. He also had a notable run in with Weasel, a serial killer played by Sean Gunn, who in the comics was sort of killed by Rick Flagg and the Thinker on a mission for the Squad. 
Steve Agee plays King Shark. Agee's typical delivery probably means he's probably going to hew a little closer to Ron Funches' voice portrayal of the character from Harley Quinn than the ferocious man eater he can be in the comics from time to time.
Mayling Ng plays Mongal, the daughter of alien conqueror Mongul. She's a lot of brute strength and a medium amount of cunning.
Javelin will be played by Flula Borg. Javelin's claim to fame is…throwing…javelins look it's not terribly complex. He was a frequent member of the Squad in the comics, dying almost every single time he was on the team.
Daniela Melchior plays Ratcatcher 2, a pied piper villain who uses her mastery and control of rats to rob a bunch.
David Dastmalchian will be Polka-Dot Man, a burglar with a costume covered in weaponized dots. He was a pretty terrible Batman villain who was also seen as a member of the Squad in an Injustice 2 tie in comic a few years back.
Pete Davidson will be playing Blackguard. Blackguard has energy weapons given to him by a shady criminal organization. He's not particularly smart, gets his ass beat by Booster Gold on the regular, and his real name is Dick Hertz. He's got nothing going for him.
Michael Rooker plays Savant. In the comics, Savant is a sort of foil to Oracle – he's a computer whiz who comes into regular conflict with the Birds of Prey. He's also hardcore trashy old money.
Alice Braga is playing a character that I can't find anything about – Solsoria. We don't know anything about her yet, but it's a safe bet she's based on someone obscure and terrible and will be a breakout hit.
And finally, the breakout star of Superman's Pal, Jimmy Olsen (besides Kevin), Arm Fall Off Boy, played by Nathan Fillion. Sure they're calling him "TDK," but he's doing classic Arm Fall Off Boy moves, and his logo has two detached arms crossed. Arm Fall Off Boy's powers are exactly what it says on the label: his arms can detach and he can beat you to death with them. He's originally a Legion of Super-Heroes character who has migrated back to the 20th century whenever comedy needed him. He is almost certainly dying in the first 10 minutes of the movie.
There are a lot of characters with interesting histories, and several spy agencies represented among this cast. Is The Suicide Squad going to be a rough adaptation of "The Janus Directive," a big crossover between Suicide Squad, Checkmate, and Manhunter from the Squad comic's heyday of the '80s? It certainly seems like the espionage corner of the DCU is getting some light shone on it.