News
Superman's Pal Goes On The Attack in Jimmy Olsen #10
Superman's Pal Jimmy Olsen is back and we have an exclusive first look for you.
God I missed Jimmy Olsen.
We got our hands on an advance copy of Superman's Pal, Jimmy Olsen #10, the first post-lockdown issue of Matt Fraction and Steve Lieber's blazingly smart, brutally funny hit series. While there was no expectation that an issue that was probably mostly in the can before everything shut down would feel any different, it's still comforting to slip back into this insanely silly world to find it exactly as it was left: there are a couple of bits in here that are the funniest things I've read in eight to ten weeks.
But for all the Kevins that need avenging, what really sets this book apart is the attention to detail by the team. There are so many little touches to the way the story is told that make this a superlative comic reading experience. The best non-gag touch of the entire issue is on the first page, when Lieber and Clayton Cowles (the incredibly talented letterer for this book and approximately a billion others) use a mock garbage bag logo in a word balloon to show that Jimmy's wearing a trash bag as a poncho. Without that, it would have slipped by as just a raggedy sweater vest, but it turns out that's a fairly important piece of the ambience. Later, Cowles again toys with some fonts – every time a hero name or the title of the book gets used, the appropriate logo is dropped in the word balloon, except when Janie Olsen (Jimmy's sister) gets muffled mid- "Superman's Pal." Cowles uses the logo font to incorporate the "mrfff*" of having her mouth covered. 
These are little touches that add up with the big, hilarious setpieces and lightning quick gags to make Superman's Pal Jimmy Olsen one of the best comics on stands today. The plot is still amazingly complex, and this issue is particularly revelatory both in how it starts to pay off the story and how it starts to show you how the magic of short, out of sequence stories all fit together. And I'm not kidding when I tell you the last four pages are among my favorite four pages of comics ever. Here's what DC has to say about the book.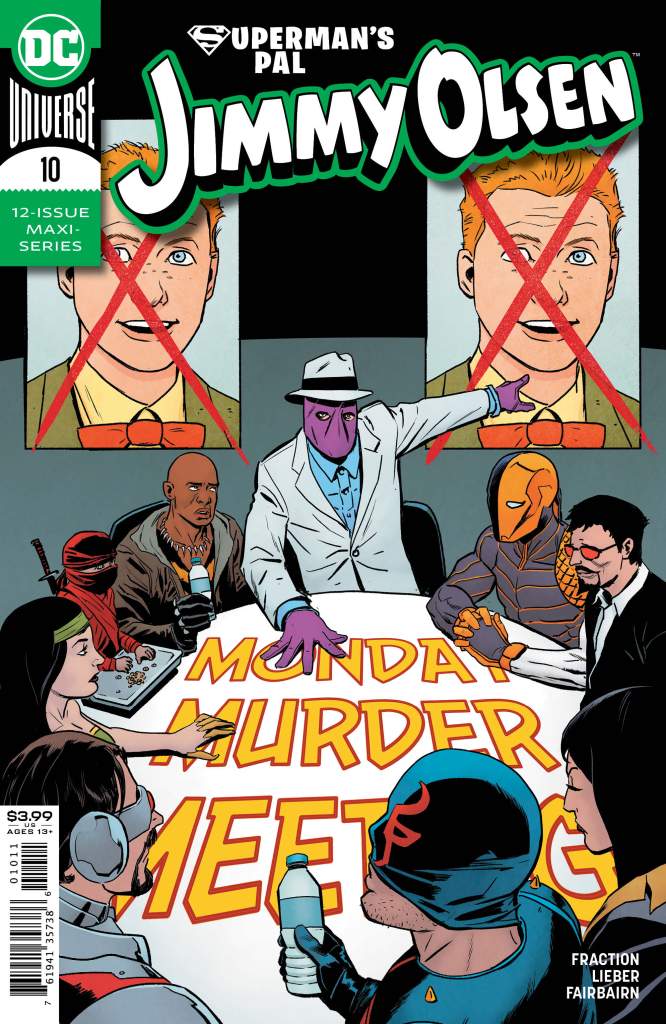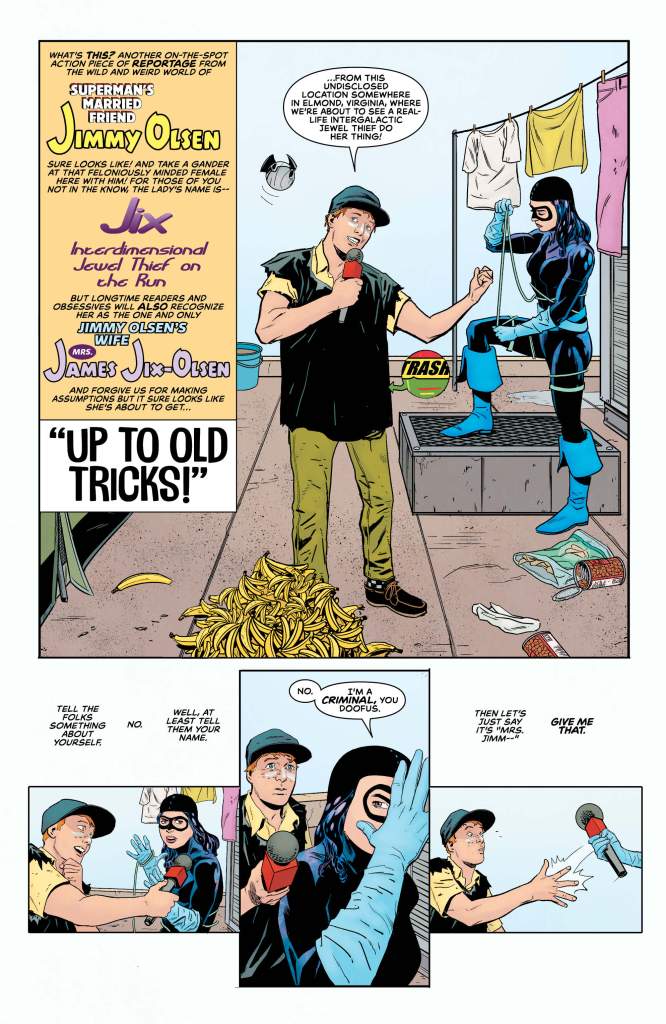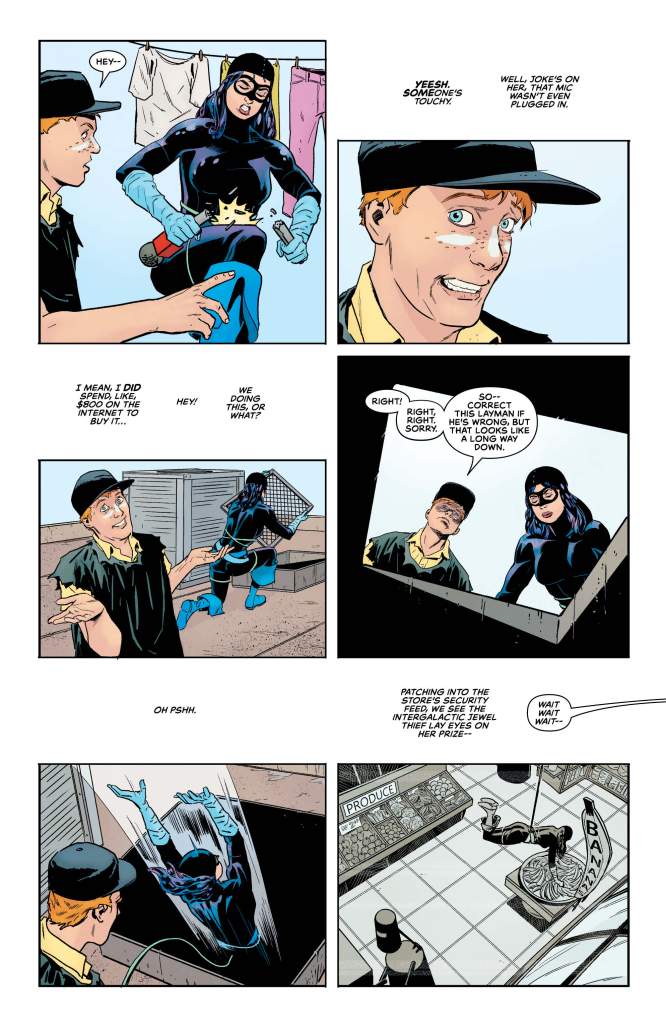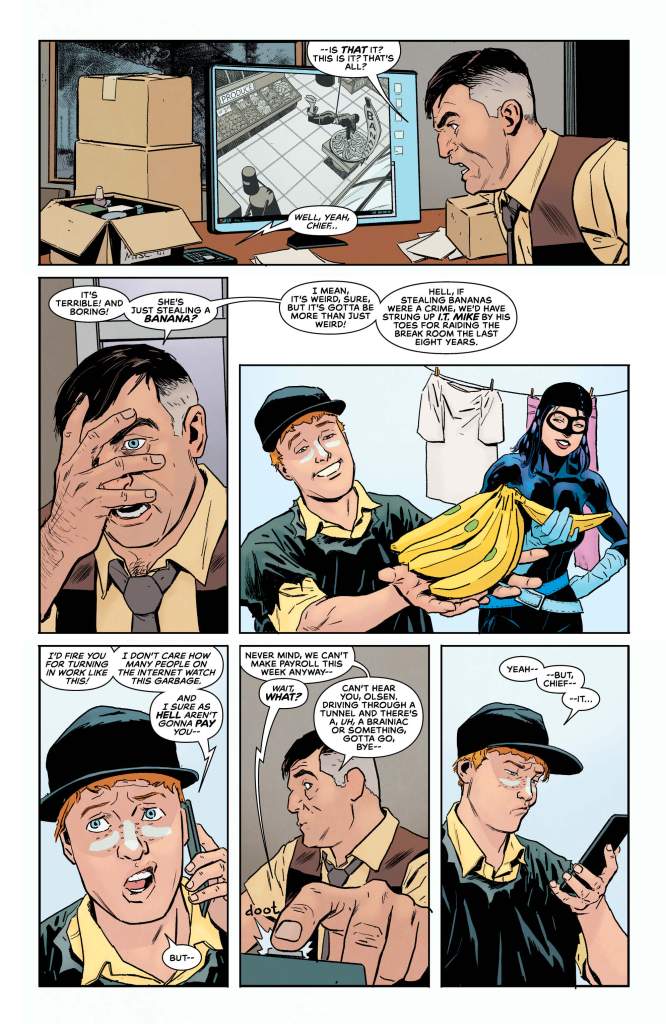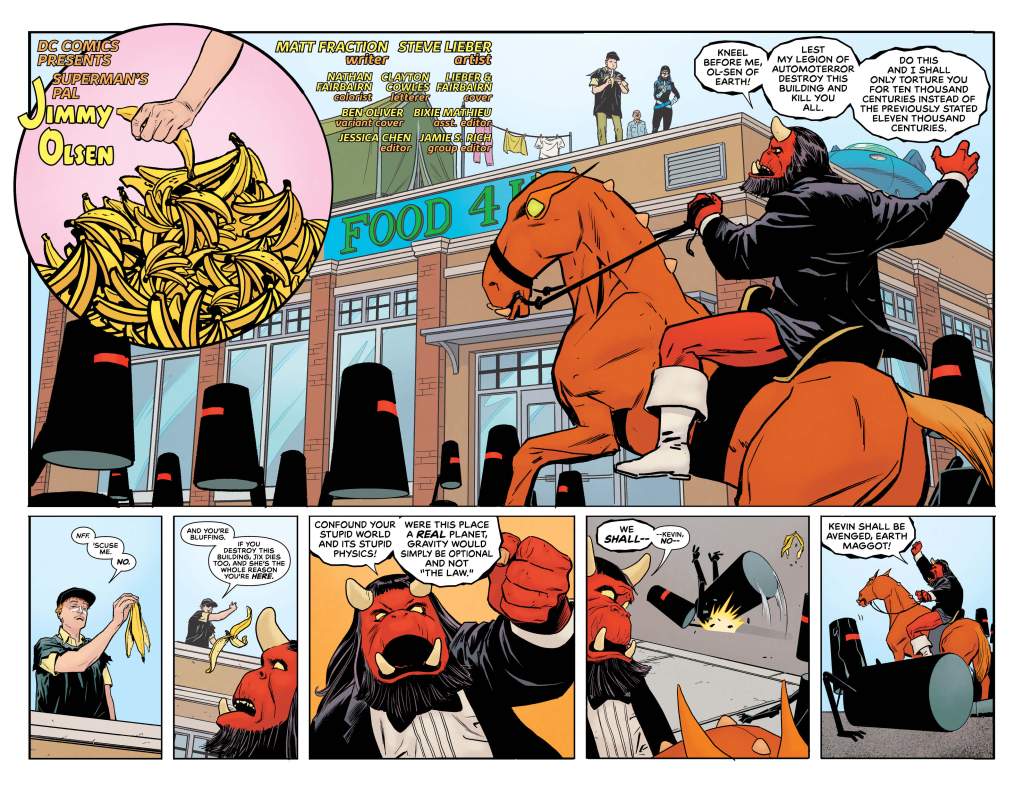 SUPERMAN'S PAL JIMMY OLSEN #10
written by MATT FRACTION
art and cover by STEVE LIEBER
variant cover by BEN OLIVER
Jimmy continues his world tour, risking his life for more of your sweet retweets, likes, and faves! Plus, the mastermind behind Jimmy's assassination is revealed… and the insidious secret he's willing to kill for will upend everything everywhere forever, assuming by "everything" you mean "everything in the pages of just this comic." Also…you've heard of Arm-Fall-Off-Boy? Get ready to meet the entire Fall-Off-Family. What connection do they have to all this nonsense? Probably not much, but hey, you never know.
For more on the Fall-Off Family, Jimmy, Janie, Julian, Jix or the rest of the Olsens, stick with Den of Geek!