News
Star Wars Just Canceled Another Movie Project
Kevin Feige's Star Wars movie is no more. How did we get here?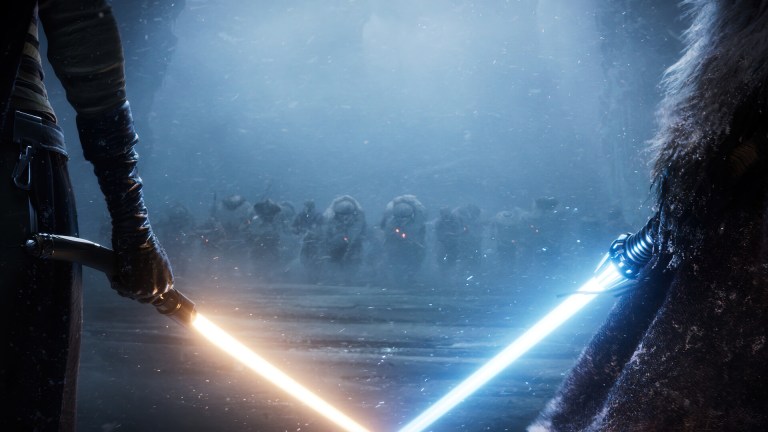 Marvel Studios boss Kevin Feige has put the final nail in the coffin of the high-profile Star Wars movie he was developing with Loki and Doctor Strange scribe Michael Waldron. When asked at The Marvels premiere whether the film was still happening, Feige told ET, "No."
We are talking to Kevin Feige at 'The Marvels' premiere in Las Vegas and all of our questions we answered!!#TheMarvels pic.twitter.com/BPSPSGDwlS

— Entertainment Tonight (@etnow) November 8, 2023
This puts an end to months of speculation about whether the movie had been shelved. Rumors of the project's cancellation swirled in April after this year's Star Wars Celebration event. While Lucasfilm president Kathleen Kennedy took the stage to confirm work on a new Rey movie, a New Republic film directed by Ahsoka showrunner Dave Filoni, and a Jedi origin epic from Indiana Jones and the Dial of Destiny director James Mangold, Feige and Waldron's project was curiously absent despite being previously announced by former Disney chief creative officer Alan Horn in 2019.
"With the close of the Skywalker Saga, Kathy is pursuing a new era in Star Wars storytelling, and knowing what a die-hard fan Kevin is, it made sense for these two extraordinary producers to work on a Star Wars film together," Horn said in a statement to THR at the time.
But in an interview in April, Kennedy refuted that Feige and Waldron ever actually started work on a Star Wars movie despite Waldron confirming to Den of Geek in 2022 that he was in the process of penning the script: "It's coming along, it's nice to have some time to focus on it. And it's fun to get to do something that feels fresh and original, and I'm excited to work with Kevin again, and with the team at Lucasfilm. And I love Star Wars. So it's a blast."
While Feige didn't elaborate as to why his Star Wars movie wasn't moving forward, Puck's Matthew Belloni speculated in April that dysfunction within Disney's ranks could prevent the project from moving forward.
Citing sources familiar with the situation at Lucasfilm, Belloni reported that "Kathy was never enthusiastic about the Feige project," speculating that the fate of the project would come down to how it would look if Feige succeeded in his Star Wars ventures during a time of great turbulence on the film side for Kennedy. "Even after some recent Marvel stumbles, Feige is by far the most powerful creative executive at Disney. His success in Kennedy's sandbox would be hugely embarrassing for her, especially given all the problems on the Star Wars films."
Feige and Waldron's movie now joins a growing list of canceled big-screen Star Wars projects. That list also includes a Jedi origin movie from Game of Thrones creators David Benioff and D.B. Weiss, Patty Jenkins' Rogue Squadron, and a film from Devotion director J.D. Dillard. In 2017, Lucasfilm also announced a trilogy of new Star Wars films to be helmed by The Last Jedi director Rian Johnson, but the studio has yet to move forward on that project.
Check out the full slate of upcoming Star Wars movies and TV series here.