News
Jamie Foxx to Return as Electro in Spider-Man 3 for Some Reason
Yes, you read that right. Jamie Foxx will play Electro again in Marvel and Sony's Spider-Man 3.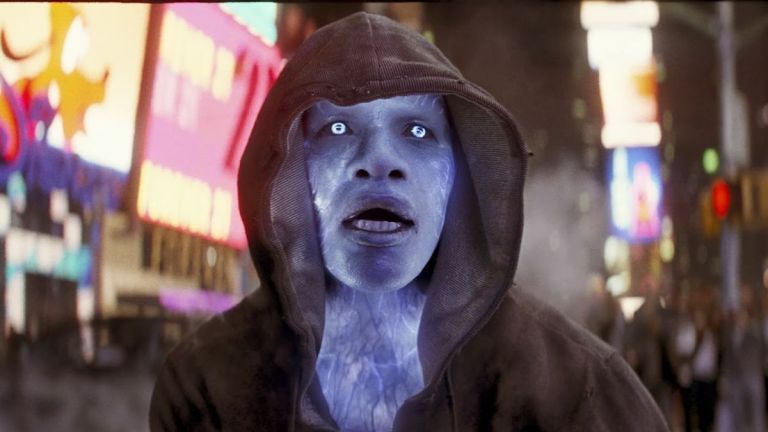 Jamie Foxx has been cast as Electro in Sony and Marvel's still-untitled Spider-Man 3. (checks calendar) Nope, it says October 1st and not April 1st, so this is legit. THR broke the perplexing news.
Foxx previously played the role in the dismal The Amazing Spider-Man 2, a movie so loathed that it not only forced another reboot of the franchise (despite the fact that a third film and a Sinister Six spinoff had already been given release dates) but also brought Sony and Marvel Studios to the negotiating table to allow them to "share" Spidey with the MCU, a historic, unprecedented move at the time. The Amazing Spider-Man 2 was an exercise in all the worst elements of studio-think and shared cinematic universe building, one that learned all the wrong lessons from the MCU. It's so bad that Foxx's dreadfully overacted and cartoonish Electro is rarely even the first thing cited when discussing its multitude of sins.
So why would Foxx return to a role that nobody particularly loved him in in the first place? The most likely explanation would seem to be that Sony is going to lean into the multiverse approach that they took with the masterful Spider-Man: Into the Spider-Verse, in which all versions of Spidey continuity were essentially made canon.
Don't be surprised if Foxx isn't even a major player this time around, or if we get other (better) villains from other (better) Spider-Man movies showing up too. This writer could certainly do with seeing Alfred Molina's Doctor Octopus again, for example. Perhaps Sony is finally going to put together their long promised Sinister Six, but instead of exclusively using villains from their recent films, they'll bring together baddies from various incarnations of the franchise.
Could we see Michael Keaton's Vulture fight side by side with Tom Hardy's Venom, Jared Leto's Morbius, Foxx's Electro, and maybe a couple of villains from the Raimi films? Who knows? Clearly there are no rules! After all, Sony allegedly still has plans for a Sinister Six movie at some point.
Spider-Man 3 is currently scheduled to open on Nov. 5, 2021. However, that date is also currently occupied by Marvel's recently delayed Eternals movie, which means Spidey is likely gonna have to swing into December, or more likely if cameras don't start rolling soon (it's scheduled to begin filming in Atlanta in fall, but these days…who knows) into a more traditional summer 2022 release date. Jon Watts will once again be in the director's chair, and the delightful supporting cast of Peter Parker's high school pals will hopefully return as well.
The full schedule of upcoming Marvel movies can be found here.