Features
Superman & Lois: The New Villains, the Horny Season Premiere, and the Best DC Easter Egg
We dive deep into the Superman & Lois season 3 premiere with showrunners Brent Fletcher and Todd Helbing.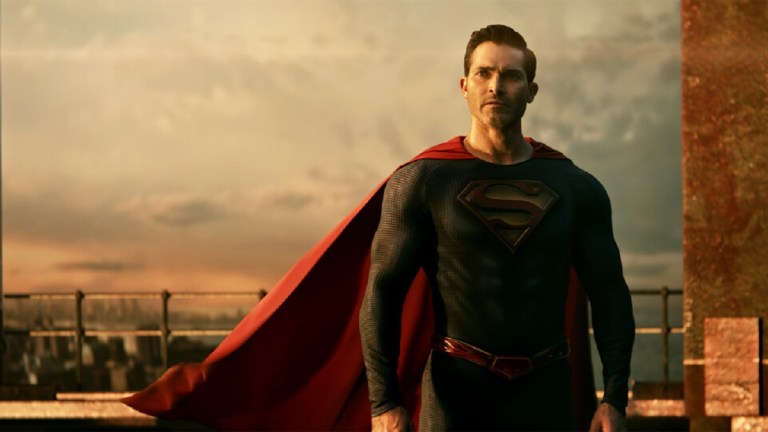 This article contains Superman & Lois spoilers.
Superman & Lois Season 3 Episode 1
At a time when the movie and TV DC Universe is rapidly evolving, it's refreshing to find that Superman & Lois is, right out of the gate, as good in its season three premiere as it was all through its freshman and sophomore years. And that first episode, "Closer," picks up just a few short weeks after the spectacular season two finale, just in time for Jonathan and Jordan Kent to celebrate their 16th birthdays, and for new threats to begin rearing their heads, including a resurgent (and suddenly superpowered) Atom-Man, the mysterious and deadly Onomatopoiea, and a character with deep ties to one of the greatest creators in comics history: Jack Kirby.
And amidst everything else in that season premiere is just how, well, horny Lois and Clark are for each other. It's part of a refreshing trend in their relationship both onscreen and on the comics page, where these two are clearly still very much in love. Readers of Phillip Kennedy Johnson's Action Comics have certainly noted the pair's penchant for sneaking off above the clouds for intimate moments (not to mention some…other stuff). Superman & Lois leans into all of the fun this episode, as well.
"What's what's awesome to us about them as a couple is they're a great couple," Superman & Lois co-showrunner Brent Fletcher tells me. "And so their chemistry for each other is part of that, and we wanted to give the audience a taste of that, especially after all that we put them through the last two years."
It helps that Jonathan and Jordan are a little more independent now, which gives the pair more time to be together.
"The boys just turned 16, they're settling in to Smallville and, sometimes in a marriage, you don't get as many opportunities to just be who you were before being parents," co-showrunner Todd Helbing says. "And now the boys are starting to do their own thing. They have friends, they want to go out, Jon gets his license. So there's more opportunities for them to fall back into being the two people that they fell in love with. We want to explore that."
And while "Closer" is often a fairly low key episode, pretty much when you start to notice exactly how chill the proceedings have been is when a spectacular superpowered fight breaks out between Superman and Atom Man (remember him?).
"It's the challenge of the show to be stories from the emotional perspective first," Fletcher says. "What's going on with our characters? What's the journey for this episode? And then then we'll talk about plot, and we'll talk about what kind of spectacle they're going to deal with. It's trying to find the right measurements for both and what works together to be satisfying. What we think we provide on this show is you get a little bit of everything: you get serious drama, you get action, spectacle, superhero stuff, and some humor. And I think there's a sense of hope underneath all of that. I think that's maybe what maybe separates us from a lot of other things on TV."
THE NEW VILLAINS: BRUNO MANNHEIM AND ONOMATOPOEIA
Anyone who watched the eary episodes of the first two seasons probably knows that this show loves to tease you with its villains, and quite often the ones we think we're meeting early on end up being either radical new interpretations, or different characters entirely. This season introduces us to Bruno Mannheim, a character who is a deep cut from the comics, but who may be familiar to fans of Superman: The Animated Series, and Onomatopoeia, an arguably even deeper cut from the comics (and who makes a surprisingly cool visual on the TV screen). And while Onomatopoeia's identity is being kept deliberately obscure, it doesn't sound like we're in for the same kind of surprises as in previous seasons, but surprises await, nonetheless.
"I think there's always going to be an element of mysteries and turns just to keep people interested," Helbing says. "But is there a guy that's showing up in a steel suit who turns out to be John Henry Irons and not Captain Luthor? That kind of stuff, probably not in the same way for sure."
Chad L. Coleman (The Orville) is bringing Bruno Mannheim to life. Mannheim was one of the first characters the legendary Jack Kirby created for DC when he moved there from Marvel in the early 1970s, and Mannheim's arrival was part of Kirby's sprawling, sci-fi mythology known as the Fourth World, which, among other things, introduced cosmic villain Darkseid to the DC Universe. Of course, the showrunners wouldn't say much about what to expect from future episodes in that regard.
"Kirby is such a legend that you've got to have a story that earns putting [his characters] into your show," Fletcher says. "And we felt like it's a big story for us. This arc with Mannheim and how it intersects with Lois and Clark is probably it's the biggest story we've told on the series. So we felt that was the character to bring in and to do it and then to kind of put our stamp on it."
While we'll have more on this new interpretation of Mannheim next week, the final scene of the episode does contain a wonderful, even hilarious reference to Kirby's Fourth World saga. As Mannheim and his mad scientist operatives experiment on Atom Man's corpse in an underground lab, we see that this was built in the "Rickles Street" subway station. This is a nod to how Kirby brought famed insult comedian Don Rickles into DC Comics continuity, both as himself, and with his apparent (but good-natured) twin, Goody Rickles. You can read all about this particularly weird little moment in Superman lore here.
"We have two people on our staff, Max Kronick and Adam Mallinger that are just fountains of Superman information," Fletcher says. "Todd and I can never take credit for this stuff. We'll have an idea and then they will come back with splash pages and gifs and everything you could ever imagine faster than a computer. They came up with that for us and a lot of other things. There's more coming!"
"There's a lot Easter eggs this season," Helbing adds. " A lot."
Of course, there's at least one more big villain coming this season, in the form of Michael Cudlitz as Lex Luthor. However, the showrunners are keeping mum on the details on when he'll actually arrive.
"Well, we don't want to reveal that right now," Helbing says. "But you get bits bits and pieces along the way. It's not hat we're trying to withhold anything. Luthor sort of makes an appearance in a sideways way and in a way that we haven't done before."
HOW WILL SUPERMAN & LOIS END?
With The Flash well into its final season, and both Doom Patrol and Titans about to wrap their final seasons on HBO Max, for all intents and purposes, Superman & Lois is the last Arrowverse show standing. As of this writing, there is no commitment from The CW or WBTV to make a fourth season of the series, but of course, a lot can change over the course of this season. However, the showrunners are hopefully thinking longer term.
"We have talked about a couple of different versions of endpoints [for the show]," Helbing says. "But there's so much that is out of our control. So our approach always is we just want to write the best story that we can and then let everything play out the way it's gonna play out. If we had our druthers we'd go 10 seasons. But I think the best thing that we can always do is just tell a compelling story that the fans tune in to see. If we just approach every season that way, you know, then we'll see what happens."
As for what this season's finale might look like?
"We want to be unexpected," Fletcher says. "[This season is] not like the others. I think it's surprising and even more epic than even the season two finale. We hope that's saying a lot because we thought the season two finale was pretty big. But we've got our crew, our team has worked on this and is trying to deliver something that is is really big and really cool. We can't wait for the audience to get there and see it."
You'll be able to listen to the full, spoiler-filled interview with Todd Helbing and Brent Fletcher about the first two episodes of Superman & Lois season 3 on next week's episode of DC Standom, available wherever you get your podcasts! We'll have more from this interview here next week.